How We Choose the Best Out of State Movers for 2022
You have hundreds of out of state moving companies to pick from, but only a handful can complete the process without hiccups.
Moving APT vetted countless long distance movers and settled on these top-10 choices. Start your search with the best out-of-state movers for your upcoming relocation.
We considered several factors we know are important to you – such as pricing, quality services offered, location, customer service, and customer reviews – to arrive at this top-10 list of out of state movers.
Top 3 Recommended Out of State Movers
These are just our top three picks. Keep reading for the full range of options and to learn important questions to ask when looking for movers.
Compare Out of State Moving Companies
| | | | |
| --- | --- | --- | --- |
| Company Name | Company Type | Local and Long-Distance Moves | Offers Auto Shipping |
| Adams Van Lines | Van line |                 Yes |              Yes |
| Pricing Van Lines | Van line and broker |                 Yes |              Yes |
| iMoving | Marketplace |                 Yes |              Yes |
| Allied Van Lines | Van line |                 Yes |              Yes |
| Two Men and a Truck | Van Line |                 Yes |               No |
| Bekins | Van line |                Yes |              Yes |
| American Van Lines | Van line |                Yes |              Yes |
| Pods | Pods Company | Long Distance Only |              Yes |
| National Van Lines | Van line |                Yes |              Yes |
| Mayflower Transit | Van line |                Yes |              No |
List of 10 Best Out-of-State Movers
We already did the research so you can spend less time on your computer.
Each full-service out-of-state moving company on this list reigns supreme in unique ways. All you have to do now is pick the one that best meets your specific needs.
Some out-of-state moves qualify as long-distance. At Adams Van Lines, moves are customized to meet customers' needs as they recognize no two moves are alike. They work closely with you to ensure a stress-free moving experience.
Adams Van Lines will complete all the necessary legal paperwork to cross state lines. Rest assured your move will be completed within the agreed timeline while your items remain safe throughout the journey.
For out-of-state moves, customers of Adam Van Lines will appreciate excellent customer service support with a dedicated contact for all your needs.
Adams Van Lines is simply the best in the business for out-of-state movers.
This is a top choice for reliable and affordable state-to-state movers. Getting their start two decades ago as a moving broker, Pricing Van Lines has grown to become a go-to platform for hiring competent movers for every purpose.
Pricing Van Lines prides itself on leading the industry of state-to-state moving brokers with easy access to incredible services at competitive rates. Their wide range of services makes it easy to customize what you need for your move.
You can't beat the numbers. Pricing Van Lines has moved thousands of people out of state for over 20 years. The company's moving teams come equipped with experience in out-of-state moves of sizes and types, no matter the distance.
The iMoving platform was established to get rid of common challenges movers face, like sudden price increases, late arrivals, poor service deliveries, surprise charges, lost or damaged items, and other common scams. iMoving provides transparency and reliability between moving companies and clients for problem-free moving transactions.
iMoving is the best platform to plan your out-of-state move because you can customize the entire process. Movers and other service providers create service listings so customers can choose exactly what matches their budget.
Ready to move? Just supply the details, compare moving quotes, pick a moving company, and make a reservation all at once on the same platform.
This full-service out-of-state moving company holds one of the most expansive moving networks across the globe. Aside from its partnerships with local movers to meet your specific needs, it also offers stellar service.
Allied Van Lines is a regular on our top lists due to its in-home estimates, quality customer service, and a wide variety of services. An in-home survey and estimate are the simplest way to find out what you'll pay and whether to do business with a company.
If the movers pressure you to agree on services or their quoted fee looks too low, you should bounce. We found Allied's moving assistance to have the customer's best interest at heart, which achieves a nice, smooth, and affordable relocation.
This company owns over 300 franchises locations nationwide Known for a dedicated crew of hardworking professionals, Two Men and a Truck is a family-owned establishment company that is well known for their excellent customer service.
It's easy to understand why so many people proudly recommend this company throughout its years in business. When you contact them to describe your moving needs and budget, Two Men and a Truck will work with you to find the best fit.
Keep Two Men and a Truck in mind for your upcoming move as it has remained at the top of the best out-of-state movers' list.
This company is known for their availability in all 50 states, but the reason we love Bekins is its commitment to customer service. No other moving company can compete with Bekins on customer service.
Bekins offers warehousing facilities to its customers without a fixed move-in date. The company's website layout is very simple as well, providing a free moving quotes after submitting a quick form.
The professional employees at Bekins are attentive and happy to answer any question in full detail.
Only moving brokers or broker-carrier hybrids that contract out to other companies can offer everything American Van Lines (AVL) offers in-house. The company has background-checked every employee involved in every service, whether vehicle transportation, storage services, or full-service moving.
Plus, AVL is committed to providing reasonable prices and customer satisfaction. American Van Lines uses a flat-rate pricing system, so you'll know exactly how much you'll pay. AVL is fully licensed, insured, and registered with the USDOT, supplying comprehensive moving services for belongings of any size.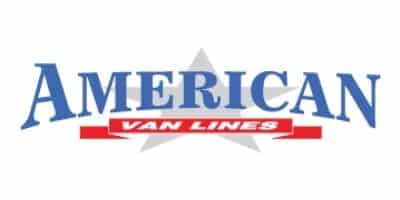 This is a moving and storage container provider unlike any on this list and one of our favorite out-of-state movers. Hiring PODS means you'll pack your own moving pod, which PODS will pick up and deliver to your home.
PODS is a little more DIY than any of the full-service moving companies we've reviewed above.
Although moving with storage containers requires a little effort on your part, you can save a lot of money on your out-of-state relocation. This makes PODS an excellent choice if your budget can't accommodate a full-service mover.
With more than 85 years of experience offering full-service moves including packing, loading, and storage services for residential and commercial consumers, National Van Lines can't be beat.
The company's out-of-state movers are highly trained, experienced, and equipped to assist with every step of the moving process regardless of the distance of the move – local, out of state, cross-country, business, and international.
Another business that is very well known in this industry, Mayflower a trusted, national mover for over 10 years They have been on our list of best movers for several years. Mayflower has many positive reviews that mention both their competency and pricing.
While nice to work with, not all companies are ideal choices for moving every kind of item. Although Mayflower offers everything, you may want to consider working with a company more well-known for specialty services if your move involves such belongings.
The Following Table Displays The Best Out of State Moving Companies:
| No. | Best Out of State Moving Companies of 2022 | Website |
| --- | --- | --- |
| 1. | Adams Van Lines | www.adamsvanlines.com |
| 2. | Pricing Van Lines | www.pricingvanlines.com |
| 3. | iMoving | www.imoving.com |
| 4. | Allied Van Lines | www.allied.com |
| 5. | Two Men and a Truck | www.twomenandatruck.com |
| 6. | Bekins | www.bekins.com |
| 7. | American Van Lines | www.americanvanlines.com |
| 8. | Pods | www.pods.com |
| 9. | National Van Lines | www.nationalvanlines.com |
| 10. | Mayflower Transit | www.mayflower.com |
Best Way to Find Out-of-State Movers Near You for Professional Movers
When it comes to completing an out-of-state move, every detail matters. From finding licensed, professional movers to securing reliable transportation, there are a lot of logistics to manage. Moving APT has top-rated out-of-state moving services that can be easily compared rather than spending days pouring through the results of a Google 'out-of-state movers near me' search.
With our vast database, Moving APT takes the guesswork out of hit or miss 'best out-of-state movers near me' Google searches, allowing you to find a reputable company you can trust. We only work with licensed and insured companies with a proven track record of success based on honest customer reviews.
Our offices and agents are spread across the entire country. We work tirelessly to vet out-of-state moving services so you can focus on what's important – getting out of your old place and into your new one.
We understand that everyone's needs are different, which is why we make it easy to browse 'best out-of-state moving companies near me' searches that offer movers with a variety of services to meet your specific moving needs. From packing to furniture dismantling and everything in between, we have you covered for any out-of-state move from California to New York and every state in between.
How Much Does It Cost to Move Out of State?
Even with quotes from moving companies, it's a huge challenge to figure out the precise cost of your move. You can't be sure of the actual amount until after everything is done.
You may nail down the cost of a truck rental, but you can't uncover all the hidden charges. We will divide the cost into three main sections to help you understand. 
1. Using a Pro Out-of-State Mover
Prepare to spend some money hiring a full-service moving company to manage your entire out-of-state move. However, you will have a sweet moving experience when someone else is responsible for the work.
According to AMSA (one of the reputable sites in the moving industry), the weight of 7,400 items on a long-distance move of about 1,225 miles will cost $4,300 on average. This price includes moving materials and packing services.
For comparison, 1,225 miles is the distance between Princeton, New Jersey, and Fort Lauderdale, Florida.
Your out-of-state moving cost depends on the weight of your items, labor costs, mileage traveled, insurance costs, and other extra moving services – each move results in a totally unique rate.
We strongly recommend gathering three to five different moving quotes to compare prices before you hire one.
You should also consider a moving company that offers a binding not-to-exceed moving quote rather than a non-binding or just a binding quote. With a binding not-to-exceed quote, you'll know the final price won't exceed the estimate. In other words, no surprise charges.
Binding not-to-exceed estimates mean you always pay the quoted amount even if there are weight or size adjustments to your shipment. In fact, you will pay less than the original quoted amount if you reduce the weight of your shipment.
2. Using a Moving Container
A moving container rental is worth considering for those seeking a cost-effective, DIY out-of-state moving solution. The containers are perfect for unpredictable out-of-state relocations since the container can serve as temporary storage at any time.
You have a few providers to pick from when moving out of state. Some popular container companies include PODS, 1-800-PACK-RAT, and U-Pack. Renting a ReloCubes from U-Pack costs an average of $2,231, according to a recent comparison by HireAHelper.
Enter Moving Details and Get your Moving Quote in Seconds.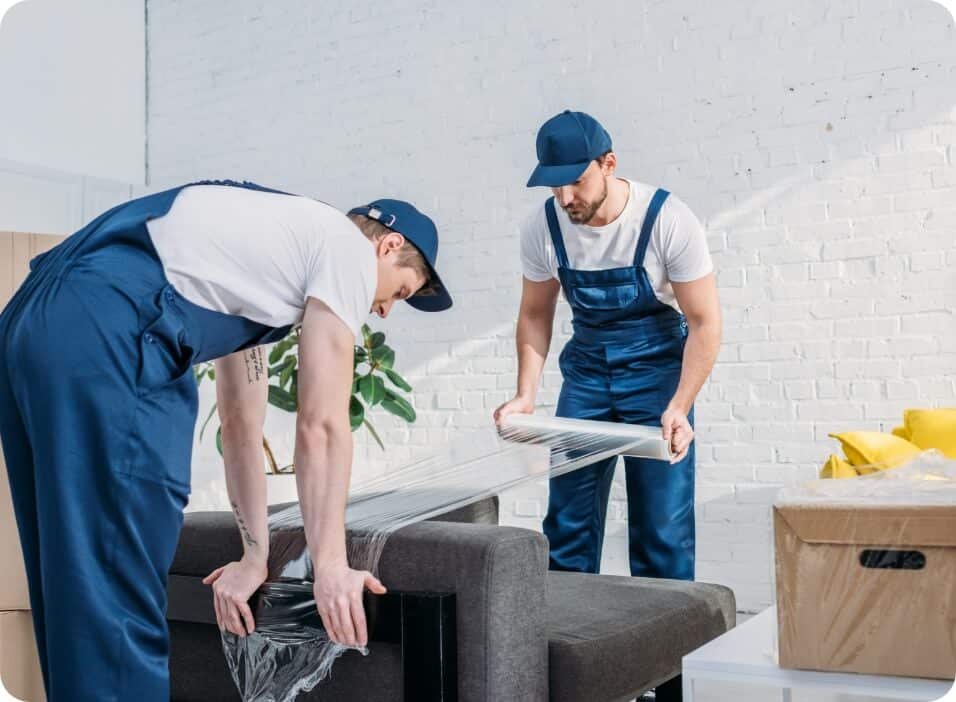 3. Using a Truck Rental
Working with a moving truck rental company instead of spending a fortune on movers or moving container providers is a worthwhile option to explore.
Moving truck rentals cost a fraction of full-service movers. It still costs time and effort to pack, load, and unload, but you'll save plenty of money from the sacrifice.
Moving truck rental rates can depend on the day and time of your rental. Generally, renting a 10ft moving truck from U-Haul for a move from Miami, Florida, to New York will cost around $1,700. Rental providers like Penske and Budget don't cost quite this much.
Several factors determine the price of moving truck rentals. These include the distance traveled, the time of rental, equipment used, date of move, type of move (one way or round trip), as well as fuel charges.
Hidden Moving Costs May Include
Moving supplies: Moving and packing materials such as labels, cardboard boxes, packing tape, packing paper, and foam pouches.
Closing costs on housing: Closing costs on your new rental or home along with insurance, realtor fees, appraisal fees, and more.
Household furniture: New household furniture due to space constraints. Expect to buy one or two new furniture items to decorate your space.
Automobile shipping: Professional transportation for your vehicle to the new state if you don't plan to drive it. 
If you are searching for an ultimate checklist that will guide you through the entire moving steps, then you are in the right place. Our step-by-step moving checklist can assist you to hire the right moving company, unpack your entire box in your destination home, and all the tasks in between.
How long does a state-to-state move take?
Out-of-state moves can take anywhere between 1 – 21 days, depending on how far you are moving.
We've put together a table with the average time to complete an out-of-state move based on mileage.
| | |
| --- | --- |
| Miles  | Days |
| 0-200 miles | 1-3 days |
| 200-500 miles | 2-7 days |
| 500-800 miles | 3-10 days |
| 800-1200 miles | 4-12 days |
| 1200-1700 miles | 5-14 days |
| 1700-2500 miles | 6-21 days |
| 2500-3300 miles | 7-21 days |
How to Hire Out of State Movers While Avoiding Scams
The National Consumer Complaint Database received over 4,000 complaints from customers last year, which involves delayed delivery, belongings held hostage by movers, and so on.
Follow the steps below to hire the right moving company for your out-of-state move and avoid issues with your belongings or getting ripped off.
1. Research Your Options
Begin your research as soon as you see the need to move. You can usually reserve a mover for at least 30 days before the move, while other movers allow booking up to 90 days.
Ask around for recommendations from your colleagues, friends, family, or neighbors.
If someone you know recently completed a move, ignore the Google search results as rogue movers can easily set up a slick website. Instead, check for residential movers on the Better Business Bureau website, where they're rated based on factors such as complaints and legal action against the mover. Yelp is also an excellent source for reviews on movers, but do not base your entire decision on what you read here.
Familiarize yourself with the terminology you find online as you read reviews on movers. Many movers use strange vocabularies such as a "bill of lading" – the receipt containing your things and transportation agreement.
2. Run Background Check on the Moving Companies
Take a closer look at each recommendation you receive. You'll need the company's name, USDOT number, and MC (Motor Carrier) number. Cross any moving company off your list that refuses to supply any of the numbers since this implies they're not licensed to transport items to another state.
Use the company's DOT or MC number to search for them on the Federal Motor Carrier Safety Administration (FMCSA) website. The company will be listed either as a broker, carrier, or freight forwarder.
A carrier directly moves your belongings.
A broker will help you find and hire carriers (almost free in some cases).
A freight forwarder is responsible for your items but will involve one or more carriers to transport them.
You can identify the moving company's recent safety ratings and insurance information from the FMCSA's website as well. The website also presents the number and kinds of complaints that have been filed against the company.
3. Request Instant Moving Quotes and/or In-Person Moving Estimates
Call three to five out-of-state movers for estimates. A reputable moving company will send an agent to your home for an in-home inspection. We've discovered that getting an on-site survey for small moves, like an apartment is essential, so be ready to contact more places.
Typically, you'll have a clear understanding of what the move will cost during an in-home estimate as opposed to a rough estimate based on your room number.
4. Ask Questions
Ask the moving agent how they calculate the estimate as they take inventory of your things. Make sure you also ask if they have any base fees and whether the entire weight or time will determine the overall rate.
Don't forget to ask how much they charge for extra services like packing, carrying your items up or down the stairs, or carrying heavy items such as a piano or large appliance.
Ask if the moving company will use their own movers for the packing and driving or if they contract the job to someone else. Whether your items will share truck space with items from other households is another great question to ask.
Also, ask if the crew loading your moving truck will also unload it at the new home or if it's an indirect move involving different crews and moving trucks.
Put on your thinking cap and ask yourself these questions as well:
Does the out-of-state mover have what it takes to match the needs of your interstate move?
Is the out-of-state mover insured and licensed?
Do they have experienced and capable employees?
Do they have detailed rates, estimates, or quotes?
Are their reviews good? (Consider the experiences of other people with similar moves who have used them.)
Do they have a responsive customer care department?
5. Review Your Offers
Moving companies provide a written estimate after the home visit, whether a binding or non-binding estimate.
A binding estimate doesn't allow changes to the initial price unless you add more items and adjust the quote or require more services than they initially quoted. In either case, the moving company will review the moving estimate and make necessary adjustments for you to sign before packing and loading.
The weight of your entire shipment on the moving truck, as well as the number of stops at weigh stations, will determine the price of a non-binding estimate.
In most cases, expect to pay up to 10% more once the official weight of your move is known. You can request to be on-site while they weigh the items.
6. Book Your Mover
Although price is the primary focus when comparing moving estimates, check the complaint database to find companies with better histories.
Just like other services, the cheapest option might not be the best choice. It's always smart to trust your instinct or ask friends or colleagues for recommendations.
An order of service will follow your acceptance of moving estimates. It explains how the mover will pick up and deliver your items and covers payment terms, insurance, and delivery dates. Refrain from signing any blank or incomplete documents.
7. Prepare for Moving Day
Consult your moving carrier to verify the details of your pickup date and make any changes in writing if necessary.
Do a self-pack for all the items you're moving and everything you'll need for at least the first two weeks in your new home before your remaining household items arrive.
Make plans to supervise the whole pickup as it could take a day or more and plan to do the same during unloading.
You'll receive a bill of lading and an inventory list on moving day, so be sure to read the documents clearly and keep them for comparison during delivery.
9 Tips to Prepare for an Out of State Move
Eliminate the stress of state-to-state moves with these tips.
1. Research the New State
Visit the destination city right before you finally relocate to grasp the vibe of the location and neighborhoods. Use a guidebook or get a map from the city's visitor center and ask locals for recommendations.
If lodging in a hotel, request ideas from the concierge. You can also check reviews online for the destination city and state. Search for local hot spots and hangouts in the neighborhoods as you look for tourist attractions in the area.
If you have kids or plan to have kids, don't forget to research schools when you visit as well.
2. Budget Accordingly
Moving out of state is not cheap. As reported by the AMSA, hiring cross country movers cost $4,300 on average.
For DIY moves, budget for a truck rental or container service along with moving supplies and other relevant expenses.
Start with your maximum budget, then make a list of all essential moving expenses.
3. Research Out-of-State Movers
You can't go wrong hiring a leading out-of-state mover.
Just sit back and watch the professionals handle everything, from packing your home to transporting your things to a new state.
Finding a reputable mover that offers the services you need at a fair price is the only difficult task you'll have to manage.
Note that companies subcontracting a moving job will split your items between two moving trucks, implying that your entire shipment may not arrive on the same day. Remember to ask about any extra charges you may incur during your move.
4. Pack Before the Day of the Move
You'll do more than arrange furniture, electronics, paperwork, and clothes when packing. You will also need to decide on what to donate to non-profit organizations, like Habitat for Humanity, Salvation Army, and Goodwill.
A garage sale can also help reduce the number of items you load into the moving truck and help pay for your move. Place each item you're moving in a specific packing room while you sell off the things you no longer need.
Use plastic containers, bags, and boxes as storage and label them accordingly for easy loading and unloading.
While the time spent on packing varies, many moving experts suggest starting this process as early as three months in advance.
5. Transfer Your Utilities
Remember to contact the utility providers of your new home to transfer and set up your gas, internet, water, electricity, satellite, security system, and sewage.
6. Forward Your Mail
Forwarding your mail is easy but incredibly important. Just log on to www.USPS.com and let them know when to start forwarding your mail to your new home address.
7. Tell Everyone About the Move
Give loved ones and your work your new home address. Don't forget to give government agencies your new address as well for their records.
You can also cancel your old home's utility plans and sign on with new companies once you're in your new place.
8. Get a New Driver's License
You'll need a driver's license in your new state, so check with the local DMV.
First, check their requirements since some states might not issue a driver's license until you've lived in the state for a predetermined amount of time.
Although transferring a driver's license from one state to another involves different requirements, you'll usually need your current driver's license, proof of residency, social security number, and other state-issued IDs.
9. Keep Every Receipt
You must keep every receipt you receive from the beginning to the end of the move, especially those you received if you donated to any charitable organization, like Salvation Army and Goodwill. The law allows you to deduct the valuation of your gifted items from the total wages on the income tax form.
If your move involves a work relocation, you can deduct moving expenses, like truck rental and gas costs, from taxes. Regardless, you'll need receipts to verify the details.
All the moving company is required to give a basic valuation on each move, and it covers $0.60 per pound. Moving companies may then offer full-value protection (FVP) which covers the cost to replace, repair or reimburse you an amount up to the complete value of your damaged items, for an extra fee.
Enter Moving Details and Get your Moving Quote in Seconds.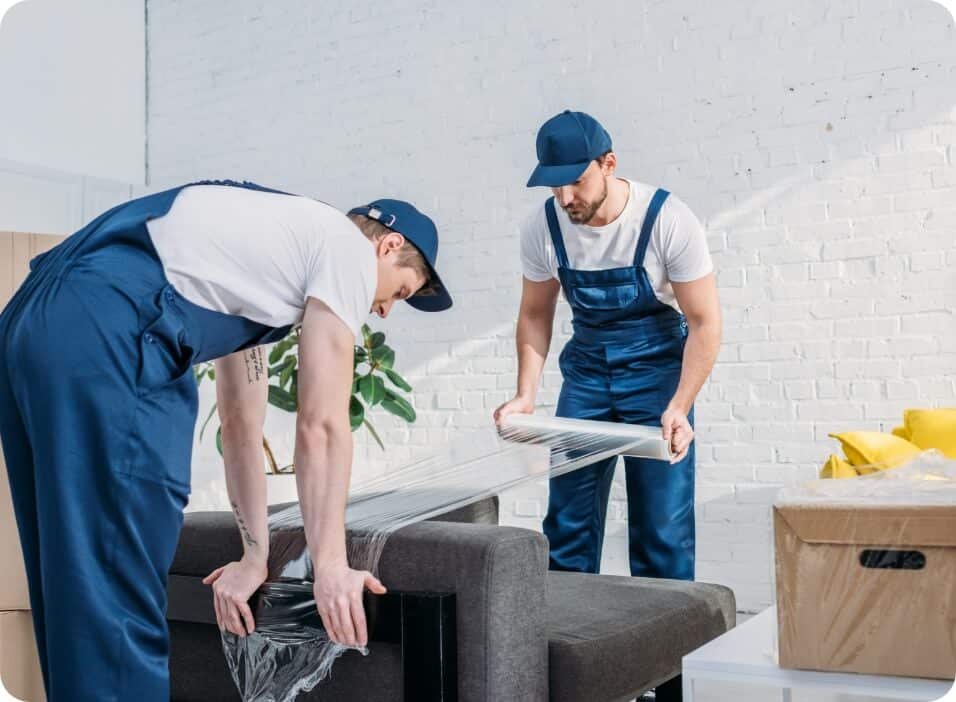 Frequently Asked Questions
Start Your Journey with the Best Out of State Moving Companies
Moving is a hassle, but starting with the right out-of-state moving company can make all the difference in the world. Moving APT makes every step of the process easier by researching and vetting moving companies and putting them at your fingertips. All you have to do is start the quote process.
Ready to start planning? Print or download our moving checklist to start crossing items off your to-do list.