Top 10 Cheapest Ways To Move Cross Country
One of the greatest difficulties that people face while planning their cross country move is to find dependable cross country movers who will transport their properties from one country to another effectively at an affordable rate. You can also keep in mind some money-saving tips; you can save a good amount of money when moving to a new location in another country.
There are numerous options available during a cross country move. The number of stuff you have, your finances and your travel objectives are the major factors in making a good decision. This will also determine the amount you will spend in the process of moving from one place to another.
If your cross country move permits you to drive to the new location of the new country, you can use your own car for transporting some of your properties, therefore saving some money on the moving costs.
You can easily load your car with items such as stationery, books, CDs and photo albums, etc., and drive them to your location.
This is one of the best options if you want to reduce the cost of moving cross country. This option is affordable; however, there will be more strain on your vehicle and may require you to install a hitch, depending on how heavy the load you are carrying is. If your vehicle is small, it will not be able to carry heavy loads.
If you're shipping items across the country and you're worried about wear and tear on your vehicle, then you may also want to look into car shipping companies.
These are with companies that will take your car (along with multiple other cars) to different locations throughout the country by loading them onto a truck and just going there. It can cost a bit of cash, but it can save you money when it comes to dealing with your car in the future.
Another thing you may consider is hiring a truck to carry your properties and towing your vehicle behind it. This means less pressure on your vehicle than if it was your vehicle doing the towing. This may not be an option if you're not okay with driving big vehicles.
This option is also affordable compared to some of the other ones. Getting the cheapest truck will depend on where you rent a moving truck, the sized that can carry your loads and the distance to your new location.
Are you aware of the existence of labor-only movers that can assist with packing and unpacking, loading and unloading, assembly, and disassembly of your furniture?
With Budget Truck Rental, you can get discounts that are more than any other rental truck provider.
You can also ship your possessions to reduce moving costs. Shipping your possessions is more ideal than towing or using your car. It's also the best option if you have big loads that you want to move. If you want to drive your own car, you can ship your belongings, and this will cause the least wear and tear on your vehicle.
The essential step in this direction would be to perfectly prepare a list of all the items you want to transport to the new location. In every home, there are items that can be disposed of.
Transporting smaller items would not only mean a lesser hassle for you, but it will also ensure that you spend less on their transportation.
In fact, many movers companies recommend cutting down your inventory list so as to save on the cost of moving.
Another great money-saving opportunity is in the form of a discount offered by many long-distance movers. They can offer a discount if you agree to allow them to store your items for a short period of time this will help them to combine several loads together and move them to the same location.
If you don't want to relocate quickly and you don't need all your properties immediately, this option will definitely save a few bucks.
6. Rent a Moving Container
Moving containers involves making use of a storage container to deliver your loads to your location. You are allowed to pack at your own convenience while the box stays close to your home safe and secured.
Once you are through with packing your moving pod can be delivered to your new location in the same state or another city. Renting out a moving container will also reduce the amount of money that you would have to pay to move company for assisting you with cross-country moving.
You can leave your household goods in a moving pod and use it as a makeshift storage unit, so you don't have to worry about being completely moved-in on the first day but at a monthly fee. Also, if you would want your belongings somewhere away from our site, mover also has some best self-storage unit.
7. Pack Only What You Need
Do you want some extra gas? Then, sell everything that you don't need especially things in your garage that is not useful. You can make use of Craigslist to sell off the item you don't need. Not only will you have a much less heavy vehicle but you'll have some extra cash to spend on your ride. Lighter vehicles mean better gas mileage. This is very important when moving to a long distance.
8. Avoid Peak Moving Dates
If you want to move to a new location at the same time as many other people like colleagues or friends the costs will be higher both for hiring a full-service moving company as well as renting moving trucks. Therefore find the best time to move to a new location.
9. Get Help from Friends and Family
Apart from hiring moving labor, you can also ask friends and family to assist you. If you're searching for the cheapest solution, this is probably it. Hire your friends and family as moving help and ensure to provide plenty of food and beverages.
Since you may have to work around people's schedules, and you may want to pay your friends back in some other way, such as wine, a gift card, pizza or offer them a small stipend.
10. Hire a Cheap Moving Company
Hiring a cheap moving company does not essentially compromise the quality of service that you'll get. If you are relocating on a low budget, then it might be good to consider hiring the services of the cheapest moving company.
Out of many cross country moving companies, there are some that offer a low moving rate along with good service.
The Following are the 10 Cheapest Way to Move Cross Country:
| | |
| --- | --- |
|  No. |  10 Cheapest Way to Move Cross Country |
|  1 |  Drive Your Vehicle |
|  2 |  Rent a Truck |
|  3 |  Ship Your Belonging |
|  4 |  Reduce Inventory List |
|  5 |  Look for Discounts |
|  6 |  Rent a Moving Container |
|  7 |  Pack Only What You Need |
|  8 |  Avoid Peak Moving Dates |
|  9 |  Get Help from Friends and Family |
|  10 |  Hire a Cheap Moving Company |
Moving cross-country can be complicated, especially if your moving company does not have adequate experience in moving across the miles.  The cheapest cross country movers can be wolves in sheep's clothing, waiting to pounce and make their own move (like stealing your money and your things). 
Don't put yourself, your family, and your belongings at risk.  Check the credentials and references of your cross country movers.  Make sure they have a history of experience and then, compare the prices of those who have made the cut.
By following the above procedure, you could save a lot of money while moving to a new place in another country. You must always ensure that you do comprehensive research on all cross-country movers that are reliable in providing professional moving services at an affordable price such as dev2.movingapt.com, we have the cheapest moving companies in the US.
Enter Moving Details and Get your Moving Quote in Seconds.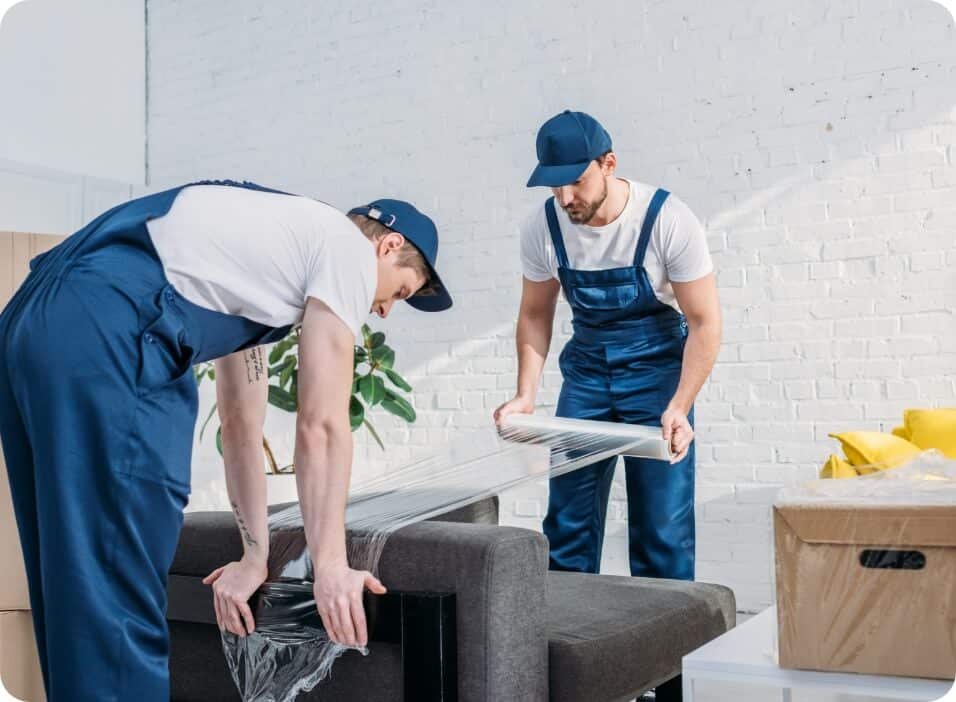 What is The Cost of a Cross Country Move?
You will get an idea of what you may be paying for your move from the table below with different cross country moving methods. 

Yes, we understand moving is an expensive adventure. You can control your moving costs when you understand the various factors that constitute the overall pricing.
Below is a list of the major factors that influence pricing.  
Size of the move: The higher the goods you move, the more your moving cost will be. Simple and straightforward. You will spend a minimum of $1,500 to move a 1-bedroom across the country. Larger moves can cost even more.  
Supply & demand: Moving quotes may be expensive in a popular area. Ensure you know this before moving to a high-demand area. 
Access issues: Your moving options may get limited if there is an issue parking or pulling a large moving truck to where you live. Movers usually charge more in these kinds of situations. 
Time of year: The period between May to September is tagged "peak-season" in the moving industry, and prices may increase to 30 to 40% more to relocate. 
Bulky items: Items like Gun safe, hot tub, pool table, and many more will give movers a lot of stress and also cost you extra dollars.
Region of the country: You may be paying a little more if you are moving to a remote area far from a major highway, or just a few miles to a United States border. 
Move dates: There tend to be higher demand at the beginning and end of each month and thus give rise to moving cost. Weekends also usually come at a higher price.
Cost of Moving With the Best Truck Rental
1. U-Haul
This company offers the following daily rental rates: 10ft trucks for $19.95, 15ft and 17ft for $29.95, and 20ft and 26ft trucks for $39.95. All moving trucks also have a $0.79 per mile fee included.
Additional options like hand trucks dollies are also available withy U-Haul for $7 – $10 for appliance dollies, $7 for furniture dollies, and $10 for a dozen furniture pads.
2. Budget
The 12ft rental truck from Budget cost $19.99 daily while it cost $29.99 daily to rent the 16ft truck while both options have an additional $0.59 per mile included. A loading ramp and a tow hitch also come with the 16ft moving truck in case you need to tow a car.
For additional stuff, a car carrier is available for $65 daily, $55 daily for a car dolly, and $17 daily for a dozen furniture pads, and $17 daily for a hand truck. Additional services may be incurred on drivers under the age of 24.
3. Enterprise
Most locations require drivers to be 25 years older, while others allow drivers over 21 years of age, although an additional charge may apply for under 25.
A 15ft rental truck costs $19.99 daily with an additional $0.60 per mile, and a 16ft rental truck costs $80.99 daily with free 500 miles, then $0.69 per extra mile.
The 24ft box truck goes for $39.99 daily if you need something larger, including $0.99 per mile. A 26ft box rental truck goes for $129.99 daily with free 500 miles, then an additional $0.69 per mile.
You can also get additional products like moving pads, hand trucks, straps, and stretch films, but you will have to contact the company as the prices are not listed on the website.
4. Penske 
Both 12ft and 16ft moving trucks from Penske are charged for $29.99 daily, while 26ft rental trucks go for $99 daily. A $0.99 per mile fee is added to the cost of a round-trip rental while 1-way trips have unlimited miles.
You can get dollies at an extra $10 and a dozen furniture pads at $10. College discounts and military discounts are also available with Penske.
How to Control Your Moving Costs?
Moving affordably across the nation requires complete control over your relocation expenses. Many moving tasks will cost you money, whether little or more, so your main goal is to ensure no moving tasks take too much of your money before completion.
You will be able to take constant control of your moving expenses when you follow this process. 
Prepare an early moving budget in the moving process to: 
Find out in advance if you will have the financial strength to cover all the moving expenses.
Prepare yourself mentally for the moment the overall moving cost will be given to you.
Be able to distribute your money adequately among the various relocation tasks in order to avoid judgment mistakes.
Redistribute the designated money to operate everything smoothly until you move-in to your new home, and even beyond that. 
You should budget for the following when hiring a cross country moving company: 
moving company fees;
additional insurance;
additional moving services;
extra charges and fees.
You should budget for the following when planning a DIY cross-country move: 
truck rental fee;
fuel price;
Money for renting moving tools and equipment;
packing expenses;
cost of moving labor
Enter Moving Details and Get your Moving Quote in Seconds.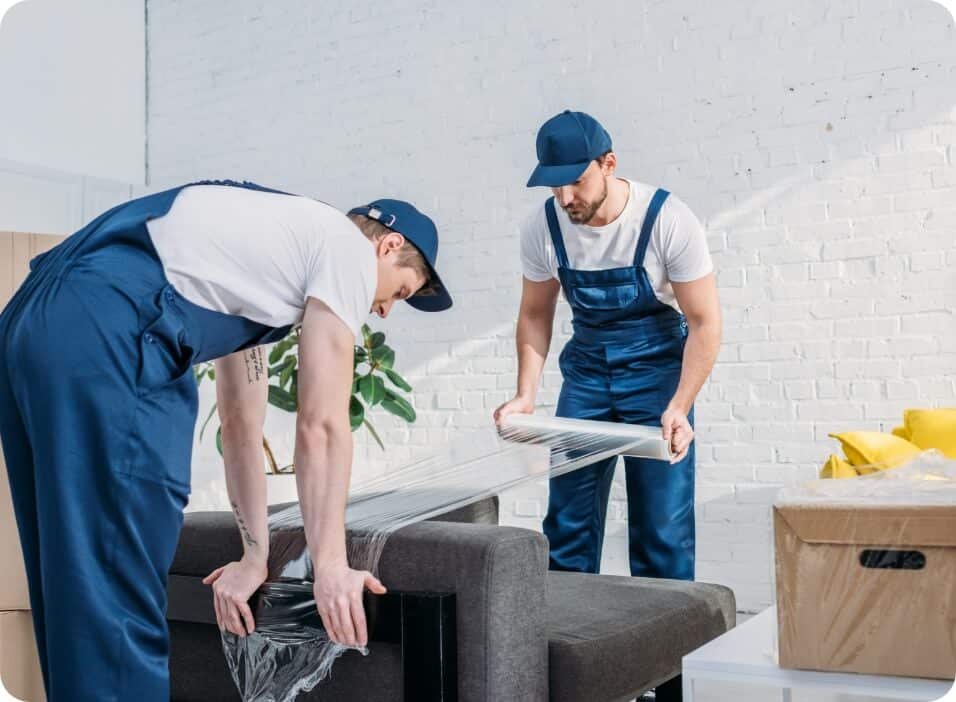 Negotiating a Better Price With Your Moving Company
After receiving several moving cost estimates from top-rated cross-country movers in your location, you should go with the one that offers your specific needs.
However, you can pull some negotiating stints before you go with them in order to see if you can make them bring the quoted price down. You are free to negotiate the price with any moving company as there are no fixed prices.
Below are a few tactics to negotiate with a mover:
Contact the movers and ask them straight away if they have any ongoing promotion or discounts you can benefit from.
Contact the moving companies and inform them of how you like their conditions, but you've gotten a better offer from another moving company. Then, ask them straight up if they will like to match or beat the quoted price before you go with their competitor. In most cases, a mover will rather reduce their price than lose a customer to their counterpart. Either way, you have nothing to lose in the process.
Be bold. You can still go for any other mover if one mover refuses to lower its quoted price or just go ahead with the original quoted price.
Cross-country moves take a lot of energy and they can get pricey if you're not careful. By taking the appropriate amount of time to work out details before you need to get going, you will find that it's a lot simpler to actually work out the details. Put together the budget that makes the most sense for what you feel needs to be done, and you'll be ready to start planning your cross country move.