Finding the right moving company is essential as every move is unique and requires personalized services. At Moving APT, we understand this and have developed a network of professional Miami moving companies that can cater to your specific needs. 
Our team of experts evaluates each company's credentials, customer reviews, and performance history to ensure that they meet our high standards. With over two decades of experience, we've helped over 10000 people move in Miami, and we're committed to making your move hassle-free. 
We'll provide you with quotes from multiple companies, so you can compare and choose the best deal. You can trust our licensed and reliable moving companies in Miami to handle your move with care.
How Much Does It Cost To Hire Moving Companies in Miami?
When it comes to hiring a mover in Miami, the cost can vary significantly depending on the type of move you're making. 
For a local move, you can expect to pay anywhere from $350 to $4700, while a long-distance move may cost you between $1100 and $12000, and possibly more. 
Keep in mind that these are just rough estimates, and your actual costs may differ based on your specific circumstances.
| | | | |
| --- | --- | --- | --- |
| Distance | 1 Bedroom | 2 – 3 Bedroom | 4 – 5 Bedroom |
| Local (Less than 100 Miles) | $350 – $700 | $850 – $1800 | $1300 – $4700 |
| 100 miles | $1100 – $1600 | $1250 – $1700 | $1500 – $3400 |
| 250 miles | $1300 – $2000 | $1500 – $3500 | $2,000 – $4800 |
| 750 miles | $1500 – $2900 | $2100 – $6900 | $5500 – $7900 |
| 1500 miles | $1700 – $3200 | $2600 – $7400 | $6700 – $9500 |
| 2500 miles+ | $1900 – $3700 | $3900 – $8200 | $12000+ |
Just a heads up – if you're looking for extra services like packing, unpacking, or storage, those might cost you a bit more. 
To make sure you're getting the best deal for your move, it's always a good idea to get quotes from a few different moving companies and compare their rates and services. 
If you want more info on how much your move might cost, check out these articles:
Three Qualities of the Best Miami Movers
Like you, we search for the best in everything. That's why we only work with moving companies that display the following qualities:
They are licensed and insured.

These are the basic requirements for any professional mover, and you should only hire companies that can provide proof of both.
They have a good reputation.

We check online reviews, Better Business Bureau ratings, and other indicators to make sure that the companies we work with have happy customers.
They are transparent with their pricing.

You should be able to get a clear estimate of the cost of your move before hiring moving companies in Miami. Beware of companies that give you a low "ball" estimate and then try to upsell you on services once they start the job.
These three qualities are a sign that the moving company you want to hire is professional and reputable. By using Moving APT, you can guarantee that the movers you're connected with meet these standards and more.
Compare Moving Companies in Miami
Company
Rating
Avarage Price


(2-3 Bed)

$3210- $7320
$3300- $7900
$2950 - $6650
$2850 - $6420
$2900- $8250
Superlative
Best For Long Distance
Best Customer Service
Most Efficient
Best Prices
Best Premium Services
Get a Quote
Get a Quote
Get a Quote
Get a Quote
Get a Quote
The Five Best Miami Moving Companies
Adams Van Lines is a well-established moving company that began its operations in 2002. Since then, the company has grown to become one of the largest national moving companies in the United States. 
Their extensive network of agents spans across the country, helping customers find the best movers in Miami for their local and long-distance moving needs.
Adams Van Lines prides itself on providing professional and efficient moving services to its customers. Their team of experienced movers is dedicated to making your move as seamless and stress-free as possible. 
Whether you need help with packing, storage, or a full-service move, Adams Van Lines has got you covered.
Why We Picked Adams Van Lines​
Adams Van Lines is a top pick for Miami movers because of its excellent reputation and ability to handle moves of all sizes.
The hundreds of agents across the country mean you never have to worry about finding a qualified mover in your area, and the company's online quote system makes it easy to get an estimate for your move.
Are you in need of a trustworthy Miami moving company? Look no further than Native Van Lines! With a nationwide network of vetted movers and agents, they'll provide you with free quotes and help you find reliable and trustworthy movers while avoiding scams. 
Their years of experience have earned them a reputation for outstanding customer service, and they've even won awards for their top-notch moving services. 
With over 500 agents across the United States, Native Van Lines has got you covered. Plus, they offer up to 30 days of free storage to sweeten the deal. Give them a try and experience a stress-free move!
Why We Picked Native Van Lines
We chose Native Van Lines because they provide a unique and exceptional moving experience. With a focus on outstanding customer service and an expert understanding of the Miami area, they strive to make your move as stress-free as possible. 
Plus, they partner with local businesses to help you save money on everything from boxes to other moving supplies. While they don't offer local moves, Native Van Lines is an excellent option for a long distance move in Miami.
Are you looking for a budget-friendly moving company in Miami that won't compromise on quality? Look no further than Pricing Van Lines! With their competitive pricing for a broad range of moving services, they make it easy to get the help you need without breaking the bank.
At Pricing Van Lines, their movers are held to strict standards, giving you peace of mind that your move is in good hands. Their team is dedicated to helping you find reliable movers while steering you clear of rogue moving companies, making it a safe and trustworthy option for those on a budget.
So, if you want to make your move a success without overspending, turn to Pricing Van Lines for friendly, reliable service at a great price. They're here to help you every step of the way!
Why We Picked Pricing Van Lines
Pricing Van Lines commits to providing reliable and budget-friendly moving services, which is why we chose them as the best moving company in Miami. 
Their strict standards for their movers give customers peace of mind, and their range of useful moving services at competitive prices make them a top choice. 
Plus, their dedication to steering customers clear of rogue moving companies ensures a safe and stress-free move. For a moving experience that won't break the bank, Pricing Van Lines is the go-to choice in Miami.
These movers in Miami have been in business for over two decades. The moving company provides some of the most comprehensive moving solutions in Florida and can accommodate local, long-distance, and commercial moves anywhere you want to go.
Good Greek Moving also offers tons of freebies with their moving assistance that include furniture assembly/disassembly, furniture protection, and in-home estimates.
Why We Picked Good Greek Moving​
Good Greek Moving made our list thanks to their comprehensive moving services that include junk removal, auto relocation, realty services, and extensive insurance coverage.
Plus, with tons of moving freebies and lots of ways to save if you are a student, low-income, or a veteran, this company is an excellent choice if you need the help of professional movers in Miami and are on a tight budget.
Unlike other moving companies whose pricing may vary depending on the time of year or other factors, FlatRate Moving offers one low price for all moves.
This company has been in business since 1992 and is headquartered in New York, but its network of agents spans the entire country, making them a great choice for long-distance moving companies in Miami.
Services offered by FlatRate Moving include packing, storage, auto transport, and more.
Why We Picked FlatRate Moving
FlatRate Moving offers an appealing deal for customers – one low price for all moves. This company is also very flexible when it comes to scheduling and offers a wide range of services that can be customized to meet your needs.
Plus, with an A+ rating from the Better Business Bureau, you can rest assured that FlatRate Movers in Miami will take good care of your belongings.
What Contributes To Miami Moving Costs?​
Calculating the cost of movers in Miami is one of the most challenging aspects of organizing a move. With search results for "moving companies near me" providing a wide range of pricing options, it can be difficult to figure out what's included in each estimate.
But, it isn't impossible to decipher what each company is offering and how their services will impact your budget. The main cost factors that contribute to the final price of your Miami move are:
The Distance of Your Move
Moving long distances and moving locally are two very different services with different price tags. The majority of local moves will fall within a certain mileage range and will cost an hourly rate which is then multiplied by the number of men on the job and hours worked.
But, for long-distance moves, you'll be charged based on the total miles traveled at a rate that averages around $0.60 per mile for full-service moves. Be aware that moves crossing state lines – no matter the distance – will always be charged as a long-distance move.
The Services You Request
Most moving companies in Miami offer a range of services to make your life easier during the chaotic process of relocating. These services will, of course, come at an additional cost but can be well worth the price tag if they save you time and energy.
The most common add-on services include:
Packing/Unpacking: $25-$50 per hour
Furniture disassembly/reassembly: $50-$100 per hour
Junk removal: $100-$500
Storage: $50-$250+ per month
Auto transport/relocation: $500-$1,000
In some cases, the Miami moving company you want to hire will offer these services at a bundled discounted rate.
In other cases, these services may be included as part of a white glove or concierge moving service. In either case, be sure to ask about pricing and services before you sign a contract with movers in Miami.
The Size of Your Move
The amount and type of belongings you're moving will play a significant role in the overall cost of your move. The more items you have to transport, the more time it will take to load and unload the truck, which means higher labor costs.
Even when hiring cheap moving companies, you can still expect to pay an average of $1,000 for a one-bedroom apartment, $2,000 for a two-bedroom home, and $4,000 or more for a three or four-bedroom house.
Additional Cost Factors to Consider​
Other costs to consider are related to obstacles (access fees), item protection, and local regulations about parking moving trucks in residential areas. 
Moving companies in Miami usually don't negotiate these costs, and their fees are non-negotiable. But, it's important to be aware of these potential charges before you sign a contract.
The most common charge will be access fees for obstacles that make the moving process more complicated for movers.
The most common access fees to be aware of include:
Elevator or long carry fees: $50-$100
Stair fees (per flight): $25-$50
Shuttle services: $75-$200
Toll/highway charges: Varies
The best way to avoid these additional charges is to provide the moving company with as much information as possible about your home or apartment. This should include the number of flights of stairs, the distance from the street to your front door, and any potential obstacles such as narrow hallways or tight corners.
Additional insurance coverage for valuable or delicate items can also increase the cost of moving companies in Miami. While basic insurance will cover some of the cost of replacing any lost or damaged items, it usually only amounts to 60 cents per pound.
If you want full replacement value protection for your belongings, you can expect to pay 1-2% of the total value of your goods. Ultimately, the best way to calculate these and other moving cost factors is to get a free moving quote from an in-home or virtual moving estimator.
This way, you'll have a clear idea of what to expect before you sign a contract with any Miami moving company.
Tips Before Moving From Miami​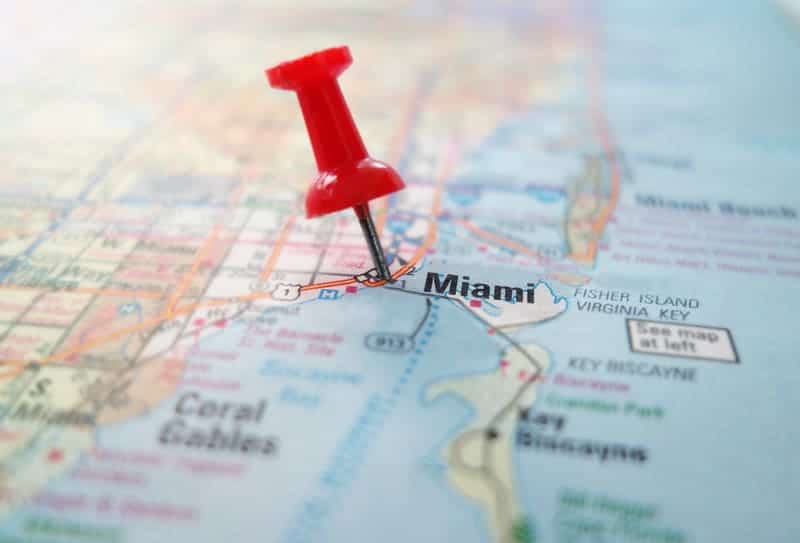 Moving companies in Miami can make moving easy, provided you are prepared before moving day. By creating a moving checklist and following these tips, you can be sure that your Miami move is as smooth and stress-free as possible.
Start Early.

Begin packing non-essentials a few weeks in advance of your move date. This will help to ensure that you're not rushed on moving day and that all of your belongings are properly packed.

Get Creative.

Use towels, blankets, and old clothes as protective packing supplies to save money on bubble wrap and packing peanuts.

Be Selective.

Go through your belongings and get rid of anything that you no longer need or use. This will not only save you money on moving costs, but it will also make unpacking easier.

Label Boxes.

Be sure to label all your boxes with the contents and destination room. This will simplify unpacking and help your movers place the boxes in the correct rooms.
If you are looking to save on your move from Miami, be sure to book movers during the off-peak moving season from October to April. You can also save by scheduling your move for mid-week rather than on the weekend.
Here's How We Rank Our Miami Movers
Moving APT has 22 years of experience in the local and long-distance moving field, serving more than 22,000 clients to date. Unlike other recommendation sites, we do real, face-to-face business with the movers in our network. 
This makes our data more in-depth and reliable than anything else you'll find online.
Our rating methodology is based on the following:
Reviews
Online Reputation: We sort through reviews and company profiles to make sure your movers are highly-rated and backed by plenty of experience.
Industry-Insider Information: We work with movers to get a full picture of the services provided by other companies across the field.
Mystery Shopping: We make sure movers are giving you the same rate they give us. Sometimes we call and pose as complete strangers to make sure they're honest.
licensing and Accreditation
Arbitration Program: Movers are legally required to have an arbitration program in place to compensate for lost or damaged items. We make sure it's up to date.
Active Claim Department: We check to see if movers have any outstanding claims to see how they handle customers who've reported damages – and how quickly they help.
Safety Record: The FMCSA's Safety Measurement System provides us with up-to-date information about a mover's safety track record, including accidents and inspections.
Active Moving Insurance: Long-distance movers in NYC are legally required to provide full or released-value protection on all of your items. We make sure of it.
Client Feedback
Video and phone reviews: We ask our own clients for short video testimonies detailing their experiences with their movers. It shows which movers are exceeding expectations.
Online surveys: We take the time to read about each completed move to get the full picture of how a mover performed.
As a moving broker, Moving APT actually deals with drivers and movers on a daily basis. We negotiate deals for our clients and ensure that movers always honor their contracts – no last-minute upselling, no overcharging, and no funny business. 
It's how we help our clients get moved with minimal fuss, and it's part of maintaining clear communication between clients and moving companies.
More customers for better movers If a mover is exceeding expectations, we send them more business. If a mover needs to improve, we don't. It's simple.
Frequently Asked Questions
1. How much does it cost to hire moving companies in Miami?
The total cost to hire Miami movers will depend on the size of your home, the distance of your move, the time of year, and other factors. But, you can expect to pay an average of $1,000-4,000 for most local moves and as much as 7,000 for long-distance moves that cross state lines.
2. How do I get a free moving quote?
The best way to get a free moving quote is to contact multiple moving companies and request an estimate. Be sure to provide them with as much information as possible about your home, the distance of your move, and any unique circumstances that might apply.
You can also use the free moving cost calculator at Moving APT to get a detailed estimate for comparison to the in-person quotes you receive.
3. What is the best way to save on moving costs in Miami?
The best way to save on moving costs in Miami is to schedule your move during the off-peak season, from October to April.
You can also save by avoiding weekends and scheduling your move for mid-week instead. Finally, be sure to ask about discounts and promotions when you request a quote from moving companies in Miami.
4. How do I choose the right Miami moving company?
When choosing a Miami moving company, be sure to read reviews and compare estimates from multiple businesses.
You should also ask about their licensing and insurance coverage to be sure that your belongings will be protected during the move. For additional peace of mind, you can also look for companies accredited by the Better Business Bureau.
5. What do I need to know before moving to Miami?
If you're planning to move to Miami, be sure to research the cost of living and housing prices in advance. You should also be prepared for the hot and humid weather, and consider whether you'll need a car to get around. Finally, be sure to take advantage of the city's diverse cultural scene by checking out the local art, music, and food.
Find the Best Movers in Miami at Moving APT
With our help and expert tips, you're sure to find the perfect Miami moving company for your needs. We'll provide you with free quotes from top-rated businesses, so you can compare prices and services side-by-side. Don't trust your move to just anyone – let Moving APT help you find the best Miami movers today!