Best Cross Country Movers of 2021's
The moving process can be a hassle and moving across the country can present even more challenges if you are not prepared. Moving APT is here to take out all the stress and challenges from your move. From guiding you through the ins and outs of how to move cross country, to that final moment of seeing your life unpacked and undamaged in a new place, we're with you the whole way.
Our Top Cross Country Movers
Moving APT has been taking care of all the logistics for residential and corporate moves for almost 20 years. Check out the answers to a few frequently asked questions and see why our customers consistently rank us as one of the best cross country moving companies in the nation.
List of The Best Cross Country Moving Companies of 2021's:
United Van Lines is one of the largest movers in the USA with 327 local agents and an active presence in all the states of the US sans Hawaii. United's long history of excellent service delivery in the moving industry has endeared it to thousands of customers, which is why you rarely see negative customer reviews about the company. 
The company has a watertight inspection policy, covers the largest territory and is also affordable. The company's agents and storage facilities are all over the place, even in places you least expect them to be. If you plan on moving across the country, United is one of the best movers you should consider.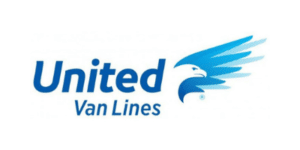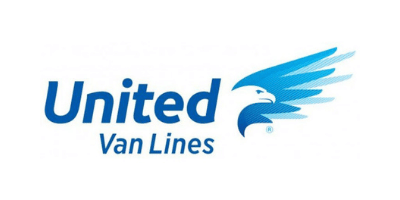 United Van Lines Specialized For 
Arpin is a true American legend in the cross country moving industry. With over 100 years of diligent service to customers, this company knows more than one or two things about moving humans and their belongings across the length and breadth of this country. With a #1 rating in the Logistics Management Magazine, Arpin delivers excellent and affordable moving services. The company has an extensive network of highly professional agents countrywide. 
It has always received raving reviews from customers, and the Better Business Bureau rates it A+. Arpin has the experience and infrastructure to deliver your property safety without any glitches. They've been prime movers for over a century, so you can't go wrong with them.
Arpin Van Lines Specialized For

 
While Atlas is a smaller and relatively younger mover compared to the first two, it's one of the best interstate and local movers with services covering the country, including Hawaii, except for Rhode Island and Nevada. Whether you are moving your business or family, Atlas' fleet of over 3000 trucks ensures you can easily ferry your things from one part of the United States to another without breaking the bank. 
The company has an intuitive and easy to use search tool that helps you locate the nearest agent by inputting your state and zip code. Atlas also has one of the best inspection practices in the industry. Plus, their customer service is highly professional and punctual.
Mayflower is also a veteran of the movers" association in the United States. With over 90 years in the moving industry, Mayflower has a strong presence of agents and storage facilities, and also provides vehicles moving and storage services all over the country. 
If you are moving your family or business and need a mover with a solid reputation and excellent track record, then Mayflower is a great choice.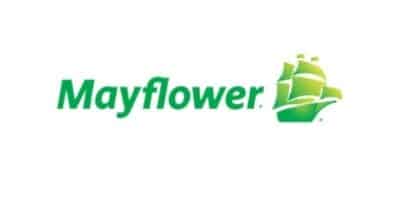 Mayflower Specialized For

 
U-Pack is a cheap mover with an extensive network of agents in every state of the United States except Delaware. This company is a container mover and offers a standard 6'x7'x8' container for people with small possessions and the bigger 28'x8'x9' trailer which comes with a ramp for easy entry and exit for large hauls. 
While this mover covers most states, it has a tight schedule as you have to pack everything within three days once the container arrives at your home or office and you have only three days to unpack as well. However, the company has an efficient delivery system, and their service is fast! The company offers insurance on all your belongings, and you can track your shipment online with relative ease.
6. Wheaton World Wide Moving
Wheaton has agents in all the states in the US except for Maine, Nevada, and Wyoming where it helps you liaise with local movers who will get you in or out of these far states. One of the best things about this mover is its online estimate tool which allows you to get an instant estimate range when you input your information. 
With this feature, you don't have to call them for a quote to you have a rough idea of your moving budget. Wheaton also has one of the lowest customer complaints in the market, and it's over 1000 trucks are always ready to move your family or business from coast to coast.
Wheaton World Wide Moving Specialized For

 
7. North American Van Lines
North American Van Lines is one of the few movers with services outside of the United States. Since 1933, North American Van Lines has been moving families, businesses, high-value cargo and exotic animal and plant species across the United States, Canada, and Mexico. Whether you are relocating from the United to Mexico or vice versa, need to move fragile materials, full-service packaging, require crane vans to move large appliances, or need long-term storage; North American Van Lines has got you covered. 
Plus, the company has a user-friendly and highly informative website, and the customer service is superb. If you need a company with decades of experience in moving people and businesses across the borders of the United States, the North American Van Lines is your go-to mover.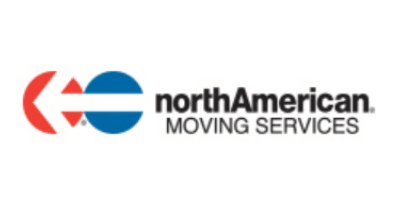 North American Van Lines Specialized For

 
With a name reminiscent of kindergarten rhymes, Two Men and a Truck has grown from a small local mover to a big name in the logistics industry with a fleet of over 2,800 trucks and offices in 42 states of the USA. 
The company has agents and infrastructure to support its extensive operations all over the country, and you can track your shipment easily with its GPS system. No matter where or what you are moving, Two Men and a Truck will haul you across the country without drilling a hole through your pocket.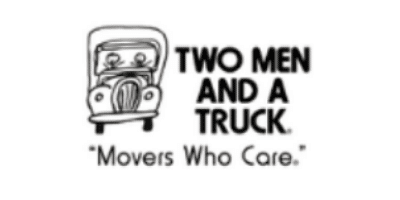 Two Men And A Truck Specialized For

 
Allied Van Lines is not only one of the biggest players in the logistics business in the USA, but it's also a prominent haulage company with extensive moving networks globally. The company has hundreds of agents all over the country and beyond, and its superior customer service is second to none. 
One of the selling points of this company is its highly enjoyable in-home moving estimate that keeps you at the heart of everything. Allied offers local, national and international moving services and also provides specialized moving services. Whether on land, sea, and air, Allied Van Lines will get you to your destination in one piece.
10. Bekins Moving and Storage
Bekins is a moving company founded by two brothers in 1891. From a small local moving company specializing in the haulage of household items, Bekins had grown to become of the biggest long distance moving companies in the United States. Bekins has a policy of advertising how much customers can save when they move during the off-peak period. 
It also has a system that generates an instant ballpark estimate of your moving budget, and you can track your shipment with its advanced GPS system. Its long history of excellent service delivery combined with highly professional customer service has won it the admiration of customers all over the country as a trustworthy mover that never fails to deliver.
If you're planning on doing the cross country without hiring a moving company, you can do a few different things in order to make the process easier. You can include family members and friends in on the process. Some people will even consider flying friends or family members to their new home so that they can help with the moving process more easily.
Don't burden yourself with the logistical guesswork of a cross-country move. At Moving APT, we do all the work for you. We use our partnerships with the best bonded and insured moving companies in the country to address every single need you have. These relationships help us provide you with the lowest price and the most reliable service in the industry. 
We have the best deals with the best movers, making us your trusted interstate moving company for nearly 20 years. For all your corporate or residential relocation needs, our motto is simple. No stress. No worries.
The Following Table Displays The Best Cross Country Moving Companies:
| No. | Best Cross Country Moving Companies of 2021 | Website |
| --- | --- | --- |
| 1. | United Van Lines | www.unitedvanlines.com |
| 2. | Arpin Van Lines | www.arpin.com |
| 3. | Atlas Van Lines | www.atlasvanlines.com |
| 4. | Mayflower Transit | www.mayflower.com |
| 5. | U-Pack | www.upack.com |
| 6. | Wheaton World Wide Moving | www.wheatonworldwide.com |
| 7. | North American Van Lines | www.northamerican.com |
| 8. | Two Men and a Truck | www.twomenandatruck.com |
| 9. | Allied Van Lines | www.allied.com |
| 10. | Bekins Moving and Storage | www.bekins.com |
How Much Does it Cost to Move Cross Country?
You are presented with three options when moving from one place to another in the country. You can rent a moving vehicle and trailer; opt for a container service, or hire a professional moving company.
Bear in mind that all costs provided in this write-up are calculated for moving a three-bedroom that is reasonably furnished in a distance of 1,500 miles –  Do-it-yourself by renting a moving truck or trailer for $3,000 or thereabout.
A good option is the container services which cost around $4,500. Professional moving companies are offering full-service cost about $1,000 or more per room, depending greatly on the total weight of the shipment.
Some people will have their room filled with heavy furniture, while others may be light. Discussing the types of items you have in your home with a professional mover is the only way out to get an accurate moving quote.  
The size of your home and the number of shipments will determine the cost of professional movers even though it can cost up to $7,500. It averagely cost about $1,000 per room with full-service experience starting from planning the relocation to the exact moving day.
Many national moving companies will possess planning resources and a checklist while some will offer additional hands or packing supplies to help with the preparations of the move.
Long-distance moving companies offer protection for your belongings in transit, and they are always prepared to move belongings that require special care. Some of these companies may even provide storage options when unpacking your belongings to avoid cluttering. 
Although hiring a national mover may come at a higher cost, however, it gives you peace of mind and dedication to providing you with quality service from the beginning to the end of the move. The best way to have an accurate long-distance move cost estimate is to invite your movers over to your home for an on-site survey and estimates.
A binding estimate when given means that you won't be paying beyond what is on the moving estimate. Avoid hiring a moving company that will not issue a written estimate, but insist on a binding estimate. 
Check Our Moving Cost Calculator
Additional Costs of Moving Cross Country
There are other expenses to consider apart from that of moving services. Some costs are not included in long-distance relocation that is still necessary, such as:
Shuttle fee – when relocating out of a populated city, the use of an 18 wheeler moving truck might not be ideal as it might not get to your location. A shuttle is used in this kind of situation to bring your possessions to your door. This service will cost between $250 and $500 depending on the moving truck's size.
Insurance – we included the default insurance package of 60 cents/lb. in our matrix. Although spending more on additional insurance is not mandatory, but it is advisable. An independently purchased insurance can cost about $10 per $1,000 of valued possessions with $250 to $500 as deductible.
Storage in Transit (SIT) – this is very essential and only needed when your new home is not ready for your household possessions to be delivered, or whenever your move requires storage for a short period. The costs for storage are calculated based on volume. The majority of moving companies charge this fee every month while others charge on a 2-week basis.
| Home Size | Avg. Rate (1 Month Storage) |
| --- | --- |
| Studio (231cf) | $150 |
| 1-Bedroom, Small (390cf) | $253 |
| 1-Bedroom, Large (524cf) | $341 |
| 2-Bedroom (892cf) | $580 |
| 3-Bedroom (1215cf) | $790 |
| 4-Bedroom (1815cf) | $1,179 |
Enter Moving Details and Get your Moving Quote in Seconds.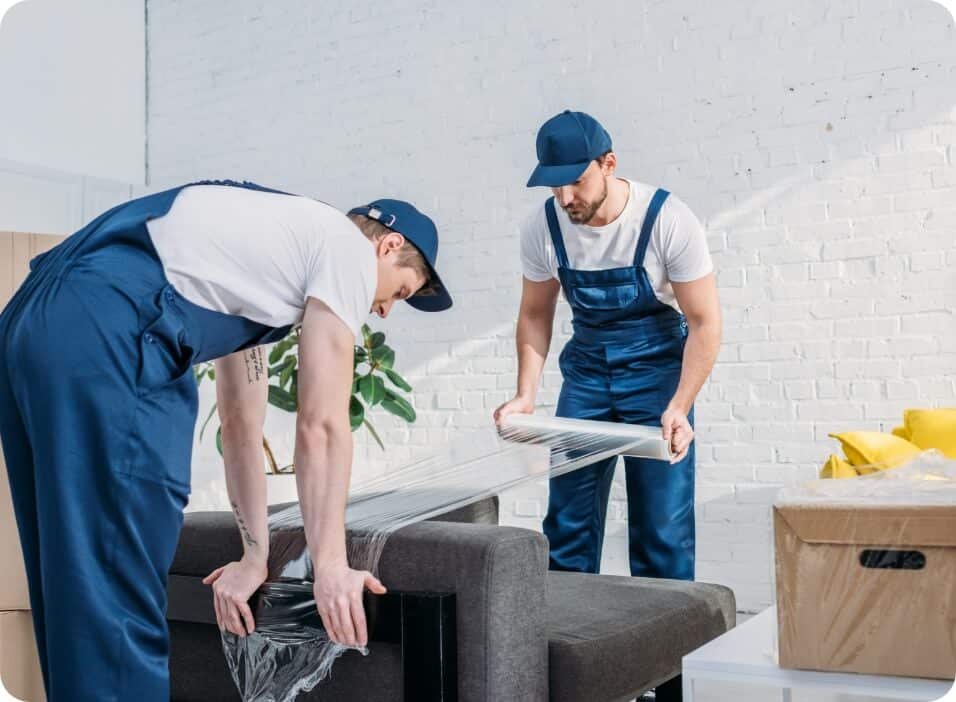 What is the Cheapest Way to Move across the Country?
The best method here if you are only concerned about saving cash without thinking of the time and energy involved is to rent a moving truck and embark on the all-American road trip all by yourself. Note that: insurance, toll, hotel, and fuel costs can quickly add up and amount to the same cost as hybrid or full-service options.
Moving budget is the first thing to consider regardless of the distance of your move. Then you can consider the time and effort required afterward. Are you going to take a week off from work to do the long driving? 
Do you have what it takes to pack and load moving boxes safely? You will find basic information about each type of move below to help you decide the cheapest and perfect way for you.   
1. Truck Rental Companies (The cheapest but stressful)
This type of moving option requires a lot of responsibility even though it is way cheaper than using a full-service moving company. You will be doing the packing, driving, purchasing insurance, and hauling your belongings across the state line, all by yourself. You will save a lot of cash if you have what it takes to complete this move.  
2. Ship your Items
There are many shipping companies online who will bid on your belongings once you clearly stated the content, the number of boxes, and so on. You will be saving a lot of cash if you have enough time to wait on bids from the shipping companies or to have your shipment bundled with others'.
This is the best option for those with few items to move, as it is not ideal for delicate items or large furniture. You can as well use USPS, FedEx, or UPS as an alternative shipping method for a few of your belongings.  
3. Moving Container Companies
Container companies are the best option for you if you have the time to pack, carry, and load your belongings all by yourself. A portable storage container will be sent to your current home for you to load within few days, and then it will be picked up again from there and delivered to your new home where you will unpack.
This moving option is not available in Manhattan. There will be no space for you to keep your container for loading if you live in a high-rise building or you have no driveway of your own.  
4. Freight Trailer
Consider it as a company without frills, as the freight company will drop off a trailer at your home for 3 days. You will then load up the trailer following their guidelines which include fastening the freight securely; balancing the weight, and so on, and then, they will pick up the loaded trailer and drive it to your new home.
Although each company set its price for this moving method, however, be prepared to pay around $3,000 based on the volume of your belongings. 
5. Moving Companies (Most Expensive but stress-free)
To have a sweet, smooth, and stress-free relocation experience, you need a full-service moving company. Whether you want to avoid breaking your back while carrying a heavy box or don't want to risk breaking your precious, fragile items, moving company services are your very best options.
A crew of professional movers will come to your home, pack your items as requested, and haul them to our new residence. You will certainly enjoy this service as you won't be required to lift a finger, and moving companies insure your entire belongings.
How to Find the Right Cross Country Moving company?
Regardless of the number of times you have moved from one town to another, you don't want to compare the complications involved in cross country move to it. Relocating from Victoria to Moncton or any other parts in Canada, for instance, requires proper coordination and carefulness with details. 
This is why it is best to allow cross country moving companies to handle the task as they have the required experience and expertise. Moving from one part of the country to another is definitely what you can do yourself.
Below are some helpful tips to help you find the right cross country moving companies:
Check their professionalism and experience
Find out the professional level of the movers, their reputation, their office, moving truck, business cards and an official website, their timeliness, knowledge about the services you require, their bills, what impression do you have about them? Make sure you ask yourself questions on these before you decide on a moving company.
Online Reviews
You will get to understand what a particular moving company represents and the quality of service they offer from the old customers' reviews from reputable websites. You will find some of these quality reviews from sites like Facebook, Google, Yelp, and Moving Feedback, as most posters take their time to share what they experience about a particular service or product they use.
Among the points raised by previous long-distance moving company's customers include timeliness, cost, and protection of possessions. Customer feedbacks should go along with the Better Business Bureau, which is the most vital source of an online reference for such service.
Ratings are handed out to companies from different industries by the BBB. Do not hire a moving company that has not been rated by the BBB whether an A- or A+. An A+ rating means the company is one of the best at what they offer. It is advisable to read the customer reviews available on the BBB website as they cannot be doctored or tailored.
Ask Friends, Families, and Neighbors
Having a one-on-one talk is one of the best ways to find out the quality and reputable moving companies in your area. So try and talk to families, friends, and neighbors to recommend and suggest movers for you. Majority of old customers are happier to share their good and bad experiences.
You can try Nextdoor.com if you don't have many friends in your area. The site is a social network for your community. Note that asking is not a crime. A moving company may look nice on paper or site, but having a feel of someone's experience might prove otherwise.
Ask about Subcontractors
Make sure you find out if the moving company will handle the entire moving process from picking up, hauling (transporting) and delivering of the entire possessions themselves or they are subcontracting part of the process to a different company before you hire them.
Many professional movers are into subcontracting moves. These subcontractors may not possess the same standards as the movers you hired are not employees of the moving company. Ask if the subcontractors are insured, if you are comfortable with them handling an aspect of your relocation.
It is advisable to find a moving company that does not subcontract if you are not comfortable with having another party take charge part of your move.
Review Your Estimate
Make sure you opt for movers that offer you the most comfortable estimate and give details of all additional charges. There are two main estimates offered for cross-country move; binding and non-binding estimates.
Whichever estimate is submitted by any mover, the most important thing is to make sure you provide your belongings' actual weight. With this, there will not be surprises on a moving day.
Ensure you review every bit of the estimate to know that your binding estimate worth the services the company is proposing. It is sure that your belongings will be weighed by cross country mover on the road, so any estimate submitted will work out if everything is done the way it's supposed to be and the actual weight of the goods is supplied for moving quote.
Brokers like Moving APT understand how much time, money, and planning goes into the moving process and will oversee everything so that you can know that the job will be completed properly and promptly.
What makes Moving APT the best moving company cross country?
At Moving APT, we don't meet the national standards, we set them. We started from humble beginnings in 1999 and have since grown to become an industry leader. We are considered the best moving company cross country due to our one-stop shop for all your moving needs.
We provide everything from professional packing services, to auto transport, to storage unit arrangement in your new city. We take care of everything in the move with a selection of packages that fits your budget. The result for you is no stress, no worries.
How did you become one of the best interstate moving companies in America?
Almost 20 years ago, we launched our company with just five employees and two trucks. From the start, we have prided ourselves on trust and reliability. These fundamental values have remained with us through the years and will always be the foundation by which we conduct ourselves.
We became one of the best interstate moving companies by building relationships across the country with the most trusted, licensed, and insured carriers to provide you with top-of-the-line service. We guarantee everything you need for your corporate or residential move.
Can I get a movers quote online?
Absolutely. You can receive a free quote on our website for your upcoming move. Whether you are moving into a home, an apartment, or a high rise, we will tailor our services to fit all your needs. There are enough personal challenges to deal with when moving across state lines. At Moving APT, we want to handle the move for you, so you can focus on more important matters. So go ahead. Get movers quote online today and be stress-free tomorrow.
How can you promise your partners are the best nationwide moving companies?
We are highly selective when it comes to choosing the right partners to serve you in your relocation. Trust us to find the right people for you. We maintain long term relationships with only the highest quality carriers in the country. Our partners are all licensed and insured, trustworthy and reputable. 
We also make sure these best nationwide moving companies have all the specialty services you need, such as auto transport, fine art and antiques, cleaning services, heavy machinery, furniture repair, and more. We maintain constant monitoring and evaluation to ensure your satisfaction.
As one of the premier cheap cross-country moving companies, how do you keep your rates competitive?
We pride ourselves on being able to offer efficient and punctual services to American individuals and businesses at an affordable cost. Moving APT is one of the cheap cross-country moving companies because we tailor each package to your specific needs. Want to save money on packing? No problem. We'll provide all the materials you need to do it yourself. We are also proud to offer discounts to our seniors, military personnel, and disabled customers.
Shouldn't I just search "moving companies near me" instead?
Our mission is to remove the hassle and the guesswork from your interstate move. Doing a blind search takes time, and you are taking a gamble working with people you have just discovered online. 
Moving APT has cultivated relationships with our partners from coast to coast for many years. We know who is reputable and who gets the job done, and those are the only businesses we choose to work with. While searching "moving companies near me" will provide results, we can provide you with the right partners already vetted, already proven to be the best in the industry.
Why should I pick you of all the moving cross country companies for my relocation?
Our customer service is top-notch and our customer ratings speak for themselves. The stress and logistical headache of a move across the country is best left in our hands. We've been doing this almost 20 years. All of our contracted third parties are FMCSA authorized motor carriers. Moving APT will arrange everything for you. If you're doing a corporate relocation, your business won't skip a beat. If it's a family affair, let one of the top-rated moving cross companies handle the details for you.
Can you help me with the basic steps of how to move cross country?
We are here to make your move is seamless from start to finish. We'll provide you with guidelines and a checklist to make sure basic things on your end are not left up in the air. Our customer service is always here to help with whatever you need. Do you have a grand piano that needs special attention? Need to put some of your belongings in storage when you arrive? We've got it covered. No matter what need arises in the process, we will show you how to move cross country the easy way.
Enter Moving Details and Get your Moving Quote in Seconds.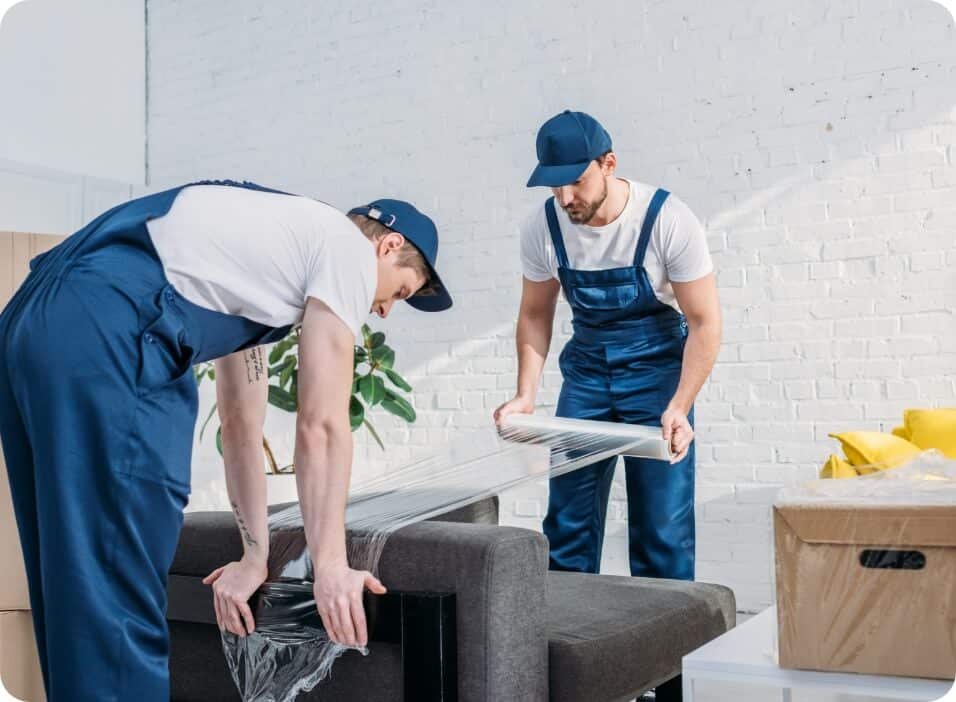 When should I hire long-distance movers? 
Do you have a starting date for your new job or a target date for when you're going to want to move into your new home? If so, then now is the time. If you can get 6 weeks or more between when you know and when you're going to move, that's ideal.
There are moving companies who offer last-minute moving services, but you may end up paying a little bit more if you go with one of them. In short, the sooner you can schedule your movers, the better it will be for you and them.
Why should I get an in-home quote for my move? 
If you get an in-house quote for your move, you are going to be able to ask the movers as many questions as you need to so that you can get the answers necessary to take care of things. On top of that, the quote is a lot more likely to be accurate – the movers will actually see what it is that you want to take with you and can determine the type of labor and the number of hours it will take to get things done.
Why do cross-country moves become so complex? 
Mostly, it comes down to logistics. You have to be certain that you're going through the process in a manner that prevents any sort of confusion or other issues. On top of that, moving companies will often need to take some additional time in order to figure out how they want to complete the move and how many employees that they'll need to send to make everything work out. While the logistics can be complex, sorting them out ahead of time reduces the chance of everything falling apart on moving day.
How long should I plan for my long-distance move to take? 
There are a lot of details that can be involved with your long-distance move, so it's not always easy to determine exactly how long that your entire moving process is going to need.
If you're moving across the country, you may need a week or more to ensure that everything is done correctly and that you'll be able to settle in at your new place. Interstate moves and/or long-distance moves across your home state may only take a few days to sort out.
Are there items that long-distance movers may restrict? 
Most of the time, your moving company will go ahead and provide you with a complete list of everything that you aren't going to be allowed to send along in the moving truck. If they do not, be sure that you ask them so that you don't inadvertently try to pack something up that shouldn't be.
In most cases, your moving company will not allow you to put anything living in the moving truck – that includes plants and animals alike. You'll need to take them with you or find a service that can help with their transport.
Conclusion
We know that moving is a big undertaking, and our team at Moving APT is ready to help you determine exactly what is necessary to get things done. We'll give you the resources and assistance necessary so that you can choose the right moving company and ensure that your move has as few hiccups as possible.
We can't wait to serve you and give you the assistance you need; contact us today and we'll get your move scheduled and sorted.