Trusted Corporate Moving Service
Do you need a way to make your employee move simple? Need professional movers that can take care of your moves for your team of employees? Looking to work with a reputable national moving company that is one of the top corporate moving companies that are efficient in moving experience?
You are at the right place. Moving APT is among the best corporate movers and we have the necessary experience and skills relevant to move your office effectively and efficiently.
We've been in the business of moving for decades, and our moving team performs corporate moving for companies and their workers every year. We also move customers across the country, partnering with many American companies in the process. That is why whether we are moving a worker that just gets promoted or a complete office of workers, we are the best cross country movers that you can rely on for your corporate moves.
Rely on our experienced consultants as well as move coordinators to come up with effective moving policies, control costs, and manage household moves of workers from start to finish. Our determination, like yours, is to help move your workers without a glitch.
Our Corporate Packing Services
Our company put in efforts to provide unmatched corporate moving service for companies and their workers. That begins with establishing a relationship with you by the personal move coordinators we assign to you through excellent customer service. Our team combines excellent support with great corporate moving options to select from.
Below are our offerings for corporate packing:
Full packing services: We offer professional full packing services that can save your time and get rid of stress. Your corporate moving can take a lot from you; allow us to handle the heavy lifting.
Partial packing services: With our partial services, you can choose the items or rooms you may need assistance from experts with and which ones you prefer to handle yourself.
Unpacking services: Moving APT can make sure your destination space is well-organized with our unpacking services. We can unpack the moving boxes we packed for you, letting you concentrate on highly important stuff like getting familiar with your new neighborhood.
Trash and junk removal: Kindly inform us during quoting, or if later, any time before your delivery is completed and we'll come back within 30 days after delivery to remove all your empty boxes and packing materials waste.
Specialty moving services: Arrange the moving of super-large items like pianos, or arrange for custom crating as required. We also can pack highly fragile items, costly electronics, and family heirlooms.
Military-grade storage solutions: Keep away some of your belongings you don't quickly need in our climate-controlled and more protected storage facilities that pass through Unite States military inspection standards.
You also can get extra benefits from our movers. We offer customizable scheduling with movers specifically booked for corporate relocation needs.
Our movers have great punctuality records: On-time for loading and 98 percent on-time for delivery. Workers that have smaller-sized moves can make use of our movers to get upgraded corporate relocation services, with one-day load and 3-day delivery timelines.
Also, you can always rely on us that workers' belongings and information will be kept safe and secure. The backgrounds of our packers, drivers, and movers are all checked. Also, all of your workers' data is kept safe on local secure servers, and it is regularly backed up.
International moving: Our movers have a wide network of dedicated service providers with many years of international corporate moving experience. We help workers move safely and securely almost anywhere in the country and world at large.
Also, we can assist with finding trustworthy resources about culture, language, customs, tax, residency requirements ad currency issues.
Enter Moving Details and Get your Moving Quote in Seconds.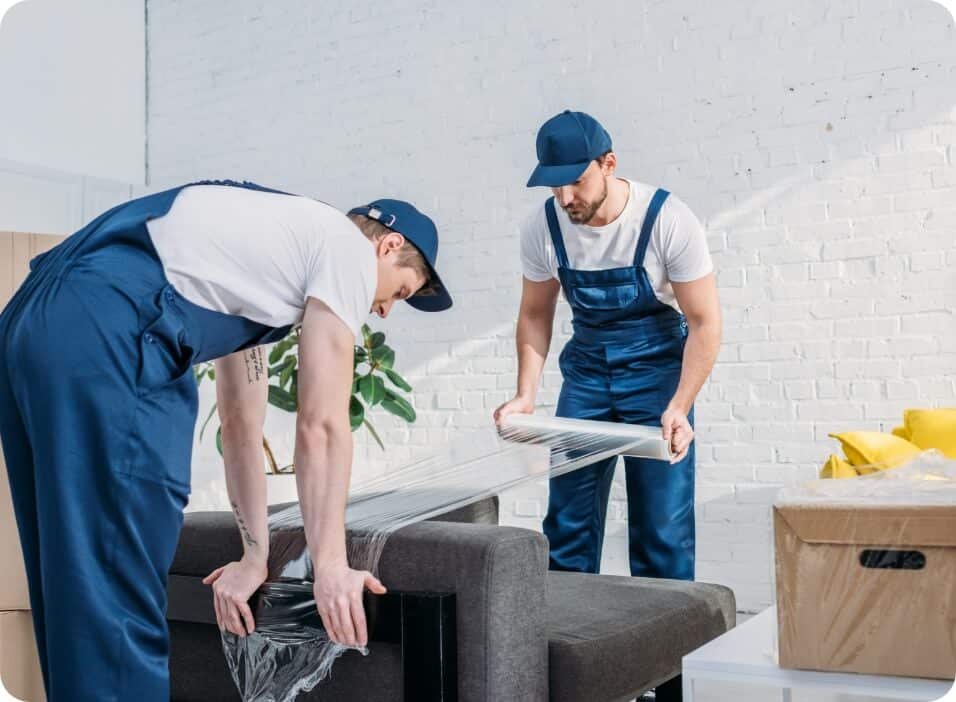 Corporate Moving for all Categories of Businesses
Also, if a corporate moving implies that you are moving your entire business, not just a worker, our movers are well experienced with moving business to any location whether locally, nationwide, or internationally.
We have the most costly network of movers to determine the perfect professional movers and packers for your move. We are trusted, experienced, and one of the top corporate movers in the country. We assure you that your move will be safe.
Corporate Storage Services
A corporate move may involve a need for storage solutions. Being a full-service moving and storage company, our movers offer storage in transit (SIT) for its corporate moving customers to join its moving services.
If you plan a corporate move and still searching for a new home or the new home will not be ready when you get to the new town, we can offer storage solutions.
We are flexible with full-service corporate moving services to fit your specific moving situation. As part of your move, we will keep your items at our storage centers and keep them on-site until you are ready to move them to your new home.
We will complete the moving of your belongings for you when you are ready to receive them. Leave us to take care of your corporate moving details; we make it simple and stress-free.  
Full Value Protection with your Corporate Relocation Quote
Unless your employer has arranged with us, the Full Value Protection option will be included in every of our first moving quotes.
This option will cover your items against any damage or loss to them and provide replacement, reimbursement, or repair as the case may require.
Make sure you ask your move coordinator for further information about your chosen option, if any, by your mover. Relax knowing that every initial relocation quote with us has Full Value Protection.
Making Corporate Moving Easier
Whether it is the first or fifth move of a worker, there are simple things they can do to make the process easier. The moving team at Moving APT has created 9 brief tips designed to help those on a transfer have a good moving experience. A move that runs smoothly can make your job and life easier.
9 Best Corporate Moving Tips
1. Understand the process:
When people are sure of what to expect, it usually leads to a better general experience. Long-distance moves often take place on many days (with equipment drop-off, packing, and loading, pickup of equipment, traveling to the destination, delivery, and unloading).
Due to this, we recommend the employee on a transfer to contact the moving service to find out the move date, timelines for packing and loading, and expected delivery date. They can then make a flexible travel plan based on the moving details they received.
2. Make parking arrangements:
It is important during any move to have a safe and legally permitted place to park the moving truck. In some cases, the equipment will be at home for a minimum of two nights.
Permission is not often required if it is parked in a private drive; however, Home Owner's Associations, apartment, and city management may ask for a permit for parking lots or streets. Ask your movers to find out who is responsible for obtaining permissions or permits.
NOTE: With prior notice, our moving team can take care of obtaining the required parking permits.
3. Provide all important information:
You need to importantly provide the correct details to make sure the move completed smoothly. The company moving your household goods will need to know the move date, origin and destination locations, and closing dates as well as travel plans.
These details will enable corporate moving experts to help plan a move that matches the schedule of the employee who also help to make sure delivery is accurately done. If details like destination address are not provided, let the moving company know in advance, and inform them immediately it is available.
4. Prepare for times when someone should be available:
Usually, someone (18 years old or more) must be present to accept delivery of the moving equipment at both locations. There will also be a need for someone to be available when packers and movers are doing their job.
Note: Our moving company allows that the designated person is the transferee, a significant other, a family member, or a friend. We only need to know the designated person as this will help in simplifying the process.
5. Always check-in:
There are times when their movers will ask questions or inform the transferee of the current situation of things. Due to this, you need to get accurate contact information (phone numbers and email), and to often check texts, voicemails, and emails to be up to date.
6. Plan travel for the next day after move-out:
As transferees schedule their travel to their destination home, we suggest they plan their travel to the next day after moving out. This usually lowers the stress as it provides flexibility for unplanned issues that can arise during a move.
If there is a need for the transferee to travel by air to start early on a job, they may have to leave a family member behind to be present during the move.
7. Make reservations:
Advise workers to make planning for travel, pet or child care services, apartment service elevators, utilities, and so on that are required before, during, or after the relocation.
8. Make storage plans:
It is normal for people to hold on until getting to a new city before they find housing. Storage may be the ideal solution while making an accommodation. A corporate moving expert can assist in figuring out the best storage options for the situation.
9. Notify the company of any adjustments:
There are lots of parts to the corporate moving task, such as transportation, travel, equipment, real estate, and moving crews. Speak with the movers if there is any change to your moving details. Timely communication ensures proper working on the part of your moving company.
One major component that sets us apart from the competition is our committed move coordinator, who acts as an advocate for customers and the only point of contact all through the moving process.
Our move coordinators on average have more than 10 years of practical experience and can be contacted all the time in case any unexpected issues arise on the corporate move.
Major Performance Indicators
Also, our company's corporate moving customer's business reviews are focused on customer priority. There are mutual and definitions and agreements of major performance indicator analysis at the time of implementation and perfectly monitored to make sure customer's expectations are surpassed.
Standard and personalized packages can be gathered depending on any combinations of the following:
Timely Performance
Satisfaction of Transferee
Claims / Exceptions
Severity
Frequency
Days to Settle
Demographics
Analysis of Business Trend
Performance Improvement
Personalized Metrics as analyzed by the Corporate Moving Customer (CMC)
Technology   
To speed up the efficiency of operation and improve the customer and employee's experience, our moving company makes use of the latest technology:
GPS tracking in each moving trailer
Cloud-Based Infrastructure: availability of information anytime on any computerized device
Best Move Management System in the industry
In-Can logging and communications: enable you to access improved communications as well as accountability of driver.
Mobile quoting tools: ensure the provision of comprehensive instant moving estimate
Customer Customized Websites: this includes moving statistics and information in a safe location.