Online Moving Quotes – Moving APT
Getting accurate moving quote is one of the challenging tasks faced by people when it comes to moving from one location to another, either short or long distance moving. Knowing what you may spend on moving can be very helpful and aid your planning process. Imagine you are served a bill of your moving after your belongings have loaded into your chosen mover's truck and discover the quote is outrageous. How would you feel? I know you would feel bad.
It is essential to know your bill before signing any agreement with any mover. Some unscrupulous movers are also in the habit of cooking up stories, such as you have more pieces of luggage not included in the quote or complaining about the stress involved in moving your belongings; hence, they come up with additional estimated bills to charge you extra as against your initial agreement with them. The good news is that you can get an accurate quote online without being cheated in any way.
Moving quotes are usually based on various factors and with a good knowledge of all these factors; you can have a guess quote before movers even submit theirs. Factors such as distance (either you are moving to another country, state, or city), the ease of accessing your belongings, and much more, play a vital role in determining your moving quote. Understanding these factors will help your moving planning and budget. Moving APT aims to enlighten our clients and visitors on online moving quotes. We will be discussing each factor as related to moving from one location to another. Let's dive into it.
Understanding Online Moving Quotes – Quick Tips
A mover's quote aims to furnish you with a precise idea of your moving cost before moving service can be provided. However, before you make that call or contact a mover for a quote, it is essential to know the type of move you want to make. This will help you get a quick and accurate quote online without extra cost after moving. For you to avoid moving scams and get the most out of your moving budget, below are the major factors put into consideration in getting the best and accurate online quote:
Volume And Inventory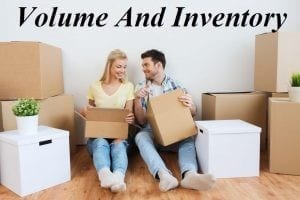 The volume of your belongings to move is one of the key factors movers based their quotes on. You need to take proper inventory of all your properties with their accurate sizes to prepare your quote. The calculation will be based on the foot/cubic size of all items to be moved. Some companies quote in the range of $1 – $3 per cubic footage; however, this is base on your distance. Remember, you must have full knowledge of the volume of your belongings to get a quote online; hence, moving companies may cause to carry our physical survey before giving you a quote. Knowledge of the volume of your belongings helps movers to determine labor cost, vehicle size and other mercenaries to be deployed for your moving.
Accessibility
Ease of access to your belongings is another important factor to consider in online quote. Some moving companies may charge additional cost if they may experience difficulties accessing your property. Consideration for ease of access for moving quotes is viewed differently; while vehicles cannot access some homes, some customers may be living in a top floor without a lift or an area with a narrow lane without a parking space. Some areas require that removers have to manually move your belongings on a long distance before loading into trucks. These and many more contribute to your moving cost.
Distance
Apart from volume and ease of access to your properties, distance traveled during moving is also a factor to be considered in online moving quotes. Travel time can be described as a time required to travel from your current location to your new apartment. You can be charged more if you are moving to a far distant location. It is not disputable that moving to a local area is quoted lesser than relocating to overseas or cross country. For example, some moving companies charge clients per mile or at an hourly rate. Whichever quoting system, distance is usually considered in quoting your moving cost.
Other Factors that may Influence Online Quote
Apart from above-discussed factors, Moving APT also offer a range of additional services not considered in moving quotes, to make moving stress-free for our clients. These services may include disassembly and reassembly of furniture, packing & unpacking of belongings, and much more. However, these additional services may involve additional cost to your quote. From our many years of experience, it was discovered that some items require special care and protection. Some of these items may need specialized equipment to move them to offer adequate protection for a successful moving. Some items such as marble, stone, glass, and artwork require special handling during moving. So, if you know you possess some of these items, it is essential to alert us to incorporate it into our quote. However, most of these additional services are not charged as such because we see it as an extra cost to your budget; hence, it is affordable.
The following table displays the Factors that may Influence Online Moving Quote:
| | |
| --- | --- |
| No. |  Factors that may Influence Online Moving Quote |
|  1. |  Volume And Inventory |
|  2. |  Accessibility |
|  3. |  Distance |
|  4. |  Disassembly and reassembly of furniture |
|  5. |  Packing & unpacking of belongings |
|  6. |  Items that may need specialized equipment to move them |
Get an Online Moving Quote from Us Today!
Getting a deal is important when you're going through a long distance move, and that's why Moving APT tries to offer low-cost movers coupled with a high-cost delivery that will give you the most cost-effective work possible! So, why go for cheap movers that are going to provide you with low quality work and that won't protect the valuable items that you're moving across the country? Get all of your moving professionally handled, know that you can trust our background and feel like you're getting a steal with the affordable services that you will get from our help!
When you are looking for cross country moving quotes, you want to be sure that you're getting high quality with a fair cost – and that's what our online moving quotes will help you to understand! Fill out the form on our website and answer all of the questions. When you're done, send it to us, and we will come back with a free quote for you. You will get all of the information related to your move on that quote, and then you can contact us to set up timing and whatever else you need for your move! It's that easy!
Final Tip
If you are planning to hire us or other movers, it is worthy of mentioning that quote and estimate may vary in some case. An estimate is given after the moving company had carried out a physical survey to ascertain the actual home or properties to be relocated. Always ensure you thoroughly read through your moving document before hiring a company. This prevents you from falling into the hands of moving scammers or exorbitant quotes. However, our online quote form is designed in such a way that we will get all we need to prepare your quote without a need to survey your property. Moving APT is here to serve your moving needs; no job is small or big. We are your service! You can contact us for a free quote today!