Moving can be an overwhelmingly stressful process, requiring a lot of time and organization to get everything ready in time and avoid going over your budget. On top of everything else, items will need to be packed up and loaded onto a moving truck – a task that can be extremely tiresome.
Many homeowners save themselves the hassle and hire professional movers. However, there is another route you can take – rent a moving truck. Let's explore the costs or hiring movers as well as the costs of renting a moving truck.
Is it Cheaper to Hire Movers or Rent a Truck?
Professional moving teams and moving truck rental companies provide homeowners with services that make moving from one place to another simple.
There are a few key differences between hiring movers and renting a truck, which should be considered before making a decision as to how to handle your move.
How Much Does Hiring Movers Cost?
Hiring a team of professional movers is the best way to make your move as easy and hassle-free as possible. Moving services can be customized, allowing you to get all the help you need to complete the move quickly and efficiently.
These professionals save homeowners a lot of stress and time, which is why many individuals choose to hire a team of movers. Let's look at the cost of hiring movers to get your belongings to their destination.
Distance is the first factor to consider when planning a move. Moving to a new state is a bit more expensive than moving into a home around the corner.
The area from which you are moving makes a difference as well, as busier cities are typically more expensive when it comes to hiring movers and costs can vary dramatically from city to city.
Long distance moves are often calculated by the weight of the load, which makes moving a 4-bedroom home much more costly than moving a studio apartment. Local moves are typically paid by the hour, so delays can result in extra expenses and late fees.
Depending on the destination of your new home and the amount of items being moved, the cost is going to vary depending on numerous factors.
The date of your move makes a large difference to the overall average cost you can expect to pay for your move. During the off-season, moving companies are slower and prices drop, resulting in savings.
However, full-service movers and rental truck companies may have less availability during busier times of the year and the moving cost will rise.
This does not only apply to a long-distance move; even when planning a local move, the date you choose to transport your items to your new home may be lower during the off-season and higher during the busy season.
Your belongings can be at risk when it is poorly packed in a moving truck, and if you are not sure of how to efficiently pack a truck, your items can consume enough space than required. Go through our blog section on how to pack your moving truck to discover how the professionals do it. 
Will You Need Additional Services?
Moving companies often provide residents with the option to add moving services and ensure that items are properly accounted for and taken care of. Some additional services include:
Full packing and unpacking: Packing services take the hard labor away from your household and give the job to professional movers. The moving team will carefully pack belongings up and unpack them once you've arrived at your new home.
Disassembly and reassembly: When large pieces of furniture need to be transported, they will need to be disassembled. Moving companies provide disassembly and reassembly services to get furniture loaded onto the truck, transported safely to its destination, and set up upon arrival.
Special handling: Special handling services are provided when fragile, heavy, or valuable items are being transported to their destination. With special handling, your items are given special care and attention to ensure that they arrive with no damage or issues.
Loading and unloading: Movers can load and unload your belongings, getting them onto the truck with ease and precision. Once at your new home, these items are unloaded so that you don't struggle with heavy boxes or large pieces of furniture, potentially damaging items.
Fees You May Incur
Working with a moving team has its perks, but homeowners should plan for additional costs if there are obstacles that make it more difficult to move items or cause delays in your move.
Though these fees may not be part of your initial budget, they may be charged in particular situations. Let's look at some common fees you should expect to pay when working with a professional moving team.
Elevator fees
If your moving team has to go up a flight of stairs or use an elevator to get items in or out of the home, elevator fees may be charged. This means each step your movers take count if they'll be ascending or descending a building.
Appliance fees
Taking appliances to your new home may involve an appliance fee, which movers charge when refrigerators, washers, dishwashers, or dryers will be removed from the home or installed in your new home.
Long carry fees
These fees can be applied when movers must travel a longer distance between the truck and the front door than normal, making it more difficult to haul items to or from the vehicle.
Storage in transit fees
Delays can be costly when it comes to moving items into a new home. An SIT fee, or storage in transit fee, is applied when movers arrive and the home is not yet ready. If the company has to store your belongings, expect an SIT fee.
Tips
While tips are not necessarily fees, they are customary when a team has handled your move efficiently and professionally. Tips can vary and start at around $5 per team member, though you are not required to give a tip if you are not satisfied with the services received.
Enter Moving Details and Get your Moving Quote in Seconds.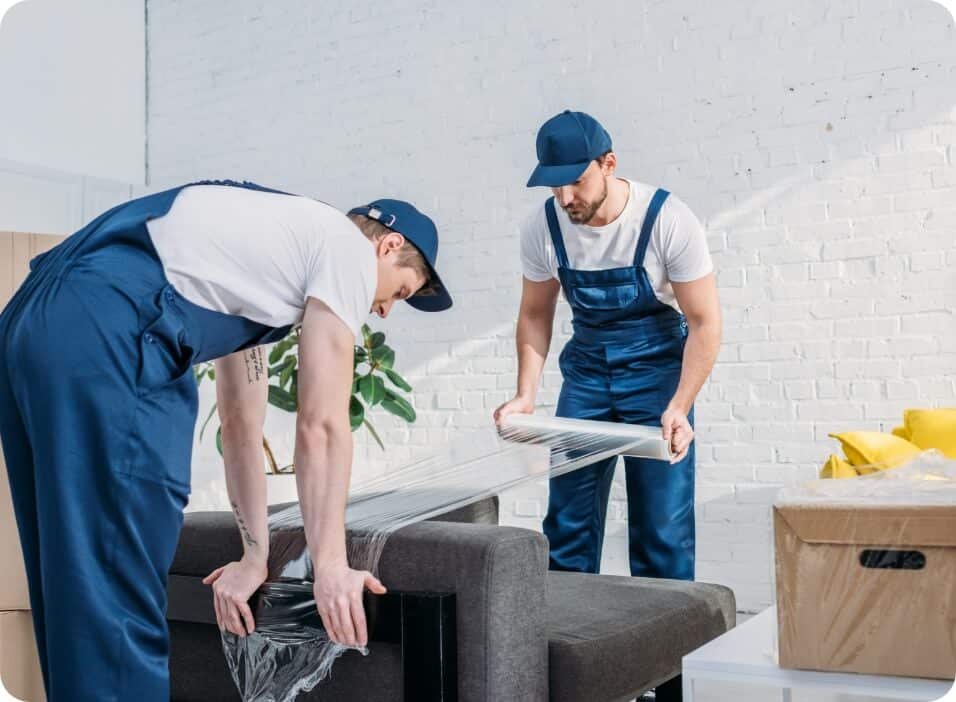 Factors That's Effect Truck Rental Cost
The price of renting a moving truck can be significantly lower than hiring a moving company in some cases.
However, the price depends on truck size, how long you plan on keeping the truck, the distance you will be traveling, additional supplies or equipment required to complete your move, and whether you are moving locally or long-distance.
All of these factors, and more, can affect the price of a move and raise or lower the costs you can expect to incur.
Size
One thing that homeowners should determine is the size of the moving truck required to get items from one home to another. Bigger trucks will be more expensive and cost more per mile to fill up.
The items that need to be transported will typically determine the truck's size. Moving trucks don't charge by the weight, but they do charge by the mile and can get pricey when you add in the costs of fuel.
If you don't need as much space as the typical moving truck allots and want to save on fuel, cargo vans are an excellent option. These are smaller than typical moving trucks and are convenient for single-family homes and smaller apartments and studios.
Duration
When renting a moving truck, you are paying for the duration in which you will be in possession of the truck. If you are not on time with returning the vehicle, extra fees will be added to your final expenses.
If you're not sure of how long you will need to get items loaded and delivered to your new home, you may run the risk of paying more than you bargained for.
An option that allows for more flexibility when moving is a moving box or a storage pod. These containers provide you with enough space to load all of the items that need to be moved and can be picked up and dropped off at your home at your convenience.
If you own a framing painting, full-body mirror, or a flat-screen TV that is too large to place at the back of your moving truck, just sandwich it tightly between a mattress and box spring or two mattresses. Get a separate box to pack your fragile belongings to provide more protection. 
Distance
The distance your items will be traveling plays a part in the price of your total truck rental price. On top of the base rate for the truck, the cost per mile is calculated along with additional fees like taxes and any additional services or supplies that may be required.
Mileage fees will vary from company to company, so it is important to discuss these fees with the moving company of your choice.
Equipment
While there are many items in the home that can be packed in boxes and loaded onto a truck with no problem, some items may be heavy or awkwardly shaped. Moving teams use equipment that allows them to get these items loaded and unloaded without causing damage, but many homeowners do not have these items in their homes and will need to either borrow or rent them.
If you'll need to use any equipment provided by the truck rental company, such as a dolly, there will be a fee attached. If any specialized equipment is needed to get items onto the moving truck safely, professional help may be required.
Depending on the items that need to be transported, the items supplied by the rental company may come in handy.
Do All Moving Truck Rentals Charge Per Mile?
While most companies charge per mile, not every truck rental company does. In some places, you can find moving truck rentals that charge one flat fee and give you unlimited mileage.
This option can save individuals a lot of money when conducting long distance moves, though it may be more expensive when it concerns local moves. Be sure to speak with the rental company of your choice to determine how they charge for their rental trucks and what costs you can expect to incur.
Fees You May Incur
A rental moving truck is often considered the best way to save money when planning a move. However, rentals can come with just as many fees as a moving service. Let's go over some of the fees that may be added to your rental expenses at the completion of your move.
Damage fees
If any damage occurs to the vehicle, which sometimes includes damage caused by inclement weather, the costs of repairs will be deducted from the price of your deposit.
Gas fees
When returning a rental truck, it should contain the same amount of gas it had when you received it. If there is less gas in the tank, you may be required to pay a gas fee.
Supply fees
If you will be in need of equipment, such as blankets, the moving company will provide these items – for a price.
Young/added driver fees
Additional drivers and young drivers cost an additional fee, as younger drivers may pose a greater risk behind the wheel and additional drivers will need to be accounted for and covered. These fees are charged per day, so timeliness is recommended.
Late fees
Rental vehicles need to be returned before a certain date to avoid paying late fees, which can vary dramatically from one company to another.
Excess mileage fees
When renting a vehicle, your mileage is calculated based on the distance you will be traveling to your new home. Going over than mileage can result in fees added to your final statement.
Cancellation fees
Cancellations will need to be made in advance in order to avoid cancellation fees, which vary depending on the company you are renting with. Aim to cancel reservations at least 48 hours before you are scheduled to pick up the vehicle.
Which Is Cheaper – Hiring Movers or Renting a Truck?
In order to determine whether hiring movers or renting a moving truck is the cheaper option, it is essential to look at all aspects of your move.
First, figure out the distance between your current home and the location of your new home and inventory the items in your home that will need to be transported.
Once this is done, get moving quotes from several moving and rental companies to see which option is best for you.
When renting a truck, it is also important to consider how much time it will take to load items along with how many heavy items will need to be transported, as these may require assistance from professionals or the use of special equipment.
In some cases, renting a moving truck is cheaper while in other situations it is more cost-effective to hire a team of professionals. The final costs depend greatly on your unique situation.
Enter Moving Details and Get your Moving Quote in Seconds.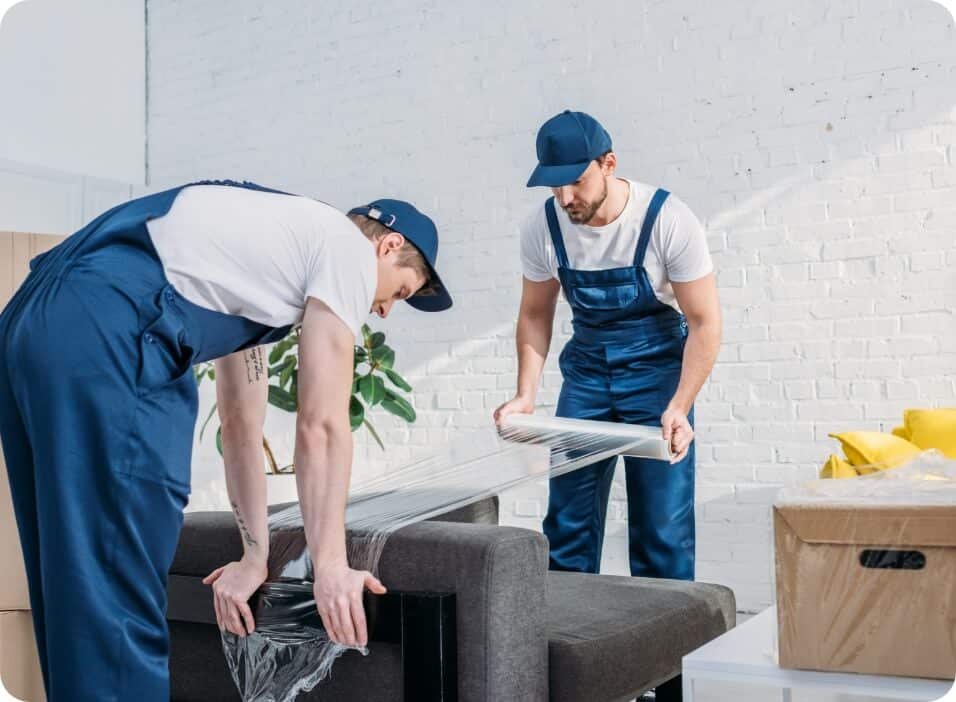 What if there is no exact size of truck I need? If you have to get a larger truck size than the one you need due to the availability problem, ensure you have moving blankets to cushion between your belongings to avoid shifting. If you choose a lesser size, try to include a trailer in your rental. 
Frequently Asked Questions