Already helping over 7,000 customers hire the best Bronx movers, Moving APT is the top site for finding local and long-distance movers.
Our thorough research of the Bronx moving industry means you don't have to waste time vetting companies or sifting through hundreds of Google search results for 'movers near me.'
With Moving APT, you can easily find and compare movers in your area for:
Local moves
Out-of-state moves
International moves
Commercial moves
Military moves
We had our team do the hard work for you to find Bronx movers offering essential local and long-distance moving services such as:
Packing and unpacking
Furniture disassembly/reassembly
Loading and unloading
Truck rental
Storage options
And more!
In addition to moving services, we also looked at price, reliability, customer reviews, and other factors to find the best moving companies in the Bronx.
How Much Does it Cost To Hire Long-Distance Movers in the Bronx?
Bronx movers will charge between $3,000-$7,000 (or more) for long-distance moves. The final cost will depend on the distance of the move, the weight and volume of belongings being moved, and any additional services needed (packing/unpacking, storage, etc.).
Typically, flat rates are charged for long-distance moves. Mileage rates vary between $0.60-$1.00. Item weight rates have similar pricing but may have a minimum amount that must be met in order to avoid an additional fee.
Not sure if you are getting the best price for your move? Use our detailed moving cost calculator to get the most accurate quote for long-distance movers in the Bronx. With this tool, you can estimate how much your long-distance move will cost based on the specifics of your move. Use this estimate to compare moving quotes you receive from Bronx moving companies.
| | | | |
| --- | --- | --- | --- |
| Distance | 1 Bedroom | 2 – 3 Bedroom | 4 – 5 Bedroom |
| Local (Less than 100 Miles) | $550 – $700 | $850 – $1800 | $1300 – $5200 |
| 100 miles | $1300 – $1800 | $1650 – $2100 | $1500 – $3900 |
| 250 miles | $1400 – $2200 | $1800 – $3500 | $2,000 – $4800 |
| 750 miles | $1500 – $2900 | $2400 – $6900 | $5700 – $7900 |
| 1500 miles | $1700 – $3200 | $2900 – $7900 | $6700 – $9500 |
| 2500 miles+ | $1900 – $3700 | $4200 – $9200 | $15000+ |
What To Look for in a Moving Company in Bronx, NY​
Ensuring you have the right movers for the job requires careful planning and consideration. Always look out for or ask about the following information before hiring Bronx movers.
Long Distance vs Local
You'll want to find a moving company that can handle the specific type of move you want to complete. This will ensure the moving company has the correct equipment for the job and offers the best rates.
Local Bronx moves will be charged hourly, while long-distance or out-of-state movers will be charged based on the weight of your belongings and the distance traveled.
Knowing your move type will help you get accurate quotes from moving companies in the Bronx, thereby avoiding any financial surprises on moving day.
Licensing & Insurance
To keep your belongings safe and your move on track, only hire moving companies in NYC that are licensed and insured. Not only does this protect your things in case of an accident, but it also offers you some financial recourse should something go wrong.
As part of our everlasting commitment to connecting you with the best Bronx movers, we only work with licensed and insured companies.
Compare Moving Companies in Bronx, NY
Company
Rating
Avarage Price


(2-3 Bed)

$3210- $7320
$3300- $7900
$2950 - $6650
$3050 - $6820
$2900- $8250
Superlative
Best For Long Distance
Best Customer Service
Most Efficient
Most Experienced Movers
Best Premium Services
Get a Quote
Get a Quote
Get a Quote
Get a Quote
Get a Quote
5 Best Bronx Movers Selected by Moving APT​
Completing its first New York move in 2008, Roadway Moving has regularly been ranked as one of the top-rated moving companies in the Bronx – not to mention every other NYC borough. 
The company offers specialized attention to each move with the firm belief that "no two moves are the same." In addition, Roadway Moving uses specialized inventory tracking technology to keep your belongings safe and ensure nothing gets lost in transit. 
Available for local and long-distance moving services, customers can also take advantage of temporary storage, packing assistance, and other essential moving services.
Why We Like Roadway Moving​​
The first thing that struck our team about Roadway Moving was its specialized quote process. With no two moves being the same, Roadway also believes that no two moves should be charged the same. We believe this flexibility in pricing makes them one of the best moving companies in the Bronx. 
Additionally, those seeking temporary storage of an item or two can use the Red Bin program – Roadway's affiliate storage solutions for however many items you need.
With full-service and concierge moving assistance for any type of move, hiring Roadway Moving is a smart choice when you want to complete a Bronx move.
Move Happy is a newer moving company in the New York City area. The company offers local and long-distance assistance for military, residential, and corporate moves. 
Available to transport a whole building's worth of belongings or just a few items that need careful handling, Move Happy is a reliable and affordable moving solution in the Bronx. 
Customers can contact Move Happy via email or phone to set up a free quote and consultation.
With many moving companies in the Bronx focused on residential relocations that go from home to home, Move Happy offers a better solution to those who need to move an office or business. 
The company's corporate moving services are designed for those who need to quickly and affordably relocate a business – perfect for those in the Bronx looking for a new office space. 
Additionally, Move Happy offers international shipping at short notice for military personnel that may be unexpectedly deployed. Finally, move Happy is an excellent choice for those needing storage solutions or to quickly move home or office.
FlatRate Moving offers intrastate and interstate moving services for every need with a fleet of moving trucks and vehicles designed for several different moving services. 
Using a specialized formula to calculate moves based on distance, item weight, and move complexity, FlatRate Moving offers guaranteed pricing that is more reliable than hourly movers estimating moving costs. 
Those completing a Bronx move can enjoy numerous additional services at no extra charge when hiring FlatRate Moving, including furniture dismantling and wrapping, packing services, and protection for interior surfaces.
Why We Like FlatRate Moving​​
Those wanting the best pricing for their move will want to consider FlatRate Moving. Using a specialized formula, the company can give an accurate and binding estimate for your move – no matter how complicated it may be. 
With extensive moving services included at no extra charge, like furniture disassembly/assembly and surface protection, we believe that FlatRate Moving is one of the best moving companies in the Bronx. 
The company also has specialized vehicles with climate control and extra security for long-distance moves – ensuring that your belongings make it to their destination safely.
The process of finding cheap moving companies in NYC can be a pain. But Imperial Movers not only offers affordable prices, the company also has a wide variety of services for any type of move. 
Available for long-distance, local, and international moves planned in advance or at the last minute, Imperial Movers can transport any type of belongings – from standard household items to pianos and other delicate items. 
These highly professional and reputable movers in the Bronx also offer temporary storage solutions, packing services, and white-glove VIP moving services.
Why We Like Imperial Movers​​
The customer service and pricing set Imperial Movers apart from the competition. As one of the most affordable Bronx movers, the company offers a wide variety of services to fit any moving need. 
With the commitment to ensuring every move is a success, the team at Imperial Movers will work with you to figure out the best way to transport your belongings – even if it is at the last minute. And if you need help packing or unpacking, these movers can also provide that service for an additional fee. 
Those in need of a truly NYC moving company that understands the challenges of city living will want to consider Imperial Movers.
Since 1993, Oz Moving & Storage has been among the most trusted moving companies in the Bronx. With a fleet of 50 trucks and over 200 employees ready to help with any size or type of move, the company is equipped to handle local moves, long-distance moves, and international relocations. 
Oz Moving & Storage also offers comprehensive storage solutions for those wanting to declutter their homes before a move or store belongings during a renovation. Oz Moving & Storage is licensed with the NYC DOT and boasts an A+ BBB rating.
Why We Like Oz Moving & Storage​​
Out of the hundreds of moving companies in the Bronx, Oz Moving & Storage is one of the most experienced and reliable. With a wide range of services – from local moves to piano moving and storage solutions – this company will make sure your belongings are well taken care of from start to finish. 
Oz Moving & Storage is also one of the few companies that offer real-time GPS tracking of their moving trucks, so you can always know where your belongings are. 
And for those with especially delicate or valuable items, the company has a fleet of air-ride trucks with security cameras to ensure that your belongings are protected at all times.
What Factors Contribute To Moving Costs?​
Estimating moving costs is always a hassle – especially if you don't know or understand how movers charge. Generally, three types of moving fees will be assessed for your move: essential, optional, and required. Each is affected by factors related to your specific move.
Essential Moving Costs
Essential moving costs are those needed to complete the actual move. Typically this includes loading, transport, and unloading by a few local or long-distance movers and a truck. These prices are generally affected by the time of year with summer moves having higher costs.
If moving locally, these fees will be assessed by movers in the Bronx at an hourly rate ranging from $40-$100+. If moving long-distance, flat rates will be assessed based on the weight of belongings being moved and the total distance traveled.
Note that any move crossing state lines will be considered a long-distance move.
Optional Moving Costs
Optional moving costs are not needed to complete the move but may make it more convenient or hassle-free for you. These services typically come at an additional cost and must be scheduled in advance as they are subject to availability.
Some optional moving services include:
Packing & unpacking services $100-$1,000+
Storage solutions $50-$250/month
Furniture disassembly/assembly $50-$200
Car transport $500-$1,500
Post move cleaning services $100-$200
Junk removal $100-$600
White glove/concierge service $200-$1,000+
Some moving companies in the Bronx include these services (or a limited version) for no additional fee. Get multiple moving quotes from Bronx movers to find the best deal on optional moving services.
Required Moving Costs
There are some required moving costs that you will need to pay regardless of which company you use or how you choose to move. Often overlooked when planning a moving budget, these services can add up quickly and take you by surprise if you are unprepared.
Some required moving costs include:
Multiple flights of stairs $50-$100/flight
Elevator use $50-$100
Long carry fees $100-$200
Multiple stops $100-$200
Major appliance disconnect/reconnect $100-$200 each
Parking permits $20-$200
On your moving quote, you may notice these required costs listed as 'Access Fees'. When getting moving quotes, it is essential to inquire about these costs as they can significantly alter the bottom line.
Best Moving Companies Near NYC
What To Know Before Moving From the Bronx​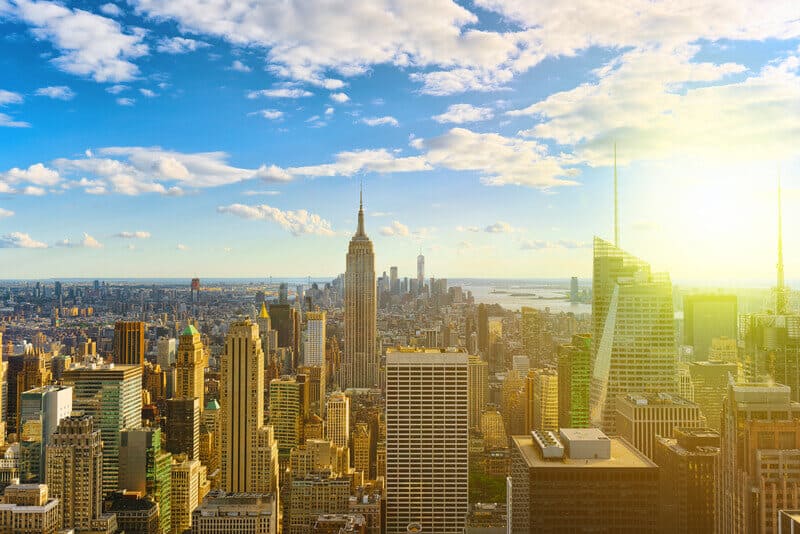 Using moving companies in the Bronx to a different part of the city or to somewhere else entirely? Don't get caught off guard by following these tips before moving.
Reduce Moving Costs
You can reduce your moving costs before leaving by taking time to declutter your home. The fewer items you have, the lower your moving costs, especially if you are being charged by weight or volume.
You can also save on packing materials and labor costs by packing yourself in advance. This is a great way to save if you have the time and energy to complete it.
Get Organized Early
Moving is a big undertaking and can quickly become overwhelming if you are not organized. To reduce stress, start by creating a moving checklist detailing every aspect of your moving process from start to finish. Your moving checklist should include:
Hiring movers in the Bronx (best done 8+ weeks before your moving date)
Creating inventory list
Types of packing materials needed
Packing timeline
Canceling/transferring utilities
Changing your address
By getting organized and taking care of all the details in advance, you can reduce stress and ensure everything goes smoothly on moving day.
Here's How We Rank Our Bronx Movers
Moving APT has 22 years of experience in the local and long-distance moving field, serving more than 22,000 clients to date. Unlike other recommendation sites, we do real, face-to-face business with the movers in our network. 
This makes our data more in-depth and reliable than anything else you'll find online.
Our rating methodology is based on the following:
Reviews
Online Reputation: We sort through reviews and company profiles to make sure your movers are highly-rated and backed by plenty of experience.
Industry-Insider Information: We work with movers to get a full picture of the services provided by other companies across the field.
Mystery Shopping: We make sure movers are giving you the same rate they give us. Sometimes we call and pose as complete strangers to make sure they're honest.
licensing and Accreditation
Arbitration Program: Movers are legally required to have an arbitration program in place to compensate for lost or damaged items. We make sure it's up to date.
Active Claim Department: We check to see if movers have any outstanding claims to see how they handle customers who've reported damages – and how quickly they help.
Safety Record: The FMCSA's Safety Measurement System provides us with up-to-date information about a mover's safety track record, including accidents and inspections.
Active Moving Insurance: Long-distance movers in NYC are legally required to provide full or released-value protection on all of your items. We make sure of it.
Client Feedback
Video and phone reviews: We ask our own clients for short video testimonies detailing their experiences with their movers. It shows which movers are exceeding expectations.
Online surveys: We take the time to read about each completed move to get the full picture of how a mover performed.
As a moving broker, Moving APT actually deals with drivers and movers on a daily basis. We negotiate deals for our clients and ensure that movers always honor their contracts – no last-minute upselling, no overcharging, and no funny business. 
It's how we help our clients get moved with minimal fuss, and it's part of maintaining clear communication between clients and moving companies.
More customers for better movers If a mover is exceeding expectations, we send them more business. If a mover needs to improve, we don't. It's simple.
Frequently Asked Questions​
What is the cheapest way to move long-distance to/from the Bronx?
Often the cheapest way to move is the easiest way – and that is with full-service movers. Full-service movers will pack, transport, and even unpack your belongings for you. While this may be more expensive than a do-it-yourself move, it often saves time and energy in the long run – which can be more valuable than money.
If full-service movers in the Bronx aren't in your moving budget, consider saving money by decluttering, planning in advance, using a cost calculator to get the best estimate, and packing yourself.
What should you not move long-distance?
Getting all of your belongings to a new location isn't always as easy as just hiring movers. Some items cannot be transported by moving companies, so you might have to make other arrangements to ensure that everything you own makes it to the final destination.
Among the items movers can't load or transport include flammable liquids, ammunition, explosives, open paint cans, propane tanks, plants, animals, and sometimes items packed in trash bags. Moving companies in the Bronx have their own policies regarding what they will and won't move, so be sure to ask in advance if you are unsure about your belongings.
How much is it to move a two-bedroom in the Bronx?
Two-bedroom homes or apartments will cost between $600 and $7,000+ to move, depending on the distance being traveled. Moves considered long-distance will be charged at higher rates than shorter moves.
Other factors that will affect your moving quote include the type of home you are moving (house, apartment, condo), the number of belongings being moved, and whether or not you require full-service movers.
How far in advance should I hire movers in the Bronx?
Moving experts agree that hiring movers should be done no less than six weeks in advance of your preferred moving date. In many cases, you should look for movers at least eight weeks in advance to ensure enough time for getting multiple in-home or virtual estimates.
Last-minute moves are possible, but they may come with a higher price tag and less availability for specialized moving services that make moves easier – like storage and packing.
When is the best time to move in NYC?
Whether it's the Bronx, Brooklyn, or Manhattan – the best time to move in New York City is during the early spring or fall. Moving during these seasons will help you avoid extreme weather conditions (hot summer days or cold winter weather) and higher moving costs associated with the peak moving season (May through September).
Keep in mind that even if you move during an off-peak season, you should still plan your move several weeks in advance to ensure the availability of movers and moving services.
Hiring the Best Bronx Movers
If you're planning a move to or from the Bronx, be sure to hire professional, reputable movers. To get started, use our list of the five best moving companies in the Bronx. With our detailed reviews and search tools, you can compare pricing, services, and customer satisfaction ratings to find the best fit for your move.