Whether to or from, a Jersey City move is a big deal. But with the help of Moving APT, it doesn't have to be stressful. We've been connecting people with the best moving companies for their needs for over two decades, and our experience has taught us a thing or two about finding the perfect fit.
Using expert vetting and user-generated reviews, we created a list of the best Jersey City long-distance and local movers you can trust for your upcoming relocation. We considered important factors like price, services offered, and customer satisfaction to ensure you're getting the best possible value for your money.
Check out our list of the best moving companies in Jersey City that will make your transition a breeze with moving services that fit your budget and needs.
How Much Does it Cost to Hire Long Distance Movers?​
The cost to hire long-distance movers in Jersey City varies from company to company, but most with a two-bedroom home or apartment can expect to pay an average of $5,000 for services from long-distance moving companies that include:
Loading
Loading your belongings onto a moving vehicle is typically the first step in the long-distance moving process. The cost to have your belongings loaded onto a truck by professional movers is based on an hourly rate or flat rate, depending on how the moving company charges. Typically loading is included as part of the overall cost of the move, but some companies do charge an additional fee for this service.
Transportation
The cost of transportation is based on the distance of your move and the size of your load. The average long-distance move is about 1,000 miles, which would cost between $2,000 and $5,000 depending on the size of your load. The further you are moving, the more it will cost to have your belongings transported by moving companies in Jersey City.
Unloading
Once your belongings arrive at your new home, the professional movers will unload them from the truck and transport them into your home. The cost for this service is typically included in the overall price charged per mover. However, other fees can increase this cost, such as if the movers have to load from a distance greater than 75ft from the moving truck to the door.
| | | | |
| --- | --- | --- | --- |
| Distance | 1 Bedroom | 2 – 3 Bedroom | 4 – 5 Bedroom |
| Local (Less than 100 Miles) | $350 – $700 | $850 – $1800 | $1300 – $4700 |
| 100 miles | $1100 – $1600 | $1250 – $1700 | $1500 – $3400 |
| 250 miles | $1300 – $2000 | $1500 – $3500 | $2,000 – $4800 |
| 750 miles | $1500 – $2900 | $2100 – $6900 | $5500 – $7900 |
| 1500 miles | $1700 – $3200 | $2600 – $7400 | $6700 – $9500 |
| 2500 miles+ | $1900 – $3700 | $3900 – $8200 | $12000+ |
What to Look For in a Reputable Jersey City Moving Company​
When it comes to finding a reputable moving company to handle your Jersey City transition, there are many factors you'll want to consider. But, the two most important factors will always be:
Licensing & Insurance
Any reputable moving company will be properly licensed and insured. This protects you from liability if something goes wrong during the move. Be sure to ask any potential moving companies if they are licensed and insured before hiring them.
Binding Estimates
A binding estimate is a legally binding contract that ensures the price you're quoted for your move is the price you'll pay – no matter what. This type of estimate protects you from being charged hidden fees or additional costs, and it's something any reputable moving company should be happy to provide.
Compare Moving Companies in Jersey City
Company
Rating
Avarage Price


(2-3 Bed)

$3210- $7320
$2950 - $6650
$2900- $8250
$3050 - $6820
$3300- $7900
Superlative
Best For Long Distance
Best Customer Service
Most Affordable
Most Experienced Movers
Best Premium Services
Get a Quote
Get a Quote
Get a Quote
Get a Quote
Get a Quote
5 Best Movers in Jersey City
Each company on this list was chosen for its reputation, affordability, and service quality. Of course, the particulars of your move will make some companies a better fit than others, but ultimately, you can't go wrong with any of the moving partners on this list hand-picked by our team of moving experts.
Rated by many as the best local, interstate, and cross-country movers in the USA, Roadway Moving will get you where you need to go – no matter how far that may be. 
Capable of providing expert moving labor for packing, loading, transport, storage, and more, these movers in Jersey City offer comprehensive moving services at some of the most affordable rates in the industry. 
With nearly 300 team members to support customer services, moving logistics, and operations, Roadway Moving is a customer-focused moving company that will handle your belongings with the utmost care.
Why We Like Roadway Moving​
With thousands of positive reviews from highly satisfied customers moving to and from the city, it's no wonder Roadway Moving has been rated one of the best moving companies in Jersey City. 
They offer comprehensive services at competitive rates, and their commitment to customer service is evident in everything they do. 
With a fast quote process and the ability to move nearly any object you own, this is one of the most reputable and professional Jersey City moving companies you'll find.
Consisting of a national fleet of hundreds of moving trucks, Native Van Lines is among the best when it comes to moving and storage options. 
Providing professional moving services from local and state-to-state movers, Native Van Lines is a full-service moving company that will handle your move from start to finish – no matter how big or small. 
With a focus on customer service and affordability, Native Van Lines is one of the best moving companies in Jersey City for those looking for quality moving services without breaking the bank.
Why We Like Native Van Lines
Sometimes it's necessary for your belongings to be stored during your move. 
Native Van Lines offers both short-term and long-term storage options in their climate-controlled warehouses, so you can rest assured your belongings will be taken care of no matter how long you need them stored. 
In addition, with the ability to transport almost any item nationwide, Native Van Lines is among the best movers in Jersey City for those with large or difficult-to-move items.
Pricing Van Lines is widely considered one of the best Jersey City movers offering local and long-distance moving and storage options. 
Founded in Brooklyn, the team at Pricing Van Lines has an intimate knowledge of the New England area and can easily move your belongings – no matter where you're coming from or going to. 
Offering many types of price points for low-intensity moves and being able to accommodate last-minute moves without high fees, Pricing Van Lines is one of the most affordable and reputable Jersey City moving companies.
Why We Like Pricing Van Lines
Getting movers in Jersey City with expert knowledge of the best moving, packing, and storage practices is essential for a smooth and stress-free move – and that's exactly what you'll get with Pricing Van Lines. 
With over 10,000 moves completed, the team at Pricing Van Lines knows how to handle just about any situation that may come up. 
And, with online booking discounts and transparent pricing, you can be sure you're getting the best possible deal on your move, whether you book in advance or at the last minute.
New Jersey-based Moishe's Moving offers state-of-the-art moving services tailored to the specifics of your move. 
Moishe's Moving will transport your belongings quickly, safely, and at a reasonable price using their own trucks, equipment, and highly-skilled moving labor. 
With over three decades of experience in the moving industry, they've perfected their craft and are now one of the most sought-after moving companies in Jersey City.
Why We Like Moishe's Moving​
It takes a special kind of company to accommodate all the different types of moves in Jersey City – but Moishe's Moving is up for the challenge. 
Whether you need help moving a grand piano or fragile antiques, the expert movers at Moishe's have the skill and experience necessary to get the job done right. 
And, with hourly and flat rate pricing available, you can be sure you're getting the best possible deal on your move.
Performing residential and commercial moving services with the help of trained moving professionals, Vector Movers is one of the best moving companies in Jersey City. 
With a focus on customer service, Vector Movers will work with you to create a custom moving plan that meets your specific needs and budget. 
No matter how big or small your move may be, this moving company has the experience and resources necessary to get the job done right. 
Vector Movers offers comprehensive moving solutions that can't be beat for those looking to complete local or out-of-state moves.
Why We Like Vector Movers​
Those needing extra help with their move will appreciate all Vector Movers offers. From full-service packing and unpacking services to customizable moving plans, this company will work with you to ensure your move is as stress-free as possible. 
With a team of moving labor that has over two decades of experience, you can be sure your belongings are in good hands. Plus, Vector Movers offers a referral program that allows you to save money on future moves.
What Factors Contribute To Jersey City Movers' Costs
Calculating the cost for movers is always a tricky process. Many people overlook additional and required services that will end up being tacked on to their final bill. Fortunately, reputable moving companies will offer free in-home and virtual estimates to give you the most accurate moving quote possible. Factors that can contribute to moving costs for movers in Jersey City include:
Essential Moving Services
Essential moving services are those you need to get from point A to point B successfully with all of your belongings. Moving companies typically consider loading, transport, and unloading to be essential moving services that will be charged hourly per item depending on whether your move is:
Local or long-distance
booked in advance or last minute
full-service or partial moving assistance
Typically, essential moving services for local moves are charged at a rate of $35-$100+ per hour regardless of the amount of belongings you need to move. Long-haul and interstate essential moving services can be charged up to $1.00 per pound and mile traveled/transported by moving companies in Jersey City.
Additional Moving Services
Not everyone has the time, energy, or skills to pack up everything they own so that it is well protected during the move. Additionally, not all destinations are move-in ready before the movers arrive, so you may need to hire additional services that include:
Packing and unpacking
Furniture protection (wrapping, disassembly, and reassembly)
Appliance preparation (disconnecting and reconnecting)
Crating (for valuable items)
Storage (if your new home is not ready yet)
Auto towing and transport
These additional services will increase your total moving costs, but they can save you time and energy in the long run. Talk to movers in Jersey City during the quote process for accurate pricing information on additional moving services.
Access Fees
Access fees are the most often overlooked factor contributing to moving costs. These required (and non-negotiable) fees are charged when your move involves difficulties for the movers, including but not limited to:
Staircases (per flight)
Elevators (if available and used)
Long-carry fees (if the walk from the moving truck to your door is greater than 75 ft.)
Shuttle fees (for multiple stops)
Parking permits or fees (if required by your city or town)
Be sure to ask the moving company you are considering if they charge any additional access fees and, if so, how much those fees will be.
Reducing Moving Costs
While some moving costs you won't be able to avoid, there are others that can be significantly reduced by considering the following tips.
Declutter: Get rid of unwanted items to make the moving process faster and cheaper. With less stuff to move, you may be able to reduce the size of the moving truck you need and the number of hours required for the movers in Jersey City.
Move during the off-season: The summer months are peak moving season, so prices will be higher. If you have some flexibility, consider moving during the winter or fall instead for a more affordable option from 'movers near me' search results at Moving APT.
Book in advance: If you know your move date well ahead of time, you can book your movers early and potentially get a discount of up to 20% off the total cost.
Avoid unlicensed moving companies: Be sure to only select from 'cheap moving companies near me' results where licensing can be confirmed. Selecting unlicensed movers can result in damage to your belongings or being scammed altogether.
Best Moving Companies Near Jersey City, NJ
Tips Before Moving From Jersey City​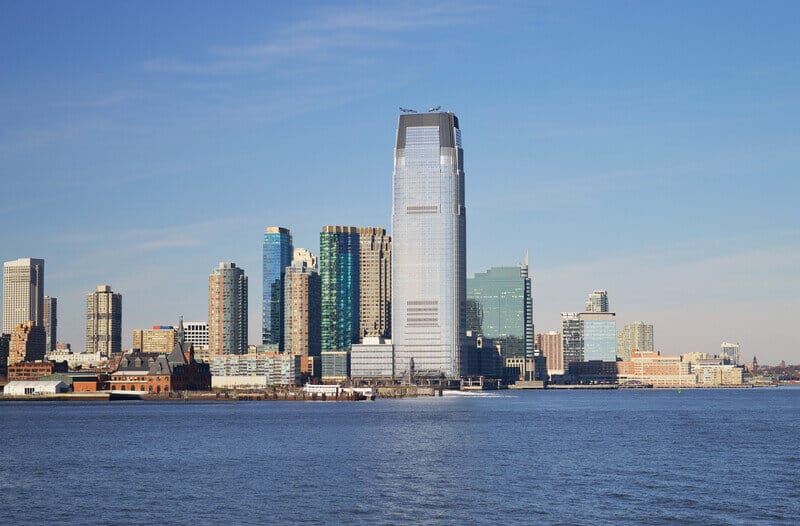 Using moving companies in Jersey City to get you down the road or across the country is a great way to ensure a hassle-free moving process. But just because you have hired movers doesn't mean you are ready to sit back and relax. So here are a few tips to help you prepare for your move:
Get Your Utilities Set Up
Be sure to set up or transfer your utilities before the movers arrive so that you are not without power, water, or heat on moving days.
Make a Moving Checklist
A moving checklist is a great way to stay organized and keep track of your progress as you prepare for the move. At Moving APT, we provide an excellent downloadable checklist that covers everything before, during, and after the move.
Get Parking Reserved in Advance
Parking in NJ can be quite challenging, with special permits required for oversized vehicles. Be sure to check with your building management or city hall well in advance of the move so that you can make the necessary arrangements for whichever moving companies in Jersey City you hire through Moving APT.
Here's How We Rank Our Jersey City Movers
Moving APT has 22 years of experience in the local and long-distance moving field, serving more than 22,000 clients to date. Unlike other recommendation sites, we do real, face-to-face business with the movers in our network. 
This makes our data more in-depth and reliable than anything else you'll find online.
Our rating methodology is based on the following:
Reviews
Online Reputation: We sort through reviews and company profiles to make sure your movers are highly-rated and backed by plenty of experience.
Industry-Insider Information: We work with movers to get a full picture of the services provided by other companies across the field.
Mystery Shopping: We make sure movers are giving you the same rate they give us. Sometimes we call and pose as complete strangers to make sure they're honest.
licensing and Accreditation
Arbitration Program: Movers are legally required to have an arbitration program in place to compensate for lost or damaged items. We make sure it's up to date.
Active Claim Department: We check to see if movers have any outstanding claims to see how they handle customers who've reported damages – and how quickly they help.
Safety Record: The FMCSA's Safety Measurement System provides us with up-to-date information about a mover's safety track record, including accidents and inspections.
Active Moving Insurance: Long-distance movers in NYC are legally required to provide full or released-value protection on all of your items. We make sure of it.
Client Feedback
Video and phone reviews: We ask our own clients for short video testimonies detailing their experiences with their movers. It shows which movers are exceeding expectations.
Online surveys: We take the time to read about each completed move to get the full picture of how a mover performed.
As a moving broker, Moving APT actually deals with drivers and movers on a daily basis. We negotiate deals for our clients and ensure that movers always honor their contracts – no last-minute upselling, no overcharging, and no funny business. 
It's how we help our clients get moved with minimal fuss, and it's part of maintaining clear communication between clients and moving companies.
More customers for better movers If a mover is exceeding expectations, we send them more business. If a mover needs to improve, we don't. It's simple.
Frequently Asked Questions​​
How much does it cost to hire moving companies in Jersey City?
The cost to hire Jersey City movers depends on the type of move you are completing. Local moves will have an average cost of $65 per hour, but this can vary depending on the company, with some charging as much as $120 per hour. Long-haul and interstate moves are charged flat rates of about $0.60 per mile/pound.
Can I ride in the moving truck?
Unfortunately, due to insurance limitations, moving companies don't allow customers to ride in the moving vehicle on the way to the destination. So, you'll need to arrange your own mode of transport to the final destination using your own vehicle or public transport if the movers are towing your car to the final destination.
How much do I tip movers?
Movers should be tipped based on a percentage of the total moving costs or at an hourly rate between $20 and $50 per mover. While gratuity isn't required for movers, it is certainly appreciated and a great way to show the team that you value the hard work they put into completing your local or long-distance move.
Can I move my piano cross-country?
Many moving companies can accommodate the loading and transport of a piano. This service is added to your other moving services and could incur charges at an hourly rate or a flat fee. Be sure to ask about the experience movers in Jersey City have with moving pianos or other large and heavy objects to ensure your prized possessions arrive safe and sound at the final destination.
Do I need to be present when the movers arrive?
While it is not required that you be present when the movers arrive, it is always a good idea to be there in person to answer any questions they might have about the move or the property. Additionally, you will want to be there to do a final walk-through with the movers before loading the truck to identify any fragile items or items that need special care during transport.
Hire the Best Moving Companies in Jersey City at Moving APT​
Whether you need to go a few miles or a few thousand miles, our list of the best Jersey City moving companies can help. Available for both local and long-distance moves, these companies have the experience and expertise you need to get your belongings to their new home safe and sound. 
Simply request a free quote from Moving APT today and get started on your move!