Find the Best Moving Companies in Los Angeles of 2022
Don't waste another minute vetting moving companies in Los Angeles. We researched, scored, and handpicked the top-ten choices of over 230 movers to streamline your search. Moving to Los Angeles just got a little easier with cost estimates, FAQs, and other details in this complete guide.
Top 3 Recommended Los Angeles Movers
Reputation, services, delivery, cost, equipment, website UX – we analyzed these factors and more to pick the best movers in Los Angeles based on what matters to movers like you. Here are the top three:
You can browse confidently knowing each company is properly licensed in California and beyond – we've already checked.
California is one of 38 states requiring a valid USDOT number for moving companies to operate legally. Los Angeles movers also need FMCSA licensing to conduct interstate moves.
We verified each company's license number through the state's Public Utilities Commission and Department of Transportation during our extensive research.
Top 10 Expert-Researched Movers in Los Angeles
Take the hassle out of moving with this ultimate list of the most reliable movers in Los Angeles that we screened, along with key details on each company to find exactly what you need.
We know you're looking for nothing but the best. That's why we used our expertise to research over 200 choices before deciding these are the most reputable and reliable movers in Los Angeles.
Roadway Moving earned a top spot in our list of best Los Angeles moving companies thanks to its commitment to absolute customer satisfaction. 
The company goes the extra mile to ensure every customer is happy with their move, offering an extensive array of services that can make the moving process almost stress-free. With high-tech GPS tracking, online booking, and a team of friendly, professional movers that know their business, Roadway Moving is the perfect choice for anyone looking for a hassle-free move. 
And, with intimate knowledge of Los Angeles and hundreds of other cities for local or long-distance moves, Roadway Moving can handle just about any move you throw their way.
Your new go-to logistics company, Los Angeles-based Rockstar Pro Movers has a stellar reputation for seamless residential and commercial moves thanks to its dedicated in-house team – no contractors.
Rockstar Pro Movers offers flexible long-distance and local moving packages with service combos for packing/unpacking, heavy lifting, stairs, and more custom situations.
Look no further than Rockstar Pro Movers' five-star Yelp rating and A+ BBB rating for proof of its exceptional reputation as an interstate moving company. Customers appear delighted with the value for the money and their efficiency.
Despite charging less than other movers in Los Angeles, Rockstar Pro Movers still provides a thoroughly professional experience good enough for clients like Warner Bros., the Lakers, and Paramount.
Move Happy won our top spot for the best professional moving company in the Los Angeles area. Move Happy is fully licensed and insured, making straightforward customer service their top priority.
Professionally accredited with an A+ rating from the Better Business Bureau, the company has served over 8,000 customers in the LA area over nearly 10 years.
Move Happy prides itself on transparent pricing and commitment to promises – backed up by their refusal to subcontract labor or trucks. Their flat-rate packages are all-inclusive with services like packing/unpacking, supplies, assembly, and more.
4. Excalibur Moving Company
Excalibur Moving Company has served Los Angeles customers with residential and commercial moving services for almost two decades. Turn to Excalibur Moving Company as a one-stop shop for all your needs: local moves, long-distance moves, storage, fine art, antiques, heavy items, and more.
If you need a trustworthy company to transport valuables like art and antiques across the United States, look no further because that's Excalibur's specialty.
Plus, these Los Angeles movers have a consistent 4.5-star Yelp rating – a reflection of Excalibur's commitment to customer service.
Despite only five years of experience in the Los Angeles area, Responsible Moving has helped over 950 customers in that brief time and boasts an enviable five-star rating on Yelp, along with a 95% return customer rate.
Responsible Moving provides local and long-distance moving services, along with packing/unpacking, disassembly/reassembly, trash removal, and more.
Prepare for a smooth relocation with inclusive packages at some of the most affordable rates compared to other Los Angeles movers. You can also take advantage of Responsible Moving's optional storage services, for customers who may want their items stored at a secure facility before they are ready to receive them.
6. Man With A Truck Moving Company
Based out of Culver City, Man With a Truck Movers and Packers got its start as a small local operation over 15 years ago but has grown to offer moves of all sizes and distances.
Man With a Truck Movers and Packers prides itself on affordable and transparent rates – including a small item 2-hour special for under $250 in select cities.
Other residential moves are priced at a flat hourly rate, which includes packing, shrink wrap, tape, and more. Long-distance moves also enjoy all-inclusive flat-rate pricing with no hidden fees. Let Moving APT connect you with Man With a Truck Movers and Packers or any of the best long-distance movers in Los Angeles that fit your needs.
7. Prodigy Moving & Storage
Prodigy's five-star Yelp rating with nearly 1,500 reviews indicates this company exceeds customer expectations. For over 20 years, Prodigy Movers & Storage has supplied Los Angeles with reliable, no-fuss, and efficient moving services.
Fully licensed and insured, Prodigy Moving & Storage provides local and long-distance moving services within California while helping customers keep costs down with weight-based pricing instead of hourly rates.
Prodigy Moving & Storage's website is sparse, but you can use Moving APT's easy quote tool to decide if they're the best solution for your move.
8. NorthStar Moving Company
Founded in 1994, NorthStar Moving Company is one of the oldest moving companies in Los Angeles on our list yet manages to keep up an impeccable reputation. Over the decades, NorthStar Moving Company has grown to serve over 8,000 customers each year and maintains a consistent A+ rating from the BBB.
NorthStar is also one of the few companies on our list offering international and interstate moves in addition to long-distance California moves. Take advantage of NorthStar's personal storage services with itemized inventory, a special room for bulky items, and self-access.
Move like a star with NorthStar's expansive luxury packages for pets, family care, home organization, the community welcomes, and home care services. Despite the celebrity clientele, NorthStar still offers special rates for moves local to LA within 100 miles.
NorthStar is also part of Moving APT's network of interstate movers, so our team can coordinate a long-distance move with them at the best possible price.
9. Daniel's Moving and Storage
Daniel's is a top-rated long-distance Los Angeles mover with over 40 years in the business offering full-service moving and affordable rates for local, long-distance, and even international moves.
Thanks to its industry leader status, Daniel's can offer perks like online shipment tracking, floor and furniture protection, unpacking, debris removal, 24/7 phone support, and much more.
Daniel's Moving and Storage offers some of the lowest flat rates of any local Los Angeles moving company with no-nonsense transparent pricing. They're also one of the few LA movers providing specialty moving or storage for electronics, vehicles, documents, antiques, and more.
10. REAL RocknRoll Movers
While the name may not scream professionalism, REAL RocknRoll Movers is among the best moving companies in Los Angeles. With a solid 4.5-star Yelp rating and 97% referral rate, it's clear they've left a positive impact on over 15,000 customers over the past decade.
Aside from local and long-distance moving services, REAL RocknRoll Movers also offers packing services, moving supplies, celebrity moves, business storage, and more. REAL RocknRoll Movers prides itself on custom yet straightforward pricing with no hidden fees.
Checklist: The 10 Best Movers in Los Angeles
| No. | Top Moving Companies in Los Angeles | Website |
| --- | --- | --- |
| 1. | Roadway Moving | www.roadwaymoving.com |
| 2. | Rockstar Pro Movers | www.rockstarpromovers.com |
| 3. | Move Happy | www.imovehappy.com |
| 4. | Excalibur Moving Company | www.excaliburmovers.com |
| 5. | Responsible Moving | www.responsiblemovingco.com |
| 6. | Man With A Truck Moving Company | www.manwithatruckmoving.com |
| 7. | Prodigy Moving & Storage | www.prodigymoving.com |
| 8. | NorthStar Moving Company | www.northstarmoving.com |
| 9. | Daniel's Moving and Storage | www.danielsmoving.com |
| 10. | REAL RocknRoll Movers | www.realrocknroll.com |
Enter Moving Details and Get your Moving Quote in Seconds.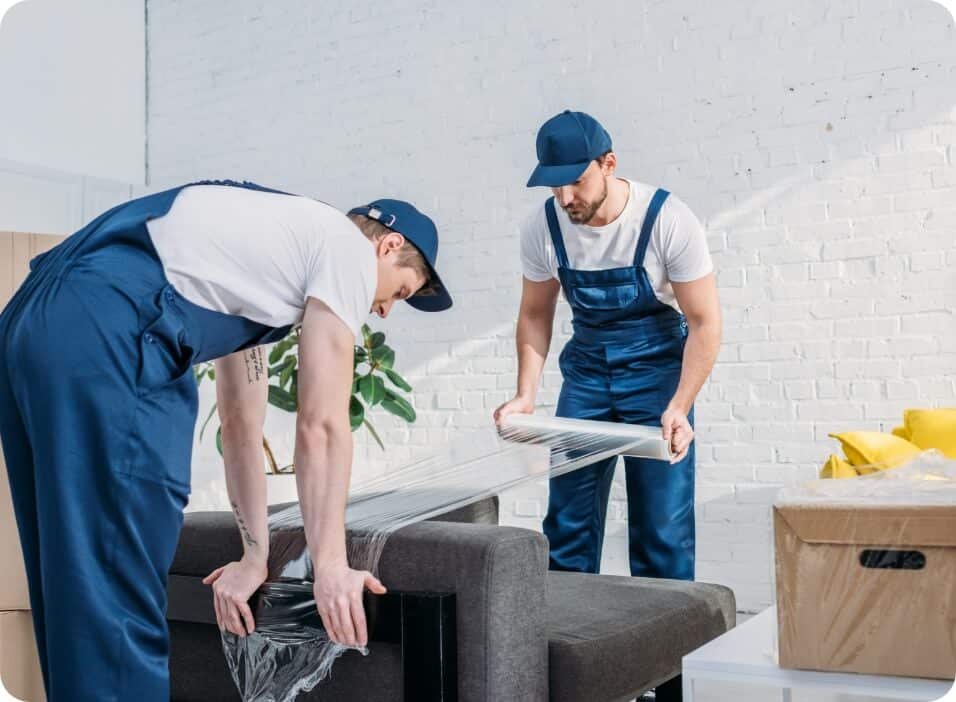 Hassle-Free Moves Start with the Best Long distance Movers in LA
Hiring professional local and long distance moving companies in Los Angeles with a track record of success is the best way to make sure your move is as stress-free as possible.
Whether it's to or from, a Los Angeles relocation can be a hassle without the proper planning. Even a local move within a few dozen miles can be challenging when juggling work, family, and the move itself.
From estimating budgets to confirming licensing and insurance to scheduling the move itself, it's essential to have the best tools at your disposal for a successful move.
That's why hundreds of thousands of people have turned to Moving APT. With our comprehensive lists of reliable local and cross-country moving companies in Los Angeles, it's easy to find and compare the best options for your specific needs.
Furthermore, our nationwide network of moving professionals provides the insider secrets you need to understand the moving process from start to finish with detailed cost calculators, informative city guides, and recommendations based on honest and genuine customer reviews.
Don't trust your valuable possessions to just anyone. Leverage Moving APT's 20 years of moving experience and knowledge to find the best local and long-distance movers in Los Angeles for a hassle-free moving experience.
How Much Do Los Angeles Movers Charge and What Factors Influence Price?
Most moving companies in Los Angeles charge hourly flat rates based on the number of rooms in your home or the number of movers involved. Depending on your home's size and the items involved, expect prices to run from $100 to $200 per hour or more.
Although these are by no means fixed prices, here's what you might spend per move local to LA:
Studio apartment: $300 or more
One-bedroom apartment: $400 and more
Three-bedroom house: $1,000 and more
Always contact the LA movers for a detailed estimate based on your personal situation since prices fluctuate so much – Moving APT can put you in touch with anyone on this list.
In-person or virtual estimates are important for receiving the most accurate quote since so many factors can influence the cost of an LA move. These factors include:
Mileage
Whether the move involves stairs
Parking availability and permits
Narrow hallways
Assembly/disassembly
Heavy items
Packing materials
Rates to Expect When Hiring Movers in Los Angeles
When hiring a moving company, note that most in LA offer all-inclusive packages for an hourly rate, but the services included vary from company to company. Pay close attention to the contents of each package based on what you need as you compare prices.
Hourly Rates for LA Moving Companies
Most Los Angeles moving companies calculate your moving cost by an hourly rate that fluctuates depending on the number of movers involved. Other companies may dictate the hourly rate based on the number of rooms in your home. $150 per hour for three movers is typical in LA.
The moving company should provide an estimate for the full move along with any potential fees involved – such as those for heavy items or stairs. Generally, an in-person or video estimate will evaluate your item's size and weight, the move's distance, and expected time to complete the job.
Make sure to bring up any valuables, antiques, or specialty items to receive the most accurate estimate.
Flat Rates for Long-Distance Moves
Flat rate price is more common when hiring cross country movers in Los Angeles for interstate or long-distance moves. The company will provide an estimate based on the weight and size of your items, distance, number of movers, trucks, equipment, and more.
You'll pay a single rate for the entire job, from packing the truck at your old home to unloading your goods at your new home. Watch out for hidden fees by asking what situations might trigger unexpected costs.
Calculating the Cost of Living in Los Angeles
Before moving to an expensive area like Los Angeles, make sure to calculate your unique cost of living. As the entertainment and tech capital of the country, expect to spend $500 per month on groceries alone.
You can find somewhat lower prices on rent and food outside the city center but be suspicious of anything too good to be true based on LA averages.
Below are some essential stats on the average cost of living you'll want to know before moving to Los Angeles:
Rent: An average one-bedroom apartment costs $2,258 per month while a three-bedroom runs about $4,300 to rent. These rates make Los Angeles one of the costliest cities in the world.
Transportation: Monthly transportation runs $320 on average depending on your commute and the gas involved as well as parking permits. Check back for our upcoming blog on LA's transportation prices.
Food costs: Expect to budget at least $500 a month for groceries and food even as a frugal shopper, considering a dozen eggs can run over $3.60.
Utilities: The average 915-square-foot apartment pays $150 per month in LA for utilities, but the county's microclimates and weather changes make real utility costs more unpredictable.
Taxes: Los Angeles residents pay hefty sales tax rates that vary by city, running between 9.5% and 10.5%
Best Neighborhoods in Los Angeles
Los Angeles is a bustling metropolis filled with neighborhoods of unique personalities. You'll have no trouble finding somewhere with a vibe that suits you.
Here are some of the main neighborhoods in Los Angeles you might consider for a move.
1. Downtown LA
Apartments in Downtown Los Angeles put you near the best nightclubs, restaurants, shopping, and entertainment in the world. Previously a ghost town of desolated businesses and homes, Downtown LA is now a vibrant community with renovated warehouses.
Currently, Downtown LA is a destination for urbanites who appreciate luxury amenities. You can find apartment buildings with on-site gyms, city views, pools, and parking to enjoy living the downtown life. 
2. Hollywood
Located in central LA, Hollywood includes micro-neighborhoods like West Hollywood and the Hollywood Hills with luxurious homes.
As an international entertainment destination, Hollywood locals mingle with tourists from around the world at neighborhood attractions like Madame Tussauds, Chinese Theatre, and Dolby Theatre.
3. Wilshire Center – Koreatown
This central downtown neighborhood is filled with diverse and energetic residents. Find your favorite dive bar, go out to dinner 24/7, sip on cocktails, or hit the clubs.
Although people of all backgrounds now live in Koreatown, you'll have no trouble finding some of the best Korean barbecue and top food in the country in this LA neighborhood.
4. Marina del Rey
Do you enjoy living along the water or wish to explore sailing on the weekends? Look no further than Marina del Rey.
Enjoy the relaxed environment of Marina del Rey and its proximity to other busy parts of Los Angeles. Walk up to Venice Beach for some window shopping before strolling the galleries and pubs.
Not into sailing? You can still enjoy the water with lessons and rentals on a paddleboard, sportfishing, parasailing, and much more.
Enter Moving Details and Get your Moving Quote in Seconds.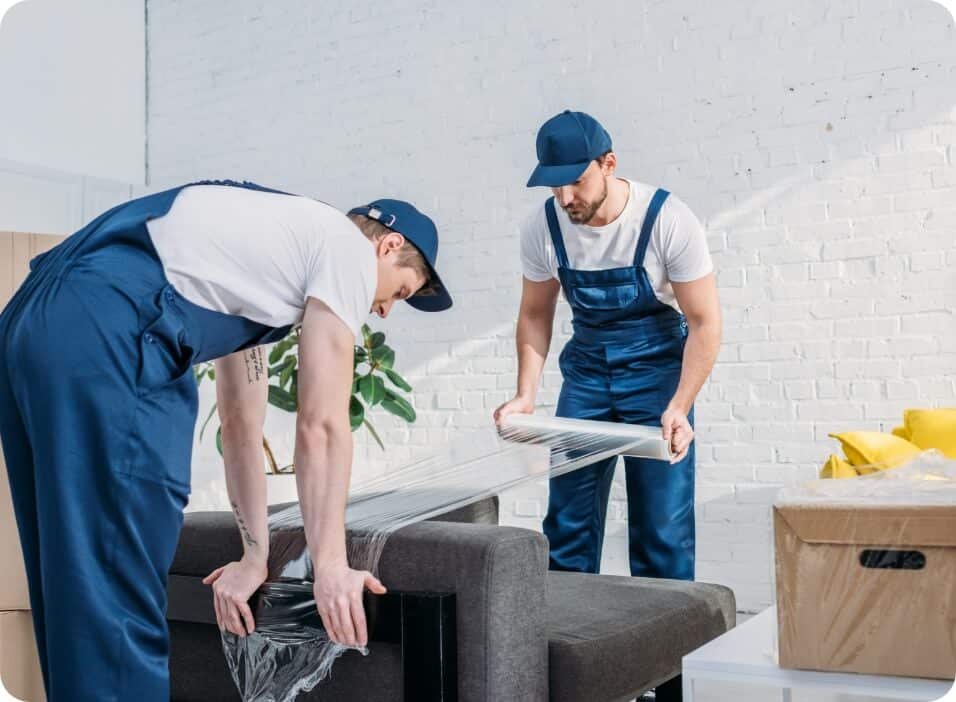 Frequently Asked Questions
Find the Best Movers in Los Angeles Now with Moving APT
No matter the circumstances, packing all your household items into boxes on a truck and hauling them somewhere else is always stressful.
Staying organized is overwhelming enough alone – not to mention the physically demanding tasks of moving furniture, cleaning, decluttering, loading and unloading, renting the truck, and so much more.
Choosing the right Los Angeles mover can make moving day a breeze. With Moving APT's research, you can save time vetting companies and still find the best solution within your budget.
Need help preparing for the big day? Grab our Moving Checklist PDF to keep everything you need handy on your phone or device.