Find the Top Notch Movers in Seattle of 2022
Moving can be a serious pain, and this is widely acknowledged in all the states, including Seattle. Between getting everything set at your old home to planning all the logistics involved, there is no time to relax on the move.
Fortunately, that is one major aspect that moving companies are helpful; to reduce your burden and allow you to concentrate on better things.
Moving APT screened top movers in Seattle to help move your belongings. Check out a perfectly researched and analyzed list of the best movers in Seattle to get started.
Top 3 Recommended Seattle Movers For You
We picked the top Seattle movers, Washington, considering their professional certifications, pricing, and customer reviews. Movers in Seattle that handle interstate moves are mandated by the state law to register the proper way with the Federal Motor Carrier Safety Administration (FMCSA).
We checked the complaints, satisfaction, ratings, history, customer reviews, trust, cost, and other excellence before listing these moving companies.  These Seattle movers are recommended by experts.
Compare Ratings and Prices of the Best Moving Companies in Seattle
A reputable moving company in Seattle is fast to move you to your new home, regardless of the distance between the old and new homes in the city. The moving companies haul your stuff with uttermost care and will not steal from or scam you.
Having scrutinized the top-rated movers using different parameters, below are our best moving companies in Seattle to do the job:
With headquarters in both Boston and Seattle, Can't Stop Moving is a true cross country mover. The company was founded in 2008 in Boston and has grown impressively over the past decade.
What started as two guys in Boston helping their friends move to local areas is now a full-service long distance moving operation.
The company takes great pride in hiring the best workers, ensuring that you will have no issues with people coming into your home, packing up your items and loading them onto the moving truck.
All Service Moving is a 100 percent locally owned and operated business. It has offices in both Portland and Seattle, while moves can be made to anywhere in the country.
The company has a five-star rating on Yelp which reinforces why they're a member of our Moving APT network. The company offers long distance moving throughout the continental United States. If the move is greater than 50 miles, it is considered long distance.
Every move is done on All Service Moving trucks, with the company's highly trained and vetted crew ensuring your items are safe and unharmed throughout the process.
With its 4.5-star rating on Yelp and other review sites, Eco Movers Moving is a top option in the Seattle area. The company provides residential moving, long-distance moving, long term storage, packing and unpacking, short term storage and eco-box rental services.
Eco Movers has a simple solution – provide top quality moving services in a more environmentally friendly way. It is done by having more fuel-efficient trucks, using recycled moving supplies and dealing with waste in the appropriate way.
If you are searching for a reliable and reputable moving operation that will get you moved out of Seattle affordably, Long Distance Movers is a very good option. The company offers both moving and auto transportation services, while you can also get storage solutions if necessary.
A full-service cross country mover, Long Distance Movers can handle moves of any size. The company has a full fleet of trucks and professional crews that can handle a move of any size.
A proud local business, Super Friends Moving will help you move out of Seattle, no matter where you are going. The company specializes in local and in-state moves but offers a full slate of long distance moving services as well.
Super Friends Moving is open seven days a year and provides an award-winning service. The company has now been operational for ten years, and has managed to grow in each of those years.
Their 4.5 Yelp stars and over 400 reviews are a testament to the excellent service that Super Friends Moving provides to its customers.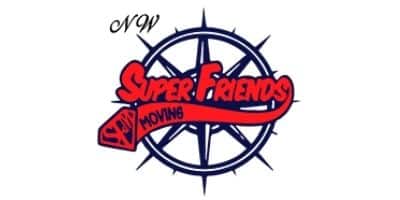 6. West Coast East Coast Express
A five-star Yelp rating proves that West Coast East Coast Express is an excellent choice for a cross country mover out of Seattle.
The company has locations throughout the United States, which is why it is able to offer moving, auto transport, packing, and storage services for any long-distance move.
West Coast East Coast is open seven days a week, 365 days a year. The company does not take a day off, because it knows that individuals and families may need help with moving at any time.
7. Trico Long Distance Movers
Founded in 2010, Trico has already proven itself as one of the top providers of moving services across the nation. Their five-star Yelp rating for the Seattle area is proof of why they are a top option for cross country Seattle moves.
Unlike other providers, Trico goes beyond a moving service. The company offers packing, auto transport and storage services as well.
If you need your car moved, possessions stored in Seattle or another city, and professional packing services, Trico has got you covered.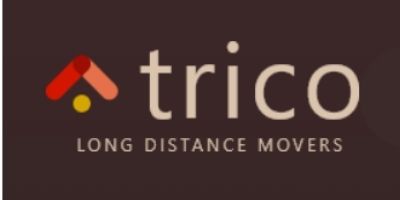 A 4.5-star rating on Yelp is one easily found indicator that Kangaroo Movers is one of the best long distance movers in Seattle.
The company takes a conscientious and careful approach to every move, ensuring that any heavy or valuable items are treated with the care they deserve.
If you request a packing service from Kangaroo Movers, you can be sure that all your items will reach the destination intact.
The company has different truck sizes to accommodate moves of all capacity. Even if you are moving out of a huge house, Kangaroo Movers can help you.
With a history in the Seattle area that spans more than three decades, the 4.5 Yelp stars earned by Movers Redmond is but one measure of the quality that the company brings to the table.
The company has a huge fleet, promises no hidden fees, offers moving specials throughout the year to bring down the cost, and provides full moving kits for customers who may want to pack items on their own. Movers Redmond also has a 24/7 customer support line.
10. Hansen Bros Moving and Storage
With excellent online reviews and a great reputation in the industry, Hansen Bros Moving and Storage is among the best long distance movers in Seattle.
And with the help of Moving APT, you can get a detailed quote to see if the company can offer the type of service and affordability you are seeking. Hansen offers packing, storage and shipping services to individuals and families moving out of Seattle.
Even if you have heavy items such as pianos, it will not be an issue. The company will ensure that all your valuables are packed and stored to avoid damage during transport.
The Following Table Displays the Best Moving Companies in Seattle
| No. | Top Moving Companies in Seattle | Website |
| --- | --- | --- |
| 1. | Can't Stop Moving | www.cantstopmoving.com |
| 2. | All Service Moving | www.allservicemoving.com |
| 3. | Eco Movers Moving | www.ecomoversmoving.com |
| 4. | Long Distance Movers | www.longdistanceusamovers.com |
| 5. | Super Friends Moving | www.super-friends-moving.com |
| 6. | West Coast East Coast Express | www.westcoasteastcoastexpress.com |
| 7. | Trico Long Distance Movers | www.tricolongdistancemovers.com |
| 8. | Kangaroo Movers | www.kangaroomoversseattle.com |
| 9. | Movers Redmond | www.moversredmond.com |
| 10. | Hansen Bros Moving and Storage | www.hansenbros.com |
Enter Moving Details and Get your Moving Quote in Seconds.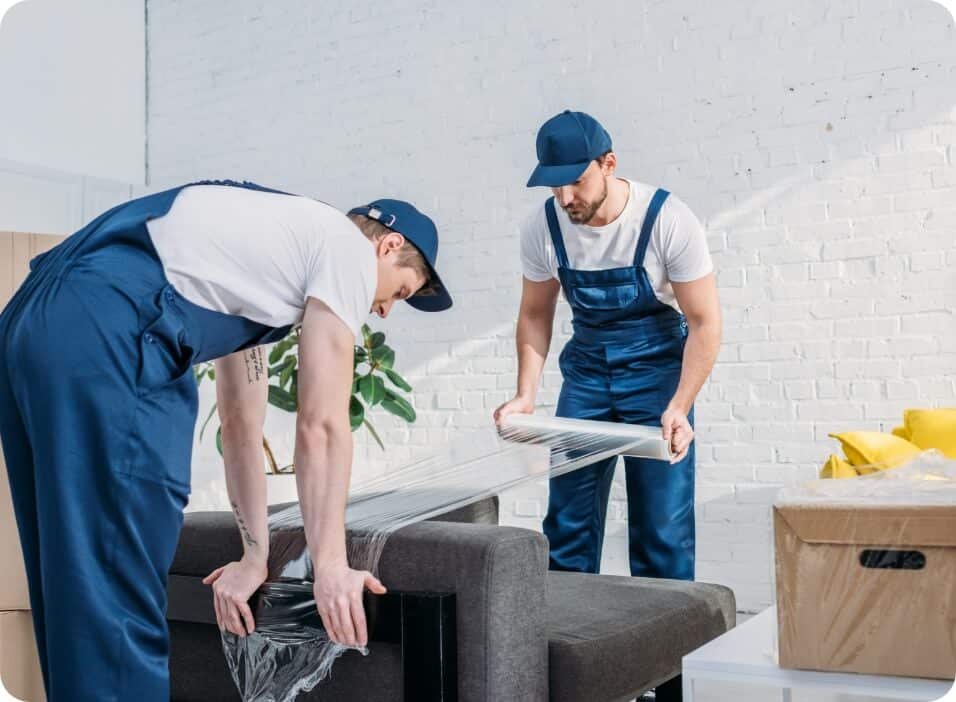 How Much Does It Cost To Hire Moving Companies In Seattle?
If you don't like manual labor and can accommodate a few inconveniences to your budget, hiring a full-service moving company is the easiest way to move in Seattle.
Below is a breakdown of the estimated cost to hire moving companies in Seattle based on various factors: 
Don't forget; these are only estimates calculated based on average prices. Your moving specifics, such as the amount of stuff you are moving, as well as the distance, will directly affect your price. Be prepared to spend more on your move if you have to move all your items out or in from distance parking space and through many flights of stairs.
To be sure everything goes well with your move, try to have a copy of your moving company's insurance ready in case your homeowner request it.
Since traffic is awful in Seattle, you may look into getting a parking permit from the city, and it is charged $16 per truck for 2 days and $8 per moving truck for any extra day.
You will also be charged an extra $18.50 to have a 'no parking' sign installed, and if you are moving downtown, you may have to pay for lost meter fees as well.  
Average Cost to Move from Seattle to Some Cities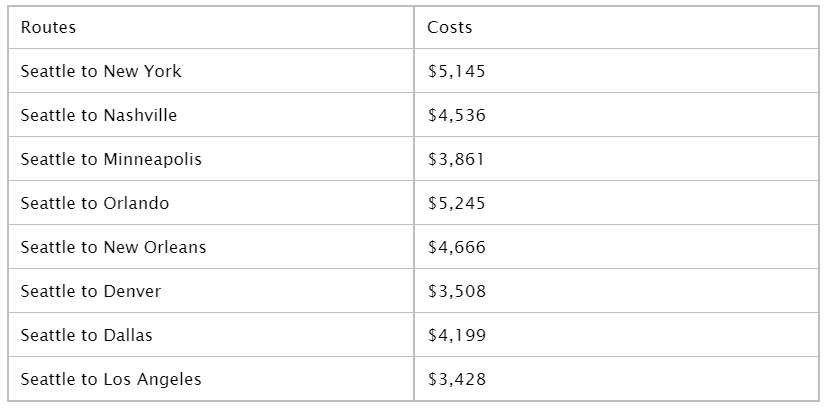 Now, if moving with a moving company sounds too costly for your moving budget, you might as well consider using a rental truck.
The Average Cost of Renting a Moving Truck to Seattle
You will need to put in efforts when renting a moving truck but will also be able to save money in the end.
Below is the estimated cost you will be paying: 
Base cost: From $19 to $39 daily
Mileage fee: From $0.99 to $1.09 per mile
Fuel cost: Determined by driving distance
Truck insurance coverage: From $0 to $170 based on the level of coverage
Parking permit (optional): $35 daily
Cost of equipment (optional): Straps, dolly, blankets
If you are planning to move the goods to an average one-bedroom apartment, you should be prepared to spend between $40 and $60 to rent a truck. For bigger moves, such as moving to a five-bedroom home or more, the price will be increased to about $96 to $144. 
What is the Cost of Living in Seattle?
Regardless of the city, you choose to live in, the cost of living should be your major worry. If you find a town too costly to be comfortable for your living, it will significantly affect your lifestyle.
The cost of living in Seattle doubles that of average cities in the nation, but then, life's quality also doubles. As often as it always is, incomes are usually higher to maintain the balance with the cost of living. 
The cost of living in Seattle compared to 100 as the median cost of the living index is on the lower side for health at 81.7, utilities at 68.8, while higher for transportation and housing at 156.5 and 407.4 respectively.
The overall cost of living in Seattle is at 204 due to its massive high cost of housing.
The average income in Seattle is $82,133 and is higher than the state average income of $70,989, and around $35,000 higher than the national average. 
A single person that lives in Seattle should prepare to live on $3,630 per month, but a couple that has one child should expect to have $6,804 per month to live comfortably, according to calculations done by Economic Policy Institute. 
What Amount of Dollars will it cost you Annually to Live in Seattle?
As reported by smartassets.com, you will need about 24% more than the cost of living in other cities. For more explanation:  
Average prices of homes in Seattle: $440,000.
The average rent for a 2-bedroom apartment in Seattle: $1307.
Groceries in Seattle, on average, are 11% higher than the Country's average.
The public transportation cost is $2.50.
The cost of energy is significantly lower than the country's average.
No income taxes!
Each neighborhood in Seattle offers something unique for residents and visitors, but they all have one thing in common, which is character.
Choose the one that is best for you with our helpful guide for the neighborhood.
Belltown:
This neighborhood has much population of young couples and singles. Its closeness to Downtown is a great advantage, and its walkability is also a perk. Belltown has Pike Market located on its southern end with a lot of shopping and restaurants in its center, as well as piers and water located on its western part. The neighborhood has a lot of fun activities to offer. Just be mindful of your wallet.
Eastlake:
If you are transporting to Seattle on a boat, this neighborhood might be the best location for you. Located towards Lake Union's eastern shores, the numerous piers and marinas in Eastlake enable you to easily access your boat when deciding to move it on the water. It also has waterfront pet-friendly parks if you want to relax and enjoy a good view. 
University District:
This neighborhood has a lot of students of the University of Washington living there, and it even reflects it. It contains many food joints and casual bars, including bookstores and great shops towards the major thoroughfare, University Avenue.
Lower Queen Anne:
Located at the south of and shares a border with Belltown, Lower Queen Anne is where you will find the Space Needle, which is the iconic Seattle Landmark. It is also home to the Museum of Pop Culture, the popular Chihuly Garden as well as Glass Museum, including the Seattle Repertory Theatre.
Here is also where you will find the beautiful 11-acre park reaching the waterfront, Centennial Park, and is the best place to picnic, bike on the pedestrian path, or explore the rose garden. 
Capitol Hill:
This neighborhood is affordable, hip, and is one of the widely known neighborhoods among young professionals. It is the self-proclaimed hub for LGBTQ in the city and prides itself on some gay bars such as Unicorn.
Many locals will be found at Volunteer Park (a 48-acre public place that offers trails, and a water tower that people can climb to catch a view of the city and grassy fields) on a sunny day.  
Enter Moving Details and Get your Moving Quote in Seconds.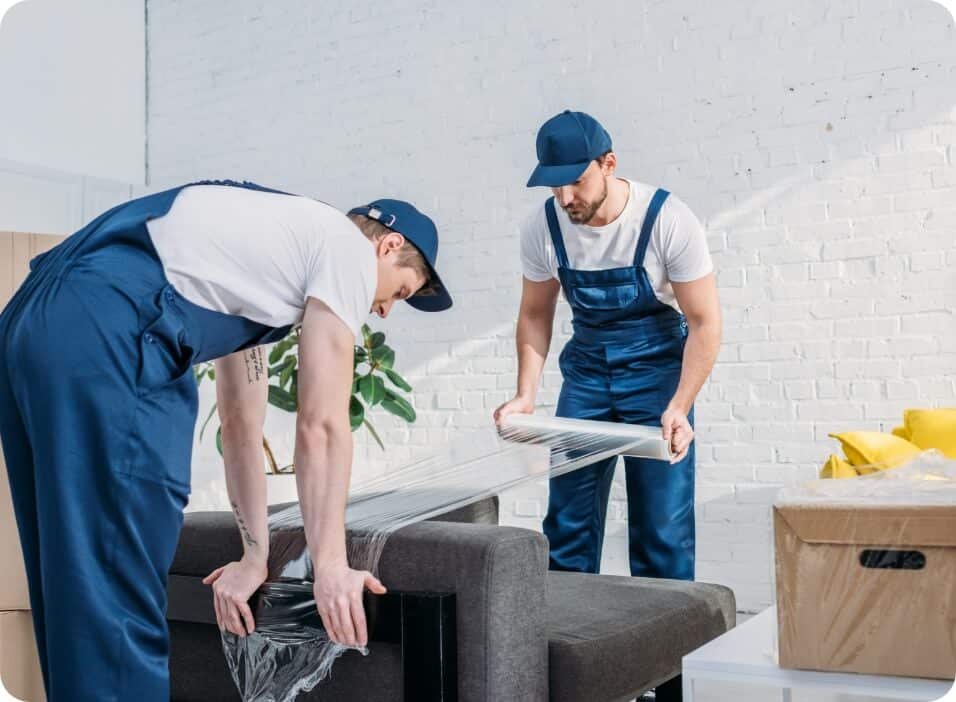 Frequently Asked Questions
The transportation of your prized valuables and other household items can be tricky and subject to loss or damage during personal moving. If you hire Seattle movers, your belongings will be protected and handled with care. This is the case when you choose the best and reputable movers. We have done the job for you by researching the best moving companies for you. Feel free to choose from our recommended movers.