Are you in search of some of the best moving tips? Relocating from one location to another is so important that we all have to experience when we are buying or changing a house.
Yes, moving is stressful, can get much complicated, and will sometimes be annoying. But would you not love to make your moving experience go without a hitch?
Moving APT is a long-distance moving company that is committed to giving you the best moving experience possible.
We provide various moving assistance and ideas. From moving checklists to packing tips as well as moving tips.
Below is all the necessary information to move smoothly without facing any difficulties. We've compiled the top 12 relocation tips to provide you with an improved chance at moving without stress. 
One of the best moving advice you should greatly consider is to plan and get ready. This should help avoid a lot of problems that may arise on the move and block you from rushing to meet the deadline on a moving day.
Most people in the moving industry recommend making a moving checklist as it will keep you right on track. As you finish the tasks, mark them off your list.
Decluttering your home before packing will simplify the moving a lot. If you have contacted a real estate agent, they likely have already mentioned the importance of planning to your move.   
1. Making a Moving Checklist and Budget
Firstly, write out a moving checklist that includes a timeline. We all have different timelines based on the amount of notice provided before moving. Some people will have 8 weeks while others might have just 2 weeks.
Proceed by adding a reasonable moving budget. Organizing your moving visually can help monitor things as they go. Don't know where to begin? Download and print out our moving checklist and put it in your moving binder.
What is a Moving Checklist?
A moving checklist is what Moving APT can give you together with moving details. Is the post office aware that you plan to move? Do you have contact information for the moving company that you can always use to reach out to them at any stage of the move? Have you gone through the moving estimate, bill of lading, and other paperwork carefully? Will you be present when your items are loaded and unloaded?
These and many other questions will be answered in our moving checklist.
2. Reserve Your Movers Early
That there are a lot of companies in the moving industry means that many people are moving. So, waiting longer to book your move will increase the chances of you having to compromise. Also, plan to make use of vehicle shipping services; that is one other thing to remember when it comes to dates. The needs may arise during the course of your move.
How to get a Reliable Mover
If you want to avoid falling victim to moving fraud, you will have to perform research on the market and thoroughly check online reviews.
Obtain many quotes and compare the offers you have, if you notice a deal that is too good to be true, then something shady is often behind it. Ask for recommendations from your friends, or your potential employer, if you are moving for a job
3. Packing Supplies are Important
Getting all the moving boxes and packing supplies you need in advance of your move is one of the best moving tips ever. Making sure the packing materials are available in advance of your move is always a good idea. This is so much important if you are hoping to make use of free moving boxes and save money.
How to Get Cheap Moving Boxes and Supplies on the Internet
Some people try to cut costs on moving, but also, many people know the importance of recycling. Freecycle is one of the many online websites where free goods are accessible and also possibly offer something you don't wish to keep and reduce the number of items you are transporting.
4. Pack as Early in Advance as Possible
Normally, you will be aware of your move (even if destination remains unknown) weeks or months (in some cases) in advance. Begin with packing occasional items and the belongings you won't miss.
When you are ready to pack up everything, many items will be ready for the move. The stressful final weeks and days before the day of your move will leave you with no worries about not packing everything in time.
5. Fill a Tote with Moving Essentials
The first time you move into a new home, unpacking your clothes, laundry, and grocery shopping is not the first thing you want to do. Moving can demand a lot from your family, which is why packing a moving essential tote in advance is seriously helpful.
6. Avoid Over-Packing a Box
One huge mistake many people make during a move is to try to force all of their items into a few moving boxes they have in their home. Use enough quantity of boxes you need to make shipments that are easy to carry. Don't let the weight of your largest boxes exceed 50 pounds.
7. Schedule Utilities for Your Destination
After finalizing the dates, connect your utility by contacting your providers to arrange service at the new place. You want to avoid getting there, exhausted from the move, and discovered that water, gas, electricity, and internet are off.
Arrange for it in advance and keep notes of your requests in your designated moving folder. Also, request that they stop the service for your move-out date at your old home.
8. Work on Changing Your Address and Forwarding Mail
Changing your address with the post office and having your mail forwarded to the new address is one of the tedious tasks during a move. Failure to do this early could result in a delay in receiving mail along the run.
Who wouldn't want their mail delivered to the right address? Can you imagine not receiving a vital bill that affects your credit?
It is possible if you don't make proper planning. There are many individuals, companies, and organizations to inform when you are moving.
Check this comprehensive breakdown list of who to inform of your coming move. Receiving your mail and moving notifications in advance is one of the best moving tips you can ever get.
9. Pets and Kids
You have to plan for your children and pets. This might involve getting the help of your family or friends to look after them for the day.
If your kids are with you, your stress level could increase. Although if you have proper planning to make sure they are entertained on the move day, you should not accrue much stress.
10. Keep the Necessities Closer
On the night before the moving day, pack every essential like a toothbrush, a change of clothes, toiletries, important toys or stuffed animals for kids, paperwork, medications, and so on into a bag or suitcase you will keep closer in the car, the moving truck cab, or on the plane.
If the moving truck gets lost and a delay occurs, you will at least have some important items with you.
11. Involve all Your Kids in the Process
If you have kids, chances are high that you are already stressed on how to pack all your belongings with them playing in and around the house. Many suggest you get a sitter for those packing and moving days.
But based on their age, they can also be involved in the process. Let them pack and wrap up their toys. It will give them a sense of responsibility and carefulness with their items.
12. Give the Movers a Tip
Your movers are from the service industry, too, and that is why they will expect you to provide them with a tip if they did excellently well. Many folks don't know what tip to give a mover.
Make use of this helpful guide on Do I need to tip Movers and you will discover the popular tip for movers. The movers will surely appreciate your kind gesture.    
Enter Moving Details and Get your Moving Quote in Seconds.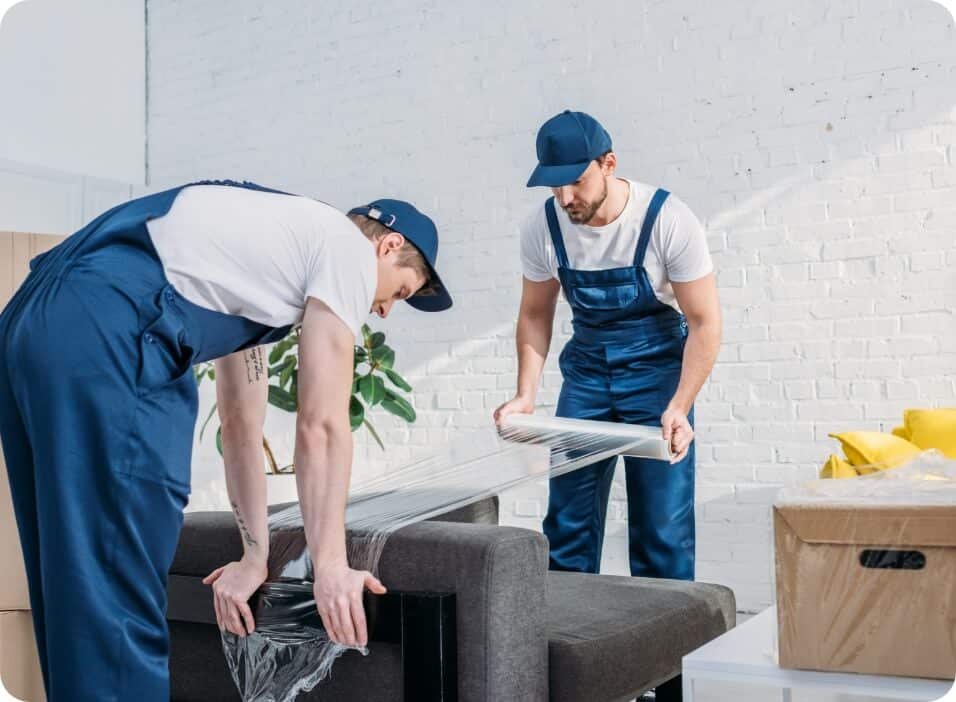 Additional Tips for Moving Day
Come up with a game plan:
Avoid stress by ensuring that you have someone who can supervise and direct the movers on the day of your move. This person needs to figure out which items need to be transported first, and the last ones that can be unloaded into your new home.
When you have a general direction and a person who can supervise, you can save enough time and money on a moving day, especially if you are using a professional moving company.
2. Save time by avoiding rushing:
This might sound counter-intuitive but moving fast directly means taking your time. Avoid rushing and throwing items onto the moving vehicle without proper thinking.
This mistake could take you time to fix in the event of damage or you forget something. Rushing will also leave you with so much stress. Do not rush, be diligent.  
You're Now Ready for Relocating
You can apply all these moving tips and tricks to any moving situation. Whether you are moving to another city, state, or country, logistics and creativity are important in moving, and it is never an easy task. But with the tricks mentioned above, you will find it well organized and efficient.