National Moving Companies - All You Need to Know!
It can be exciting to move to a new home or apartment but when you have a lot of things to move and a lot of road to travel to get to your new destination, the task can seem daunting.
When faced with a huge cross-country move or an interstate move that your friend's pickup truck can't handle, national moving companies are a very good option.
These long-distance movers typically have chains throughout the country that do local and interstate moves; some will even move you to another country. You'll have a range of services to choose from such as storage, full and partial packing, vehicle shipping and moving supplies to name a few.
National moving companies have well-known reputations and much more experience than smaller operations. You can rest easy knowing you belongings are in the hands of trained professionals with the know-how required to execute relocation to another state or the logistics of difficult moves within an urban space.
How Can Moving APT Help?
We take the stress out of moving for you.
Moving APT is a licensed interstate broker that works with the best long-distance movers across the nation, and we can quickly and easily find and arrange your upcoming move.
As a broker, we don't use our own trucks and people to transport your belongings. Instead we set up and monitor the entire process, supporting you throughout your move and ensuring everything goes smoothly.
No matter what you need for your big move, our team can find the perfect moving company that offers the special requirements essential to successfully moving your things. Every company we work with has liability insurance, are licensed and insured, offer specialty services (piano moving, paper shredding, furniture repair, etc.), use trustworthy staff and provide discounts for the elderly, military and disabled.
Top 10 National Moving Companies of 2019
The companies Moving APT trusts are a step above the rest, here are 10 of the best national moving companies in the country.
1. Arpin Van Lines
After over a century of being in the moving and storage business, Arpin Van Lines has managed to remain one of the most dominant and successful cross-country movers. Their award winning services include long distance moves across the country and the world, local moving and customer service.
If you are moving to a different home or office, Arpin has a number of specialized services that can meet any needs you may have. They offer storage solutions, great for those traveling overseas for an extended period of time, and complimentary services for the elderly and military. These are some of the most reliable and dedicated movers in the business.
Website: www.arpin.com
2. All My Sons
A nationwide company that can help you move to and from almost every state, All My Sons goes out of its way to inject the family values that it started out with into every location. Courtesy and respect are the ethics they imbue to their moving professionals and it shows.
Known for keeping it simple, All My Sons is not the type of company to over complicate things. There's no over-boxing, unnecessary disassembly or a job that is over-manned. Their detailed and accurate because they understand your move before the first box is ever lifted. They also include basic valuation insurance for free with every move.
Website: www.allmysons.com
3. Bekins
Founded in 1891, Bekins has come a long way from moving people and their things by horse-drawn wagons. Today it is the fourth largest van line in the country and covers 95% of the U.S. Bekins partners with various organizations throughout the US in order to offer additional discounts, knowledge, special opportunities and perks to their customers.
They handle just about any job including corporate moves, large family and single family relocations. Besides the basics, Bekins covers international, military and government moves. If you have a special need like moving an industrial site, they can do that too.
Website: www.bekins.com
4. Atlas Van Lines
Atlas is everywhere – you've probably seen their big blue 'A' on the side of a van before – and is determined to help you with every part of your move. Atlas has about 430 agents who own and operate the warehouses and equipment.
Atlas offers storage, long-distance and international moving services and also provides unique services such as employee relocation, date-specific small moves, military moves and even move large specialty items like RVs, four-wheelers, motorcycles or boats. Whether your big move is local, national or international, there isn't an ocean or border Atlas Van Lines won't cross to get your things where you need them to be.
Website: www.atlasvanlines.com
5. Stevens Worldwide
Established in Saginaw, Michigan in 1905, what was once a single man and horse operation has matured into over 125 agent locations nationwide. Stevens Worldwide provides long distance moving and storage for any kind of relocation. This company also maintains separate, special divisions for certain services including clergy and church moves, international relocation, corporate moving and cargo shipments.
Whichever phase or step of your move you decide you need help, Stevens is ready to come in with the assist. Recognized by the American Moving and Storage Association as a ProMover, Stevens promotes ethical principles and works with the government to remove the unethical moving practices running rampant.
Website: www.stevensworldwide.com
6. Mayflower Transit
The name is a fitting one right? Mayflower Transit has been helping families move back and forth across the country since 1927 and stands out for their top notch services and competitive pricing. Over 500 agents and 650 locations use standardized techniques and methods to safely pack and load cargo.
Some of the most trusted long-distance movers, Mayflower Transit is known for going above and beyond. They even provide innovative technology solutions for their customers such as Precise Track and MayTrack – this technology allows them to inventory and track their customers' shipments. Mayflower is also transparent about their practices and makes info easy to find on their site.
Website: www.mayflower.com
7. North American Moving Services
The name may have North America in it, but this company can be found in over 175 countries across the globe, and is well-respected internationally. North American has been an industry for 85 years and is one of the best when it comes to moving long-distance and cross-country.
Also known for their dedication to and protection of customers, they conduct third party surveys to ensure the companies they work with are meeting customers' expectations, giving out Quality Mover Awards for those who adhere to their principles. In fact most of their customers use them time and time again for all of their subsequent moving needs.
Website: www.northamerican.com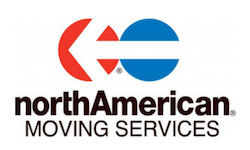 8. 2 Men And A Truck
With more than 380 locations across the world, it's hard to believe this company was started by two high school boys and an advertisement in their local paper. After 30 years of business, 2 Men and a Truck have completed about 7 million moves continues to exceed the expectations of their customers.
Small and large, down the street or across the pond, they will make any stressful move much easier to handle. They offer expedited long-distance movers that guarantee arrival times and an affordable, value flex option that allows you to reduce the cost of your move while still having excellent service to your new home, apartment or office.
Website: www.twomenandatruck.com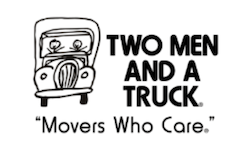 9. FlatRate Moving
FlatRate Moving is so good, NYC residents like them! That is an achievement in and of itself. Founded in 1991, their movers train year-round with a focus on safety and protection, using the best packing materials for your belongings to remain intact and free of damage.
FlatRate Moving offers a cross-country express moving option, carpentry, TV and audio installation and box delivery. They also moves art and antiques and will do commercial, international and local moves as well. The FlatRate Advantage ensures your items arrive in one piece and they even offer express shuttle services between major cities. We can see why New Yorkers are pleased.
Website: www.flatrate.com
10. Wheaton Worldwide Moving
What started as a simple move between Ohio and Michigan in 1945 has grown into 250 nationwide agents and 4,000 global employees spread across 52 nationalities. They offer pull service packing, storage and handle specialty items like china cabinets, delicate upholstery and pianos, pool tables and auto transportation.
Wheaton Worldwide does local, international, commercial moving and will relocate any size household. Their track record of providing good service is good, but what is truly admirable is seeing them believe in and work towards reducing their footprint on the environment as they go green. Their care, attention to detail and consistency make moving seamless.
Website: www.wheatonworldwide.com
The Following are the Best National Moving Companies of 2019
| No. | Top National Moving Companies | Website |
| --- | --- | --- |
| 1. | Arpin Van Lines | www.arpin.com |
| 2. | All My Sons | www.allmysons.com |
| 3. | Bekins | www.bekins.com |
| 4. | Atlas Van Lines | www.atlasvanlines.com |
| 5. | Stevens Worldwide | www.stevensworldwide.com |
| 6. | Mayflower Transit | www.mayflower.com |
| 7. | North American Moving Services | www.northamerican.com |
| 8. | 2 Men And A Truck | www.twomenandatruck.com |
| 9. | FlatRate Moving | www.flatrate.com |
| 10. | Wheaton Worldwide Moving | www.wheatonworldwide.com |
How Much Will a National Moving Company Charge You for Your Move?
The moving budget is one of the biggest things that people take into consideration when deciding between long distance moving companies. National moving companies are aware of this and try to alleviate movers' anxiety by offering flat rate moving services, value services and more.
The real danger is choosing a company simply based on price. Instead of going with the cheapest option, the Moving APT team is happy to shed light on the way moving costs are calculated so you can have the right numbers in your head and aren't scammed into trusting the wrong company and out of your money.
So, How is the Cost of Your Move Calculated?
1. Distance
When moving a long distance, the most important factor national moving companies use to determine cost is based on mileage. The further the distance you have to travel between the pickup and drop-off locations, more time and gas is required to transport your shipment.
Also remember the additional fees that will be added on such as toll roads and extra parking fees.
2. Weight of Shipment / Size of Move
The amount of things you are moving is the second most important factor and will directly affect the price of your move.
The more items you are relocating, the more space they will take up and the heavier the entire shipment will be
The more items you have, the more labor that is required to load and unload onto the truck. More people will be needed to finish the job in the most efficient and safe manner.
Tip: A moving inventory detailed with all the items you are moving goes a long way in helping you estimate moving costs. You'll be able to assess the weight of items and figure out the amount and type of supplies you need to pack properly.
3. Job Complexity
The third most important factor to keep in mind when determining relocation costs is the complexity of your move. This is where a lot of additional fees pop up so it's important to understand the type of costs you may encounter. Any extra services, existing problems, special handling requirements, etc. that make moving more difficulty, slower or riskier will take more time and effort to finish. Some of the most common are:
Packing
Crating
Bulky, oversized articles
Extra labor
Coverage or valuation
How to Estimate Long-Distance Moving Costs
If you know you are going to move soon, it's important to know how much money you're likely going to spend and what levels of service you can afford. 
You know the price will be the weight of the shipment and the distance to your new destination. Getting an accurate distance from your old place to your new one is easy enough, but the only way to get a realistic assessment of the weight of your move is with an in-house estimate.
Your shipment will be weighed at the time of the move and you'll be provided a weight ticket. With the actual weight, real distance and extra services, you can then determine an exact number.
Remember: When estimating, do not forget the packing materials, travel expenses, tips for your movers and living expenses for the first month (or until your first paycheck).
7 Things You Need to Do Before Hiring a National Moving Company
Sometimes it can seem like a miracle that a move was completed smoothly, but pulling off a successful move with no issues does not happen by accident.
Hiring a quality national moving company goes a long way to ensuring your belongings arrive at their final destination in one piece, but finding a quality mover isn't as easy as some people would like to believe. You have to do your homework, making sure you are asking the right questions and noticing red flags if they appear.
To avoid the shoddy practices that leave a bad taste in the mouths of so many families, make sure you do these seven things before giving your money to anyone.
Make an Inventory
Create a list of everything you intend to ship to your new address. This allows you to have control over your moving process. Relying on movers to make the inventory opens the possibility that they may miss something. If you create the list yourself, you're likely to be more thorough because they are your things and you don't want them to be misplaced.
This also will help you determine how much your shipment could weight, the amount of boxes and packing materials you'll need, the scope of the job, etc.
Research & Understand Your Rights
Before conducting a single interview, it's important that you know your moving rights and responsibilities. Though companies will provide you with a pamphlet, you should do your own research into best practices ahead of time.
A basic understanding of your responsibilities and rights will provide you with a better understanding of what you should be on the lookout for when interviewing potential moving companies. If any company does not provide you with a booklet detailing your rights, avoid hiring them for your move.
Research the Company
Before you even call a moving company, it's wise to do a search of their credentials first. There's no point in interviewing a company if they aren't licensed or have awful reviews. You'll want to check for their mover's license number which should be available on their site. Avoid any companies that have changed their name and cannot be looked up, don't have a physical address and are not transparent.
Price is important and is undoubtedly a factor when choosing a reputable national moving company, but Moving APT believes integrity is just as important and often overlooked.
Get an Estimate
After creating your inventory and doing the necessary research to weed out obvious scam companies, you should give your inventory to a company for an estimate. The best moving companies will provide you with an estimate.
It's important to get this immediately to avoid additional or hidden charges at the end. Your estimate depends on:
Shipment weight
Size of moving truck
Labor
Unforeseen obstacles
Get a Walk Through
Don't settle for just any old walk through, make sure it's done correctly. Any moving estimator who quickly performs a walk-through without taking the time to note what you plan to move is going to be inaccurate.
A reputable estimator will ask lots of questions about what is staying and what you're taking, what needs to go into storage, what needs special care and the costs that match. Be prepared to tell them what is not going to be going on the truck, what items you intend to donate or leave behind altogether.
Request References
Friends and family are often the best resources to turn to for recommendations, but if they don't have any, get a list of dependable movers from the American Moving and Storage Association or the state associations of movers.
Ask every mover you speak with for a reference. Tell them you'd like two or three customers from your area that have moved recently and then call them. Ask direct questions about their moving experiences.
Have Your Questions Ready
The last thing you should do is have a list of detailed questions ready in order to be clear about every phase of your move. Hidden and additional fees are common, so asking about stairs, elevators, size of the street, loading and unloading, boxes and packing material, insurance coverage, their experience, contracts and all relevant information will go a long way.
Conclusion
We are excited for you and your big move! Whether you're leaving the country or planning to relocate to an entirely different coast within the US, national moving companies are able to assist you through the process of going long distance.
Though local companies may offer similar services, nationally recognized companies move faster, have more reviews and offer more extensive services.
Hiring a good moving company that takes cares of your belongings and treats you and your time with respect it's very difficult, but it does take a commitment on your end to look for the right signs and do the right research before trusting someone to load up your entire life and delivery safely to another location.
If there's anything the Moving APT team knows, it's that moving is stressful. Even if everything is done correctly, the process is a long, tiring, frustrating and expensive. By being prepared with the right knowledge, however, it can be seamless and less stressful. When you have us on your side, we alleviate the burden of having to do the research and move alone.
No matter the route you go and who moves your things, our team wishes you the best of luck on your journey!