Packing your household for a move is never an easy job. Being a professional in the moving industry and having been involved in many moves, we can tell you that your preparation and when you start packing is the most vital aspect of your moving process.
When looking into how to pack for a move, one best approach is to first get all the necessary moving supplies you will need and then strategically go from one room to the other until you are done with the job.
Follow the checklist from our expert packers to simplify and control the process of packing to reduce stress.
When Should I Begin To Pack For A Move?
This often depends on the number of time you have. Some people have 8 weeks to decide on this, while others have just two weeks or less. So, it's all based on your organization. But when you have more time, you can get a quick start since that is one way to prevent forgetting some of the popularly forgotten items to pack.
Start with items you use occasionally, like items in your garage and seasonal wardrobe, and then, as the moving day draws closer, proceed to more items from your home.
What Is The Best Way To Pack For A Move?
There are numerous methods and tips when packing for a move. There is a great difference between knowing how to move kitchenware and how to pack clothes for moving.
There are varieties of moving tips for each category. We advise that you discover a system that is effective for you, whether it is to attack by room or by categories of the item, based on whether you plan to use storage services, and so on.
However, before you get started, remember to check the items the moving company won't move, so you don't get rushed at the last minute. 
General Tips for Moving and Packing
1. Begin by collecting your moving supplies
To make sure your move is successful; the following moving supplies will be needed:
Boxes: There are many options for finding affordable or free moving boxes. NextDoor Neighbor is a typical example to search for used moving boxes or ask your family and friends. Get different sizes and ensure the packing boxes are in good shape.
Bubble wrap: Bubble wrap protects your items from damage during the move. Also, you can get it at department stores or office supplies cheaply or get it for free on Facebook Marketplace.
Dolly: Carrying moving boxes from one place to another becomes much of work and could result in drops. To avoid such a situation, rent a dolly from a moving company or a home improvement store because it simplifies moving.
2. Declutter to enable you to pack less
An important packing tip is to make sure that you don't move any item you don't need anymore. Reduce your stress and workload by decluttering before you begin to pack, which means deciding on what to dispose of, sell, keep or donate. Measure your new home and dispose of any furniture that won't fit or won't be useful in the new home.
3. Buy quality moving boxes
You can easily be tempted to visit your local grocery store and try to get some free boxes for free. However, moving boxes are cheaper, and the durability that comes with them can be worth the cost in the long run.
The quality of grocery boxes that are reused boxes can be compromised by wear and exposure to liquid or worse, insect infestation. You want to prevent a situation where your moving boxes are falling apart as you carry them into the house.
4. Designated a packing zone
Create a personal area. You will waste most of your time when your packing materials are spread all across the house, and make it more frustrating when you need the tape. Anytime, anywhere, and whatever item you are packing, make sure there is a space where you can get what you need and not have to start searching.
You can create a new packing zone as you work from one room to another. Claim an area, corner, or counter, or even an empty room. Just ensure that there are enough packing supplies like boxes, tape, and markers in your zone.
5. Make a list of "don't pack"
We all need a survival kit for the moving day. You sure know the things that you often access and feel like a composed human being. This includes a change of clothes, toothbrush, toiletries, and so on. First, create a list of things you want to include in your kit. We have one for your use.
Next, select a box, suitcase, or bag that will hold your survival kit. Ensure it is neatly labeled and not loaded in the moving truck with your other belongings. This should travel with you.
6. Take pictures before packing
Whether you are performing a DIY move or hiring a professional moving company for it, taking pictures is always a nice move. When you hire professional long distance movers' service, your household goods are often covered with moving insurance, so it is great to have evidence of how everything looked before loading because accidents are inevitable.
7. Plan your packing day and handle it room by room
You will face the temptation to combine and make changes to the content of your moving boxes since you will often have more space to fill. However, only do that with linens, towels, and other materials that can be used for cushioning. Make sure you pack everything else by room, separately: bedroom, kitchen, bathroom, and so on.
8. Pack a tote for essential items
Getting to your new home, you likely don't want to start unpacking clothes, go grocery shopping, and do laundry. Moving can stress you and your family a lot, and that is why you need to come up with a moving essential tote in advance of your move.
9. Use different color packing labels for each room
To remain organized, print off packing labels of a different coloring tape of different colors to assign a color to each room. List the contents of every box and add the room it is going to.
Then make use of colored tape to note the entrance of each room in your new home. This moving tip will save a lot of time for your cross country movers. Instead of reading the label all through or guessing everything, they can easily match each color.
10. Pack your essentials in a plastic bag or container
Last-day essentials are so much important. Those are the items you will need as you are in the house and immediately after moving into your new home. If there are Celtic and transparent bags or containers around your home, you should use that since it will make it easier to locate your toiletries and other essential items.      
What is stored in the essentials bag?
A set of clothes & underwear
Toothbrush and toothpaste
Chargers
Documents
Valuables
Snacks for the road (if necessary)
Enter Moving Details and Get your Moving Quote in Seconds.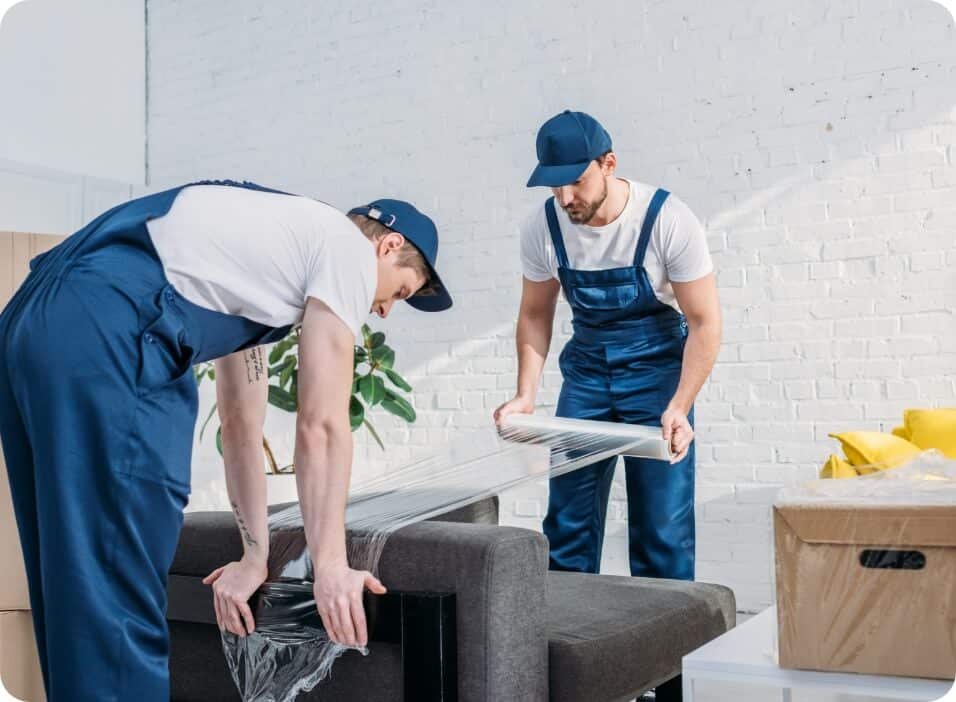 You think we still have more to reveal, don't you? Below are the tips to simplify packing like a pro:
Gather the team: The team includes your crushed paper, packing peanuts, packing tape, markers, boxes, scissors, bubble wrap, and any other necessary items you need to successfully pack. Gather them early and arrange them in your packing zone mentioned earlier.
Use only sealable packing containers: One may be tempted to pack items in laundry hampers and trash bags, but it is not a good idea. You will end up with a huge mess on the day of your move if you use bags that easily split or containers that have no lids. And you don't need unnecessary delays on your move.
Avoid undressing your dresser: Your clothes that are in the drawers inside your dresser are already in a packed state. Leave them in the drawers, take the drawers out and protect the clothes in them using a protective wrap. This will enable you to move with ease.
Heavy items get stacked first: Packing is an art on its own as it is a process that also requires proper order. Heavy items on the bottom, light stuff on top. It is just like packaging your groceries. You don't want your light items crushed by the heavy ones while in the bag.
Set a pounds weight limit per box: As regards heavy items, you want to avoid hurting yourself on a moving day, or your friend who is only helping out voluntarily. Each box should not weigh beyond 50 lbs. This is because of the safety of you and everyone involved in the move. If you have items like gym significantly heavy gym equipment make sure they are packed separately and in small moving boxes to reduce the weight. If you feel like any item will be too heavy for you to lift, get help.
Have newspaper stack on hand: Newspaper is ideal for wrapping your breakable items. It includes an additional barrier, and when added with the actual packing materials, it's so much helpful. When you grab your newspaper, make sure you can easily access it in your packing zone.
Keep small items in small bags before packing: Each homeowner has some exceptionally small items, such as screws, pencils, or paper clips you'd lose if not properly kept in another large storage. If you have smaller items to move with you, gather them and keep them in small sealable containers or bags. When you pack them before moving, you will be able to easily locate them during unpacking.  
Play Tetris with your items: Don't like Tetris? Don't worry: this game doesn't set a time limit for you. During packing, be sure not to leave any space in your moving boxes as space allows your items the freedom to slide around and possibly break. Space also maximizes the risk of crushing. Use any leftover space up with the help of packing materials or soft fabrics to fill the space between your packed items.
Find out what you just can't pack: There are certain items that you cannot pack in a house moving truck. This includes:
Hazardous materials
Perishables
Chemicals
Click here for a more specific list.
Pack long items together: If you are moving out with your curtain rods, or you have brooms, rakes, and dusters that have long handle, these should be packed together using tape.
Handle dishes and glasses with additional care: Dishes and glasses both require special packing. They need a specialized box for packing them and we have them. Keep a layer of crushed paper in the bottom of the box, between every layer in the box, and on top of the box. Get more comprehensive instructions here.
Not ready for your packing? We are a moving company that will pack anything for you. Our services include customizable packing and moving quotes that factors in your requirements. We could just help you move, pack up, or just do everything for you.
The call is yours to make. Anytime you are set to start packing, contact us about the moving. We will provide you a free, non-obligatory affordable quote based on our experience and knowledge.