Riverdale in the Bronx is just one good NYC neighborhood that's cheaper than most. And there are more places scattered throughout the 5 boroughs that are much cheaper to live in than you would think.
Although New York City isn't well-known for being affordable, with a bit of research, a little effort and help from NYC movers, you can live in NYC for a reasonable rate and still have enough money to build savings, buy your favorite cup of coffee each morning, go out on the weekends with friends, enjoy plays and concerts, or even splurge on a vacation.
We put together a list of the cheapest places to live in NYC, considering factors like dining out costs, rental prices, and transit commute times to find the perfect balance between fun and affordability.
#1 - Riverdale - The Bronx
The Bronx may be known for its rough edges, but Riverdale is a quaint oasis in the midst of urban New York. In fact, recent crime statistics show that Riverdale is 85% safer than other neighborhoods in NYC.
Conveniently located near the Riverdale Station, this quiet residential area is a short commute to Manhattan via the subway. The neighborhood has many historic homes and townhouses overlooking the Hudson River that will give you a taste of old New York charm.
Rental rates in Riverdale are typically half or less than those for other parts of NYC, making it a budget-friendly option for new residents. For example, renting a 1-bedroom apartment in Riverdale typically costs about $1,700-$2200 per month, which is a good deal considering the price of other neighborhoods in NYC.
For a bit of suburbia surprisingly close to the heart of the city, don't miss Inwood right on the northern tip of Manhattan. With its single-family homes, old brick deco apartment buildings, beautiful parks, and stellar views of New York City's skyline, Inwood is an up-and-coming area to consider if looking for cheaper living options near NYC.
Inwood has a subway that runs through the heart of the neighborhood and is an excellent place for those who want to be near the city but avoid expensive housing options.
Rent in Inwood can vary depending on which building you choose, but rent typically costs less than $3,000 per month and often includes an on-site gym and laundry facility. A studio apartment rental in Inwood averages about $1,700-$2,000 per month.
#3 - Windsor Terrace - Brooklyn
Windsor Terrace is a family-friendly Brooklyn neighborhood situated right next to Prospect Park. There are plenty of mom-and-pop shops on the main shopping street that give this area its small-town feel.
The commute to Manhattan can take about an hour, but Windsor Terrace makes up for it with its close proximity to Prospect Park and low rent.
A one-bedroom apartment in Windsor Terrace typically costs between $1,900-$2,500 per month, which is a good deal for New York City. So if you're looking to settle down near Prospect Park using NYC movers without breaking your budget, this is definitely the place to consider.
#4 - Forest Hills in Queens
The sidewalks of Forest Hills are lined with mature trees and historic apartment buildings, making it a great place to settle down. One of the largest neighborhoods in Queens, Forest Hills is full of culture and offers many opportunities for people looking for more affordable options near NYC.
Forest Hills has its own subway that runs through the heart of this quaint neighborhood and can connect you to Manhattan in 30-45 minutes, depending on how busy the trains are.
Rent in Forest Hills typically costs between $1700-$3000 per month, depending on the size of your apartment and whether or not utilities are included.
#5 - Washington Heights on Manhattan
Washington Heights is an excellent location for young people looking to live near NYC because it has one of the best nightlife scenes. This vibrant neighborhood offers plenty of culture and atmosphere but still gives you access to all that Manhattan has to offer.
The commute from Washington Heights to Manhattan can be up to an hour during peak hours, though most subway lines run directly through this neighborhood.
A one-bedroom apartment in Washington Heights generally costs between $1,700-$2,000 per month. So if you want to live near NYC but don't want to spend a fortune on rent, consider Washington Heights.
What To Know Before Moving To NYC
In addition to the cost of living, there are other factors are what you should take into account when considering where to live in NYC. So, before you hire NYC movers to help you relocate to the city, be sure to consider the following:
The Weather: The weather in NYC varies significantly from season to season and can even vary depending on which borough you live in.
Utilities: Utilities in NYC are not included in monthly rental rates, so you'll need to consider your electricity and internet service costs for each place you look at.
Pets: Many housing options in NYC may have additional fees for pets or prohibit them. Be sure to look for a pet-friendly place or has reasonable rates for pets if you plan to move with your furry friend.
Size: Standard NYC apartments are pretty small. Sometimes it's best to plan to spend a little extra on a larger apartment that will allow for ample storage, living space, and peace of mind.
Parking: If you are bringing your car to NYC, parking can be a challenge and a costly one at that. Be sure to consider how much extra parking costs will add to your budget before you move.
Enter Moving Details and Get your Moving Quote in Seconds.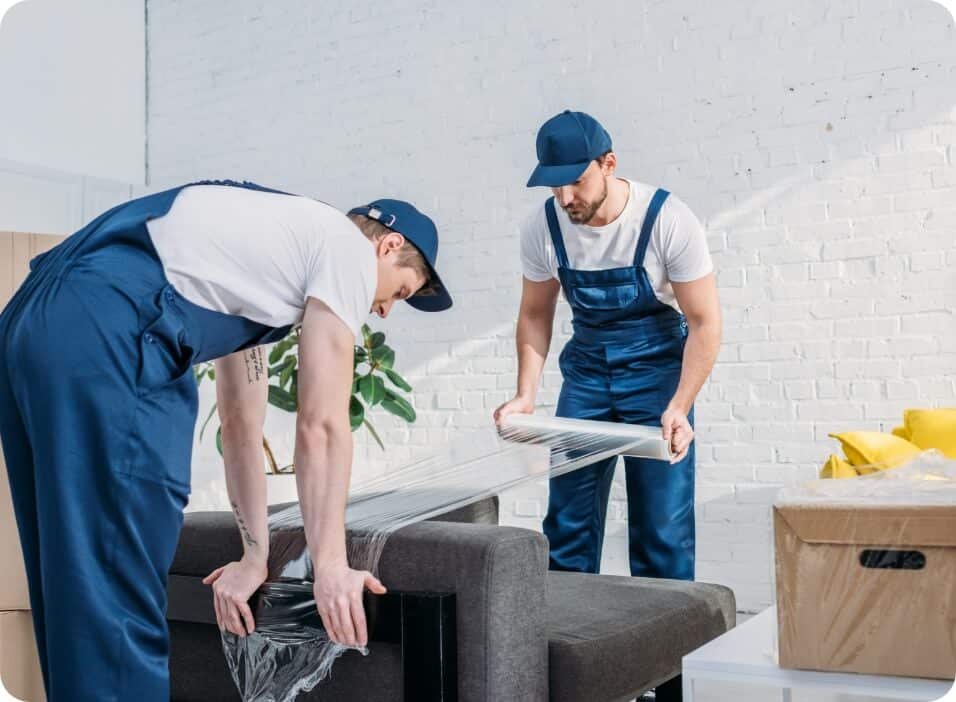 Frequently Asked Questions
Is NYC A Safe Place To Live?
NYC is home to some of the safest places in America, but it's important to consider where you are living. If you are worried about crime rates, choose a neighborhood outside of the more dangerous areas, such as East New York or Brownsville.
What Is The Best Way To Get Around NYC?
New York City has one of the largest public transportation systems in the world, which makes getting around easy. With trains, buses, ferries, and rideshares, you can get anywhere in New York City without a car. If you are moving to NYC, it is worth investing in an unlimited transit pass for the subways, the most convenient way to get around the city.
Does NYC Have Good Schools?
New York City offers many quality schools. However, if you want your children to attend the best schools, look into neighborhoods like Riverdale or Flushing that have top-notch reputations.
Get Affordable Living in NYC
Just because you are moving to NYC doesn't mean you have to spend a fortune on rent. By choosing any of the five cheaper NYC neighborhoods listed above, you'll be able to find a reasonable rent without sacrificing the ability to enjoy all of the excitement New York City has to offer.