What do you think of when you picture the beautiful state of Arizona? Do you see the beautiful desert scenery, complete with the Saguaro Cactus Flower, the State Flower of Arizona? Do you picture the endless serenity and deep, layered rocks of the immense Grand Canyon?
Arizona is a state beloved by the people who call it home, and for good reason. The Grand Canyon State has plenty to offer for its denizens, from nearly year-round warm weather, to beautiful, welcoming cities and picturesque nature. These are but a few things you will be able to enjoy if you are considering moving to Arizona.
So, what's first on the to-do list for making your move to Arizona? No matter where you're coming from, get a few moving quotes from trusted cross country moving companies and start planning your move today!
What You'll Love About Arizona
Arizona is a state steeped in history and culture, and there are many things to love about living there. There are many reasons people love to call Arizona their home, and these are but a few that you should keep in mind when making your move:
1. Arizona is perfect for people who love warm weather 
Are you someone who hates the cold weather and prefers the endless warmth of the sun? You're in luck if you decide to move to Arizona, then, because the state is nice and warm almost all year long.
It is important to remember that if you are outside for long periods of time in the Arizona sun, however, to always stay hydrated, drink plenty of water, because the hottest times in the state can go above 120 degrees Fahrenheit.
There won't be too many times that you'll need to be breaking out a hoodie or a sweater in Arizona. 
2. Arizona has a great public transportation system 
No car, no problem! If you don't have a vehicle of your own, you don't need to worry about not being able to get where you want to go.
This is because metro areas in Arizona are getting more and more ubiquitous, and public transportation has grown with them over the years. There are many easy ways to get around the state of Arizona even if you don't have a car of your own. 
3. Gorgeous scenery that looks like a postcard 
Who says dessert landscapes can't be beautiful? Arizona is home to such beloved natural attractions as the Grand Canyon National Park, where tens of thousands of people flock to every single year to take in the natural phenomenon of the Grand Canyon.
There are also the amazing features of Antelope Canyon, with its interesting sandstone foundations, almost being a geological anomaly. For people who want to enjoy a walk around the mesas, Monument Valley is a great place to visit and enjoy the peace and quiet.
If you go to any of these places, make sure you have a great camera on hand, because you will definitely want to be taking pictures! 
4. There is never a shortage of things to entertain you 
In Arizona, you won't be hurting for entertainment if you get bored. Since the weather is usually nice and warm, you can find festivals and concerts out in the open air at all times of the year to enjoy.
Those aren't the only things you'll be able to enjoy, either, as all of Arizona's major cities offer their own forms of entertainment as well. You'll be able to find delicious local restaurants, cinemas to catch a movie, and even the occasional opera performance. In the mood for nightlife?
There is also no shortage of bars, pubs, and other adult entertainment options if you'd like to go out and have a drink with your friends.
As you can see, there are plenty of things to love about Arizona. So what are you waiting for? Pack up, find yourself a great moving company to help you out, and get your move to Arizona underway!
Moving to Arizona Checklist
It is essential to prepare for everything in life, especially when moving to a city like Arizona. Follow this helpful long-distance moving checklist to save yourself from unnecessary stress and hassle when moving to Arizona: 
Plan: There are lots of preparations and adequate execution required when moving to Arizona. Start planning before the moving date draws nearer. Give yourself enough time like a minimum of eight to twelve weeks to plan everything. Get family members involved in checkmate ideas and start the process. 
Research Arizona: Whether you are still looking for where to live or already figured out one, use this time to know more about your community. Look up schools, doctors, job opportunities, activities, and so on. If possible, visit your destination town or city before moving. 
Choose a place to live: As you research through many options, do not forget what exactly your choice of home in your new area looks like. Except there is an important reason, do not compromise your choice. There is definitely something for everyone in the open world. You can easily choose short-term housing if you are not considering long-term housing. 
Look for movers: Do well to compare at least four to five licensed and insured moving experts. The process is simplified with many of our posts. Locate reliable and affordable moving services in Arizona without stress. Get a free moving quote now!
Hire a mover as soon as possible: Once you have the moving quotes with you, compare and contrast to choose the moving company that stands out. Ensure the mover you choose offers every move you need, such as packing, custom crating, storage, and so on. Make your reservation at least 8 weeks in advance to get nice rates and availability. 
Consider storage: Do you have a few numbers of valuable items or entire household belongings that need to go into temporary storage? Most moving companies also offer temporary storage options. Talk to your moving company about storage.
Downsize: This process helps you reduce your items and save you a significant amount of money. Begin by making a list of your household goods. Create piles of items to pack or dispose of. You can sell stuff you no longer want online, at a garage sale, recycled, or donated. 
1 to 2 Months before Move
Notify landlord: Give your landlord advance notice if you are a renter. You want to avoid breaching your rental contract, pay additional charges, or put your deposit at great risk. 
Get packing supplies: You need to start packing after downsizing your household. Get every relevant and required packing supply, such as packing tape, moving blankets, cardboard boxes, bubble wrap, and so on.
You can save huge cost on moving supplies by seeking for free moving boxes from stores, supermarket, and bookshops.
Start packing: Start in one room. Stack heavier stuff at the bottom of moving boxes. After that, use old T-shirts or crumpled paper to block spaces and label the boxes. If you don't have the time or don't feel like doing it yourself, just hire a packing team.
Inform your people: You may forget to inform friends, family members, or co-workers about your upcoming move due to the stressful moving logistics you've been handling. Meet them one by one or place a call or send an email with your new address included in the content.     
Visit doctors for your household members and yourself: You all should go for medical checkups before you move. Meet the vets and research on pet laws in Arizona. Arrange a meeting for your kids with their paediatrician and so on. And also, remember to transfer your medical records as you move.
Cancel/connect services: Arrange cancellation of subscriptions, utilities, and home services. Create a new account with your new utility company at least a month before your move and plan for connection/installation two or three days in advance of your move. Discuss with new occupants of your old space to make sure that utilities will be switched on when they move in. 
Handle food: Are your canned, frozen foods, and perishables still many? Eat it up and keep money on grocery shopping. You can donate or give leftovers to family, friends, and neighbors. 
Empty and clean your home appliances: Reduce your load to limit mold activities and reduce your moving expenses by clearing out and cleaning your fridge, stove, freezer, and all of your appliances. Bring a professional to help you disconnect your lines.
Change address: One last task, do not forget to fill out a change-of-address (COA) form. Very easy to fill. Visit your local post office or handle this online by visiting the USPS site.  
Clean: Now, you are almost through with packing. You now have to clean up your space. Hire professional cleaners to handle wood flooring, carpet, paint, and so on. If possible, bring a crew of cleaners to clear so they work immediately your movers have cleared out everything.
Service vehicle: Take your vehicle to a service center if you plan to drive to Arizona. You want to avoid having a car breakdown as you journey to Arizona. Take this time to rehearse your driving plan and choose the best route to your new home.
You should make sure out-of-country driver's license are permitted for driving in Arizona. How can you know this? You must not be a worker in Arizona, be a registered voter in Arizona, staying in AZ for over seven months, and must not be a business owner based in Arizona before you can drive with your out-of-country license.
Confirm with moving companies: Make sure you stay updated. Check for arrival time again with your movers, exchange phone numbers with them to ensure easy communication with the moving crew while moving, and attend to or ask any last-minute questions.
Schedule daycare: You need to get ready for this demanding period if you have pets or kids. You can easily lose sight or get distracted by your loved ones. To avoid distractions and ensure their safety, arrange babysitting, play date, or daycare.
Celebrate: You definitely have some people nearest and dearest to you in your old place, regardless of how long you've lived there, and want to say goodbye before your departure. Throw a group party, go out with an individual, or throw a moving party at your old place. Ensure you spend time with your loved ones before you leave. 
Last 72 Hours & Moving Day
Pack essentials box: This is the right time to pack up essential items you will need for the first 24-hours or so in your new place. Items like bedding, toiletries, snacks, prescriptions, clothe, and so on should be packed in a single box and keep somewhere you can easily access. 
Recheck travel plan: Double-check your driving route if you are driving your vehicle, carefully inspect your tires, gas, oil, and so on. If you are flying, double check your flight schedule and requirements for baggage and carry-on.
Rest a night before the day: Stay indoors, relax, and eat a nice meal. And get some beauty sleep in preparation for the long day. 
Be available: It's your moving day! You will need to be on-site if you have a last-minute adjustment to make or ask when your moving team arrives. 
Be present: Today was hectic. Just ensure you breathe and accept that the day has come. There should be no problem if you follow every previously discussed tips.
Do a walkthrough: After the moving crew has moved everything out of your house, perform the last tour. Check for any items you've missed, ensure everywhere is cleaned, and lock up. Remember to inform the incoming occupants where to find the keys. 
Enjoy yourself: Note that the move is not only about the new place. Enjoy every step of the journey to your new home, especially with your kids. Moving is a time that deserves some fun. 
Enter Moving Details and Get your Moving Quote in Seconds.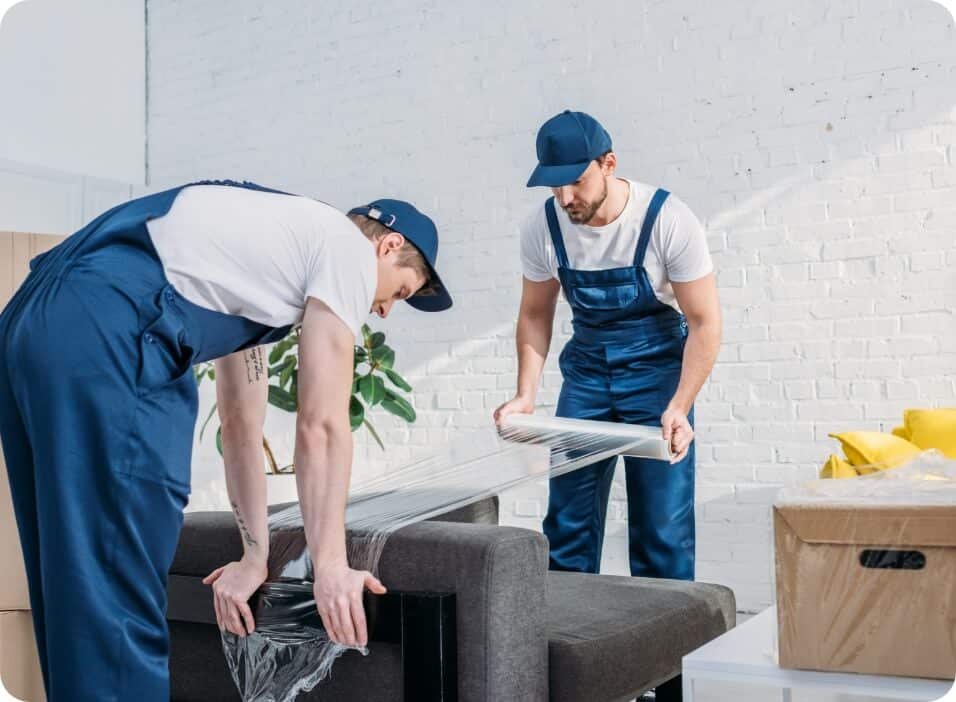 Frequently Asked Questions About Moving to Arizona 
Moving can be a stressful and difficult process to get through, and this is especially true if you are moving long distance. Luckily, you don't have to handle everything alone. Here are some of the most common questions many people ask when they are getting ready for a move to Arizona:
How do I find the best long distance moving company to help me get my move to Arizona underway?
If you're moving out of state, then local moving companies in your current state won't be able to get you very far. Luckily, there are thousands of long distance movers in the country that are fully qualified, insured, and equipped to safely move you and your belongings across state lines.
To find the best movers to get you to Arizona, ask your friends for recommendations or search online reviews to find quality movers. Once you have identified a few companies you'd like to use, call around and get some estimates that work with your budget before settling with the first moving company you dial.
What kind of services do long distance movers offer?
This is entirely dependent on the moving company you choose, but many long distance movers offer several services that could be highly beneficial to you during your move to Arizona.
Some companies offer services like whole home packing where they pack your things up for you, loading and unloading services where you won't have to move a muscle when it comes to moving your things, and some companies even offer storage solutions so you can safely store away any valuable items in a climate-controlled facility before, during, or after your moving process.
How much should I expect to pay for the moving process?
There is no concrete price prediction for a move, as it is entirely dependent on factors like how many miles you're going to be going, what kind of services you will need from the moving company, and more.
You can discuss the financials with your chosen moving company to get the lowdown on costs, and always remember to get multiple estimates before settling on one company so you can find the one that best suits your budget.
The warm Grand Canyon State is beckoning you. Once you've got all your particulars in order and are ready to begin, you will find much to love about your new home in the warm, friendly state of Arizona.
How long as a visitor can I drive in Arizona with my out-of-state license?
You may be able to drive in Arizona as long as you like without collecting an Arizona Driver's License if you are visiting and over 18 years of age with a valid driver's license from your original state in your possession. However, drivers between 16 to 18 years old may drive in Arizona for 10 days with their out-of-state license. You must possess Arizona's driver's license or Non-resident Minor's Certificate obtainable at the MVD office alongside proof of financial responsibility after 10 days.
Is my out-of-state permit acceptable in Arizona?
No. Your out-of-state learner's permit is not recognized in Arizona. You will have to get an Arizona Permit.
So, how safe is Phoenix?
Yes. Some pasts of Phoenix are very safe. Others are not so much. Phoenix sits at the 7th position on the Crime Index rank, and on a scale of 0 to 100, with 100 as the safest. A map shows the better part of the city in blue and grey as the crime part of the city. The most crime, according to the map, happens in East/South Phoenix. There has been little or no crime at all in Centre City and neighborhoods we've researched.
Do I need to pass the Arizona driving test if I am moving to Arizona from another state?
There is no specific answer to this question. Most often, people who have moved from another state to Arizona and possess a valid out-of-state driver's license are not required to take the Arizona written Test or the Driving Exam, but it is always better to check for information about the necessity of the exams from Azdot.gov
What is the pros and cons of moving to Arizona?
Pros:
Weather: Sunshine lovers will love what they've got here. The majority of the neighborhoods get sunny days nearly every day of the year, so there is no need to be concerned about dreary overcast skies.
Cost of living: The cost of living here is lower than the national average and allows residents to enjoy a much better standard of living than some parts of the country.
Job market: Job opportunities are many here, especially in cities like Phoenix. There are developing and emerging industries like tourism, aerospace, healthcare, industrial, and manufacturing here.
Solar energy: This much sun doesn't come without the ability to harness. Many Arizona residents take advantage of solar power. There is no point in not doing so.
Activities: Arizona is home for skiers, rock climbers, golfers, hikers, bikers, runners, and a host of other outdoor activities.
Politics: Arizona residents are mostly conservative when it comes to politics. Gun ownership here is also very strong in Arizona. Well, this may be a good or bad thing based on your learnings.
Youthful State: The general belief is that the Grand Canyon State is filled with retirees, but it is not so. The average age is around 33 years old lately.
Cons:
Heat: Central to Southern Arizona has very hot summers. For instance, the average July temperature in Phoenix is 910 Get ready for the heat.
Dust Storms: Haboobs are a type of harsh dust storm and are dangerous and inconvenient parts of life experienced in Arizona.
Schools: There are great differences in the quality of public education. However, Arizona has been trying hard to improve students' results and provide adequate support across the state.
Water supply: Some parts of the state experienced drought issues or are at great risk of facing them. This challenge is forecasted to get even worse.
Traffic and pollution: In a big city like Phoenix, one of the largest in the country, traffic congestion, and pollution has experienced a massive increase due to the continuous increase in population.
Walkability: Arizona is where you will find many un-walkable cities. You will need a personal vehicle or rely on public transportation to get around the state.