Top 5 Furniture Movers in The United States
Furniture pieces each have a personality and require a personalized touch from the best professional furniture movers in the business. Seriously, though, what's a home or business without your prized pieces of furniture creating a space and bringing it to life? 
That fabulous armchair, your sexy desk and mirror decorating and finishing your space with practical functionality, plus that antique chaise long that you absolutely can't live without, your favorite couch, poof, leg rest, or table. The list goes on, because your space is heartless without furniture and its finishing touch.
Preparing, packing, and finding the best furniture mover for your needs with experience, insight, and intelligence is critical to successfully transporting it. 
Whether you opt out of hiring the best full service furniture movers and choose the DIY route, or invest in one of the industry's finest furniture movers, relocating pricey or prized furniture means you should absolutely be smart and move it with care. Plus consider various insurance packages and move with America's best furniture movers.
Top 3 Recommended Furniture Moving Companies
Compare Furniture Moving Companies
| | | | |
| --- | --- | --- | --- |
| Company Name | Company Type | Local and Long-Distance Moves | Disassembly and Assembly Option |
| Atlas Van Lines | Van line |                Yes |              Yes |
| U. Santini | Van line |                Yes |              Yes |
| Liberty Movers | Van line |                Yes |              Yes |
| Atlantic Relocation Services | Van line and brokerage |                Yes |              Yes |
| Brouwer Relocation, Inc. | Van line |                Yes |              Yes |
5 of the Industry Best Furniture Movers
Create the setting of your dreams in your new home or workspace, and learn more about the best furniture movers in America. Sit, stand, lay down and drink your cup of coffee in style, class, and comfort. Learn to cost-effectively hire just the right furniture movers for your needs. 
Discover a world of insight on how to prep, pack and push the process forward with our expert advice on the 5 best furniture movers in America.
Atlas Van Lines maintains its strong and larger scale presence in the moving industry with a fleet of over 3000 trucks. As one of the best furniture moving companies in the business, Atlas offers a professional inspection process and policy, with trained, skilled and serviceable agents locally all over America.
Your furniture is not only in good hands, but it's in the careful attention and treatment of experienced pros who realize that damages, concerns or mishaps with your furniture directly impact company reputation and their employment status.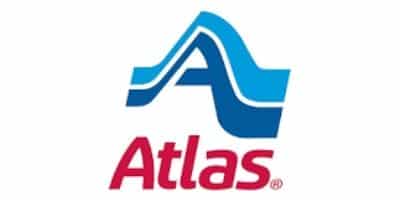 Why we picked Atlas Van Lines as one of the best furniture movers?
Each team member at Atlas aims to maintain a reputation of excellence as a part of the best furniture moving company in America, reaching most states, even Hawaii. While addressing local moves alongside the long distance or cross-country relocations, Atlas is recognized as:
A more reliable and stable option in the moving industry, particularly for furniture

Having strong skills moving furniture with a stable hand and smart strategy

A winner in packing, unloading, and unpacking, alongside full service moving

A leader in furniture moving with an innovative online search tool to help you find an agent near you. 
Get all your furniture relocated with this trustworthy furniture moving company and their professionalism. This furniture mover stands competitively proud next to other veterans in the field. And to top it off, you can salute Atlas for even moving leading offices, corporations, and yes, military organizations' furniture and heavy-duty equipment.
2. U. Santini Moving & Storage
This company was established in 1930 and had been moving furniture for almost 90 years excellently. It started out as a furniture-only moving service until it extended its services due to the reports received by satisfied consumers. U. Santini Moving and Storage employs highly experienced moving experts that have excellent customer service skills.
Being a crew of furniture movers from Brooklyn, they respond to each customer's needs to customize their furniture moving services. The storage feature gives U. Santini an edge over its competition.
The company not only moves your furniture to your destination address, but it also stores them in weather-proof storage units. There is no need for you to worry about wild temperature swings or humidity reducing your furniture's quality, the company offers the best protection.
Why Go With U. Santini For Moving Furniture?
This company's storage solution is the most competitive in the industry and moving furniture business. The company not only transports furniture to your new home safely but also stores your furniture in weather-controlled storage units.
You don't have to worry about harsh temperature and humidity reducing the quality of your furniture items. U. Santini Moving and Storage employs experienced professional movers that have great customer service skills.
The furniture moving crew from Brooklyn responds to each customer's request as regard specialized furniture moving services.
This company is BBB accredited and has gotten a reputation for delivering high-quality moving services for both residential and commercials. Its customized services for small-sized businesses usually contain furniture moving services into large relocation agreements that include moving a whole small business to new addresses.
Liberty also offers short-term and long-term storage centers, with the aim of helping commercial clients store their bulky furniture pieces that couldn't fit in their new office space.
The company specializes in relocating antiques, fine art, and others and is licensed and bonded to offer furniture moving services, which include assembly and disassembly services. This implies that customers are given enough time to arrange other rooms. Liberty has many customer reviews praising its furniture moving services for successful, timely, and budget-friendly completion.
Why Move Your Furniture With Liberty Movers?
This company offers temporary and long-term storage solutions focusing on helping commercial customers. It stores large furniture items that they couldn't fit at their business locations.
Liberty Movers specializes in relocating fine art and disassembly services. This implies that customers have enough time to spend arranging other rooms in their households.
There are many customer reviews aimed at praising the furniture mover's safe, affordable, and speedy completion of moves.
4. Atlantic Relocation Services
Atlantic Relocation Services is one of the companies with the highest ratings on customer satisfaction and has received many awards for how it professionally handles furniture moving. The company is based in the US and offers varieties of premium relocation services such as packing and moving home furniture. Customers find the flexible pricing system appealing, especially those moving on a slim budget.
Atlantic Relocation Services handles the entire packing to make sure the furniture item is stored away from any belongings to avoid damage. For instance, the mover will ensure a couch is stored very far away from a mobile cloth hanger. The comprehensive insurance coverage provided by Atlantic receives much praise from its customers, especially for moves that involve long-distance.
Why We Consider Atlantic Relocation System?
This company performs your packing, to ensure furniture is kept on a moving truck far from other belongings that can cause damage. The company is praised by its customers for its comprehensive insurance coverage, especially for interstate moves.
This is the company with the highest and best customer satisfaction and has been awarded severally in this wise. There are many different deals and premium moving services alongside its furniture moving service to make sure the move runs smoothly.
Many customers choose Atlantic Relocation Services above other companies for transporting their furniture because they are professional and offer a flexible pricing system.
5. Brouwer Relocation, Inc.
The Brouwer family has been providing one of the top-rated furniture relocation services in the country since 1969. The company's effort in preventing impact while on the furniture moving job has received showers of praise from its customers. The company's top-notch GPS tracking system is also one of the perks that make it a choice for many people, as it gives customers an update of their furniture move and thus attracts positive reviews.
The company has what it takes to offer beyond furniture moving services with its availability across the nation. Brouwer also specializes in offering local, long-distance, and cross-country moves.
The Brouwer Relocation crew members are made to go through a complex training program, as well as developmental training to ensure their retention in the company. The company is one of a few companies that have a retention rate in the furniture moving industry.
Why We Consider Brouwer Relocation?
This company does receive accolades from customers for its dedication to preventing damage arising from strong collisions that happened while moving to a new home.
Brouwer Relocation, Inc. also receives numerous positive customer reviews for its modern GPS that keeps the customer's updated during each mile of the move. The company is capable of offering not only furniture moving services but also specializes in handling local and long-distance moves.
There is no amount of job too small or big for the company to handle, even if it involves furniture designs with odd shapes to any place in the country.
The Following Table Displays The Best Furniture Moving Companies:
| No. | Top Furniture Movers of 2022 | Website |
| --- | --- | --- |
| 1. | Atlas Van Lines | www.atlasvanlines.com |
| 2. | U. Santini | www.usantini.com |
| 3. | Liberty Movers | www.libertymovers.com |
| 4. | Atlantic Relocation Services | www.atlanticrelocation.com |
| 5. | Brouwer Relocation, Inc. | www.brouwerrelocation.com |
Average Costs of Moving Furniture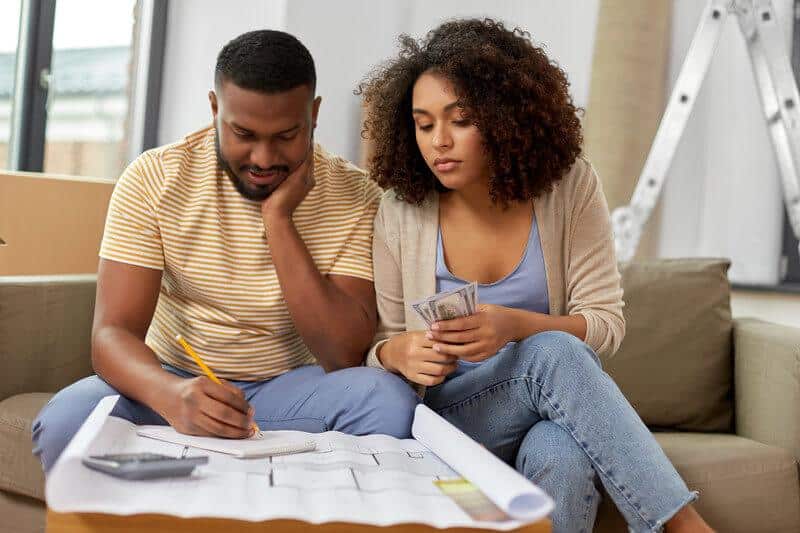 It is advisable always to consider going for the best in everything, but your moving cost will make the decision for you after the whole choices. And it is inevitable that you are very much interested in knowing your moving cost beforehand.
You will be at an advantage when you understand how your moving cost is being calculated as well as the average cost of moving even as you hustle to get the best furniture movers.
This is because you will know what to expect as regard pricing and will also be prepared against any unfortunate surprises or potential scam attempts by rogue movers (although very rare if you carry out your assignment well). 
So let us discuss the average costs of moving your furniture items from one place to another. 
Local Moving
Get prepared to pay an hourly rate when you are moving furniture across town or in the same state up to a distance of about 100 miles.
The local cost of moving may differ greatly based on the local mover you choose and your current location, whether small or big.
However, the standard rate range between an average of $25 to $30 per mover per hour, and you will pay each mover plus a travel fee plus any additional moving services you may choose.
Usually, the by-hour rate mentioned above still applies regardless of the job your local furniture movers are handling. 
Long-distance Moving
You should understand that relocating your furniture to another state in the country makes it impossible for you to figure out the moving cost by yourself because of many variables that may be unknown to you in advance of the move.
You can't possibly know in advance the overall weight of your belongings aside from a distance between the two locations, which always remain constant in moving homes.
You may need additional services during the move, which will also increase the entire moving price regardless of when the service was used.
To know more about the average cost of moving and also to see the exact sample prices when moving out of any size of home on a local or long-distance move, we advise you to use our moving quote tool. With that, you can only refer to the sample costs provided for furniture moves to a new home until you request for your own specific furniture moving quotes from a few numbers of reputable moving companies. 
How to Choose Best Furniture Movers in The Country?
Although we can just point you to the moving companies to consider for your furniture move, we find it more reasonable to let you know how we will gather the five best moving companies in the United States. 
1. Research 
Research is very essential when looking to hire a furniture service provider. Below are some of the benefits of performing research on your own: 
You come up with many options to choose from
You can determine each company's level of experience through its profile
You can easily ask questions by contacting them through email or phone call
You have access to read recent reviews from past customers which also help in making your final decision
Lastly, it is easy.
The internet is a major blessing to the world. You can do research on just about anything from the comfort of your home. You just type in Furniture Movers in the Google search bar, and you will see many options on your screen.
This simplifies and presents you numerous opportunities to vet before making a conclusion. 
2. Recommendations
When considering hiring any type of service, you need to seek recommendations. You can get personal recommendations from a relative, friend, or neighbor to save yourself tons of time and stress. These might also be needed when looking to get the right furniture moving company.
Personal recommendations allow you to get rid of doubt that might be in your mind. This is because you have face-to-face access to past customers, unlike reading online reviews. 
This is so important because you get to ask any question of concern from your experienced friend, relative, or colleague. Although the internet is the most sought after when conducting research on movers, however, you can get blown away with the word of mouth advert, which is a recommendation in disguise as it is a very effective and most accurate means of screening relocation companies.
Contact family, friends, and professional colleagues to share from their experience about one or more movers that are on your consideration list.  
3. Make an Inventory
When hiring the best furniture moving company, you need to make an inventory list. The list should contain every item you wish to move without leaving anything out.
The inventory enables your furniture mover to get an idea of what will be needed to get the moving job done.
Also, you won't be facing any surprise charges when you are ready to make payment for the service rendered. Your furniture moving service can become extremely expensive through the following factors? 
Moving very heavy items like a piano
When your movers walk an additional distance to load their trucks because of no parking space
When there are many staircases in a home where moves are taking place.
Your movers will be able to come up with a more accurate moving estimate when you explain all these factors to them.
Make sure this step is followed for all the moving company options you have. It can be possibly done on the phone, but in-person is very much preferable.
4. Get Different Options
As mentioned above, having multiple options is a major benefit of conducting research. You possibly won't want to go with the first company that pops up from your search. You need more than one option to access your choices.
This will enable you to perfectly make comparisons between services before making the last conclusion. Also, get a moving estimate from all the options you are considering.
It will enable you to figure out the average cost and also prepare your budget based on the actual amount. Also, note that any company that offers too low moving estimates should be avoided. They generally offer bad furniture moving services and may even trap you in the process. 
Enter Moving Details and Get your Moving Quote in Seconds.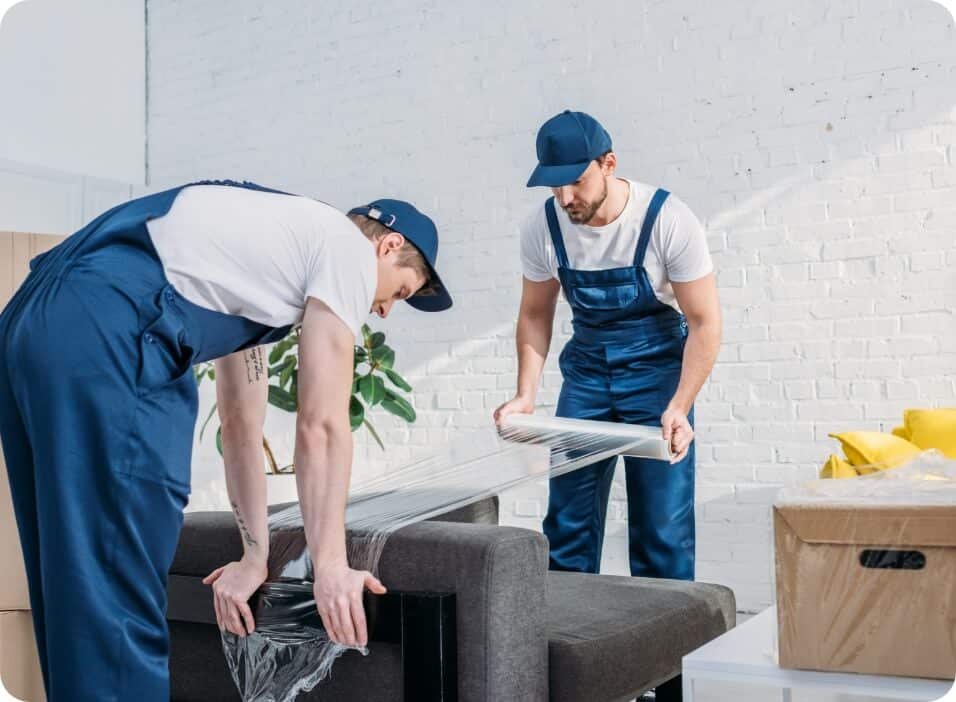 5. Furniture Movers Reviews
Although the task involved in finding a professional furniture mover for your job requires a lot of effort, however, your first job on this note is to read as many as possible genuine moving reviews from trusted websites and read about what recent customers are saying about the moving services of the same companies you are considering to hire.
You can also check total ratings alongside customer reviews to get a general view of what to expect from your hired movers.
We recommend avoiding national moving companies with a great number of negative reviews and avoid trusting too good to be true positive testimonials.
Generally, you will be able to note a moving company to contact later for a moving estimate when you read reviews. 
6. Invite the Agent over
You need to invite a moving agent to your home to give you a moving cost estimate when you are moving furniture. Cross out any moving company that refuses to come for an in-home estimate but insisted on giving you a quote over the phone only.
Aside from the estimate, a moving company representative will also inform you of how the movers will pack and unload your furniture item.
One on one conversation is one of the best ways to understand your potential mover. Although you can interact through a phone call, email, and chat, it will be more professional to have a one on one talk with the mover. 
Bring each representative from the movers you are considering to your home one by one and let them discuss the moving process with you. This will reveal their level of professionalism and their mode of service.
It will also help you determine if you can work with them on your furniture move. Furthermore, there are some essential questions you need to ask before you make your conclusion about whether to hire a specific furniture mover.
These questions are very effective and also reveal how trustworthy a moving company is.  
Are you licensed? It is important to ask if furniture movers are licensed to avoid being stuck with scammers. There are many movers in your area, but not all of them are legitimate. Many people have been scammed of money and/or furniture during their furniture move. Always request their license number and check with the appropriate authorities to verify their legitimacy. All moving company licenses are issued by the United States Department of transportation, while each state provides to furniture movers that operate within a state. 
Are you experienced? Always ask the company for its expertise in handling furniture moves. You can determine their expertise level through their experience. Also, find out about their experience with your type of move. Mostly, furniture movers offer specific services. This implies that you might require a unique service if you are moving to a larger apartment, contrary to relocating to an office. This question will let you know if it is their service you need or you have to continue shopping. 
What are your references? You need to get references before leaving your furniture items to their hand. References give additional convincing information about whether to work with a mover. This could include their work ethic, skills, as well as their ability to deliver excellent services.  
Will you render the moving service with your own truck or outsourced? This question might seem unimportant because you are only concerned about getting the job done. However, the case is different; we should avoid using a service that doesn't own moving trucks. Always use a mover that owns their moving trucks to be sure of damage responsibility in the case of any. 
How many people will handle the move? You have to find out the number of people that will handle the furniture move. This information on its own can reveal the efficiency of the moving process, especially if you own a lot of furniture. It also influences the estimated moving cost because of the personnel commission. 
Where are you located? Many people mostly work with moving companies that they don't even know their physical office location. We always advise that you only work with companies that have a physical office that you can visit in case of emergency, claim, or complaint. This will ensure accountability in the event of unexpected damage. 
When will the final delivery process be? You can come up with effective planning when you know the possible delivery date of your furniture items. Also, if the date doesn't work for you, then you can ask for an adjustment. You need to ask these questions to ascertain the safety of your home and furniture. 
What are the extra charges? Always ask for additional costs after receiving a quote from various furniture moving companies. There are some furniture movers that charge an additional fee for mileage and fuel. This means you are not really sure about the cost estimate until you ask about additional charges. Also, make a comparison between additional charges and decide based on that. 
7. License & Insurance
This is one of the major factors to note before you hire a furniture moving company. The safety of your furniture item is being threatened if you deal with the wrong hand, and it will cost a lot of money to replace good furniture.
Avoid working with a furniture mover that doesn't provide insurance to avoid having any protection on your furniture while moving.
If you work with a mover that provides insurance, then you can rest assured that any damage to your furniture will be covered whether to repair or replace.
Furniture moving companies offer two major types of insurance coverage: 
Full Value Protection: This protection plan put the mover in the gap to be responsible for reimbursing you with the actual valuation of damages. It also covers damages that might have happened with your furniture item or your home while unpacking. Each mover determines this coverage individually. 
Released Coverage: This policy doesn't provide coverage to damages that occur during the delivery or unpacking of your furniture. Instead, the mover, according to research, will take responsibility at $.60 per pound of item. The furniture moving company should provide you many coverage options which you can purchase. You should also ask for proof of insurance from your furniture moving company before agreeing to work with them. It is also very important to limit your working relationship to only licensed furniture movers. 
Licensed cross country movers are majorly professional and comply with regulations made to ensure quality services. A licensed furniture mover can be considered as a reputable company because they put their reputation on the line with every move they perform.
8. Always Request for a Contract
Contract drafting is very important in hiring a furniture moving company. A contract is a piece of evidence that you hire their service, and also that they offer you such service.
This contract can be helpful at any point in time, especially when there is a problem to be solved. The following information should be added on a contract: 
The transaction date
The services provided
The number of people involved in the furniture moving process
The cost of the job
The company's logo and signature
Your signature
All of this information gives certification to the job being done at any time. There is a lot required when moving your furniture to another location and so you need a great team to deliver a great job.
You will get the best furniture moving company from many out there when you stick to these steps. 
Why Choose Professional Furniture Moving Company?
There are many good reasons why you should contact a local or cross country furniture moving service to get your household furniture items to your destination residence in perfect condition as they are right now.
And just as you possibly know, safety is the bedrock of every moving operation.  
1. Specialized services and personalized way outs:
The difference after successful completion of your move will be made by the various furniture moving services and the ability to get personalized solutions in difficult situations.
The moving experts may decide to take apart or move your furniture through the window if it is too big to fit through the door or hallways in your old or new home. Other great options include the removal of the unfit door in question temporarily or using special lifting and moving methods. 
2. Safety:
The furniture moving help you will get from your professional furniture movers will greatly help increase the protection for your furniture items when moving to another home near or far away.
The safety of your belongings is assured when the appropriate and quality packing materials are used. At the same time, the furniture piece is being loaded, transported, and unloaded, arranged, and assembled at the new residential home.
Also, relevant equipment for moving furniture will also ensure the protection of your items all through the process. 
3. Speed:
You have to give more concentration and consideration of the speed at which your furniture is being prepared and moved to your destination home.
Professional movers are very perfect in optimizing the time spent on working – saving about 15 minutes when packing your king-sized bed and 10 minutes wrapping your tables and chairs, which quickly add up very well after completion.
In most cases, furniture moving services are able to work faster because of their experience on the job and not because they are taking shortcuts and compromise your belongings' safety. 
4. Proper equipment:
The majority of furniture items are too heavy and big to be handled by just one person with no relevant or adequate moving equipment, not to talk of someone who is doing it for the first time.
The risk involved can cause great damage to you than the self-satisfaction you stand to gain after pulling the impossible off. You may damage your valuable furniture, property, as well as your back.
Your researched furniture movers will come to your home with every special piece of equipment needed to move your furniture, which includes straps, blankets, dollies, sliders, hand trucks, and so on. 
Tips to Save Money While Moving Furniture
Alongside heavy home appliances, furniture items are the major concerns for most people because of their large size and weight. This is why finding the best furniture moving company is seen as an excellent step toward a successful residential move where there are little or no major problems.
You can save some money by selling off some of your furniture items before the move. However, eliminating stress from your move requires a price, as professional furniture movers are not as cheap as people expect.
Fortunately, there are a few options that could lead to saving some money and move cheaply. This simply puts you in total control of your own moving task. 
Below are saving tips for you: 
1. Sell your furniture item before the move:
This is one of the trickiest saving tips you can get when relocating furniture pieces from one location to another. Selling some of the furniture items before your day of the move can help you save a huge amount of money because having a lesser amount of items to move will reduce the weight of your belongings and reduce the final cost.
Also, you will earn some extra money when you follow this advice. Note that you will be charged based on the distance of your move, the weight of your items to be hauled, as well as the extra services needed by the interstate moving company.
When you find out the huge weight of most of your household furniture items, you will quickly decide on how to reduce their number, hence, reducing the weight and making you some money in the process.
There is no need to relocate with your entire furniture item. Get practical in saving money, time, and space by coming up with ways to dispose of your unwanted items. 
2. Pack your furniture as early as you can:
This is another way to reduce your moving costs. Tackle whatever packing tasks you can handle and leave the one that requires special handling to the professionals.
For instance, you can wrap all the chairs in your home with protective blankets to keep them protected all through the moving while you avoid being charged for that task.
You can get your smaller and inexpensive furniture items ready if you have enough time, as well as some simple tasks of disassembly and reassembly of your furniture. 
Generally, you are only expected to leave furniture items with significant weight and size for the professional furniture movers. These include pool tables, antique furniture, big-sized wardrobes, and dressers as well as large beds and solid wood desks, and so on.
It would be great if you know how to disassemble furniture items and wrap each part using a stretch wrap, blankets, corrugated cardboard sheets, bubble wrap, protective covers, and many more.
Being able to identify and do some furniture preparatory tasks while leaving the special ones for your professional furniture movers is one of the best ways to reduce your overall furniture moving cost. 
Enter Moving Details and Get your Moving Quote in Seconds.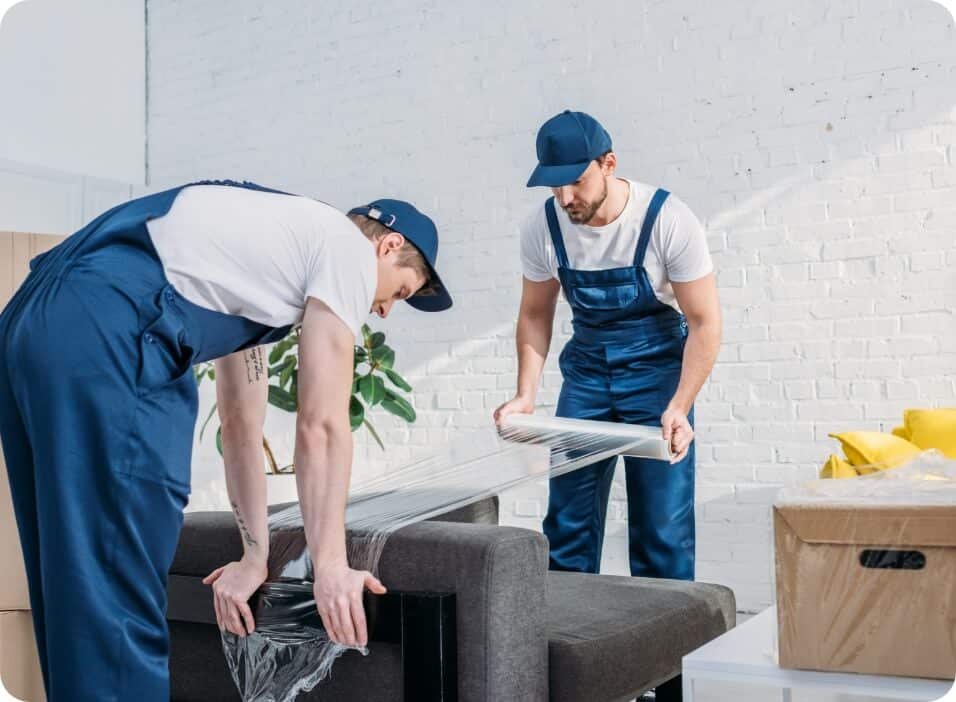 Frequently Asked Questions About Furniture Moving
Moving furniture is one of the most vital yet difficult and challenging aspects of the moving process. It needs accurate planning that involves using technology during planning. You can enlist the help of friends and family to move your few amounts of furniture safely. However, if you own many furniture items, you need to hire professional furniture movers to do their job. Work with any of the five listed best furniture moving companies in the United States and see the stress whisked away from your entire move.
Request free moving quotes as well as estimates for your coming move at Moving APT.