When you hear people talking about their dream states to move to, you don't hear too many folks talking about moving to Maine.
In fact, Maine's growth has sort of stalled out the last few years, remaining fairly consistent with no large influxes of new residents.
Have you ever dreamed of looking out into the clear blue water from the deck of a lighthouse? Do you dream of living in the same state that bore the world-renowned author, Stephen King? Moving to a new state is never that easy, but you might find the small-town charms and quality of life that makes the "Pine Tree State" famous is exactly what you're looking for.
Ready to learn more? Dive in to find out some of the exciting things that will await you if you are considering moving to Maine.
Are you looking for a moving quote?
Autumns in Maine Are Gorgeous
You can ask many people what their favorite time of year is, and oftentimes, the answer is likely going to be "autumn." When the fall comes around almost anywhere, most people can expect to see beauty, but the fall foliage you will be able to view in Maine is completely different from that of other places in the country.
Autumns in Maine put autumns almost anywhere else to shame, with picturesque views of leaves putting on a gorgeous display, turning into the most elegant shades of red, orange, and yellow. The only way to truly experience fall time in Maine is to see it with your own two eyes.
A Huge Selection of Food to Enjoy
Maine plays host to a huge range of local restaurants, all throughout the state. One of the most popular selections in the state is seafood, of course. In Maine, you might be tempted to enjoy your first taste of lobster rolls (and one will never be enough).
If you really want a large selection of restaurants, checking out Portland should be at the top of your list. Some of the high-quality restaurants and chefs make their home here, serving up delicious dishes every single day of the year, and making many hungry residents and visitors smile with anticipation.
You Can Experience the Beauty of Acadia National Park
People who love nature are going to love Maine, because it has many vibrant and beautiful natural areas. This isn't showcased much better than at the famous Acadia National Park, where people from all over the country come to enjoy scenic hiking trails, biking trails, and campsites.
If you want to check out this beautiful park anytime you'd like, you can even get an annual pass for $50 which will enable you to come to the park any time of the year. This is a great deal because one-time passes to the park usually cost around $25.
Every penny is worth it, however, because this is one national park you don't want to miss if you want to see nature at its most beautiful.
If you are moving to another state from Maine, break down your interstate moving costs to determine whether full-service or hybrid-style of the move will provide you a better deal.
Maine Wants New Residents
If you're thinking about moving to Maine, you'll be happy to know that Maine will be happy to have you. With the state population not rising all that fast, the state government of Maine has partnered up with many employers in the state to try to attract new talent from all over.
This state program is called "Live and Work in Maine" and is a great deal to think about if you're looking for employment in the state.
Crafts and Antiques Are Well Loved in Maine
Do you like antiquing or visiting craft stores? If so, you will be happy to know that there is quite a scene for this activity in Maine. On the Maine Antiques Trail (yes, that is actually a thing), you will be able to visit 29 unique antique stores and malls, bargaining and finding great deals on old, antique trinkets and crafts.
This gives you a chance to support local folks, as well as find those antique collectibles you simply can't find anywhere else.
The Towns in Maine Are Simply Scenic
Portland, Maine, in particular, is one of the most rustic and historic looking cities you can lay eyes on. From the cobblestone streets to the fishing piers and the buildings whose construction dates back to the 19th century and earlier, you could almost take a picture at any street corner in Maine and make it part of a calendar photo collage.
Of course, there are plenty of lighthouses in the area, as well, for any photographers in the area looking to capture the most famous view of Maine.
Moving containers are cheaper than professional moving companies and don't need as much work as demanded by rental truck providers. Find out which services are on our list of the best moving container companies.
Pros and Cons of Moving to Maine
So you are getting everything ready for the new adventure set before you. However, we want to make sure you understand the whole thing before you finish packing your items tightly.
Having discussed why you should consider moving to Maine, it is advisable to consider both pros and cons moving to Maine. 
Pros of Moving to Maine
Low cost of living: The low cost of living in Maine is one thing that its residents like the most. As a matter of fact, housing in the state's capital of Augusta is affordable. It is said that Mother Nature's beauty cannot be priced, but in Maine, it is possible, and even less expensive.
Epic coastline: There are over 5,000 miles of coastline in Maine if you add the thousands of islands located off the coast. There are ocean cliffs, lighthouses, as well as some of the fascinating sunsets you'll ever see, are all in the beautiful scenic. If you need private time alone, you can just move to one of the islands to have a little R and R.
Cat friendliness: The state's love for cats cannot be hidden that the entire state is even named cat, the Maine Coon. The state also ranks high on the list of homes with cats and ban on killing animals. So if you own a cat as a pet or you own many cats, there is no need to worry as you will all fit in well here.
Low unemployment: Maine's unemployment rate is not up to 3%, which ranks it in the top ten states for employment. The closeness of the state to Boston, New York City, and other major city areas in the country is part of the low unemployment rate.
Higher wages: Maine has one of the highest minimum wages in the United States and is currently at $11/hour. Residents are able to leave a beautiful life in the Northeast because of this wage.
Safest state: The ten safest states in America by the United States News & World Report ranked Maine as 1st overall (also 1st in the list of low violent crime and 4th in low property crime). 
Sea (food) haven: 99% of blueberries are produced from Maine, and it supplies 90% of the country's lobster. Food is amazing here, from blueberry pie to the popular lobster rolls, you will continue to ask for more.
New England charm: Being the northernmost state in New England, Maine is full of friendly people that extend courtesy in a special way as well as hospitality impossible to find in other states. 
Cons of Moving to Maine
Maine can be pretty vanilla: Not much of Maine has changed over the years. Since there is not much diversity in the state, many locals complain that there is some good, strong ethnic food in the state. Typically, there is not much Indian, Chinese or Thai cuisine there. So be ready to eat a lot of lobster.
It is not friendly for young people: Maine has been named the oldest state in the country and is thus reasonable that younger people would find it harder to adapt here. Nightlife in Maine is not really much or other youthful things to do aside to enjoy nature as well as a slower movement of life. 
Job market hassle: Based on the report by many locals. Most jobs available in Maine are mainly blue-collar or jobs that require specialty or minimum wage jobs. This slows down the youth population here. A lot of residents aged 35 and below have either chosen to look for a life somewhere else or have been forced to. However, you can only start an all-night pinball gastropub here. You would have a job this way as well as also bring in more young people, killing two birds with a stone.
Winters are long, cold, and harsh: There are some places in Maine where the average low temperature in winter is at 130. However, there is more as Maine also experiences nor'easters. Around March 2018, the state experienced two nor'easters within a week, dumping over 2ft of snow all over most parts of the state. You might fascinate the thought of sipping hot coffee in a cabin, but consider how you would feel when stranded, definitely not great, huh?
Slow internet: Among the drawbacks associated with the slower pace of life in Maine is the slow internet. It isn't easy to find high-speed internet services outside of main city areas such as Portland.  
Now is the time we discuss some of the weirdest laws that are still being observed in Maine. Here we go with a few of them: 
Stepping out of an airplane once it is in flight is illegal: This is a no brainer as no one would even try this. It shouldn't have been discussed, not to talk of being made law.
Walking down a street in Augusta, playing the violin is illegal: This law could be because not everyone loves classical music. However, there is nothing here about the bassoon.
Placing an advertisement in a cemetery in Wells is illegal: One should first think why anyone would think of placing an advertisement in a cemetery, and what sort of advertisement? Brand new shovels for $5?
Leaving your holiday lights up after January 14th is illegal: Breaching this can possibly earn you a fine. This should be included in federal laws. 
Keeping a pet armadillo is illegal: This is a shock to us as armadillos are some of the coolest and nicest creatures ever. Something must have definitely happened for this to be included as part of the laws.
Don't hire a company only because it is present everywhere. Go through our list of the best cross country movers to determine our recommended choice and why.
How to Become a Resident in Maine
There are a lot of reasons to become an official resident of Maine, such as for tax purposes and in-state tuition. Physically living in Maine is a requirement for residency as well as establishing a legal domicile, also known as a permanent home in the state.
Below is a list of things to become a resident in Maine:  
Obtain a Maine driver's license
Do your vehicle titling and registration here
Register to vote in Maine
Change your mailing address to Maine home address.
Keep a record of the days you spent in ME as well as another state(s)
Open & operate bank accounts in Maine
Rent or buy a home in here
Keep a resident tax return in Maine.
Update your address on passport and other vital documents
There are many factors used to determine residency for tuition purposes. Since it is treated by case, prospective applicants (and possibly guardians as the case may require) should carefully read and understand the residency requirements of certain Maine College or University.
Enter Moving Details and Get your Moving Quote in Seconds.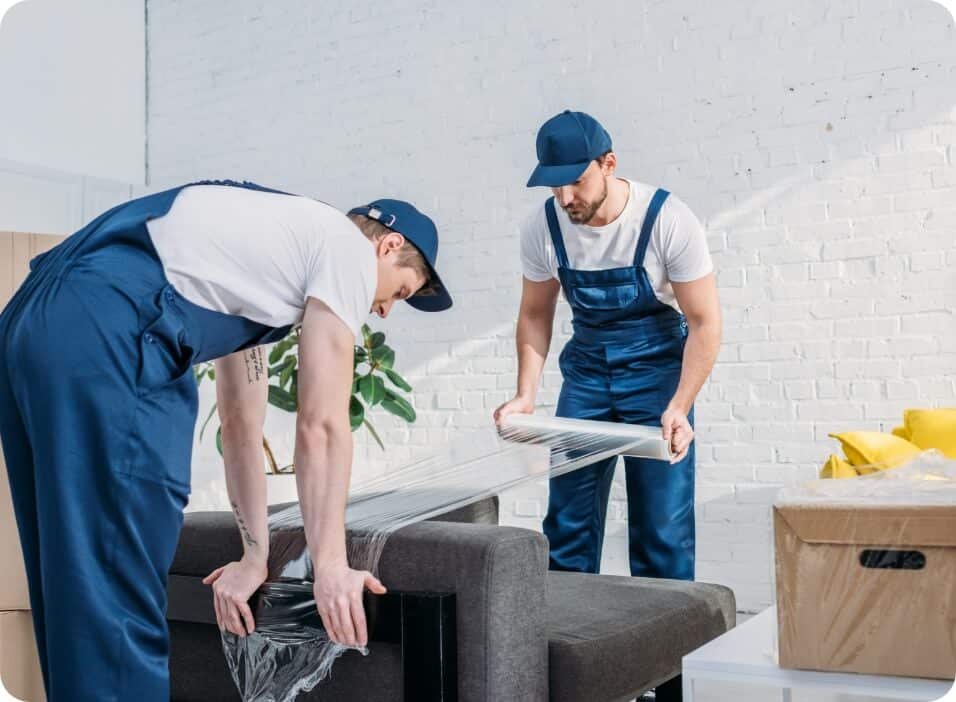 Frequently Asked Questions
It is only natural when thinking about moving to a new state to have questions. Here are some of the most commonly asked questions by people who are considering moving to Maine. You can check to see if your question has already been asked here.
Is living in Maine expensive? 
The cost of living in Maine is actually about 13 percent higher than average at this point in time. However, due to the decline in population growth in the state, folks who are planning on moving to Maine will be happy to know that there is an abundance of employment and real estate options available in the state right now.
What is Maine's most famous food? 
It is no secret that the state of Maine is extremely well known for its love of lobster. Most people will tell you their favorite local dish is a freshly caught lobster, steamed, and served up with a side of butter.
Of course, lobster isn't the only delicious dish in Maine, as the area is well known for its seafood in general. You can expect to find delicious dishes made with clams, scallops, various types of fish, oysters, and so much more.
Can you see the Northern Lights in Maine?
Yes, you can, and it is one of the well-loved features of the night sky in northern Maine. Depending on the time of year, you can expect to be able to look upon some nights and clearly see the famous Aurora Borealis, also known as the Northern Lights, lighting up and dancing across the sky. It is a sight of absolute beauty that can only be understood in person.
Who wouldn't love Maine? Gorgeous autumn colors, wide availability of jobs opening up in the state, rustic towns that go back to the days of old, and so much more.
Maine has a little something to offer everybody. If any of this sounds great to you, then you may find that a quaint home on the beautiful Maine coastline might just be right up your alley.
What is the reason for me to move to Maine?
There are many relaxing forests, wide, desolate oceans, and several miles of wildlife in Maine. There are lots of residents move here due to their love for the peace and calmness of the country. Acadia National Forest can be found in Winter Harbor, Maine. 
Can I be paid to move to Maine? 
Maine is a northern state and is offering attractive deals to young employees. You will get a tax break to lower your student loan burden when you move to and work in Maine. 
How long do I need to live in Maine to obtain residency?
You become a statutory resident of Maine if you have spent over 183 days in the country during the tax year (any part of a day is counted as a whole day), and you have a permanent home in Maine for the whole tax year. 
What is the reason behind the cheap houses in Maine?
The question is, why land/property in Maine so cheap? That is because there is a lot of it, and the demand for it is lower. Also, most of the highly cheap properties are wetland or are hard to improve due to one reason or the other, since driveways are expensive. Usually, they have been reduced for any valuable wood. 
Living in Vermont or Maine, which is better?
Maine is larger, so you can get many remote, but Vermont has a remote feel as well. Portland in Maine is a kind of artsy and has more college, although Burlington in Vermont also has the same. Maine is larger, so you can have several remote, but Vermont also feels remote.    
How much is needed to live a comfortable life in Maine?
A lot. A single person in Maine needs to earn $2,500 monthly to live in the Bangor area comfortably. That figure increases to $4,240 if the individual has a kid. That is based on this interactive design by the Washington Post, using the data collected from the Economic Policy Institute. 
Are taxes expensive in Maine?
Among the reasons why the tax burden in Maine is high is due to the lower average incomes in Maine than most other states. The individual tax rate list has New York in the lead, and Hawaii is having the most sales and excise tax burden, as reported by WalletHub. 
What is the median income in Maine?
It was revealed by the 1-year survey by the ACS that the average family income in Maine was $76,316 in 2019. The main average family income compared to the average United States family income is $4,628 lower. Similar to the average household income numbers, 2020 household income data will be released in September of 2021. 
Which town is the richest in Maine?
Topsham was ranked in a 24/7 Wall St. analysis, the richest town in Maine, inspecting small, wealthy communities where many families earn a minimum of three times the state's average yearly household income.  
What month is the best to visit Maine? 
Visit Maine in June and August for good weather as this is the best time. If you are planning to stay away from crowds and enjoy a more relaxed holiday, visiting Maine during the spring or fall is the best.  
We believe you enjoyed this article, but not as much as you'll enjoy Maine when you perform a visit yourself. Great forests, unbeatable seafood, rocky shoreline, and opportunities are plentiful in the state. These, together with many other reasons, make Maine a usually attractive destination for people searching for employment opportunities; a change in the pace of life, as well as young professionals, to those starting a family, Maine is filled with something for almost everyone.
Whenever you are ready to move, our team is read to take you to your destination and simplify the entire move for you.