Moving is a very stressful task to carry out because of the planning, organization, and commitment involved, it can also be time-consuming as well.
Hence, it will not be out of place to hire professional movers who are up to the task in order to take the stress off your shoulders so that you can have enough time to cater for other important duties.
The amount charged by movers is dependent on so many factors and the rates vary from company to company, we recommend to compere moving quotes from the best moving companies.
No matter how hard you try to do the majority of the tasks involved in moving by yourself, there are still some tasks you will still have to hire the services of a moving company for.
If you do the packing, sorting, and unpacking by yourself, you will still need the services of a professional mover for tasks such as moving of heavy items, load, and unload the truck among others.
Like I said earlier, the charges for hiring a moving company vary across different companies and are a function of distance, the volume of items to be moved, and also are there loads to be moved upstairs? All these contribute to the cost of hiring the services of professional movers.
The cost that will be discussed here is going to be what is applicable on average based on what different moving companies charge.
Enter Moving Details and Get your Moving Quote in Seconds.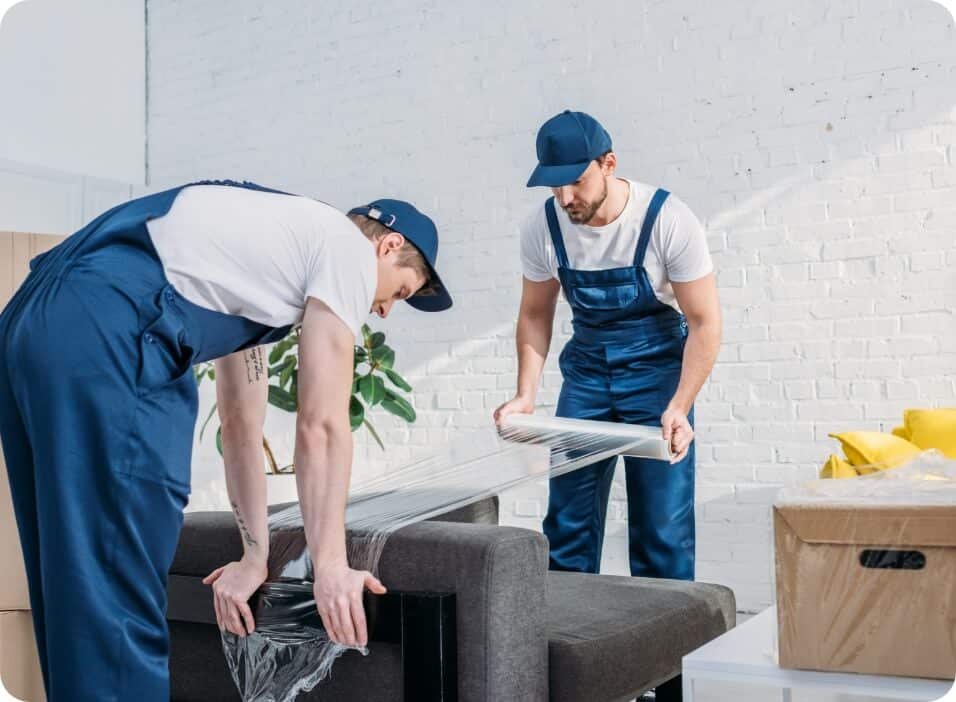 Moving Locally or Long Distance Move
Just as you may know, moving to the next street will be cheaper compared to when you are moving to another state. If you are relocating between large cities, the cost of hiring movers can differ greatly depending on relocation trends from and to your current and future locations.
Hence, the cost of hiring a mover is somehow a function of demand and supply. You will spend twice as much on a long-distance relocation as you would for a local move.
According to the American Moving and Storage Association, the average cost for an interstate household move with an average distance of 1,225 miles, and about 7,400 pounds of belongings will cost around $4,300 including ancillary and packing services.
However, an intrastate move with the same condition will cost about $2,300.
Always get a quote before choosing your moving company. You want to look around at multiple movers and compare the prices that they offer to you. You want to be sure that you look at all of the information about the quote, and get it written down before you make a decision. If you choose a company, keep their written quote so that you can ensure that you get the price you were quoted.
Estimating the Cost of Hiring Professional Movers
Usually, most moves will fall under interstate or intrastate and as such there are different regulations and agencies governing the two types of moves.
The cost of hiring moving companies vary just as earlier said, but here are some basic stats to help you have a good idea of what moving interstate or intrastate may cost depending on the size of your home.
Local Move
Local move includes moving from one street to another around the same neighborhood. An estimated of such move type are as follows;
A studio or 1 Bedroom apartment costs between $200 – $500.
A 2 Bedroom apartment costs between $400 – $700.
A 3 Bedroom house costs between $560 – $1,000.
A 4 Bedroom house costs between $800 – over $2,000.
Long-Distance Move
On average, the cost to hire long distance movers is about $0.80 per 1lb. of goods per 1,000 miles (excluding any additional charges that may arise).
The cost of moving a household may vary depending on the weight of the belongings to be moved. On average the following rates apply for long-distance move;
A studio apartment can weigh around 1,800lbs and that gives $1,440.
A 1 Bedroom apartment weighing around 2,200 – 3,200lbs will cost between $1,760 – $2,500.
A 2 Bedroom apartment weighing around 5,000 – 6,000lbs will cost between $4,000 – $4,800.
A 3 Bedroom apartment weighing around 9,000lbs will cost about $7,200.
The costs or rates given above are estimates based on what is applicable when hiring an average moving company and does not factor in other moving-related fees like charges for moving items upstairs, and the rest.
There are several other moving-related fees that may add up to the costs highlighted above. Most times, additional costs come from the following;
Hiring Additional Movers: this may cost an extra $25 – $50 per additional moving man engaged.
Elevators Charge: If you have a freight elevator in your apartment, then you may be incurring additional fees to move your items. If you want a specific date of arrival from your moving company rather than a window of time in which your belongings will arrive, then you may be charged some extra amount.
Storage In Transit (SIT): If your house is not ready when your belongings arrive and the moving company stores your items before they are moved into your new homes, you will be charged an SIT fee.
Long Carry Fee: If the distance between the moving truck and your front door is longer than normal you will need to pay extra fees for this. It is important to reach an agreement on this before you sign a contract with your moving company.
Appliance Charges: If you are moving large appliances such as dishwashers, refrigerators, washing machines, and dryers that need to be installed in your new home, you would have to pay for the additional services as well.
Flight Charge: If your items moved have to be carried down or up a flight of stairs, then you should expect to pay an additional fee for each stair involved.

| | | |
| --- | --- | --- |
| | | |
| Basic move (no extra moving services) | | |
| | $30 to $60 per labor-hour | |
| | $0 to $8 per $1,000 in value covered | $0 to $8 per $1,000 in value covered |
Full-Service Moving Costs
If you are employing the services of a full moving professional who will do all the whole job from start to finish, then it is more likely that you will be charged per hour.
Remember, time is money your charges will be based on how long it takes for the entire move to be completed. On average most moving companies charge between $20 – $40 per hour. However, make sure you check with your moving company s that you can agree on a favorable moving rate.
Cost of Hiring Local Movers
Local moving estimates can be determined based on your home's size: 
| | | | |
| --- | --- | --- | --- |
| | | | |
| Moving a one-bedroom home | | | |
| Moving a two-bedroom home | | | |
| Moving a three-bedroom home | | | |
| Moving a four-bedroom home | | | |
Avoid stress by hiring your movers around a month ahead of time, if possible. The sooner that you get your movers scheduled, the better off that you'll be and the more likely that you'll be able to find a moving company with a decent rate for your needs. The further out you schedule your movers, the more flexibility that you'll have with dates and other things that can help you to save money in the long run.
Do I need to tip my movers? 
For sure, yes. If they've done a good job for you, then it's common courtesy to go ahead and give them some sort of a tip. Most people recommend that you're going to want to give them something in the ballpark of $15 to $30 per mover if you can afford to do so.
Read more about Do I need to tip my movers
Is paying for insurance worthwhile?
Absolutely! It's only around 1% of the valuation of the items that you'll be taking on the move, and it can help to protect both you and your movers if something were to go wrong during the process. If anything – anything! – happens to your items during the loading, moving, and/or unloading process, you can have coverage and get the money you'd need so that you can make replacements, if necessary.
What is the difference between licensing and bonding?
Licensing is, typically, a state-based thing. The company needs to follow certain requirements when it comes to training, moving, and taking care of everything so that they can get a license for relocation services.
Bonding, on the other hand, means that the company is covered in case someone hurts themselves or there's an accident – it's like business insurance. But, it doesn't cover your items (which you'll need to buy additional insurance for).
How much do moving companies cost for the local (short) move?
It will cost you an average of $300 -$1,500 to hire a professional moving company to move you locally based on the move's size. Long-distance moving companies will cost customers an average of $2,400 to $5,000 based on the size of the shipment as well as the distance. Cross-country move will cost a higher amount than moving to a nearby state. 
What is the cost of a full-service moving company? 
From about 5445 people we surveyed, the cost of a good full-service relocation is often at $1,000 or more (especially if packing service is involved), and the price can be as high as $12,000. Fortunately, there are options for you in this $500 to $1,000 range. 
Renting a U-Haul or hire movers, which is cheaper?
There will be no need to drive a moving truck or think about any related costs or problems of a moving truck rental. Just as you know, the cost of a self-packing moving company is lesser than full-service moving companies and a bit higher than a moving truck rental. 
How do movers determine shipment weight?
To figure out your household goods' exact weight, your moving company needs to determine its weight on a certified scale immediately after the moving truck has been loaded with your belongings. They then determine your shipment's weight by deducting the first weight from the second.
What is the type of insurance required by a moving company?
If there are not enough commercial vehicles, there is no way your moving company can operate. Commercial auto insurance will be required to cover your moving truck or fleet of moving trucks.
Injuries or damage to vehicles will be covered by liability coverage if your moving company is responsible for the accident; a certain minimum amount is required by most states. 
Can movers be paid in cash?
If a moving company requests a deposit, leave them and pass it to another company. Avoid paying cash as much as possible. Cash payment will cause you trouble in the future. When you pay cash, you have no evidence of a transaction.
Therefore, if your belongings are not moved, or worse, the movers didn't deliver them, you have no proof of payment for such service.
Do you understand what a binding moving estimate means?
A binding estimate means when the moving company guarantees a fixed moving cost estimate based on the customer's shipment's total weight. If the client agrees to a binding estimate, then they will pay the exact amount they were originally quoted. 
What do movers charge for a local move?
It would cost an average between $200 and $1,500 to hire professional movers for a local move, and the cost is based on the size of the move.
It will cost an average of $2,400 and $5,000 to hire a professional out of state movers based on the move's size as well as the distance. The cost of a cross-country move will be much higher than moving to a neighboring state. 
What day is the most affordable to move to?
What day of the week is the most affordable to relocate? The shortest answer ever to this question is to move on a weekday starting from Monday through Thursday. In short, the majority of movers charge better moving rates during the week since they are less busy then. 
How long in advance should I hire a moving company?
Normally, eight weeks before your exact moving date. If not possible, a minimum of four weeks is ok, but understand that if all you have is a month or less before your move date, you will not have enough option of moving companies. Lots of good moving companies are reserved eight to twelve weeks out. 
How long does it take moving companies to move? 
Even though each move is completed at a different time, professional movers give general timelines. These are determined by the size of your home.
It takes between two and three hours to move a studio or 1-bedroom home, three to five hours to completely move a 2-bedroom home, and about seven hours to completely move a 3 to 4 bedroom home. 
Does the moving company consider weight or volume to charge? 
Lots of movers don't charge by weight or volume unless freight shipping is involved in the relocation, in which the cost of the move will be calculated by both weight and volume. 
How do movers calculate weight?
To figure out the exact weight of your possessions, your movers need to weigh your goods on a certified scale immediately after your household items have been loaded on the moving truck. Then the company estimates the net weight of your goods by deducting the initial weight from the current one. 
What is the actual weight of a two-bedroom apartment?
A 2-bedroom house or apartment usually weighs an average of about 4,000 pounds. The movers should always weigh your particular household since there could be greater addition of weight by pianos and antiques. Additional care and specially trained workers are needed for any specialty items. 
Do you need the best movers for your next move? Click here to see our list of best interstate movers and also our recommendations for a long-distance relocation. If you are moving locally, our list of best local moving companies might be of great guide for you.