We're not just another recommendation site. Moving APT has over 22 years of real experience with residential movers, which gives us an inside look at how movers treat their customers, and what movers are saying about each other.
We have real insider information, and we also review customer feedback, check licensing and accreditation, and examine outstanding claims for every residential mover in our network.
When you move to a new home, you want the best service possible. In this article, we'll talk about what makes a good residential mover, and what kind of services you can expect from the best of the best. Read on to get started.
How Much Does a Residential Move Cost?
The cost of a residential move can be as low as $400 and as high as $12000 – and much, much, higher. It all depends on what kind of moving services you'll need, how much stuff you'll need to move, and whether you're moving locally or long distance.
Average Cost of Full Service Residential Movers
| | | | |
| --- | --- | --- | --- |
| Distance | 1 Bedroom | 2 – 3 Bedroom | 4 – 5 Bedroom |
| Local (Less than 100 Miles) | $400 – $800 | $750 – $1900 | $1200 – $4500 |
| 100 miles | $1000 – $1900 | $1300 – $3500 | $2,000 – $4800 |
| 750 miles | $1400 – $2900 | $2100 – $6900 | $5500 – $7900 |
| 1500 miles | $1600 – $3200 | $2600 – $7400 | $6700 – $9500 |
| 2500 miles+ | $1900 – $3700 | $3900 – $8200 | $12000+ |
Compare Residential Moving Companies
Company
Rating
Avarage Price


(2-3 Bed)

$3210- $7320
$2950 – $6650
$2900- $8250
Superlative
Best For Long Distance
Most Efficient
Best for Online Booking
Get a Quote
Get a Quote
Get a Quote
Adams Van Lines has 500 locations and counting, and their track record of over 100,000 long distance moves speaks measures for their reputation.
They boast experienced movers who are familiar with a variety of moving services, including long and short hauls, packing and unpacking, and even transport for businesses and corporations.
Why We Recommend Adams Van Lines
Adams Van Lines has the experience and dedication to make your move stress and hassle-free. We appreciate their full service moving packages for residential moves (whether local or cross country), and the fact that you can pick and choose extra services like storage and unpacking.
Pricing Van Lines has been providing top-notch service for residential moves for over 20 years. They're dedicated to making sure you avoid any kind of hassle when you plan out and execute your local or long distance move, and they're also dedicated to cost-efficiency. 
Pricing Van Lines offers precise price quotes so you can avoid any unpleasant moving-day surprises.
Why We Recommend Pricing Van Lines
Not only does Pricing Van Lines provide excellent residential moving at competitive costs, they also help with debris disposal and cleaning. 
Actually, the whole range of services offered by Pricing Van Lines is hard to beat: packing, storage, shipping awkward or heavy items… the list goes on.
If you're trying to find residential moving companies, iMoving is the place to start. Their website is incredibly easy to use, and make booking an absolute breeze. 
iMoving serves as a one-stop shop for movers, moving services, truck rentals, and more. They can also help you pack and store instruments, heavy furniture, art, and other big ticket items.
iMoving is a useful tool for finding residential movers in your area, and if you're trying to spare yourself the headache of bouncing back and forth between movers to compare moving quotes, iMoving makes it easy.
Available Residential Moving Services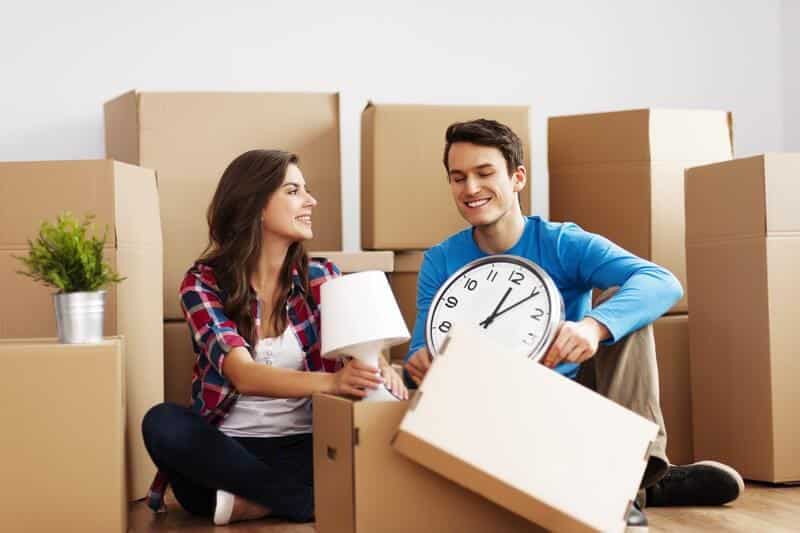 Moving APT offers different levels of service for your move. The movers we connect you with are experienced and trusted to inventory, load, haul, and unload all of your stuff – and they can also supply everything you need for boxing and packing. Read on to see what services the best residential movers can offer.
1. Move Coordinators
Moving APT assigns a specialized move coordinator to serve as your link with your moving company. Your move coordinator will make sure your move is organized and on track as your moving day draws closer, and is always willing to provide answers to your questions along with the way.
2. Packing and Unpacking
Well-packed belongings are safe belongings. Residential movers can customize their packing and unpacking services to match your moving needs. From boxes to packing tape, the right home moving company can make sure your stuff is safe and handled carefully.
3. Specialty Care for Specialty Items
Speaking of careful handling, specialty items such as fine china, musical instruments, and antiques deserve white-glove treatment. Residential movers can help you transport fragile and valuable belongings with protective packaging and specialty care services.
4. Storage
If you've downsized your living space but didn't get a chance to downsize your belongings, don't worry. Residential moving companies can store your shipments during your move, and oftentimes offer storage spaces you can rent while you get rid of all of your unwanted stuff.
5. Residential Moving Checklists
DIY is tough, and you need all the help you can get to make sure you aren't forgetting anything. Fortunately, you can check out our convenient, moving checklists so you can plan your moving day with confidence.
6. Home Packing and Moving Tips
Whether you're completely new to moving or you've done it a hundred times before, there's nothing wrong with learning some new tricks. Moving APT's network of residential movers can advise and assist you with your big move, and we're happy to provide you with packing and moving tips sourced straight from professional cross country movers who know it best.
7. Local Moving Expertise
A local move is defined as any move that's less than 100 miles, and all within the same state. If you're only moving a short distance, you can count on the specialized service provided by our trusted local movers.
8. Long Distance Moving Expertise
If your move is longer than 100 miles or across state lines, you'll need the help of long-distance movers that you can trust. Fortunately, Moving APT has done plenty of research and business with long-distance and cross country movers, and we're ready to help connect you with the best of the best. From finding moving quotes to getting your valuables unpacked, we've got you covered.
9. International Moving Services
If you need to move in or out of the United States, you need the best home moving companies you can find. An international move can be long, complicated, and frustrating, but the pros can help make your life easier. Residential movers who specialize in international moving can:
Serve as a one-source contact for your overseas move
Help in pre-move planning until your final delivery
Make sure budgets, timelines and standards are met
Assist with customs clearance
Provide temporary or long-term storage, as required
How Much Will a Local Move Cost?
If you're relying on a professional, full-service residential moving company for a local move, the price of your move can range from $279 to $8000 and beyond.
Average Price of Local Movers
| | | | | |
| --- | --- | --- | --- | --- |
| Home Size | No. of Movers | # Hours | Ave Cost / Hr | Average Price |
| Studio | 2 movers | 2 – 4 hours | $80/hr | $278 – $599 |
| 1 Bedroom | 2 movers | 3 – 6 hours | $80/hr | $389 – $750 |
| 2 Bedroom | 3 movers | 4 – 8 hours | $125/hr | $750 – $1900 |
| 3 Bedroom | 4 movers | 6 – 12 hours | $165/hr | $1250 – $3500 |
| 4 Bedroom | 4 movers | 8 – 14 hours | $165/hr | $1,400 – $5100 |
| 5 Bedroom+ | 5 movers | 10 – 16 hours | $200/hr | $2500 – $8000 |
It's important to remember that not everyone is moving a five bedroom home, and they may not need five movers to help them transport all their stuff. When it comes to a local move, the general rule is to assume you'll be spending at least $40 per mover, and you'll need two movers per room.
How Much Will a Long Distance Move Cost?
The price of a full service moving company for your long distance move may range from $1000 to $8500 and up. Long distance moves are defined as any move over 100 miles, or any move that crosses state lines.
Average Price of Long Distance Movers
| | | | |
| --- | --- | --- | --- |
| Distance | 1 Bedroom | 2 – 3 Bedroom | 4 – 5 Bedroom |
| 100 miles | $1000 – $1500 | $1250 – $1700 | $1500 – $3400 |
| 250 miles | $1200 – $2000 | $1500 – $3500 | $2,000 – $4800 |
| 1000 miles+ | $1400 – $2900 | $2100 – $6900 | $5500 – $7900 |
| 2500 miles+ | $1800 – $3700 | $3900 – $7500 | $8500+ |
Long distance movers charge by the weight of your items, and the length of your move. Keep this in mind if you're considering getting rid of any unwanted furniture or belongings.
Remember that the prices mentioned above are just averages, and the exact price of your move may vary depending on several different factors. You may have a huge haul, or just have to move a small apartment. 
You may be moving down the street, or you may be moving across the country. And you may need to rent accessories or purchase packaging for all your stuff. 
Read on to learn more about the other factors that may affect your house moving costs.
What Factors Affect My Moving Costs?
1. Size, weight, and distance:
These are the three most important factors that decide the overall cost of a move. Calculating the size, weight, and distance of your move will decide how much truck space is needed, how many movers are needed, and the miles (and time) your movers will have to travel.
2. Access Fees:
Parking, elevators, and stairs all call for additional fees. Parking is a given; it's rarely free to park a moving truck on a city street without paying for it. As for the other access fees, it can be difficult to navigate a new apartment building, and if your movers have to carry a sofa up four flights of stairs, it's going to cost extra.
Parking Cost: $20-$200, 
Elevator Cost: $50-$100, 
Stairs Cost: $50-$100/flight  
3. Long Carries:
Got a long driveway? Anything over 75 feet counts as a long carry for your movers, and that'll cost you extra as well. It's a good idea to measure the distance from the curb to your house or apartment so you know what route is the shortest and most direct for your residential movers.
Cost: Every additional 50 feet an extra charge of $75.00
4. Shuttle Trucks:
Some metropolitan areas don't permit gigantic moving trucks to block their streets. Instead, they'll require you to use a much smaller shuttle truck to get your goods to your new home from wherever your big moving truck was actually allowed to park. 
It can be a pain, and it can be expensive. Make sure you know your local laws, and make sure your residential movers know whether a shuttle will be needed.
Cost: This can cost anywhere from $0.10 to $0.15 per pound with a minimum fee of around $300.
5. Special Packaging:
For delicate or valuable items like marble, mirrors, glass, or tabletops, your residential moving company will have to spend extra time making sure all these special items are safe and secure. This will cost more, but it beats broken heirlooms.
6. Insurance:
In the event of the unthinkable, it's a much-needed comfort to know you're covered by insurance. Insurance can cover the cost of damaged, lost, or completely destroyed goods – but it can also the cost if someone is injured during the course of your move.
Cost: around $10 per $1,000 of valued possessions, with a $250 to $500 deductible.
7. Gratuity:
Your movers have just packed, hauled, and unpacked tons of your stuff. It's hard work, and it should be rewarded with a tip. Don't forget to pay gratuity for your movers, and don't forget to tip your driver as well.
Cost: 13% – 18% is an industry average.
Here's How We Rank Our Residential Movers
Moving APT has 22 years of experience in local and long distance moving, and we do real business with movers to get data that's more in-depth and reliable than anything else online.
Our rating methodology is based on the following:
Reviews
Reputation: Reviews and profiles show if movers are highly-rated and experienced.
Industry-Insider Info: We see what the best companies in the industry are doing.
Mystery Shopping: We call and pose as complete strangers to keep movers honest.
Licensing and Accreditation
Arbitration Program: We ensure movers provide arbitration for lost or damaged items.
Active Claim Department: We monitor how quickly movers help with compensation.
Safety Record: We get up-to date safety information about accidents and inspections.
Moving Insurance: We make sure movers provide full or released-value protection.
Client Feedback
Video and phone reviews: Client testimony tells us which movers are worth your time.
Online surveys: We read about each completed move to see how movers perform.
As a moving broker, Moving APT deals with movers on a daily basis. We negotiate for our clients, and we ensure movers always honor their contracts. It's how we help you get moved, and it's how we maintain clear communication between clients and moving companies.
More customers for better movers If a mover is exceeding expectations, we send them more business. If a mover needs to improve, we don't. It's simple.
How Can I Trust Residential Moving Services?
Long distance residential movers are required by law to be certified and licensed with the Federal Motor Carrier Safety Administration (FMCSA). You can check to see their safety records, and doing a deep dive into their reviews and outstanding claims can give you a good idea of how they treat their customers, and how they resolve any disputes.
How Do I Prepare for a Residential Move?
Planning, planning, and more planning. A residential move means waking up in your old home in the morning, and going to sleep in your new home that night. If you don't want to get caught in between, make sure you use a moving checklist to avoid missing any important items, and make sure your residential movers are on the same page.
What Does "Full Service" Really Mean?
Full service means you shouldn't have to lift a finger. When you contact a full service mover, you're putting your entire move in professional hands. Everything from packing and loading, to transporting, unloading, and unpacking, is all handled by the residential moving company of your choice.
What's the Cheapest Way to do My Household Move?
You can always DIY a residential move – if you're feeling up for a major challenge. Chances are, you don't have a moving truck in your driveway and you don't have the years of experience offered by professional residential moving companies. However, if you're really strapped for cash, you can try your hand at renting a van and doing it yourself. Make sure you draft some friends.
What is a Moving Quote?
A moving quote tells you how much you should expect to pay a moving company for their services. There are three types of moving quotes: Binding, non-binding, and Binding Not-to-Exceed. Binding quotes are set in stone, non-binding quotes can be raised by up to 10% of an initial estimate, and Binding Not-to-Exceed quotes can't be charged more than your first estimate, but they can be charged less.
Get Started with Your Residential Move
Moving into a new home can be chaos. Exciting chaos and a fresh start – but chaos nonetheless. Residential moving services can help you turn all that excitement into something a little more manageable, whether you're moving down the block or across the country.
You've seen our top recommendations for residential movers. You've checked out our insider information about what you can expect from the best in the business. And, you've finally found the answers to all those frequently asked questions.
Now, it's time to get in touch and get a quote. Reach out to a residential mover today, and get started on your new beginning.
Happy Customers Share Their Experience