Find The Best Moving Companies in NYC
Closing on a new apartment in NYC is hard enough, but it is only half the battle.
Your next challenge is to find a reputable moving company within your budget, lock them in, and set a date to move.
These days, landing a NYC apartment might be the easier part. Some moving companies in New York were so busy over the summer of 2020 that they had to turn away customers and stop advertising.
Desperate New Yorkers will jump at the first company available without giving much thought to their experience or reputation. Unfortunately, there's no shortage of shady moving companies out there, putting you at risk of damage, theft, lost items, or worse.
With so many movers in New York City, how can you make sure you hire the right moving company? Putting so much trust into the hands of strangers makes this decision essential.
Moving APT has researched over 80 NYC movers with a proven track record in moving services and handpicked the best ones. We're happy to help you move within New York at the most affordable rate with the reputable movers you deserve.
Our Top 3 Recommended NYC Movers
Shlepper's Moving & Storage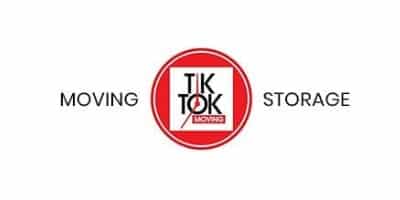 TikTok Moving and Storage
You have ten moving companies in NYC to choose from below but these top our list due to their flexibility, reputation, and experience – all of which matter tremendously during an NYC move.
These moving companies are researched to ensure they're bonded, licensed, and insured on top of receiving consistently positive reviews from New Yorkers.
10 Best NYC Moving Companies Hand-Picked by Experts
Our experts at Moving APT spent time researching and vetting every option to make sure you're connected with the best moving companies in New York City that have the best resources to pull off an effective move.
Moving is hard enough as it is. That's why we streamlined the process of choosing an NYC mover for you with this well-researched list. Don't miss the expert tips and insider info below the list to help guide your move as well.
Let's start with a brief look at the top ten moving companies in NYC: 
iMoving.com is one of the best platforms to find local moving companies in New York City and around the country due to their streamlined website and online booking process. Their website serves as a one-stop portal for all things moving, making it the fastest and easiest option. Use iMoving to search for the precise services you need and filter by price or other factors. iMoving makes moving as easy as it can be.
Make iMoving your go-to place for all kinds of related services like disposal, long-distance moves, storage, and more for both commercial and residential customers. They can also handle the packing, storage, assembly, and disassembly of furniture, pianos, art, and more. iMoving is prepared to serve both local and long distance interstate moves across all 50 states.
2. Shlepper's Moving and Storage
In the 1970s, a small moving company opened shop in New York City. Since then, Shlepper's has grown to become one of the most well-known moving companies in the region.
You might know Shlepper's as the moving company with the famous orange trucks, managing local, regional, and long distance moves. Today, Shlepper's is known for its budget-friendly and professional services.
Shlepper's can take moving jobs of all sizes, from large commercial businesses to small studio apartments and everything in between. Use our free tools at Moving APT to get an accurate moving quotes
Tik Tok Moving and Storage is a New York moving company focused on eco-friendly service and pleasing people instead of shareholders. They have both Energy Star and Green Seal Certifications along with BBB accreditation.
Their full-service moves – including packing and unpacking, arranging furniture, mounting televisions, and more – run efficiently and effectively.
Tik Tok Moving also offers storage in their large climate-controlled warehouse, keeping items of all sizes safe in a city where space and energy are hot commodities.
Plus, every member on their team is a full-time mover with plenty of experience so you're in safe hands.
4. Bluebell Relocation Services, LLC
Bluebell Relocation Services is a regional moving company and member of the American Moving and Storage Association (AMSA), the premier association for moving professionals and companies. Despite their small size, Bluebell Relocation Services offers long distance and local moving, packing, and unpacking services.
New York City is a remarkably diverse city with residents of all ethnicities and backgrounds. If you're moving and can't communicate with your movers, that's problematic, right? Bluebell Relocation Services comes to the rescue with their multilingual staff – offering service in English, Spanish, Arabic, and several other languages.
Bluebell Relocation Services also offers free online estimates and downloadable moving checklists for planning, preparing, and day-of recommendations from experts.
5. Maffucci Moving and Storage
Started in 1909, Maffucci Moving and Storage is a family-owned and operated moving company in New York City with over a century of experience as true New Yorkers.
You can't beat Maffucci Moving's professional reputation: licensed, insured, an A+ rating with the BBB, Bekins agent, and member of the American Moving and Storage Association. Maffucci Moving stands out because they never subcontract their services either — customers always receive the professionalism they expect.
Beyond the basics, Maffucci Moving and Storage also provides a variety of climate-controlled storage options along with specialty moving services for electronics, artwork, antiques, and more. Take advantage of their full-service packing and unpacking service or just the wholesale packing supplies to handle the job yourself.
Moving APT can help you coordinate long-distance moves with Maffucci and all our listed best cross country movers for the best prices available.
As their name implies, Flat Rate Moving is one of the first NYC moving companies to offer flat rate services for all-inclusive local and long distance moves: wrapping, packing, floor protection, and expenses all for one price.
Flat Rate Moving puts a lot of emphasis on its reputation as an online resource center for anyone looking for moving companies near them in New York. Visit the site to explore the Flat Rate Moving app, FAQs, packing tips, and more.
Based on Moving APT's expert research of Flat Rate Moving's reputation, we've found that the company and its employees are safe, efficient, and put a lot of care into each of their moving jobs. Flat Rate Moving's loyalty club is further evidence of their professionalism. 
Flat Rate Moving offers nice extras as well like upcycling, electronic installation, antique moving, white-glove service, military relocation services (with special pricing), and much more.
7. Liberty Moving and Storage
Liberty Moving and Storage has nearly 100 years of experience in local and long distance moves, providing automobile transport, white-glove service, and warehouse logistics if needed today.
Customers enjoy the professionalism and efficiency of Liberty Moving as a leading agent of United Van Lines. Liberty Moving also offers affordable rates for any budget, especially compared to other moving companies in NYC.
The punctual staff is detail-oriented during the moving process, especially with the added white-glove service (specific to instruments, antiques, and fine art). They also provide commercial moves and useful services like asset recovery, IT equipment moving, high-value item moving, library moving, installations, and much more.
8. Chelsea Moving and Storage
If you're seeking a long-distance move to or from NYC, Chelsea Moving and Storage should be one of the places you request a quote using our free tool on Moving APT.
Chelsea Moving and Storage offers several options for long distance, interstate, and local moves including last-minute bookings and month-to-month storage. The company is family-owned with decades of experience in the heart of Manhattan.
Chelsea Moving can handle office moves and even specializes in carefully moving delicate high-value electronics. Like true New Yorkers, they understand the importance of affordable rates for any budget and they're happy to provide boxes and supplies as well.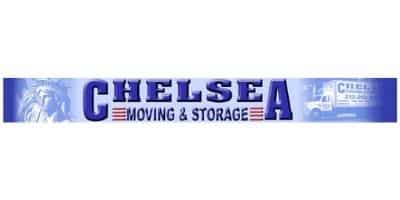 Since 1993, Oz Moving has built a reputation as one of the largest and most reputable moving companies in New York City. If you're considering a move away from the city (or just to a different borough), they take care of it with professionalism and expertise. 
Oz Moving will work with you to put together an ideal moving plan for your situation and budget, right down to the add-on services and transparent insurance.
This NYC moving company also offers almost any extra service you might need, including assembly and disassembly of furniture, hanging items on the wall, creating antiques and art, carpentry, packing unpacking, and more. If you don't see what you want on their quote form, ask about it!
Businesses and homeowners alike recommend Scanio Moving due to their commitment and professionalism, especially with their white-glove service.
Scanio Moving's professionals are trained to care for antiques, pianos, fine paintings, art, and other high-value items. You can trust Scanio Moving: They have experience completing several moves for galleries and businesses with fragile items.
As members of the New York community for over seven decades, Scanio Moving is committed to green moving with biodiesel fuel, free electronics recycling for everyone, recycled supplies, and more.
Use the quote tool here on the Moving APT website for an accurate pricing estimate.
The Following Table Displays The Best Moving Companies in New York :
| No. | Best Moving Companies in New York | Website |
| --- | --- | --- |
| 1. | iMoving.com | www.imoving.com |
| 2. | Shlepper's Moving and Storage | www.shleppers.com |
| 3. | TikTok | www.tiktokmoving.com |
| 4. | Bluebell Relocation Services, LLC | www.bluebellmovingandstorage.com |
| 5. | Maffucci Moving and Storage | www.maffuccimoving.com |
| 6. | Flat Rate Moving | www.flatrate.com |
| 7. | Liberty Moving and Storage | www.libertymoving.com |
| 8. | Chelsea Moving and Storage | www.chelseamoving.com |
| 9. | Oz Moving | ozmoving.com |
| 10. | Scanio Moving | www.scaniomoving.com |
NYC Long Distance Movers - All You Need to Know
The ten best moving companies above will offer varying services depending on your moving needs. For example, the best long distance movers in NYC will help you relocate your belongings from state to state, while a local movers will help you move within the city.
Long distance movers in NYC, also called interstate or cross country movers, typically have higher costs, which we will cover below, but the money spent offers you a more stress-free relocation experience. In addition, they have the resources and knowledge to move your belongings safely and securely, as well as transport them across state lines.
NYC long distance movers require special licensing and are registered with the Federal Motor Carrier Safety Administration (FMCSA). This agency sets regulations for out-of-state moving companies, including safety guidelines and measures.
This is just one very good reason why using Moving APT to connect you with the best long-distance movers is so smart. We only work with licensed and insured cross-country moving companies with a proven track record of safe and reliable service.
Additionally, by choosing Moving APT to help with moving, you can get detailed quotes from out of state moving companies to compare prices and find the best deal. So, whether it's long-distance or local moving that's on your horizon, Moving APT is the smart choice to find reliable, reputable, and affordable movers.
How Much Does It Cost to Hire Movers in New York City?
On average, local moves cost $1,250 while long-distance moves of 1000 miles cost $4,890 based on estimates. Several factors can increase your moving costs in or out of New York:
Travel fees (like fuel or tolls)
Walk-up buildings with steps
Wraps or felt pads
Seasonal trends (summer is often a busy moving season)
Day of the week
You could rent a moving truck to take on the job yourself with help from friends and family. Rates for rental companies, such as U-Haul, start at $20 but the total cost depends on locations, fees, mileage, the size of the truck, as well as the moving day and date.
However, prepare to handle the most stressful parts of the move yourself if you opt for a rental truck company and self-moving: loading, unloading, logistics, and travel.
Enter Moving Details and Get your Moving Quote in Seconds.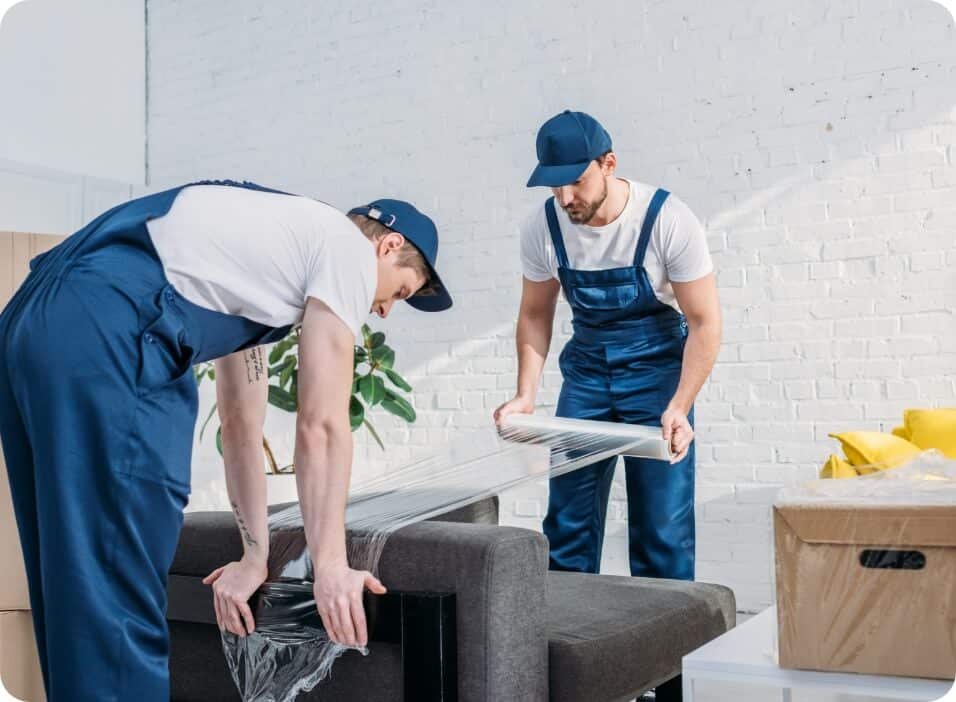 Moving Costs in NYC Based on the Size of Your Home
Compare the basic situations below to your home to judge the estimated moving cost. Don't forget to add extra for storage or removal if you're downsizing.
1-bedroom apartment: Two movers minimum. Expect to spend about $310 for loading and unloading. You'll pay $40 to $80 to rent the moving truck for about 5 hours. 
4-bedroom home: Average moving truck cost of $1,150, not including special services. Add an extra $200 to $240 for packing supplies and boxes.
3,200 sq. ft homes: Expect to spend a minimum of $10,000 and a maximum of $20,000. 
What Factors Contribute to New York City Moving Costs?
Wondering what factors into the average costs to move to New York City? First, think about the services you'll need like transportation, labor, or specialty packing. Quantity matters too: large homes or businesses require more labor, costing more for the same services.
Furthermore, relocation services in New York City can take many forms: 
Preparing your move's logistics, packing, supplies, trucks, movers, storage, and more.
Packing your items, moving large items, caring for fragile or high-value items, and loading the trucks.
Unloading and unpacking after arriving at your new home or managing your storage facility.
The time of your move and the services you need — itmay be tough to secure during certain times of the year.
New York is divided into several diverse neighborhoods, each with unique qualities and an individual atmosphere. Below are the best ways to travel from Brooklyn to the Upper East Side and everywhere in between:
Subway:
The best way to get around New York City: no heavy traffic, access to every neighborhood, timely service, and highly affordable prices. Trains are available every day. You can download a subway map to ensure you choose the right stop.
Rideshare/Taxi:
If you have lots of luggage, opt for a cab rather than the crowded subway trains. Just hail a yellow taxi from the street or hitch a ride with Uber or another rideshare.
Although taxis are an iconic part of New York City culture, Moving APT strongly recommends taking an Uber as the drivers are trustworthy and fares are cheaper.
Just keep the iconic NYC traffic in mind as well: No car is faster than the subway. 
Walking: 
Get ready to walk. With most leading attractions within walking distance, you don't always need to rely on public transit to move around NYC. Plus, New York is a walkable city and you'll find a few hidden gems along the way.
What is the Cost of Living in New York City?
It won't surprise long-time New Yorkers to learn that the Big Apple remains one of the most expensive cities in the United States with the cost of living running 141% above the national average.
High real estate prices are the first factor contributing to the substantial cost of living in NYC. The average cost of a home in NYC is $2,105,921, while the average rent is $5,063 per month.
67% of New York City residents rent. To put it into perspective, there are more renters in New York City than LA residents in general.
Daily expenses in NYC like food and basic items are not the cheapest either. The average cost of a loaf of bread is $4.18, a half-gallon of milk is $1.59, and a dozen eggs cost about $2.44.
Enter Moving Details and Get your Moving Quote in Seconds.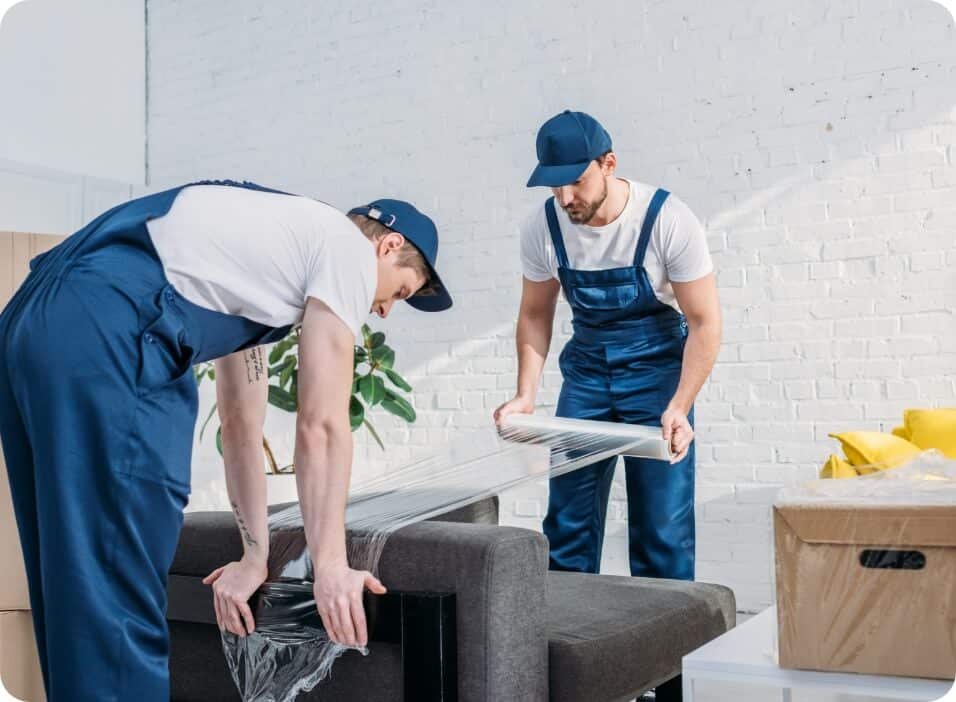 Frequently Asked Questions
Start Your Search for the Best Moving Companies in NYC
At Moving APT, we have all the insider knowledge, resources, and connections you need to find the best moving companies in NYC and beyond. Whether you're planning a local move or need to pull off something long-distance, you'll find the best movers in New York and plenty of tips for smooth sailing.
Take it one step at a time with the Moving APT Moving Planner to get you organized and prepared.