Your Guide to Long Distance Moving Companies [+5 Top Choices]
You have friends and family members to wish farewell. Why take time away from your loved ones with ho-hum tasks when Moving APT's already started the work of expertly researching the best long distance moving companies to help?
Don't fall for this common mistake either: Overestimating your disposable time to DIY the tedious tasks and save a few bucks before your long distance move. No matter how much time you set aside, it's never enough.
To top it off, there are less-than-ethical moving companies out there waiting to prey on distracted homeowners who haven't done their due diligence.
You deserve a trustworthy long distance moving company to show up on time, complete the jobs as you expect and care for your belongings like their own during the journey – all for an affordable and transparent price.
That's why Moving APT made this in-depth guide to researching the best long distance moving companies.
Shortlist: 3 Best Long Distance Movers
Compare Long-Distance Moving Companies
| | | | |
| --- | --- | --- | --- |
| Company Name | Company Type | Local and Long-Distance Moves | Offers Auto Shipping |
| Adams Van Lines | Van line |            Yes |          Yes |
| Pricing Van Lines | Van line and broker |            Yes |          Yes |
| iMoving | Marketplace |            Yes |          Yes |
| U-Pack | Moving container company | Long-distance only |          No |
| United Van Lines | Van line |           Yes |         Yes |
The Top 5 Long Distance Moving Companies for a Seamless Experience
We personally researched dozens of long distance and national moving companies looking at the stuff that matters: costs, transparency, customer satisfaction, services, and much more.
Find the one that meets your unique long-haul moving demands, budget, and expectations.
Below are our picks:
Backed by 18 years of long-distance experience, Adams Van Lines has powered over 1.2 million customer moves in the past decade alone.
Adams Van Lines has perfected efficiency for both their logistics network and you as a customer. Choose only the services or package you need and nothing you don't – from full-service moving to self-moving options supplying only transportation.
Long distance moving is a situation where customer service really matters. Adams Van Lines delivers with binding estimates, consistently on-time deliveries, and personalized service.
Whether you're moving across state lines, international borders, or long distances within your own state, Pricing Van Lines has the professional network to customize your move.
Pricing Van Lines is all about organization and seamless online resources.
Luckily, a highly organized network of the best long distance moving companies also means Pricing Van Lines can help you stretch that budget.
Don't worry, they handle all the licensing and insurance coverage too.
Looking for a more modern and tech-focused long distance mover? You've found it with iMoving and its streamlined secure platform.
Use the iMoving portal to create a DIY inventory planner and plug in your move's specifics. Browse iMoving's fully screened companies and filter the results by price or whatever matters most to you.
Plus, iMoving will even deliver binding quotes through the online portal where you can also complete your scheduling, secure payments, and more. 
Best of all: Delayed payments mean iMoving has your back and doesn't pay the moving company until the whole process is complete to your liking.
Are you more of the DIY-type when it comes to moving? With U-Pack, it's all in the name: Pack up your belongings and load your U-Pack container right outside your door.
When you're ready to move, U-Pack will pick up the container and handle the transportation.
U-Pack understands the importance of flexibility and budgets. That's why U-Pack offers individual services like door-to-door delivery, storage, and special long-distance packages for unique situations like seniors and military.
Over 1.2 million customers have trusted United Van Lines over the past ten years which says quite a lot about their efficiency and customer service.
United Van Lines has evolved over the years into a one-stop-shop for long distance moving companies and services. The MyUnited Move Portal isn't just for quotes: You can create interactive checklists, weekly timelines, and much more.
United Van Lines also offers virtual surveys and video estimates – no more walk-throughs!
Plus, the flexible packages and add-on options mean you can customize your move in a few clicks.
The Following Table Displays The Best Long Distance Movers:
| No. | Top Long Distance Movers of 2020 | Website |
| --- | --- | --- |
| 1. | Adams Van Lines | www.adamsvanlines.com |
| 2. | Pricing Van Lines | www.pricingvanlines.com |
| 3. | iMoving | www.imoving.com |
| 4. | U-Pack | www.upack.com |
| 5. | United van lines | www.unitedvanlines.com |
Enter Moving Details and Get your Moving Quote in Seconds.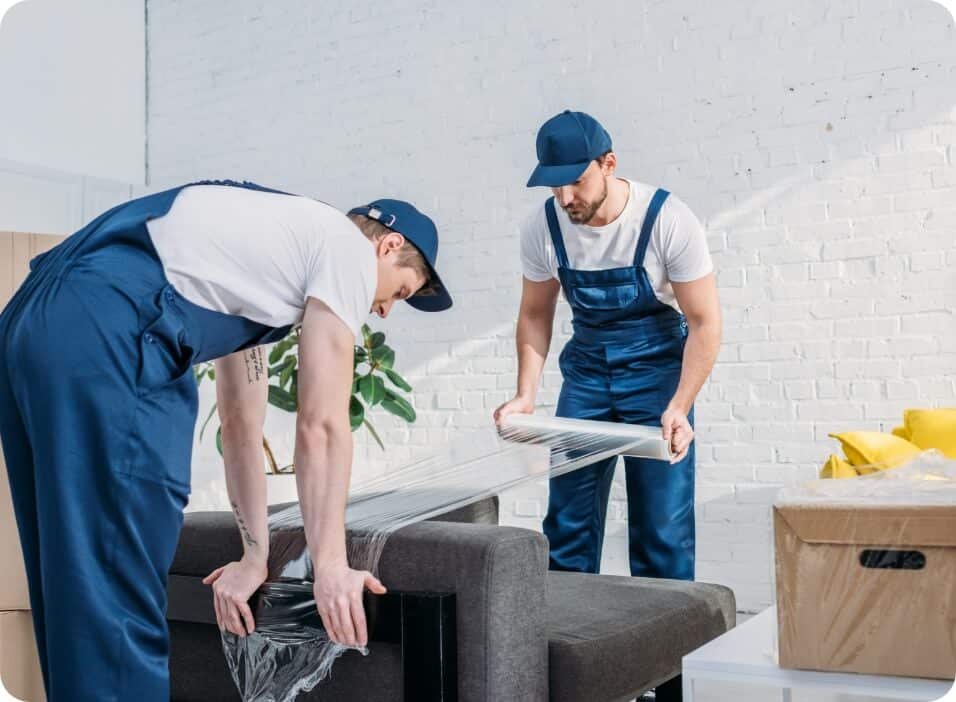 What is the Cost of Moving on a Long Distance?
The distance you are moving, the total size of your shipment, and the type of moving services needed will determine the costs of your move. Prepare about $840 and $4,460 to move a one-bedroom or studio apartment on a long distance.
For convenience sake, if we say you are moving to another city that is 1,000 miles far from your current location, then the following moving average price may apply: 
Studio apartment: The average weight of household goods found in a studio apartment is 1800 to 2000 pounds, and if you are moving from one and your destination home is just located 1,000 miles away, then you should prepare a minimum of $1,500 to move, excluding any additional services.
One-bedroom apartment: The average weight of household goods found in a one-apartment is 2500 to 3500 pounds, which implies that you should prepare to pay about $1,800 and $2,500 to move cross-country with no additional moving services. 
Two-bedroom home: The average weight of household goods found in a two-apartment is 5000 to 6000 pounds, which implies that you should be prepared to pay about $3,500 and $4,200 to move to a place that is 1,000 miles away from your current location with no additional professional moving services added.
As a student or an active military member, you can benefit from U-Pack's discounts to cut out many hundreds of dollars from the company's already lower prices. Also, know that moving coverage is only required when you are relocating, and thus many people don't even consider it. We strongly recommend you learn about the different moving coverage available to you if you are planning to move soon.
Updated Pricing for 2021 Moving Cost Calculator by Distance
Calculate Your Long Distance Moving Cost
Cost to Hire Long Distance Moving Companies
Long-distance movers have a variety of criteria that they utilize in order to determine how much your move is going to cost.
While local moves are usually calculated by the hour, long-distance moves are usually calculated by how much stuff you're going to be talking with you to your new location.
Usually, they will send someone to your home to take a look at everything that you plan on bringing with you in order to put together a quote that makes sense.
Long-distance moves take a lot of time, effort, and logistics in order to ensure that everything is taken care of properly. With the help of your movers, you will be able to determine a lot of information around your move and you'll work to take care of a variety of needs and concerns related to your move.
Because of that as well as travel time, fuel costs, wear and tear on the trucks, etc., your long-distance movers are going to be putting much more effort into a long-distance move than they would if they were dealing with a local move, hence the higher price tag associated with it.
A move that is within your state is going to cost much less than a cross-country move will. If you're looking at moving your apartment across the country, it's going to have a different price point than if you're moving a 5 bedroom house two or three states over. This is because of how much stuff you're going to be taking with you when you move.
Here are some numbers to consider based on historical data. An average one-bedroom move can be anywhere from $500 to $3500 depending on how far you're going and how much you have.
Two to three-bedroom homes can go from $1000 to $7000 (based on distance), and four and five-bedroom homes can be $2000 to over $8500 based on how far you're moving.
The availability of relevant moving equipment is one of the big reasons that professional movers are perfect at their job. You can simplify your DIY move by skipping the heavy lifting through the use of the moving equipment from a service provider.
Additional services are also going to cost you additional money to take advantage of as well. If you would like a moving company to take care of packing and unpacking for you, it's going to come with an additional cost.
Also, if you are going to need storage for any period of time, you will need to consider the costs that will come with that.
When all is said and done, the final cost of your move is going to be calculated by weight and then any additional services are going to be added to that cost.
The quote will often have a minimum and maximum associated with it based on how much they believe it will weigh, allowing you to put together a budget that makes sense for what it is that you need to do and take care of.
Enter Moving Details and Get your Moving Quote in Seconds.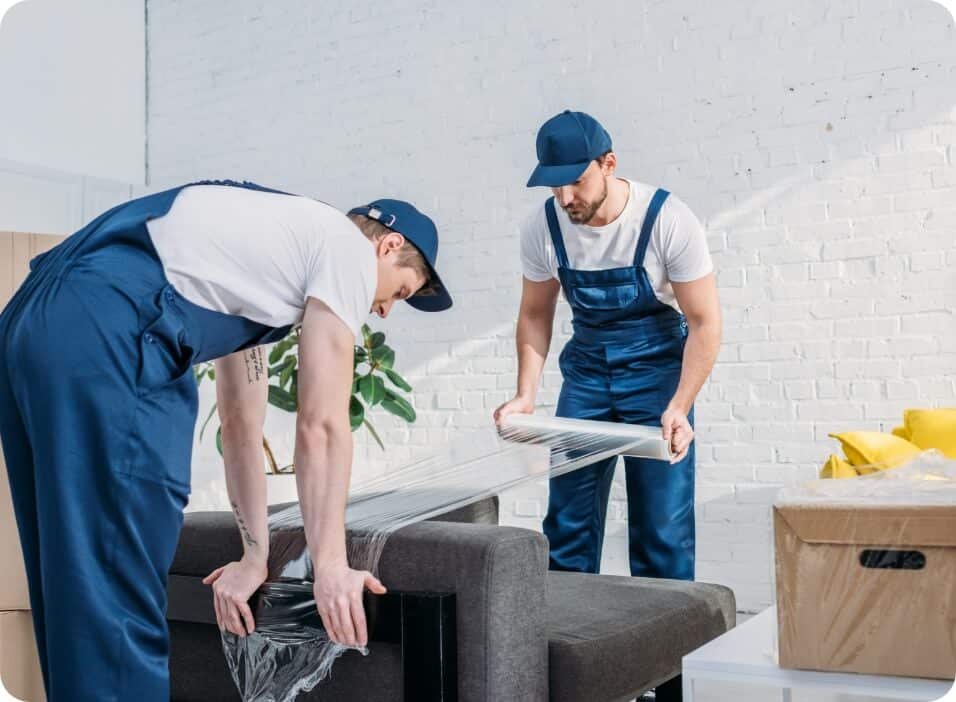 What Services Do Long Distance Movers Offer in 2021?
Long-distance movers put a lot of time, energy, and effort into offering moving services to their customers.
These long-distance moves could be to a different state somewhat close to the one that they are currently in, or they could be across the entire country.
Some moving companies will even take care of international moves of all lengths, working with other international companies in order to accomplish their goals in an effective manner.
While some of these companies differ from local moving companies, they may also offer local services to their customer base.
They typically have a number of resources and services available that are focused on long-distance moving needs.
Their movers are specially trained so that they can take care of long-distance moves without too many complications or concerns.
They have various sized trucks and plans in place that allow their movers to take care of multi-day moves.
Along with moving, many moving companies also offer freight moving services and storage options, in case you may have some sort of delay or your items need to be held in storage for one reason or another.
Long-distance movers also offer many of the typical services that are associated with moving companies, including packing services, unpacking services, moving supply sales, and more.
When you search for a moving company with the help of Moving APT, you can feel confident that you're getting all of the information about the companies that you get quotes from.
If you know that you'll need storage, let your movers know during the quote process. Storage can accrue some extra costs, and you may need to pay a separate fee and sign a separate contract. 
You also want to be sure that they'll have storage available for you. Have a vague idea of how long you'll need storage and you may be able to pre-pay if that's what you want to be able to do.
FAQ About Long Distance Move
Perhaps you are on the verge of relocating to a near apartment or office space, and you can't seem to find the best long distance moving companies; this list might just be a good start. Do careful scrutiny of your options and decide the one that best suits your needs. A wonderful experience awaits you because moving with dev2.movingapt.com shouldn't be stressful after all.