In these often trying times, it can be hard to live alone, scraping up just enough to make your rent and utility payments on time, not to mention groceries and everything else you need to live.
If you are currently in a situation where you are living alone, staying with friends, or maybe even leaving your parents' house for the first time and are facing living by yourself, then you may have some questions.
If you're currently facing a move, then looking for ways to save money could be a good idea. You could consider using affordable cross country movers that might help you find ways to save money on your move.
The Average Monthly Expenses of an American Is: $5,102
One consumer unit spends an average of $5,102 every month in 2018. That implies that the average budget for an American is $61,224 and is a 1.9% increase from the previous year.
Consumer units, according to the BLS, include families, a single individual living alone, or sharing a home with others but who don't depend on another financially, or two more persons living in the same place and share major expenses.
So, for instance, three roommates would be equivalent to three consumer units. Dad, Mom, and son (age 14) would be a single consumer unit. The median consumer unit is 2.5 people. The BLS gets data from people who agreed to give detailed information or useful purposes.
Census Bureau workers often conduct secrete phone interviews about the large and recurring expenses of participants. This lasts several hours, or they may ask participants to complete a dairy survey in which each purchase they make in two different 1-week periods will be recorded.  
All data discussed in this article is from 2018 and was published on Sep. 10, 2019.
Enter Moving Details and Get your Moving Quote in Seconds.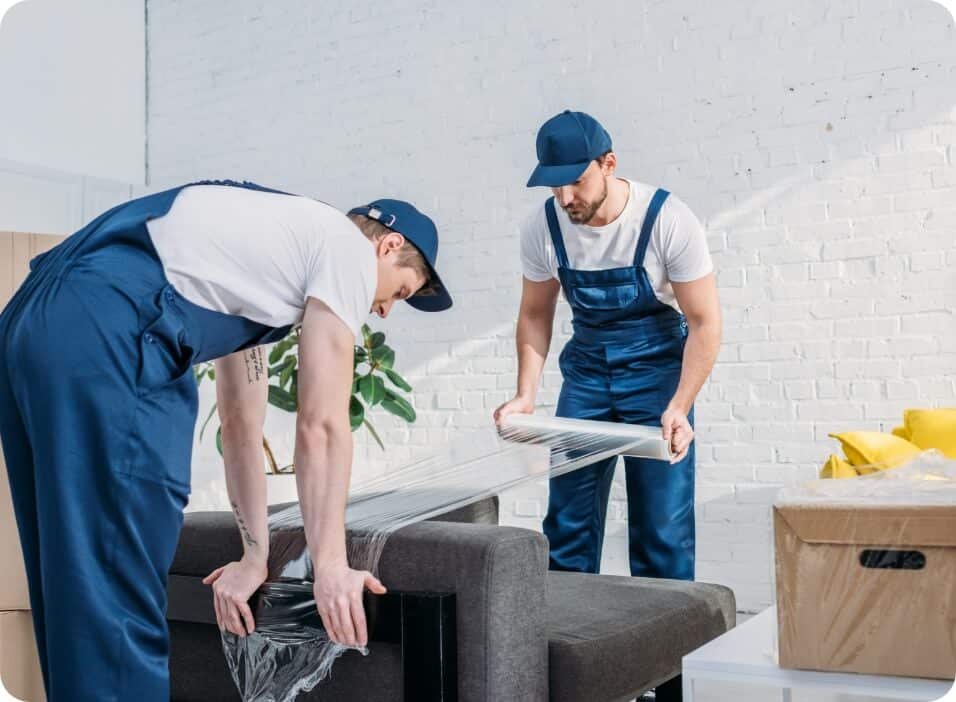 Understand that monthly costs are approximated to the nearest amount of dollar. Cash contributions, such as cash contributed to people or organizations out of the consumer unit, which includes child support payments and alimony; students care away from home' and religious contributions, charitable, educational, or political organizations are included. 
What Are Some of the Things to Be Looking Out For?
When you first strike out on your own, the first thing you'll probably be on the lookout for is a place you can rent in your price range. Hopefully, upon moving out, you have built up some savings.
If you don't have a little bit of money to fall back on while you're first getting used to your new living arrangements, then hopefully you have a job or a line of credit you can use to help keep you afloat.
If you're still considering your move and haven't quite pulled the trigger on it, then you need to start categorizing and thinking about what your monthly expenses will look like.
So, breaking down your expenses will help you have a clear picture of what your new life is going to be like that after your move.
The Main Concern: Rent
The biggest concern for anyone who is renting a home or an apartment month-to-month is making sure they are able to pay their rent on time every time, to ensure you keep your roof above your head. If you've never rented before, then you might be wondering what the average rent is.
The answer is, there is no concrete price to expect. Your rent will be entirely dependent on how where you live, the type of dwelling you're looking to rent, and whether you'll have any help, such as roommates.
While there is no concrete price to expect, you can at least expect to pay a few hundred to over a thousand dollars a month, depending on where you live.
The prices you can expect to pay for rent will vary wildly depending on where you live, or where you plan to move. If you're in a smaller town, prices for apartments and homes might be more forgiving.
If, however, you're planning on moving to a bigger city such as New York or Los Angeles, then you can expect to be paying upwards of a thousand dollars a month for an apartment.
Another thing to consider when getting ready to begin renting is to consider that most landlords will want a security deposit put down, along with first and last months' rent.
These fees are usually non-negotiable, so this is where having a bit of a nest egg saved up before you make your move might be a great idea.
Another Big Concern: Utilities 
One thing that can come with paying rent is that, oftentimes, your utilities may be included in your rent. This is not always the case, however, and if your landlord doesn't handle the utilities, then you will have to foot the utility bills on top of your monthly rent.
Your utilities include your electricity, heat and air conditioning, and water. Typically, your electric bill may run anywhere from $30 to $100 and may be above, depending on how much power you consume.
Your water includes your sewage, and many families pay, on average, about $40 a month for water. Your water bill should be quite a bit less if you're living alone.
Another concern is your laundry needs. Many apartments and homes will come equipped with washers and dryers, while some apartment complexes will have a laundry facility on-site for tenants to use.
If the home or apartment you rent doesn't have any of these amenities, then you can visit a local laundromat for your laundry needs. You can usually expect to spend around $6 to $12 a load for washing your clothes at the laundromat.
If you know you can handle the living expenses on your own and considering moving to a less expensive city, then you should start researching movers and gathering moving quotes. Check Moving APT's list of the best cheap moving companies to find a moving company that falls within your budget.
What is Referred to As a Living Expense?
The necessary expenses for daily living and keeping good health are known as living expenses. They include the major categories of food, healthcare, housing, transportation, and clothing. Knowing the items involved in each of these categories will help you plan a budget for them. 
Find the full living expenses at a glance as listed below: 
Housing
Whether you are a renter or owner, there are regular expenses, which include some you may not know: 
Monthly rent or mortgage payment 
Utilities (such as electricity, junk removal, gas)
Insurance (which include homeowners or renters)
Property tax
General maintenance (which includes lawn mowing, snow removal)
Food and Grocery
Aside from your daily meals, think of other necessary expenses:   
Food and beverages
Personal care items (such as toilet paper, shampoo, Band-Aids)
Cleaning supplies
Clothing
Make sure you include each family member starting with your work clothes to pajamas. These include:
Shoes, Boots, and coats
Daily clothing
Undergarments
Formal wear
Healthcare
Don't forget to add expenses for your doctor, dentist, and other healthcare providers. These include:
Insurance premiums
Office co-pays
Pharmacy co-pays
Over-the-counter items
Transportation
Add up your regular transportation expenses, whether you own and drive a car or take the bus. These include:
Car payment
Taxi costs
Gas
Public transportation tickets
Car insurance
Parking fees
Miscellaneous
Some living expenses cannot be categorized, but you will need to include them in your budget. These include:
Cell phone bill
Internet
Baby or child necessities
Although you may have other recurring costs in your life, they might not be recognized as living expenses. For instance, you cannot consider recreational activities and entertainment as living expenses.
That implies that your Netflix subscription and gym membership should be sought for elsewhere. You will want to surely add any debt repayment like a student loan in your budget.
How Much of My Income Should I Allocate for Living Expenses?
The actual amount you spend on living expenses will be different based on your income and your city's cost of living. The amount you spend on rent, for instance, will be determined by location and your standard of living.
For example, rent in Los Angeles is expensive than it is in Detroit. A 2-story home will be more expensive than a 1-bedroom apartment.
Finding out your grocery budget will be based on how frequently you eat out and use coupons at the grocery store.
Regardless of your choices or your location, you can draft a rough estimate for your living expenses. Concentrate on the main categories of clothing, housing, transportation, food, and healthcare.
Carefully inspect each component and note down the rough amount you usually spend in each category.
Generally, adopting the 50/20/30 rule is recommended by some experts to plan your budget, especially for a young adult. The 50/20/30 guideline provides a basic financial technique for your expenditure and saving.
The rule implies that you should spend half of your income on your living expense, just like car payments and rent. 20% of your income should go to savings, whether for use on a rainy day or as a down payment on a house.
Put the remaining 30% into personal expenses, such as a night out with family or friends or a weekend adventure.
There is some flexibility on the 50/20/30 rule because it is a guideline. You can make adjustments to the percentages based on your situation.
The major idea is to reduce your living expenses to at least 50% of your income. That will enable you to have enough balance for your savings as well as personal expenditures. 
What if what I earn is not enough to cover all Living Expenses?
The actual question should be – how can I reduce my cost of living? The cost of living can be difficult to afford, especially if you are an entry-level worker or live in a really expensive city. A lot of people like those in the early phase of their careers make use of creative means to ensure their budget works for them.
Below are some easy tips to lower your living expenses in each important category. 
Housing:
Get a roommate to split housing costs
Lower your utilities by controlling water and electricity consumption
Relocate to a smaller, less expensive house
Food and grocery:
Reduce how you eat out
Organize your meals to maximize your food budget
Reduce visits to the coffee shop
Buy in bulk
Buy store brands
Clothing:
Do shopping at consignment stores or through online marketplaces
Make a capsule wardrobe
Cut unnecessary purchases
Healthcare:
Purchase over-the-counter/generic brands
Check to see if flex spending or a health savings account is offered by your boss 
Transportation:
Shop around to get a better rate for car insurance 
If your city has a lot of great public transport systems, consider selling your car 
Purchase a used vehicle and not a new one
Make use of a gas rewards card
Try carpooling
Miscellaneous:
Lower the service plan of your cell phone 
Make use of coupons and coupon codes
Shop at stores that give a discount 
Aside from cutting your expenses, get a side hustle, or a part-time job in your free hours. You can get additional cash from working one night each week as an Uber driver or babysitter. You can complete online surveys or also work as a freelancer or online tutor to make money. 
Striking Out On Your Own: Frequently Asked Questions 
The prospect of getting out on your own can be simultaneously exciting and nerve-wracking. It is only natural for you to have some questions in this scenario. Here are some of the commonly asked questions regarding to moving out on your own:
You can now see that living in the United States can be so much costly, especially if you live in a big city. Even though job salaries often increase in places with higher costs of living, it can still be hard to maintain the significantly high costs of housing as well as healthcare. Nevertheless, we have shown what to expect to spend when you move to any of the US cities.