Long-distance moving companies are regulated and the cost of services will usually be based on miles and weight. But what is the precise cost of two men and a truck, and did you know that Two Men and a Truck is actually the name of a leading mover? 
When researching the breakdown of your moving cost, company branches and locations are owned and operated independently, so how is price determined by each one? Let's investigate.
Have you ever had to move homes on your on entirely? If you answered yes then you know how seemingly easy the job may appear at first, but how difficult it actually is. Once you start facilitating your move, it's easy to get overwhelmed and feel stressed with everything that needs to be handled.
Moving homes can be an emotional process, and physical labor can also take its toll.
There's a lot to do to get your move up and running – from packing items, scheduling, running errands, to actually getting your home relocated. Homeowners considering doing everything on their own may want to reconsider and hire two men a truck, or get friends and family involved. Keep in mind that the overall cost to hire movers can be high, and the time and frustration that can be saved with moving labor professionals, or two men and a truck is significant.
We can help.
Enter Moving Details and Get your Moving Quote in Seconds.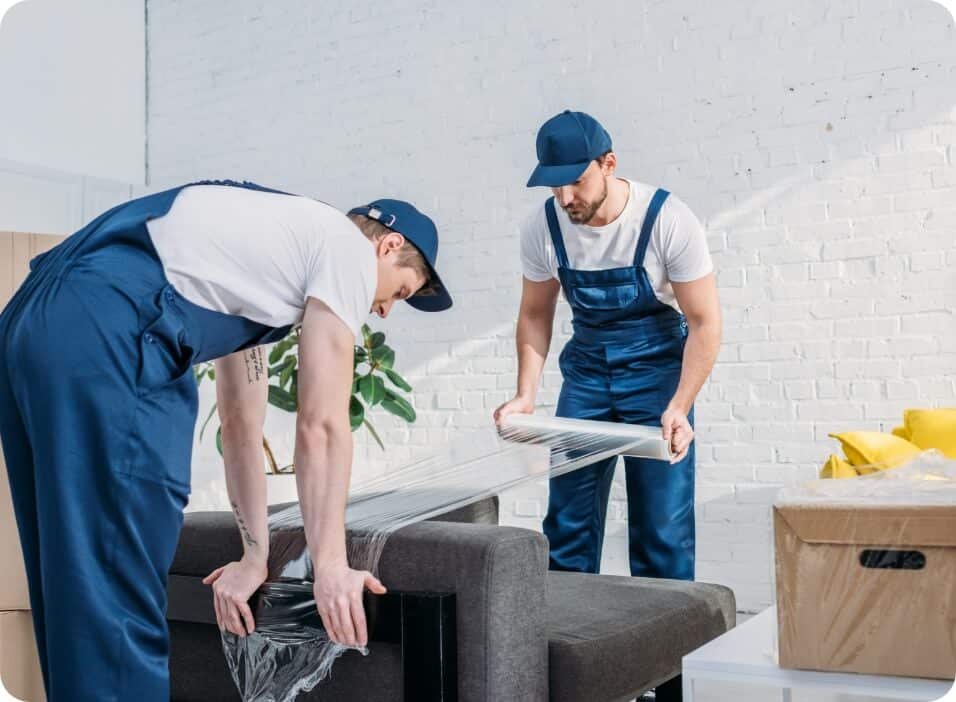 What are Moving Labor Services?
Moving labor services include physical lifting, loading, packing or unpacking, and other options based on your needs and budget. Mix and match the services that'll make your move easier without hiring a full service mover, using labor services instead.
Don't want to pay for full moving services?
Moving labor services are a popular and cost-effective alternative and common option, giving you the flexibility to gain as little or as much assistance as you need.
Save money by moving mid-week, mid-month, and during off-season, February through April, October, and November.
Weekends are the busiest times for moving, along with the beginning and end of the month.
Schedule your move during downtimes and you could be eligible for discounts or you can likely better negotiate prices.
How Does Hiring Moving Labor Work?
Moving labor professionals will carry, load and unload, pack or unpack, haul and get your move onto and from the moving vehicle, rented or your own.
Come moving day, labor service professionals will be ready to help and address all of your needs. But, be aware that moving laborers charge by the hour, so be prepared and save money with smart planning. Stay organized and use your time efficiently to reach your goals.
Location, distance, travel fees, and the number of items you'll be moving all affect cost.
So, you've opted out of using a full service moving company, but you can still get help and hire moving labor professionals to keep items safe and ensure your move runs smoothly.
Skilled moving labor experts provide various services that make moving easier, reducing risk of damaged items.
1. Packing & Unpacking
A big home with lots of items could make packing and loading your move onto a truck a serious hassle. Leave the hard work and stress of getting your move organized, and hire moving labor services to pack and transport your home and belongings safely.
Want to get to your new home and settle in quickly and efficiently? Ask your moving labor professional about unpacking services and feel at home faster and free of unpacking headaches.
Charging hourly is an easy way for movers to make more money, (including two men and a truck – the mover, or any two actual male movers and a moving truck). So, keep this in mind if you hire manpower to pack up your belongings. Time is money.
2. Loading & Unloading
Packing and loading your moving truck are both intense and challenging processes, and that's why loading services are so popular, particularly for heavy and cumbersome furniture pieces and boxes.
Minimize chances of personal injuries that can cost much more than money with professional cross country movers. Benefit from unloading services that'll also reduce chances of damage, hassles, or risk of injuries for everyone.
3. Disassembly & Reassembly Services
Some items don't fit through the doorways of a home, but moving experts find their way around these challenges with disassembly services.
Disassembling extra-large items for safer transport to their new home is common and prevents on-road and unloading damages.
You can also opt-in for reassembly services of disassembled items to have them accessible, functioning, and placed in your new home immediately – hassle-free and easy.
4. Special care
Not every item fits inside of a box or loads onto a truck with ease. Pieces like sculptures, heavy furniture, fragile items and valuables can require the special care and services of movers to ensure they reach your new home damage-free or without delays.
Got your moving estimate from two men and a truck – the mover, or literally two dudes and a vehicle?
While DIY or partially DIY moves can help you save, and Two Men a Truck are an affordable mover, they don't offer price matching. In other words, if you get a better quote from a competitor, you won't be able to negotiate with Two Men a Truck to meet the competitor's price. Focus on your budget and needs, and you can still move with an affordable mover or moving style that works for you.
Check out our best state to state moving guide to see if you can get a better deal.
How Much Does It Cost to Rent a Moving Truck?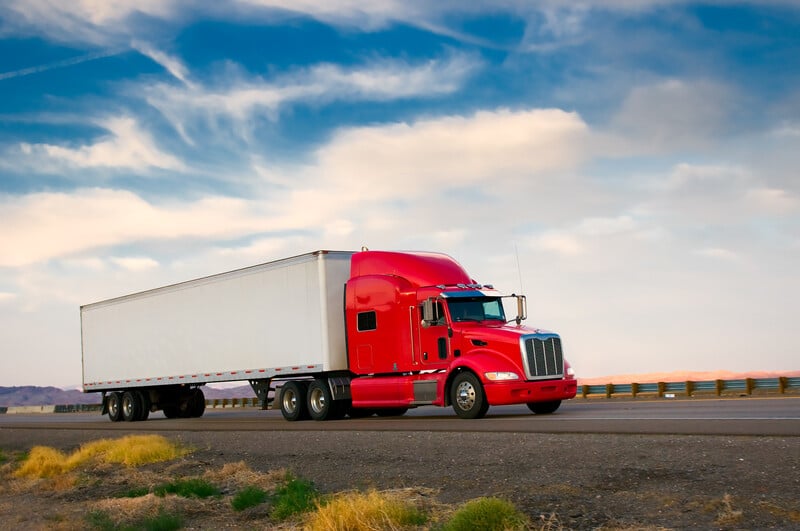 Renting a truck can start at roughly $120 for local moves, reaching over $3000 for long distance moves. Mileage, fuel and move size will affect your choice of truck and the cost as well.
Various factors impact moving costs. Let's explore the costs of renting a moving truck for local moves and one-way trips.
1. Local Moves
The cost of local moves varies based on the distance between the old and new locations and the base fee your local mover charges. Budget for the cost of a moving truck, mileage fees, fuel, insurance and/or damage protection, a deposit, and applicable taxes.
You may also be charged a fee for environmental factors out of your control, along with additional services and specialty equipment that may help you move and should be budgeted for.
2. One-Way Moves
Renting a truck for a one-way move? No worries – bring your rental truck to a nearby location, so you don't have to take the long haul back to where it came from. Budget for a base fee of renting the truck, fuel costs, environmental and damage protection (insurance), applicable taxes, and a deposit.
The breakdown of costs is similar to local moves, so always budget for additional fees based on services or equipment required. Traveling long distances increases the likelihood of damage to items, so insurance should also be considered when packing and transporting items on a rented truck.
Movers that offer the option to hire two men and a truck may also offer moving truck rentals for DIY moves. Since moving also has its slow times, movers frequently offer multiple services and vehicle rentals to maintain cash flow and retain their staff.
Check out your mover's website or call them to inquire about services and rental fees.
Do I Need to Worry About Extra Moving Fees?
Homeowners often worry about unexpected fees popping up at the end of their move, so knowing precise moving costs and what to expect is critical to avoid unpleasant pricing surprises.
Fees you may have to pay when hiring professional moving services:
Long carry fee may apply if movers need to unload, haul and move in items within a specific distance from the moving truck to your front door.
Elevator fee applies when members of a moving team need to use the stairs because there's no elevator or it's out of service on your moving day. 
Extra stop fee: charges for any extra stops you need to make on the way to your new home. 
Storage fees: will apply when items stay on your moving truck longer than the specified duration.
Renting a moving truck can also lead to additional fees including:
Truck damage: any damages to the moving truck you rent will lead to charges to repair the vehicle.
Gas: fill up that tank or get it back to where it was when you started your move to avoid a fuel fee from your truck rental company.
Late returns: will lead to $20-100 fees for returning your vehicle with delays.
Moving supplies: might come with some vehicles, but using them will still cost you and incur additional charges.
Young driver: fees will be charged to operators to access moving vehicles if they're below a specific age, defined by each provider individually.
Additional drivers: any additional drivers over and above the main one will incur extra costs.
Excess mileage: a one-way trip will end up costing you a fee that varies based on the distance surpassed from the allotted mileage.
Cancellation fees: for any cancellation that's usually under 48 hours of your moving day.
Renting a truck or hiring a professional mover can lead to additional charges, but they can also save you stress and headaches, getting you moved safely.
Consider the scale and services of your move to know your costs and ensure it runs smoothly and peacefully.
Enter Moving Details and Get your Moving Quote in Seconds.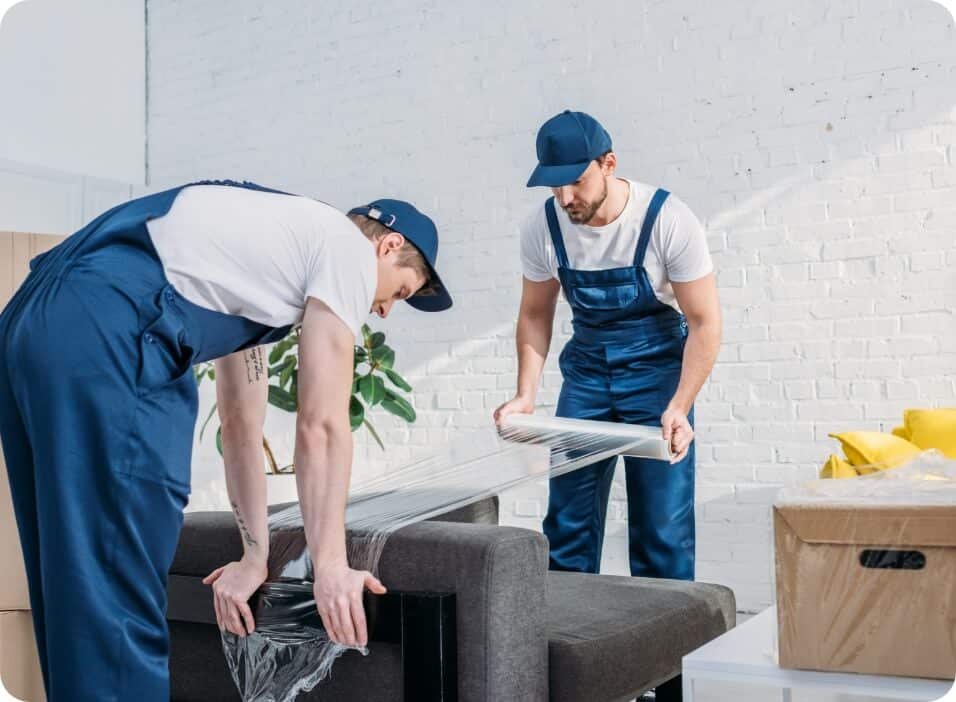 Final Thoughts – Bottom Line Takeaways
Movers in America are available nationwide and getting connected to a range of moving companies or truck rental companies to acquire quotes is generally an easy and fast process.  Whether you hire a licensed, affordable, and reliable mover or take a DIY route and do most of the work by simply renting a vehicle, it's pretty easy to ensure you move without damage, hassle-free, and with insurance.
Research some national moving companies and find your best option for moving day. With Moving APT, finding the perfect mover, price tag, and services to relocate your home is painless, fun, and feasible – pretty much from end to end.