Planning an out of state move and confused about how to get started? This guide is all you need.
An interstate move can be so stressful and challenging. There is packing your belongings, finding trusted cross country movers, getting the necessary paperwork, and transferring utilities involved with an interstate move. However, you can easily scale through these hurdles with the right planning.
We compiled the greatest checklist to help you on relocating to a new state here.
2 Months Before You Move Out
The 2-months grace period gives you enough chances to do so may thongs to ensure your move to another location is successful. You should try and include these suggested tasks in your moving checklist. 
Budget Accordingly: Do you have a moving budget yet? If not, you can start planning one now. Since you have the basic information about your potential moving company and the new home, what is the cost to move your home? Considering your exact moving cost in advance will greatly help you. You may make all the important plans, but the project cannot be done if you don't have money. Immediately after you have received the moving estimates, you can continue to determine your financial capacity and your available options.  
Look for moving companies who take on interstate moves: If you plan on transporting many household belongings with you, getting a good mover should be your priority. Your move will complete with little stress when you move out of your belongings very early. Out of state movers arrive on time to your destination.
Several moving companies all over the country offer various services to satisfy your needs. Moving companies will understand the scopes of an out-of-state move that include the highway's weight requirements and federal regulations of relocating to another state. Obtain quotes from a minimum of 3 separate companies, so you can make a comparison of prices and quality of service before you choose a company to hire.  
Find out new schools and inform the current school: Look for the best school district if you are moving with children. Many websites rate school education effectiveness, which is determined by standard tests, including the number of students who attend the college. Remember to check the sites that enable students and parents to give ratings to the culture of the district.
You cannot determine if a school will be a perfect fit just because it looks good on paper. Immediately you choose a location, inform the current school to get copies of your children's educational records. The current school will make contact with the new school for enrolment protocol and to transfer academic records. 
Give your landlord an official notice: Follow this procedure if you are currently living in a rented house. The majority of landlords give 60-days for vacation. You need to check your lease or rental contract to make sure you meet all the terms before you move-out. You may need to also make important arrangements to repair any broken parts of the house before the expiration of the move-out notice. This makes sure you easily and completely recover your deposit.
Make a plan of action for packing and gathering documents.
Clean your old home and remove items you won't need at your new destination home.
Dispose of unwanted items by throwing a garage sale, online sale, or donations.
Create an inventory of all your possessions for insurance's sake.
Begin to pack up the items you don't have the plan to use, like seasonal clothing as well as photos.
Get official medical records from doctors and other medical care providers.
Purchase packing supplies or gather free moving boxes.
Enter Moving Details and Get your Moving Quote in Seconds.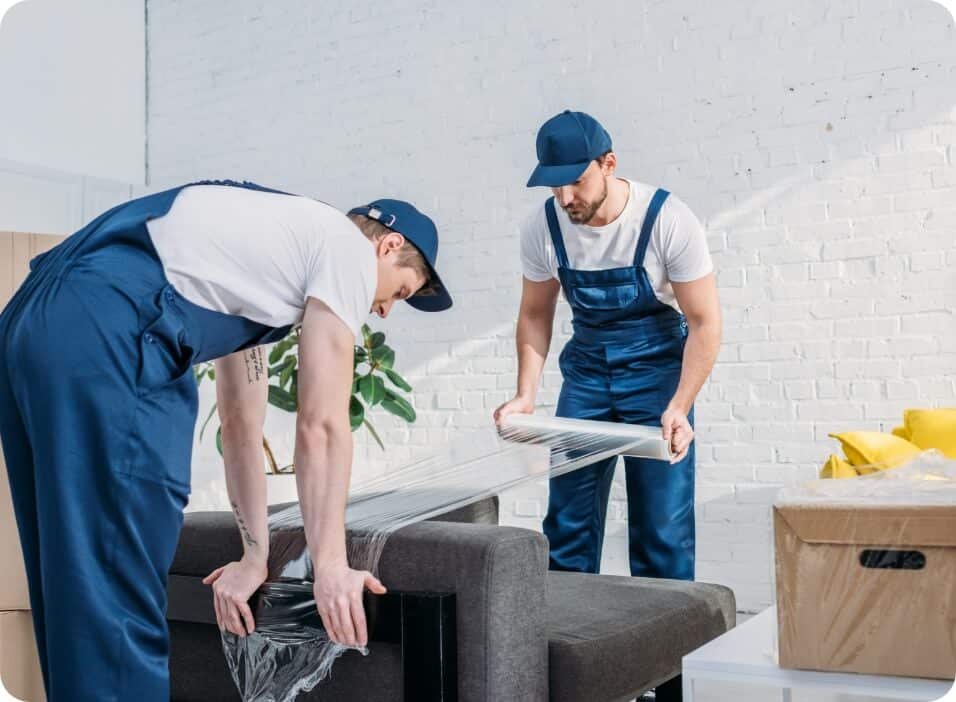 Change your mailing address before you vacate: You will need to change your address with the United States Postal Service before you move-out so that you can receive your important and necessary documents at the new home and not delivered at the former address. 
If there is no one at your new address, quickly start forwarding your mail.
You can get a PO Box rental in your new location.
You will pay $1 for regular mail forwarding, and the premium option costs $20 monthly. 
Secure your living schedule: Do not move if you don't have a home to move into. Suppose you don't have the time to pay a physical visit to the destination state to get a place to move in to, do it online and via the phone. Researching the cost of living, safety, realistic photos of the location, and its culture is very important. Short term rental is perfect for this kind of situation. You won't be committing to a long-term agreement living in an area you may not like overtime. It would help if you were sent a lease to sign by your landlord within four to five weeks before your move-in day.  
Contact utility companies to transfer services: Make early contact with your service providers and inform them of your intention to transfer your utilities to another address. Pick a date, maybe immediately after you move in, for both setting up and activation. You will be able to easily cope in your new area when you have internet, cable, as well as a security system. 
Packing: Packing is one big process. You will arrange moving boxes, labels and plan how to get the packing done. You must give proper labeling to boxes and make sure you don't get confused on the first box to open. You can also ask your mover to pack for you even though this will come with an extra cost, but it worth it. They will get all the boxes and also label them by themselves.
Let us assist you to determine which company to pick. We've got detailed reviews of price, customer service, and features and options for long distance moving companies, rental trucks, and moving container companies.
Verify all moving services that you plan to use:  Contact the moving company agent or rental moving truck company to verify your booking details, such as a pick-up time. Prepare your car for shipping if you are moving it as well.   
Finish packing the essential goods: Since moving is an expensive task, we suggest reducing the cost by packing those items you know are important to you. It would help if you had started packing, but you can now finish it. Remember the following as you pack: 
Label moving boxes by room rather than listing the content
Make a photographic inventory
Measure your bulky belongings
Clear and clean out the fridge
Pack vital documents and identification cards separately. 
Clean up: Right now, we suggest you start doing some additional clean up in your current home. Since many of your possessions are packed in the respective boxes, there is enough space to clean up in the house. This process also allows you to pick up other items that may have been forgotten. You can then complete the packing process and get set for the final move. 
Prepare for moving day: Cash and other essential items will be needed for your moving day. Cash will be needed to tip your movers and to pay for any food or drink you order. While moving all your stuff to your new house, you might need to relax a little before you begin to unpack. Therefore, you need to pack essential items that can be sufficient for 24-hours.
Finally, it's the moving day, and you must be happy and, at the same time, anxious. It would help if you had the following on a moving day:  
Set the alarm and make sure you wake up early enough: Waking up early on a moving day is very important. This makes sure that you have enough time to make any last-minute preparation before the movers knock on the door.  
Arrange enough snacks for the day: You can do this from home or pre-order it. Either way, this would make sure you have something to eat all through the moving process. 
Contact the landlord again: Before you leave the old house, calling the landlord to inform him you've left the house will be helpful. You may also take photos of the current condition of the house before you leave.
Check that all of your household goods arrived safely: Check the list you made and check for any lost or damaged belongings. There will be similar copies with the movers which are referred to as the bill of lading, and it consists of all the items they loaded onto the moving truck and the original condition. If you find everything safe, sign and obtain a copy of the inventory for your documentation. A moving company agent should also sign off on the document. If you notice the damage after the movers leave, take pictures of it for evidence and then file a claim.  
Obtain residency for legal purposes: After moving in, you will need to create a legal domicile for voting and tax purposes. Each state's residency has different specifications and requirements, but most of the states require a minimum of six months. It would be best if you prepared for the following before you can establish residency: 
A genuine street address (PO Box not accepted)
Drop residency in the previous state
Bank account in the new state
Important documents forwarded to a new address
Taxes paid in the new state
Social relations or a local enterprise. 
Update both your driver's license as well as vehicle registration: Everyone understands the stress of Motor Vehicle Agency. You can make time around your moving date when you take time off work during the week to avoid waiting in lines after working on the weekend. Go with a necessary document to update your license in the new state, which includes your existing license, social security card, as well as proof of residency. 
Some states give different criteria for acquiring a new license after moving, so visit the local DMV's website for further information.
Along with transferring your license, you need to also update your car's title, license plates, and registration. As you transfer the necessary documents for your car, you need to also get it inspected by your new state's appropriate authority. Lastly, make sure your auto insurance is registered in your new state of residence.
You might be able to deduct tax from your move. Determine if your moving costs are tax-deductible and the ways to deduct them in the upcoming tax season in our ultimate guide to tax-deductible relocation expenses.    
If you are packing your goods yourself, you will need to pack properly to reduce damage and increase easy unpacking in the new home. The thought of packing a whole household can be tough to create a plan to divide it into a smaller size.
Below are some of the greatest tips from the internet:
Purchase quality moving boxes and avoid over-packing: Use sufficient moving boxes as required by your move so you can easily lift items. You should not allow the weight of your largest boxes to exceed 50 pounds, according to experts.
Protect fragile items, and keep things in place: As explained by Expert, keep fragile items sage in moving boxes by putting paper inside them as well as bubble wrapping on the exterior. Do not leave a space that could contain smaller items. Get your pots and keep spices in them, ensure each space is sensibly used.
Label your boxes with each room and a summary of its contents: Assigning a number to each box and making a list of its content in a small notebook is one great way to know what you've packed and to ensure you still have all your stuff when you unpack.
Pack your drawers as you find them when possible: Your drawers are likely organized and to unpack and repack them would cause you a lot of pain on both ends. To prevent yourself from this headache by pulling out the drawer, wrapping it, and moving it with its content.
Take photographs of your electronics before you disconnect your setup: As recommended by experts, take a picture of the cords on the back of your electronics using your camera or phone before you disconnect it so that you can know where each cord goes. This will save you a great amount of time when you set the electronics up again.
Don't forget to label each side of the moving box with the name of the room as you can't be sure of the side you will see most often when your items are being unloaded.
Add a packing sheet in the moving box so you can know the content of the box from the start during unpacking. Lastly, avoid over-packing boxes so they don't get too heavy for you to carry. 
The interstate moving nature makes it relatively possible to determine the moving price on your own – only your interstate moving company can perform that for you with any accuracy that will satisfy you. Yet, to be at least ready for what's coming, check some interstate moving costs examples given here.  
Frequently Asked Questions
That is it; these are the major things that you need to include in your moving checklist before you move. Moving is a stressful task, but if you plan it well, it can be done smoothly. With the help of trusted out of state movers, you will have a wonderful, stress-free move.