Even though everyone knows that moving from one place to another comes at a high cost, most people planning a move still make an effort to figure out how to move at a cheaper cost. There are various moving services being offered by moving companies for clients to choose from. Whether you are using a professional moving company or you want to opt for DIY, moving boxes are vital to a successful packing and moving.
Moving boxes are designed using folded materials that provide adequate protection to your possessions. There are various boxes for different purposes or uses. When selecting boxes for moving, confirm how strong the boxes are to avoid damage or breakage to your belongings.
Among the things to consider when moving is to determine where you will get moving boxes and other moving supplies. You will have to put more consideration on the strength and structure of the moving boxes when you are moving to a long-distance location to be sure your belongings are safe from being broken or damaged during the relocation. Having known that, you will wonder where you can find the required moving boxes for your move. This is one of the aims of this post. We will be sharing those places you can get free moving boxes and place you can buy quality boxes for moving. Relax, as we dive into it one after the other.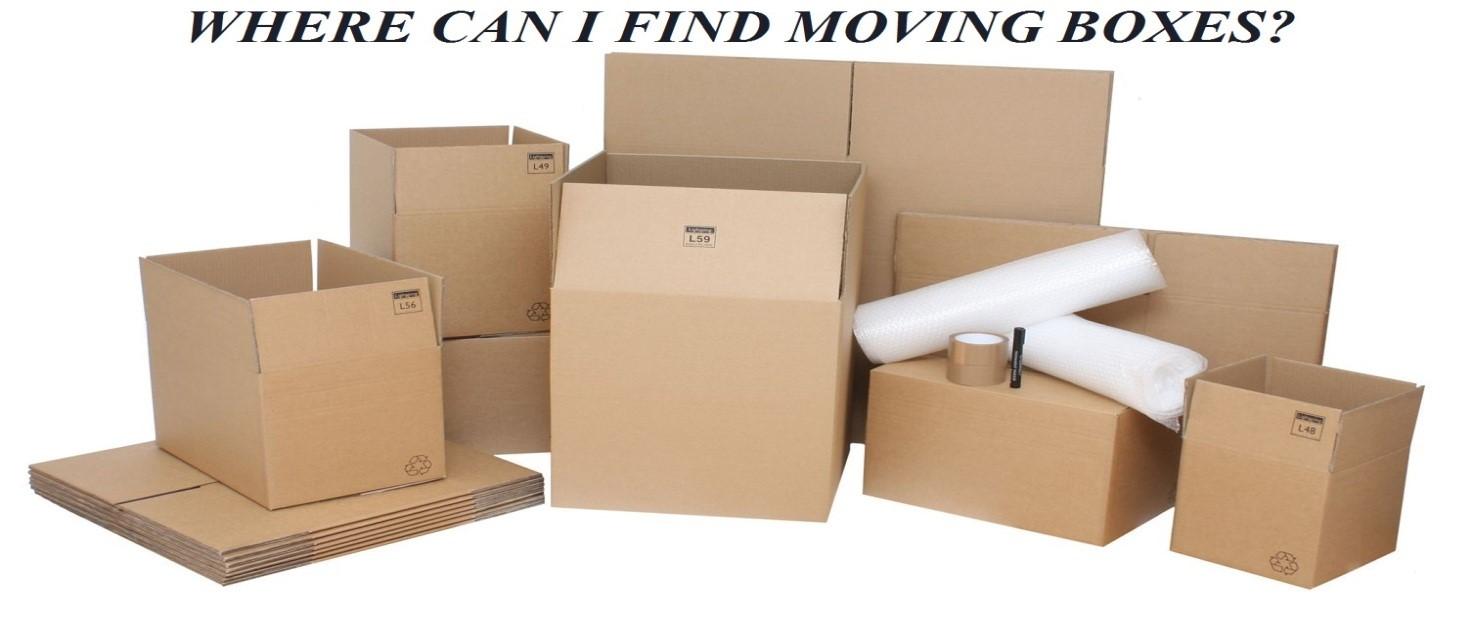 The Best Moving Boxes For Your Move
Considering the number of rooms you need to pack up is very important when looking for moving boxes. A moving box that works well when packing your room may not be perfect for your kitchen. You will need moving boxes with special inserts to hold delicate items firmly when packing items like dishes, glasses, and so on. On the other hand, you will need another type of boxes to pack your documents – using a file storage box is the best option in this case. The storage condition in your new home must be considered, as well. Even though using eco-friendly moving bins is advisable, storing them might be more difficult in your new place due to lack of space.
Although the space in your new place will determine which option you go with; however, you may not need more than cardboard boxes and a roll of tape. Choosing the best moving boxes for moving your belongings is very important regardless of your moving method.
Consider the list of recommended moving boxes below for safe packing of your home:
Plastic Bins for Bedrooms
It is advisable to get some durable plastic bins when relocating. Although they can be used for larger possessions like winter coats, bedding, and bulky sweaters, they can as well be used as storage bins after the move. Stacking of some of these plastic bins is also easier, and they can be easily stored or arranged in the garage or a closet after your move. I prefer the clear plastic bins to the opaque ones, as you will find it easier to see the content from outside.
Corrugated Boxes for Kitchen Items
Those that have experience in moving a home know that packing up the kitchen can be so difficult. You can easily overlook delicate items such as glassware and dishes, as you will focus more on heavy items like coffee maker, crockpot, and Panini. If these pricey and fragile items are not properly cared for, they may not be useful for you when you get to your new home as a result of damage. You will need more than foam pouches and bubble wrap to prevent your fragile items from breaking. You will require a thick double-wall corrugated moving box with divider sets if you decide to pack your dishes properly.
These dividers are available for both your glassware and dishes. Your fragile bowls, barware, plates, glasses, saucers, and crystals will be protected and separated when you add cellular dividers to your moving boxes. The experience I had with using dish packing kits for two different moves was a memorable one, as none of my fragile items got broken throughout the moves. Ensure you also include an additional protection layer such as bubble wrap and/or foam pouches to each fragile items (glassware and dishes).
TV Boxes and Telescope Boxes for Den
Packing all your artwork carefully and properly is also important regardless of their worth. It is advisable to get many picture moving boxes that have enough space to contain your mirrors, large prints, and canvas art to avoid scratches or damages to these items while moving. Due to the size, shape, and expansiveness of the telescope boxes, they are perfect for extra-large artwork. It is as if they are specially made for those artworks and wall mirrors that are longer.
We recommend that you use a heavy-duty corrugated flat-panel Television box when you are packing your TV. You can get them in different sizes as they are specially made in varieties of size to accommodate any TV screen. It is important to make sure that you wrap TV perfectly in the box. Your TV might get broken, scratched or even damaged before getting to its destination if the TV box is too large for it.
Wardrobe Boxes for the Closets
You do not have to worry about getting to your destination with squeezed suits and garb before you know that moving is stressful. Purchase wardrobe boxes as many as needed with hanging bars to avoid spending high on dry-cleaning and stressful ironing after your move. Getting the boxes and arranging your closets therein is worthwhile. You will get to leave your clothes on the hanger exactly the way they were in your previous home using the hanging bar. You can also pack your pillows, shoes and yoga mats, and other bedroom items in the boxes.
Different Sizes of Moving Boxes for the Living Room
It is advisable to have more medium-sized moving boxes when shopping for boxes for your move. Medium and small moving boxes are convenient for knick-knacks, books, and heavier items that sit in your living room. Kindly note that you may end up breaking both the boxes and your back if you determine to use larger boxes for heavier and larger items. It is therefore recommended that you pack larger boxes with lighter belongings such as toys, wastebaskets, blankets, small rugs, and small-pillows.
Where to Find Free Boxes for Moving?
If you make your findings very well, there are many free moving boxes around you. You will be saving some money from your moving cost by using free moving boxes and at the same time helping the environment by reusing it rather than going for new ones. I will provide you with ideas on how to get free moving boxes. This may require you to sit down with your computer and click your mouse a few times or go out and do little research.
If you make use of the ideas outlined below, you will have more opportunities for finding free moving boxes for your upcoming move:
Craigslist: This online marketplace is widely known for providing almost everything you may need. You will find varieties of items such as couches, jobs, and a lot more on your local Craigslist page. There is also a free section on the website where locals are allowed to list possessions they wish to give out. This is a good place to start your findings if anyone is willing to give away moving boxes. You can as well post your ad notifying people of your need for free moving boxes and supplies.
Possible outcome: An unlimited amount of moving boxes as required
Freecycle: You can also check Freecycle for free moving boxes in your area after checking out Craigslist. You will be required to join the Freecycle group in your local area and then post that you need some free moving boxes, and then wait for responses. You never can tell how many moving boxes are wasting away in some people's garage. Kindly note that some local Freecycle groups will mandate it for members to give away stuff before they can have access to the free item.
Possible outcome: An average of 10-20 moving boxes
Liquor Stores: Moving is made easy with these durable and sturdy boxes from these stores, as they enable you to carry fragile items like glass alcohol bottles. The stores differ from one another; you will have to make an inquiry about when the next bottle shipments will arrive and also ask them to reserve some boxes for you. Ensure you go to the store(s) during the day and not in the night when they will be busy.
Possible outcome: 5-10 free moving boxes each night on an average
Facebook Community Groups: Almost everything has Facebook groups these days, and your local community is not left out. Search for local community groups closer to you or groups where people swap or give out stuff. You only have to post your need for some free moving boxes on these groups and wait for people's response, as some of them might have or know someone who will have it soon enough. You can also get moving boxes by visiting the Facebook marketplace. Just change the listing option to "free" to see if there is any free moving box in your area or near it.
Possible outcome: Depends on how much boxes you find or how much people are willing to give out.
U-Haul Box Exchange: People all over the world connect to find moving supplies through the Customer Connect Box Exchange feature provided by U-Haul. You only need to supply your location and keywords like "free moving boxes" to find someone closer to your area that is willing to give away boxes. Most people giving away moving boxes are those that just relocated and need to get rid of the many moving boxes as soon as possible.
Possible outcome: Depends on how many moving boxes you find.
Office Depot: You will find many boxes lying around at Office Depot on Tuesday being their first shipment day of the week. They will gladly release the boxes to you anytime you show up and make a request for some boxes. Request for boxes that have lids because they always carry printer and copier paper. This could be your best move in getting moving and storage boxes.
Possible outcome: 20-30 boxes on each shipment with the store and location being key factors to consider.
Grocery Store: There should be many large-sized boxes available for grabs at large and small grocery stores. Because grocery stores receive shipments every week, sometimes every day, for them to have a fresh stock of items. They always have sturdy boxes to recycle daily. Be sure to notify the store manager of your plan to move the next time you go shopping and also tell them you would like to take those grocery store boxes lying around to help ease your move. It is certain they will give you the boxes without hesitation. You only need to notify the store before you later show up and ask for those boxes. They usually throw the boxes away every day or even recycle them. You can either place a call to them or walk-in to the store or ask for boxes from their next shipment. Just make sure you don't go there when they are busy.
Possible outcome: An average of 10-15 storage boxes on an average.
Friends and Neighbors: Asking your friends and neighbors for free boxes remain the easiest way to find free moving boxes. You can call, text, or even knock on doors to ask if any of them have extra boxes from their recent move or recent deliveries. You can as well post your need for free boxes on your status on Twitter, Facebook, or Instagram for your friends to see.
Possible outcome: Depends on how many moving boxes you find.
Letgo: There are free listings available on Letgo or another similar selling app apart from the basic buy and sale listings. Enter "boxes" on the app and search to get results on the list of available boxes in your area. Look out for any listing that has "free" on it so you can pick it up freely.
Possible outcome: Depends on how many moving boxes you find.
Bookstores: There should be many boxes available for you to pack your items like books and knick-knacks at the local and large-chain bookstores in your area. These boxes will be lighter in weight but sturdy, as the original contents (books) are heavier in weight. You can also contact universities and colleges in your area for extra boxes.
Possible outcome: Depends on how many moving boxes you find.
Where to Buy Boxes for Moving? 
Are you lost on where to buy moving boxes? We will provide you with the right direction on where to get it, as your move draws near. Regardless of your need for the boxes, whether a move, renovation or others, you can get the boxes from Home Depot, Walmart, Amazon, and many others that sell boxes for such needs. The question now is – how can you go about it? Don't worry, everything has been explained here:
This company offers moving boxes for sale directly from its factory, and is the best in the product and service it offers. Box Engine has been in the business for the past eight (8) years and is rated A with the Better Business Bureau (BBB), meaning that they are reliable and is not closing down. The company knows exactly what customer requires for packing and moving, they are also determined to help you pack for your upcoming move, and they do it well. The company delivers above 100,000 boxes each day for both consumers and business customers and have a lot of reviews from old customers. That is due to the high-quality moving boxes, reasonable prices, and excellent customer service they provide.
There are varieties of boxes and moving supplies available on this site, so you will have to take your time and navigate the website to find the one you need, as the site is not that easy to use compared to BoxEngine.com. Home Depot is the largest home improvement store that sells directly to the consumer, having over 2200 stores across the nation. The company has more inventories, such as moving boxes and supplies than others in the business. The ability to pick your moving supplies from the store after purchasing at the comfort of your home is one of the benefits that come with shopping for supplies on Home Depots website.
Also, the ability to shop for any amount of moving boxes on their website gives Home Depots an edge over some other companies in the business. You can even order for just a single moving box of a particular size. Other websites will have you order the boxes in bundles for cost's sake.
You will find cheap, used and high quality moving and shipping boxes on this website. They have been in business for the past twelve years and have an A+ rating with the Better Business Bureau. Orders are shipped for free throughout the United States by UsedCardboardBoxes.com. You will get to save some money on your shopping when you purchase on their website, as they provide you quality boxes at a cheaper price.
The only difference between this company and Home Depot is that it has less presence in the country with over 1800 stores. Lowes can mostly be found just across the street where you will find Home Depot, providing customers with more options when it comes to shopping for moving supplies. The online box order on Lowes website is similar to that of Home Depot. Their website contains wardrobe boxes, standard boxes, TV boxes, and different moving supplies directly on their website, and it is easy to browse and locate items on their site. They provide you with quality moving boxes that will help you with packing before you move.
It is advisable to consider Amazon if you are in search of high quality moving boxes and other moving supplies so you can put your Prime membership to use. They make use of flat bundles to sell and ship the boxes to reduce the shipping costs and also provide you with ease in moving them around after delivery. If you are a prime member, then you will surely get your item in a couple of days after placing your order. The varieties of sizes of boxes available on Amazon are similar to that of Box Engine which includes small, medium, large and extra-large.
The prices are just a little bit lower compared to Box Engine. Box Engine's dedicated website for moving boxes is more user-friendly compared to Amazon's on this particular business. The unique and cost-effective product provided by UsedCardboardBoxes.com also gives them an edge over Amazon. However, as an Amazon faithful, you can rest assured that you will find quality moving boxes and supplies on the website.
Most people prefer to rent the Orange moving trucks for local or long distance moves rather than using U-Haul's moving boxes even though they are available and also in good quality. There are several options for moving boxes and supplies on their website. They wouldn't have made it on our list if the quality of their cardboard is not high. You will only be paying for shipping if you order for moving boxes to be delivered in your home and the order is not up to $99. You can also consider renting plastic boxes from U-Haul for your move.
When you choose U-Pack as your moving company for your upcoming move, you are at the best position to negotiate a further discount with them when you choose to buy moving boxes and supplies from them. The company has moving boxes available in varieties of size and types just as any of the companies on this list. Your order will be shipped the same day if you place it by or before 4 pm EST from Monday to Friday. Their website is properly organized, and you only need to navigate the Moving Boxes U-Pack section to see the varieties of moving boxes they have and also to place your order.
Walmart is a Big moving box store with many physical locations where you can pick up the boxes you ordered online. You will be offered free two-day shipping on orders above $35 if you prefer to have it shipped to your location. You can get all the standard moving box sizes and supplies on Walmart's website. Moving boxes from Box Engine are also available for resell on the website. As a faithful Walmart shopper, you will find quality moving boxes on their website.
Cardboard packing boxes of different sizes and moving supplies such as bundling film, packing paper, packing tape, and tape dispensers are all available in most of the BigSteelBox stores. You can also get ratchet straps and moving blankets from them. Even though other companies sell moving boxes to you at a less high price, this company will deliver your moving boxes and supplies together with your container – a service that is greatly appreciated by most customers. Their moving and storage experts are available to help you determine the number of boxes you will need to pack up your belongings. This implies that you will be getting the right number of moving boxes you need for your move.
You can find moving and packing supplies at UPS stores, as they are widely known for helping people ship items across the globe. Although the company is not the best option when you are considering the cost; however, they provide the customer with different size of cardboard boxes and also make custom boxes if there is a need to protect a special item. The company also offers packing and shipping services of any size of belongings from one location to another. The store will determine the price, so feel free to enter the UPS store in your area to seek advice for the type and size of boxes you need and also request for a quote.
Conclusion
Make sure you take a proper record of all the items in your home when moving. Figure out the items you will be packing and the packing materials needed for the job to know where to go for your needs. Also, figure out the type and size of moving boxes you will be using. Although local or short-distance moves don't require much packing; however, you need to make use of quality moving boxes or containers for packing. You may need the service of an expert during packing to ensure your items are properly arranged in the moving vehicle to avoid any form of damages to your belongings. Hire the service of professional packers (if needed). Do you find this post helpful? Drop your comment.