One of the most fabulous cities in the world is no doubt Miami. With a coastline that can make any city in the world look inferior, Miami, the most popular city is no doubt one of the most known out there.
It is not a surprise then that every year a lot of people contemplate making the move to Florida particularly Miami. If you are planning to move, then one of the easiest ways to do so is by using national moving companies that would help you move all your belongings to your new residence in Miami.
Before we get to the moving part; however, it would be wise to consider just what the cost of living in Miami is really like. The truth is that moving to somewhere new with doing adequate research most times would end in disappointment and despair. So before you get national moving companies to start packing your bags.
Here is Everything You Should Know About the Cost of Living in Miami
1. Housing
The truth is that the first thing you would need to get if you are interested in moving to Miami would be the housing plans and opportunities in Miami. If you are looking to live in Miami by moving there, then you would have the chance to either rent or move to a brand new apartment or house that you owned.
If you are looking to rent an apartment with just one bedroom, then you should be ready to pay at least $1,840 per month. This would be the price if you are looking for an apartment that is close to the city. If you are happy with an apartment outside the city, then you can get a one-bedroom apartment for $1300-1400.
A 3 three-bedroom apartment would cost you at least $3200-$3400 if it is gotten at the city center while you would have to pay $2200 to $2400 if you are going to get an apartment outside the city center. You would also get the chance to buy an apartment.
The price per square meter when it comes to getting an apartment in the city would cost you around $4000. It would cost $1000 left if it is located outside the city center. Therefore, before you actually fly or move to Miami, be sure that you have calculated the cost. This would ensure that you can call the national moving companies to get the rest of the job done in less than no time.
2. Transportation
If you want to live comfortably in a city, then you would surely have to get a reliable means of moving about. This means that the transportation system has to be really good. Transport in Miami would cost you moderate fees. If you are looking to use the local transport, you should expect to pay an average of $2.30 for every trip which is made.
If you plan on using the monthly pass, then you would probably spend $112.50 to get it. How long this would last would depend on just how efficient they would be in using it. If you plan on using a taxi throughout Miami, then you would probably have to pay an average of almost $2 for every km that is being spent in the taxi.
If you plan to use your car; however, you would have to spend $0.74 on every liter of fuel you get. Buying a car in Miami would vary depending on the car which you intend to use.
However, a good car could be anywhere in between the ranges of $6000 to about $22000. It is really left for you to choose the car which you would love to drive.
3. Utilities
Another thing before you employ the services of the national moving companies. You should make sure you have a fair knowledge of how much utilities would cost you while you are living in Miami.
In case you are wondering what utilities are, these are things such as electricity, heating services, and perhaps even the water supply that each house is supposed to get. The amount which you are supposed to pay for electricity would differ depending on the type of apartments which you are living in. It would range from $115 to about $170. You should make sure to check just how much you might have to pay every month.
Other forms of utilities such as mobile tariffs per month would also have to be taken into consideration. You should expect to $0.15 per minute for every minute that you spend on the phone. This price does not include any discounts which you might be given.
Another important part of life is definitely the internet. To get an internet service that runs on 60 MPs or which comes with unlimited data, you would have to pay up to $60 on average for it. However, this would probably vary based on the internet provider which you are using.
4. Entertainment and fitness
If you are someone who values entertainment, then you would surely want to know what the cost of entertainment would surely be. Granted, the taste of people would vary when it comes to this aspect as different people have different doses of entertainment which is just perfect for them.
However, to help you get a sense of how much the average entertainment would cost, you can expect to get tickets to a blockbuster movie for about $12.50 for one person. So depending on how much entertainment you like, this could be significant or could just be a minor drop in the ocean.
This would be the same if you are into fitness and exercise. In Miami, there are a lot of fitness clubs that come with subscription prices. You should expect the prices of these clubs to be between the ranges of $35 to about $40. So you have a decision to make as to how much fitness you would require in a month.
5. Children and Education
If you have kids, then this is a fundamental question which you would have to deal with. Your kids are probably the most important thing in your life, and you would want to give them the best that you can afford.
If you have a little child in Miami who is still in preschool, you would have to fork out about $790 every month for that child. If your child is in a private primary school, then you would be paying about $17,000 every year. It is important to note that this does not in any way include schools that are owned by the state.
6. Clothes
If you are planning on moving with national moving companies in the near future to Miami, then you would be concerned about a few things. Clothes would definitely be one of them. If you are someone who loves to look trendy and fashionable, then you would love to get a designer dress once in a while.
To get a summer dress in some of the top designer shops which are in Miami, you would have to spend on average $33. Getting yourself trainers which are in the mid-range would probably cost you $40 to $70 depending on the make and the type of shoe you are getting.
If you are planning to get yourself formal shoes, then you should be willing to fork out about $30 to $80 depending on the shoes which you would want to get. Of course, shopping is not every day, and you may only get to spend this once in a while. So make sure that you shop around for the best price.
7. Food
The holy grail of all when considering the cost of living would be no doubt food. When it comes to food, there are two options. You would have to choose between having to eat out most of the time and spending money on restaurants. The other option which is way cheaper would see you eat mostly at home.
Eating in restaurants in Miami would cost you a small fortune depending on where you wish to eat. If you choose to have a meal in a cheap restaurant, then you can expect to pay $15 for every meal which is eaten on average.
However, deciding to eat fast food such as McDonald's or any other restaurant in their range would see you spend only $7.50 for a simple meal. Thinking of taking a special someone to a fancy restaurant? Be prepared to dish out about $75 in order to enjoy a three-course meal. This would probably never or rarely happen.
If you decide to cook, then you would have to visit the markets for things you can buy. Some things which would probably make your grocery list would be milk which would cost about a dollar, bread which would cost you about $2.95, and chicken which would cost you about $8 amongst so many other things.
Roughly a trip to the market for the week would see you spend about $200 which would catapult to $800 for the entire week which is a fairly decent price.
8. Average Cost of living
So taking in everything that has been said, you would probably need a good job to live in the city of Miami. Miami is the 43rd most expensive city in the world to live in, but the fantastic scenery makes it worth it.
For a single person, you should be earning at least $992.81 per month to have a chance of living comfortably. If you are a family of four, having a monthly income of about $3630 would go a long way in making sure that you can take care of your family well in Miami. `
9. Next Step to take
After you have evaluated all that you would have to do, the next step would be to contact national moving companies to sort out the transportation of your belongings to Miami. It is important to note that at this point, you should have made all the arrangements that need to be done regarding moving to a new state.
While you might be tempted to do most of the packing back yourself, there are a number of reasons why you should allow national moving companies to do the job for you.
For one thing, it is quite consuming. Moving to Miami is surely a big move and one that you cannot handle all by yourself. National moving companies would swoop in to save the day and give you one less thing to worry about.
Another reason is that national moving companies are professionals. Therefore, they know how to take care of your things in the best way possible. This would ensure that your things reach Miami safely.
While going for national moving companies, including long distance moving companies, make sure that you keep your eyes on your budget. The cost of living in Miami would be something to contend with in the future. Therefore, it would be an error to spend all your money hiring movers. Make sure you shop around to get the best possible price.
Then make sure that you balance this out with other factors such as the reputation of the national moving company and the type of employers which they have. It is important to know that the figures for the cost of living are rough estimates. To get a very good feel of the cost of living, you should visit Miami before completing your move.
This would give you the best idea of what you should expect when making the move. You would not face any shocks after the move has been completed.
Current Prices List of Items and Services in Miami, Florida, U.S.
| | |
| --- | --- |
| Items | Prices |
| McMeal at McDonald's or a similar Combo Meal | $8.00 |
| Meal, cheaper Restaurant | $19.00 |
| Meal for two people, mid-level restaurant, 3-course | $70.00 |
| Domestic Beer: 0.5ltr draught | $6.00 |
| Imported Beer: 0.33ltr bottle | $8.00 |
| Cappuccino regular | $4.15 |
| Coke/Pepsi: 0.33ltr bottle | $1.98 |
| Water: 0.33ltr bottle | $1.58 |
| | |
| --- | --- |
| Items | Prices |
| Eggs: regular (dozen) | $2.74 |
| Fresh white bread (loaf): 500g | $2.90 |
| Local cheese: 1kg | $12.18 |
| Milk (regular): 1ltr | $0.97 |
| Rice (white): 1kg | $5.21 |
| Chicken Fillets: 1kg | $10.13 |
| Beef round: 1kg or similar back leg of red meat | $13.70 |
| Banana: 1kg | $1.59 |
| Apples: 1kg | $5.25 |
| Oranges: 1kg | $1.59 |
| Potato: 1kg | $2.43 |
| Onion: 1kg | $2.44 |
| Tomato:1kg | $4.76 |
| Lettuce: 1 head | $2.08 |
| Water: 1.5ltr bottle | $10.72 |
| Domestic Beer: 0.5ltr bottle | $2.74 |
| Imported Beer: 0.33ltr bottle | $2.65 |
| Bottle of wine: mid-range | $10.72 |
| Cigarettes: 20packs of Marlboro | $7.50 |
| | |
| --- | --- |
| Items | Prices |
| 1-way ticket: local transport | $2.50 |
| Monthly pass: Regular price | $112.50 |
| Taxi: start (Normal tariff) | $3.00 |
| Taxi: 1km (normal tariff) | $2.13 |
| Taxi: 1hr waiting (normal tariff) | $24.50 |
| Gasoline: 1ltr | $0.66 |
| Volkswagen golf: 1.4 90KW trendline | $23,000.00 |
| Toyota Corolla Sedan: 1.6l 97KW comfort | $20,603.81 |
| | |
| --- | --- |
| Items | Prices |
| Basic utilities such as Heating, Cooling, Electricity, Garbage, and Water for 85m2 apartment | $155.19 |
| One minute of Prepaid Mobile Tariff Local with no discounts or plans | $0.19 |
| Internet: 60 Mbps+, Cable/ADSL, or Unlimited Data | $65.33 |
| | |
| --- | --- |
| Services | Prices |
| Fitness club: monthly fee per adult | $46.94 |
| Tennis court rent: one hour per weekend | $18.29 |
| Cinema: international release per seat | $14.00 |
| | |
| --- | --- |
| Services | Prices |
| Kindergarten, Private, Full day, monthly price per child | $852.40 |
| International primary school: price per annum per child | $21,769.23 |
| | |
| --- | --- |
| Items | Prices |
| One pair of jeans: Levis 501/Equivalent | $46.36 |
| One summer dress from a chain store like H&M or Zara | $38.70 |
| One pair of Men Leather Business shoes | $81.42 |
| One pair of Nike Running shoes (mid-level) | $100.72 |
| | |
| --- | --- |
| Items | Prices |
| 1-bedroom apartment in City Center | $1,809.83 |
| 1-bedroom apartment outside of City Center | $1,290.43 |
| 3-bedrooms apartment in City Center | $3,446.89 |
| 3-bedrooms apartment outside of City Center | $2,419.33 |
| | |
| --- | --- |
| Items | Prices |
| Price for each square meter to purchase an apartment in City Center | $4,588.44 |
| Price for each square meter to purchase an apartment outside City Center | $2,779.23 |
10. Salaries and Finances
| | |
| --- | --- |
| Items | Prices |
| Median monthly net salary after tax | $3,200.83 |
| Annual mortgage interest rate (%) for 20 years fixed-rate | 4.21 |
The Average Cost of Living in Miami
| | | | |
| --- | --- | --- | --- |
| Cost of Living | Miami | Florida | USA |
| General | $123.1 | $102.8 | $100 |
| Grocery | $107.3 | $102.8 | $100 |
| Health | $98.8 | $98 | $100 |
| Housing | $142.7 | $102.6 | $100 |
| Median Home Cost | $329,900 | $237,100 | $231,200 |
| Utilities | $95.5 | $101.3 | $100 |
| Transportation | $144.5 | $112.6 | $100 |
| Miscellaneous | $104.8 | $96.9 | $100 |
The Pros and Cons of moving to Miami
We always concentrate on the advantages of moving to Miami, and that is proper because there are many of them. But just like any city, there are also some setbacks to living in Miami.
Here, we will discuss a few of those together with the benefits to help you determine if moving to Miami is the best choice for you.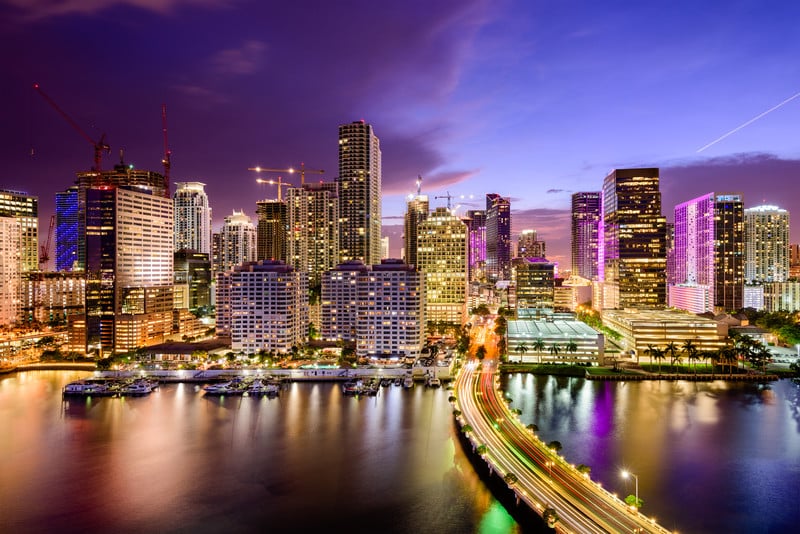 Moving to another city for work is one of the many reasons people choose to relocate. Although you can move without a job, it makes life easier to make sure you have a job in your field before relocating.
Miami is a great city for tourists, especially for numerous industries. That is why most people gain employment in the service industry such as bars, hotels, airports, restaurants, and cruise ships; other employment opportunities are in the various multinational companies that have many big offices across the city.
There is an increase in job opportunities in the construction industry because of the need for housing and office space. Education, logistics, healthcare, transportation, and retail as many as possible should be considered.
Below are some of the key things to consider when relocating for work: 
Salary: Salaries in Miami are lower than those of other big cities in the United States. You should be able to have an insight into the amount you will want to be earning to make the move a worthy endeavor based on the costs we mentioned above. Payscale and Glassdoor are examples of websites that you can check for salary ranges
How to get a job: If you want many job opportunities before you relocate to Miami, but are confused about where to begin, kindly check websites like Craigslist, Monster, Career Builder, Indeed Snagajob to start. You may also use Google to research recruiters in your line of work, as they usually help get you some interviews.  
Is living in Miami FL too expensive?
Based on an early 2020 report from Rentcafe.com, a rental aggregate website, the average cost to rent an apartment in Miami is at $1,702/month. This cost might sound too expensive to new residents, but note that the highest rates discovered in the city's wealthiest and exclusive neighborhoods are included in the expensive rents.
How much money will it cost me to move to Miami?
A 4-person family will spend about $3,700 each month to live in Miami aside from housing, according to Numbeo. A single person living in Miami will spend around $3,700 each month also without aside housing.
To rent an apartment, expect to pay between $1,700 and $2,100 based on your preferred location. So, if you are moving to Miami, you should know how much to save for a successful relocation.
Is it fun living in Miami?
Miami is an incomparable city. There is fun, craziness, wildness, loudness, and astonishingly beautiful places in Miami. However, Miami is not for everyone, and newcomers often feel like their move to the city was a mistake on their part. 
What is the lowest wage in Miami?
The minimum wage in Florida on the 1st of January 2020 increased from $8.46 in 2019 to $8.56, which is now above the national minimum wage of $7.25. This change makes server minimum wage in Florida to be at $5.4/hour, and they must earn a minimum of $3.02 in tip credits. 
Between Miami and New York, which city is cheaper?
Miami tends to be cheaper than New York City and that is one of the attractive features of the city. The cost of living in Miami is 22% lesser than in New York City, with house rent at 42% lower than in New York City. 
Is living in Miami dangerous?
Miami was one of the worst cities in the United States to live in, based on the increased crime rate in 2016. It was revealed by the FBI crime data analysis that the total crime in Miami is 42 per 1,000 residents even though properties-targeted crimes are higher than assault. 
Is the crime in Miami the worst?
On the United States safety ranking, Miami ranked poorly at 879 crimes per 100,000 people compared to the national average of 386. The national average crime rate is almost tripled by an increased crime rate of 1,023 incidents for every 100,000 residents.   
How safe is Miami South Beach?
Visitors are generally safe at Miami Beach. However, similar to most major tourist attraction centers, pickpocketing is very common, especially during night-time and along the every-busy Washington Street. Don't walk alone at night and stay away from familiar areas. 
Between Florida and California, which is cheaper?
Firstly, the cost of living in Florida is very cheaper. California is the second most expensive place to live in the United States, so people moving from California will get more affordable real estate prices in Florida. Aside from Florida's affordability, it also presents more job opportunities.     
Conclusion
Moving to a different place altogether is a scary but exciting journey. To make sure that your journey ends well, make sure that you put the right things first. This would include finding out the cost of living and making arrangements to move through the help of national moving companies. With this, you can do no wrong in your transition.