Moving to Los Angeles is not very difficult, especially with advance planning and help from friends, family, or professional movers. With their help and a few of the moving tips below, moving to Los Angeles can be a relatively pain-free experience that singles, couples, and families can do.
Whether you're moving to Los Angeles for the sun and excitement of Hollywood or a new job at one of the many great businesses in LA, our advice from professional LA movers will give you the necessary information on making your move as easy as efficient, simple, and hassle-free as possible.
What Is The Easiest Way To Move To Los Angeles?
There are several ways to move to Los Angeles without making it unnecessarily hard on yourself. The best option will depend on:
budget
moving date
amount of stuff
preferred method of transport
distance being moved
These factors will determine whether you end up moving yourself or hiring a relocation company to take care of this for you.
DIY Moves
If you are planning on moving yourself, be aware that there are several things to consider when relocating on your own. While it may save you money on moving services, you may end up spending more in the long run if you aren't careful.
If you decide to make a move on your own, it's a good idea to start early and make a list of everything you will need to do. This includes:
Renting a moving truck/trailer
Sorting your belongings and separating things that can be donated, sold, or thrown away.
Packing boxes if necessary
Labeling boxes
If you have friends or family in the area, it can be a huge time and money saver to have them assist you with these tasks.
Full-Service Movers
Hiring a moving company is the best choice for those who value their time and prefer to let others do the heavy lifting. If you are planning on making a long-distance move to Los Angeles or simply want your belongings delivered safely and securely to your new home from your current location, there are plenty of professional Los Angeles movers that can help with this process.
Full-service movers have a variety of benefits, including:
Furniture disassembly and reassembly
Loading and unloading of your entire household
Moving supplies such as blankets, packaging materials, and wardrobe boxes.
Transportation of your belongings via enclosed truck or flatbed
Whether you are moving across town or across the country, full-service cross country movers will handle every aspect of the moving process to make it easy and stress-free.
Moving Pods
Moving pods are another way to make your move to Los Angeles easy. Pods can be delivered to your home and filled, allowing the pod to be picked up and taken away for storage until you are ready to go. The pods are completely secure, so you don't have to worry about anything being damaged or stolen while it's stored.
You'll still be able to save money on the cost of renting a moving truck or trailer since the pods are so affordable. Furthermore, this is an excellent way to avoid the stress and pressure of cramming all of your moving tasks into one single day.
Enter Moving Details and Get your Moving Quote in Seconds.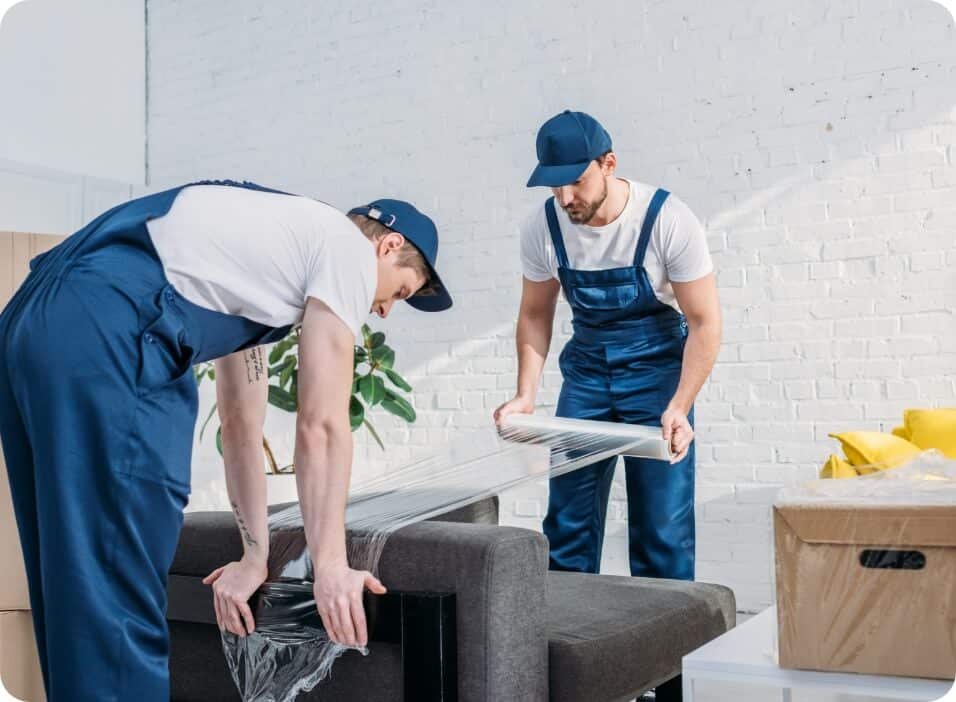 When Should I Start Preparing for a Move To Los Angeles
No matter where you are located in the country or the globe, preparing for a move to Los Angles is something that should not be put off to the last minute. By starting to prepare early, you'll save yourself time, money, and the hardships that often come with the process of relocating.
Most moving companies in Los Angeles recommend beginning your move's initial planning phases at least 8-12 weeks in advance. This may seem like a long time, but the sooner you start preparing for your move, the easier it'll be to complete.
In the early planning stages of moving, you'll want to consider getting a few different moving quotes from movers. Take the time to consider what type of move you are planning on making, your individual needs and time constraints, as well as how much you are willing to spend. By doing this, you can ensure that all moving offers will be priced accordingly.
Be aware that moving prices change depending on the season. Peak moving season is during the summer months. Consequently, this is also when many moving services have already been hired.
In contrast, the winter months are slower moving seasons. This is when many moving companies have excess capacity and can offer more competitive prices for local and long-distance moves.
By getting a jump on securing any moving services you may need, you'll significantly improve the chances of finding the best deal and avoid any hardships of moving to Los Angeles.
What Is The Easiest Way To Prepare For a Move To Los Angeles?
Preparing for the move does not have to be hard. While there are many ways to go about it, following these suggestions will help ease the difficulties of moving to Los Angeles.
Create a moving checklist and timeline
Having an effective moving timeline and moving checklist is the key to helping yourself remain organized when it comes to making sure all items are packed, boxed, and moved to LA.
Categorizing all the items in your home will also help streamline the packing process, allowing you to make sure nothing is left behind.
Assemble moving supplies
Putting together moving supplies for your move to Los Angeles includes more than just packing tape, markers, and boxes. Many movers also recommend having the following supplies on-hand to help ease your moving experience, especially if you aren't using a professional mover:
packing paper or bubble wrap
dolly or hand truck
moving blankets
Is Moving To Los Angeles Worth It?
Some worry that even with an easy move to Los Angeles, living there might present a challenge. While it might not be for everyone, there's no denying that LA is an easy place to live if you like entertainment, good weather, food, and culture. LA has tons of museums, theaters, lovely beaches, and other great entertainment attractions that aren't hard to get to.
In addition, as one of the world's economic hubs, LA is home to many different industries and businesses. With a constantly growing job market, living in Los Angeles can provide almost anyone with an opportunity for success and career advancement.
Frequently Asked Questions
How much money do I need to live in Los Angeles?
Rough estimates put the yearly income needed to live in LA between $58,000 and $62,000. However, this figure varies depending on what you consider to be basic living expenses and how much room for savings you wish to have.
What are the most popular neighborhoods to live in?
If it's proximity to LA's hotspots that matter most, then West Hollywood is your best bet. However, if you prefer calmer suburbs, Hermosa or Redondo Beach is often the top choice.
How much is a studio apartment in Los Angeles?
Depending on the location, a studio apartment will typically run around $1,000–$2,350. For example, a studio apartment in Downtown LA will cost about $1,900 per month, while the same type of place in Venice would be closer to the $1,000–$1,350 range.
Make a Move to Los Angeles Easy & Hassle-Free
Moving to a new city or state can be a stressful experience, but it doesn't have to be! By planning ahead and understanding your moving options, you can have a smooth transition without too much hassle.