The West Coast is a great place to live for any number of reasons. The weather is lovely, and there are so many great things that you can do in order to thrive. But, before you think about moving to San Francisco, you want to be sure that you know what it looks like if you're living in San Francisco.
Many people have heard about the high cost of living in San Francisco, Silicon Valley, and Los Angeles. But, what does that look like? And what can you expect if you're living in SF? Let's take a closer look at the details around this whole thing. If you're considering a move to San Francisco, it's also a good idea to research long distance moving companies to help with your relocation.
If city life is calling you to San Francisco, real estate is one of the biggest costs that you will need to try and deal with. The fact of the matter is, if you're going to buy real estate, you better have a nice little nest egg to start with.
On average, the homes in San Francisco are $1.2 million – and those are single-family homes, not mansions. The bigger of a home that you're looking at, the more that you're going to need to expect to pay for it.
Renting is just as pricey – the average rent sits around $3500 a month for your typical 1 or 2-bedroom apartment. Even studio apartments are $1500 or more.
Real estate is expensive here because of the size of the city – it's just under 47 square miles in area, but the population is almost 900,000 people. So, lots of people are competing for places to live, and that demand drives the cost up.
San Fran is one of the most walkable cities in the country. It's really easy for you to get from place to place and you can live in the city and get pretty much anywhere you want with no issues.
Because of that, it's actually relatively affordable to get a monthly or weekly pass for the BART, which is the major transportation system. Typically, you're looking at paying somewhere between $1 and $3 a ride, no matter where you're headed.
The city's famous cable cars are one of the many ways that you can get around. As a visitor, you can get a 3-day pass that includes the cable cars and other affiliated options with what is known as their Muni system.  The Muni system includes buses, cable cars, and other types of old-style trains that take you through the city.
The prices for buses and trains that go out of the city are about the same as what you'd expect to pay in most cities. There are multiple bus stations and Amtrak stations throughout the Bay Area, and it's really easy to just get on a train or bus and go to northern California for a weekend.
If you want to live in the Bay Area, then you likely have somewhat of an idea as to what the food scene looks like. San Fran is known for its variety of food, and there are always new and exciting places that you can go to and enjoy. Restaurants are definitely going to cost a bit more than you'd find on the East Coast, but you can still find good food for a reasonable price at some places.
Of course, if you are living in San Francisco, then you aren't likely to be going out to eat every single day. There are a lot of grocery stores, and many of them are being restocked on a regular basis. Because of that, you're likely to find all sorts of fresh foods, including great veggies, fresh fruits, and delicious seafood. Seafood is lower cost than the national average (considering their proximity to the sea), but other meats may cost a little more.
It's estimated that you're going to end up spending around $15 on a meal if you're going out to eat. If you're eating at home, you can probably be fine if you're looking somewhere at around $35 a day or so (depending on your diet and how large your family is). You can definitely work out a food budget that works for your family's purposes without straining your budget too badly.
San Franciscans absolutely love their home because it's so family-friendly in terms of entertainment. There is a wide array of museums throughout the city, and you can visit tourist spots like the Golden Gate Bridge and enjoy all sorts of activities at those locations.
Many of the San Francisco area museums offer special rates for residents. For low-income residents, several museums offer low-cost passes. Some museums will have free admission days once a month or once a week. And some attractions are always free or low cost.
There's also something known as the CityPASS, which can be used at all sorts of attractions across the city. It comes with access to 4 different attractions – the cable car/Muni Bus passport, the California Academy of Sciences, Blue and Gold Fleet Bay Cruise Adventure, and Aquarium of the Bay. Then, you can get the San Francisco Museum or Exploratorium as an extra, and you pay one cost for all of it.
Currently, economists estimate that you're going to want to make at least $120,000 a year in order to be comfortable in or around the Bay Area. This may sound like a lot, but due to the many technology-based jobs in and around the area, professionals are going to have a simpler time finding this pay than other persons.
Thankfully, the social welfare systems in San Francisco are fairly solid, and people who end up beneath this threshold are able to get a lot of assistance if they need it. You may have to do some research if you're in that situation, but you can find a lot of solutions that help to ease some of the additional costs of living in San Francisco.
6. Cost of Gym, Clothing, Personal items and Leisure
San Francisco's climate is mild year-round but, due to the presence of water on three sides, the city sees a lot of fog, especially during the summer. The hottest month is September and it sees a median high of 710F (220C).
December is the coldest month with a median high of 570F (140C). Also, the wettest month is December with a median of 5 inches (116mm) of rain. As a result of these weather conditions, residents need to equip their wardrobes with some essential clothing and items.
Below are some prices of clothing along with other useful prices.
Pair of Jeans: $40 to $85
Summer Dress: $30 to $60
Running Shoes (Trainers): $60 to $110
Business Shoes: $80 to $200
Short Doctor's visit (15 mins): $130
Deodorant: $3.67
Shampoo: $8.00
Toilet Paper (4 rolls): $3.24
Gym membership: $39 to $120 per month
Movie (cinema) ticket: $12-$15
7. The Costs of Owning a Car & Operating a Car in San Francisco
A lot of people travel around in public transport in San Francisco. Those that get around in their cars discover that they spend so much time stuck in traffic. If you are relocating from within the United States to San Francisco, you will be able to maintain your license but will need to update your address to the current one.
You are allowed to drive on an international license for up to a year as a tourist but you will be required to obtain an American License after that.
If you are working or studying in the United States, you are allowed to drive on your international license for just a month. If you want to switch your international driver's license, you will have to follow the process provided.
Below are some other sample costs of owning and driving a car in the city of San Francisco:
Volkswagen Golf:$22,265
1 liter (¼ gallon) of gas (petrol):$0.82
Other fees (if any): The median cost of state and local taxes, title, license, and registration fees is $665 per year.
How to Save Money getting around San Francisco
You can save your cost with car-sharing or pooling. Consider Getaround, Kyte, Waze, Zipcar, and Gocarma, or Carpoolworld.
Taxes can be a cheaper solution sometimes, especially if you will have to park all day. Consider Lyft or Uber.
Want to move your car to San Francisco? Then click here to read our guide on
Read more about How Do Car Shipping Companies Work?
Median Salary in San Francisco
Residents of San Francisco need a high income to cover this high cost of living. The Bureau of Labor Statistics mentioned that San Francisco workers earn 42% higher wages than the average of the country. The minimum wage in San Francisco is the 2nd highest in the United States (after Seattle) at $16.09 per hour.
A higher percentage of employees in high-paying sectors like finance, computer, and management are found in the Bay Area than in the rest of the nation.
In San Francisco, the median salary for tech employees is $145,000, which is above any city in the United States. Across all industries, salaries in San Francisco averaged more than $100,000 per annum at the end of 2019. San Francisco and San Mateo are where the highest salaries are paid.
If these high incomes are attracting you to relocate to San Francisco, think of how your spending will increase. Payscale.com shows using its cost of living calculator that the cost of living in San Francisco is 80% above the national average. Reducing housing expenses is the best option to live an affordable life in San Francisco.
Enter Moving Details and Get your Moving Quote in Seconds.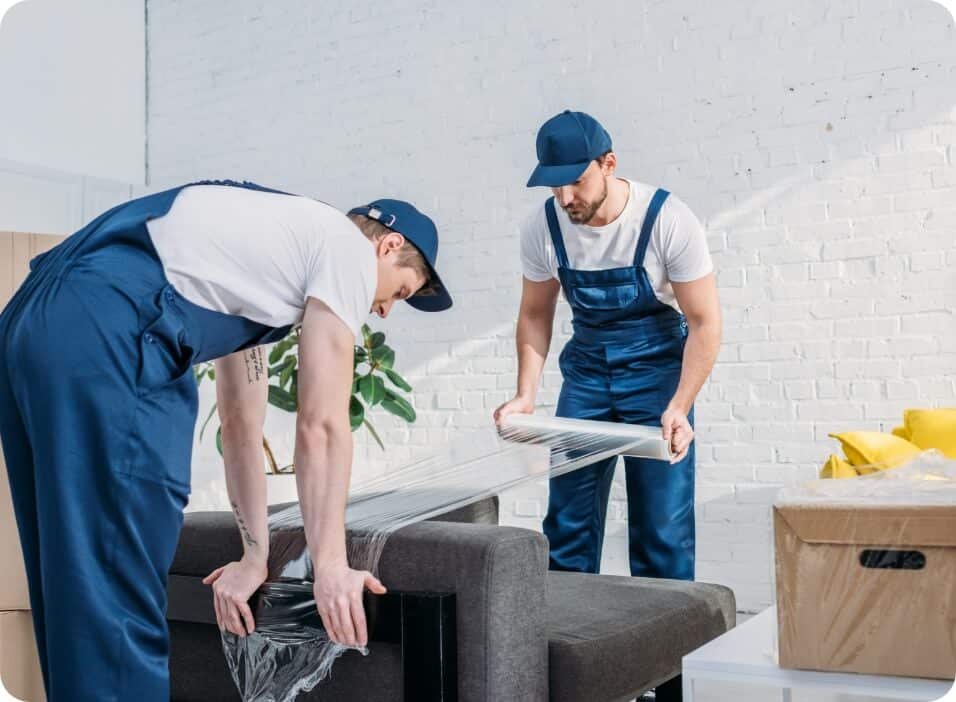 Frequently Asked Questions
Why is San Francisco so expensive? 
One of the big reasons it costs so much to live in San Fran is because of how close it is to Silicon Valley.  As a result, the area is one of the most prosperous in the United States and there is a lot of wealth there, which can make it difficult for the ordinary person to be able to afford it.
How is parking? 
As mentioned in our article, you can get around San Fran pretty easily without a vehicle. But, if you travel out of town a lot, or you know that your family may be visiting from time to time, you want to have an idea of parking.
Many real estate options include a garage or some sort of parking. If you live further downtown, you may find it easier to just have a monthly parking pass for a nearby garage on hand.
Can I Commute to San Fran? 
You absolutely can. With their stellar public transportation, you have a lot of places where you can leave your car and then travel into the city with ease. But, if you're thinking about driving into the city all of the time, beware – you'll be in the car more than you want to be.
What salary is required to reside in San Francisco?
A monthly salary of $5,000 enables you to live in an average apartment and cover basic costs every month while you have money left to save or spend on unplanned costs, like dental work or vehicle repairs. That leads to $60,000 per annum.
Is walking around San Francisco safe?
Even though SF is safe for the most part, there are areas that can be difficult to go around, such as the Mission, Tenderloin, and occasionally Union Square. It is almost rare to visit San Francisco without meeting transient people.
What area is the best to live in San Francisco?
There are two major areas that welcome tourists: downtown and Fisherman's Wharf as well as the closer Marina District. With no car, the best is the downtown due to many attractions located within walking distance: North Beach (Little Italy), beautiful Nob Hill, Union Square Shopping, and China town.
Is staying in Union Square better than Fisherman's Wharf?
If you plan to spend all your time at the Wharf while in San Francisco and have kids, a Wharf hotel might be a perfect suggestion for you. However, many people consider the Wharf as a place to visit for a day or two. Thus, Union Square is a better option because of its central location for visiting the entire and well-known spots.
What month is the coldest in San Francisco?
The coldest month in San Francisco County is January when the median temperature overnight is 46.4 degrees. The warmest month is September when the median temperature during daytime increases to 71.30F.
Whether you live in the Hayes Valley, East Bay, or York City, you will find that there are a lot of great places where you could be living in San Francisco without feeling like your budget is out of control. Do some research ahead of time and move to the city of your dreams.
Hire the best moving companies in San Francisco